ANALYTICS | PLANNING | REPORTS | ADS
Analyze, manage and grow your digital presence
Everything in one place. Plan your social media content, review your data, and manage your online ad campaigns.
Integrations
ANALYTICS | PLANNING | REPORTS | ADS
Analyze, manage and grow your digital presence
Everything in one place. Plan your social media content, review your data, and manage your online ad campaigns.
Integrations
Drag, drop and go
Schedule all your social media content, from Instagram to TikTok.
Analyze everything and everyone
Monitor your social media and watch closely your competitors.
Create complete reports in seconds
Download your social media results and generate advanced reporting with Data Studio.
The Link in Bio you need
Add links to your feed, create buttons -all 100% customizable.
The perfect plan is waiting for you
Choose the pricing plan that fits your needs.
Leading companies already using Metricool
We're the operation center for thousands of social media professionals
Manage all of your daily tasks from one tool.
See the metrics that matter
Avoid getting lost in data scattered across different platforms. Metricool unifies the data from your website, social networks, and online ads into one place so it's easy to review and improve your strategy.
Social Networks
See how your website and social networks are evolving.
Ads
Analyze the performance of your online ads.
Competitors
Monitor your competitors' strategies.
Historical Data
Consult your data anytime you want.
Effectively plan content across your social networks
Save time and improve your strategy by planning your social content.
Optimal Time
Launch your posts when your audience is online.
Post across platforms
Easily publish the same content on all of your social networks.
CSV Import
Import your content calendar directly to our planner.
Create campaigns
Create and publish ads on Google and Facebook.
Compare results
Side-by-side comparison of your ad campaigns on Google and Facebook.
Optimize performance
Gain insight on how to improve your Google Ads.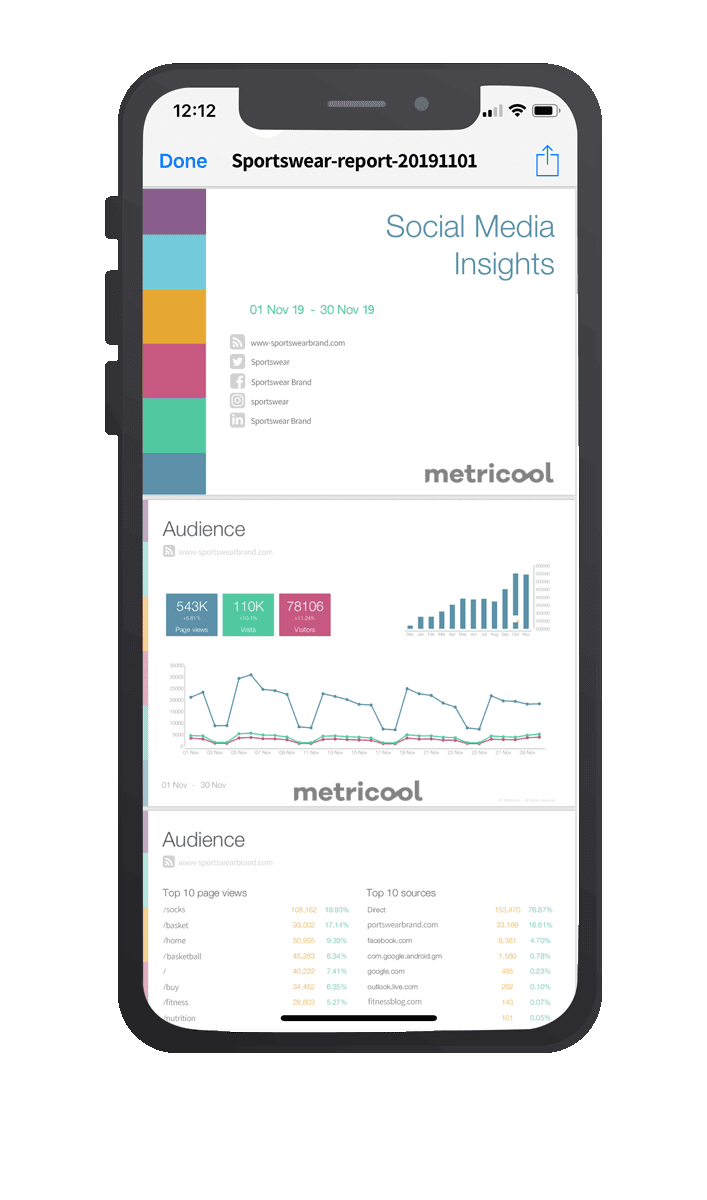 Create personalized reports in one click
Generate reports for all of your accounts and personalize them for you, your team, or your customers.
Build them your way
Add your logo and only include the networks and metrics you need. You can even save it as a template.
Download at any time
Review your previous downloaded reports and access them again when you need to.
Set it and forget it
Schedule periodic reports to be sent to the email address of your choice.
Reply to your social media messages from one place and fast
Manage your community. Moderate your direct messages, comments on your posts, or reviews from the Metricool inbox. Instagram, Facebook, Twitter, and Google My Business await you.
Or transfer the data from your networks to Google Data Studio
Metricool's connector for Google Data Studio compiles data from your social networks, and insight into your competitors social media activity (including Facebook Ads), within Data Studio. Use this data to create complete reports and inform future social strategy. Available for any Team or Enterprise plan.