Metricool has become a Google Partner from October 1st of this year. This announcement is the result of an application process jointly conducted between Google and Metricool. Members of both Metricool and the Google channel sales team in Madrid, Paris and London have been involved in this application process.
This application process to get Google certification has extended over six months; during this time, several meetings with Google have been held across different parts of the world (Mexico, Paris, Madrid, the US, etc.) where business models, ideas and projects have been brought together helping us to become a Google Partner.
Additionally, during these 6 months of work we have carried out new integrations and implemented new features for Metricool like ads management, Quality Score analysis and Google Ads and Google My Business reporting.
Being qualified by Google and getting this Partner badge, means many things for us, but especially for our users. Becoming a Google Partner gives us access to Google training, support and help that allows us to offer a better service to our users.
This guarantees that on top of having the knowledge base of Google Ads and other Google platforms, we can help our users to make better use of these platforms and more often. Metricool will be able to include new options and offer our users more metrics to better understand the performance of their marketing strategies.
Some of the platforms focused on digital marketing developed by Google, such as Google Ads and Google My business, are tools oriented towards professionals which requires having good training for correct use and to get the most out of them.
However, Metricool is an easy-to-use tool, where you can manage and analyze your Google Ads campaigns and your Google My Business accounts. Therefore, it facilitates the work of marketing professionals and gives them the possibility to manage all their ad campaigns in the same place.
This explains why Google contacted Metricool and offered that we become a Google Partner to help them bring Google's marketing solutions to more users.
New Metricool features with Google
Since we started this new adventure with Google and have become a Google Partner, Metricool has access to more support which has helped to develop new features: Google My Business analytics and reporting, Google Ads campaigns management and also, Google Ads and Quality Score analytics.
Google My Business analytics and reporting
Any user can connect their Google My Business account to Metricool with the objective of analyzing their performance. This way, users can check the number of searches, visits, reviews and how many clicks their listing has received. In addition, Metricool allows scheduling publications.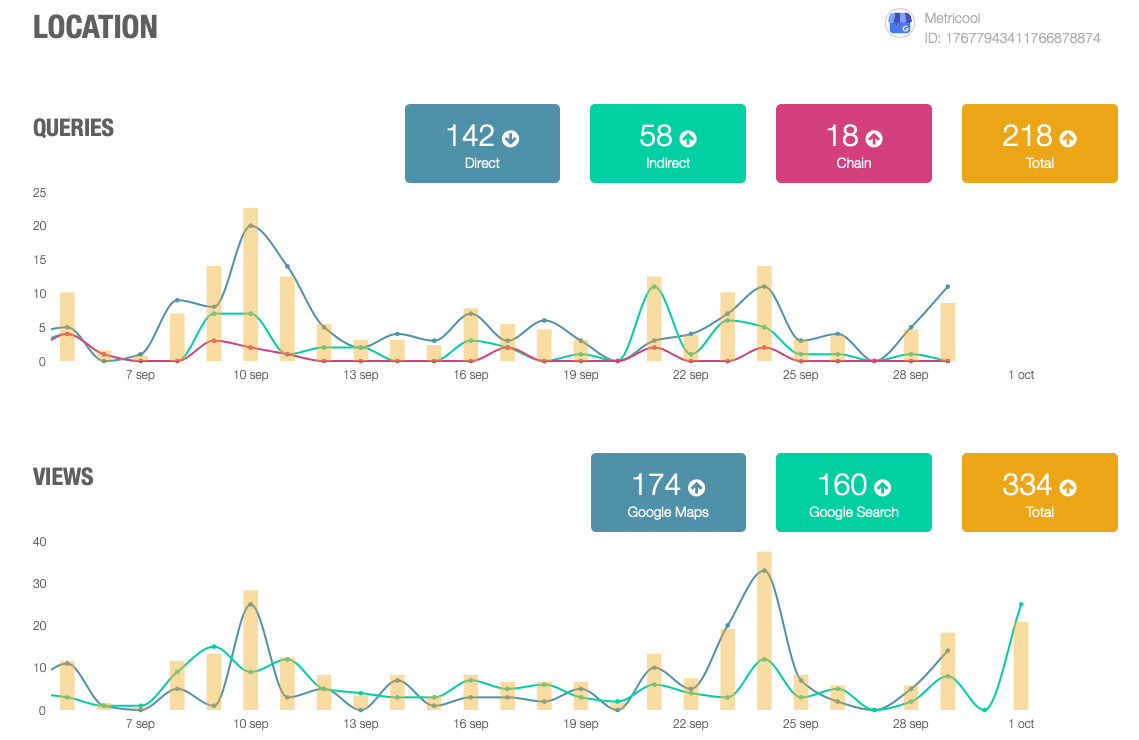 Google Ads campaigns management with Metricool
Metricool lets you manage Google Ads campaigns. You can check the ad campaigns that are active and pause the ones with a lower performance. Besides, depending on the result of each metric, also you can increase or reduce the budget according to your needs.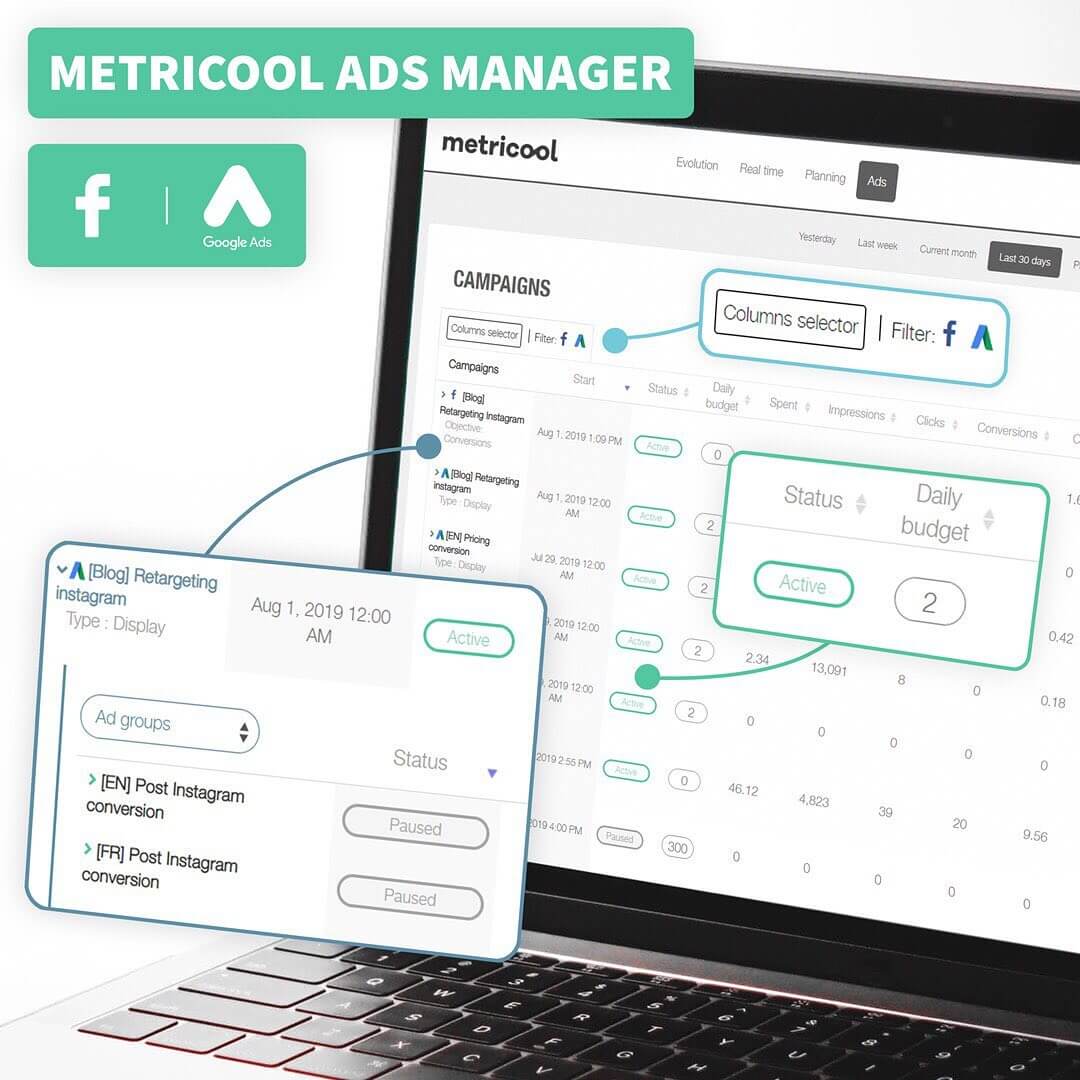 Optimize your campaigns with Quality Score
Apart from managing online campaigns from Metricool, we offer another feature that allows you to review the Quality Score of your campaigns and group ads in total which is then divided by each of the parts that Google rates separately.
Metricool screen will show you the performance and quality of your ads and campaigns. You will see which moment of your campaign or part of the funnel is failing to act accordingly and improve the performance of your ads.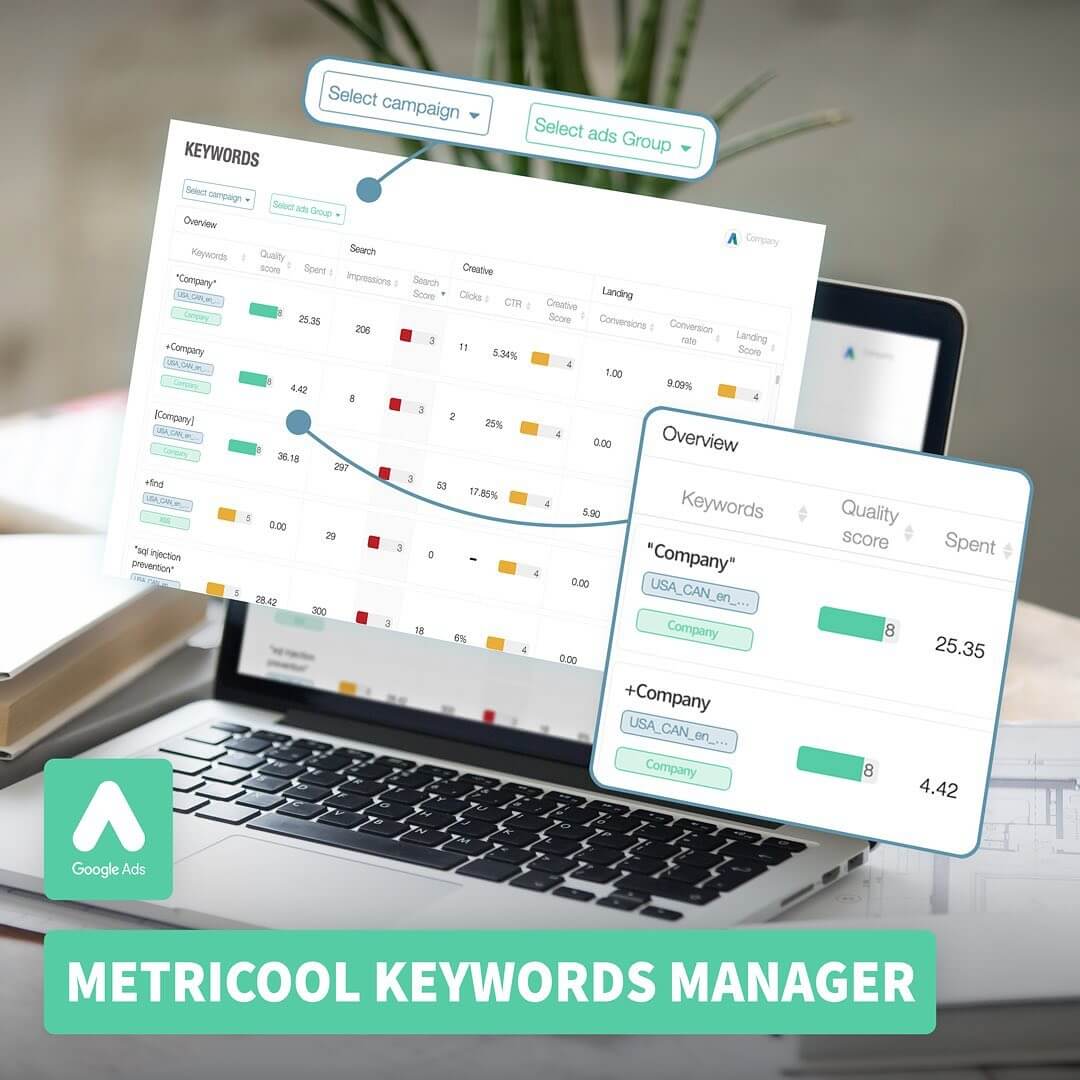 Also, Metricool is planning the release of new features such as the creation of ad campaigns and the possibility to set up new Google Ads accounts from our tool. Everything with the main objective of helping our users and making the process of creating marketing campaigns easier.