Follow these steps to learn how to protect tweets on your account from any public user on the site.
You can activate this option on any Twitter account.
How to Protect Tweets
Open Twitter and access the account that has the tweets you want protected.
If you are already there, you can skip this step.
1 Go to 'Privacy and safety'
To find this, click the more icon and then select 'Settings and privacy'.
2 Click on 'Audience and tagging'
This option allows you to choose who can and cannot see your tweets, as well as your tagged photos.
3 Check the 'Protect your Tweets' box
This is the first option you have when you open this tab. Just move your mouse over the box on the right and check it.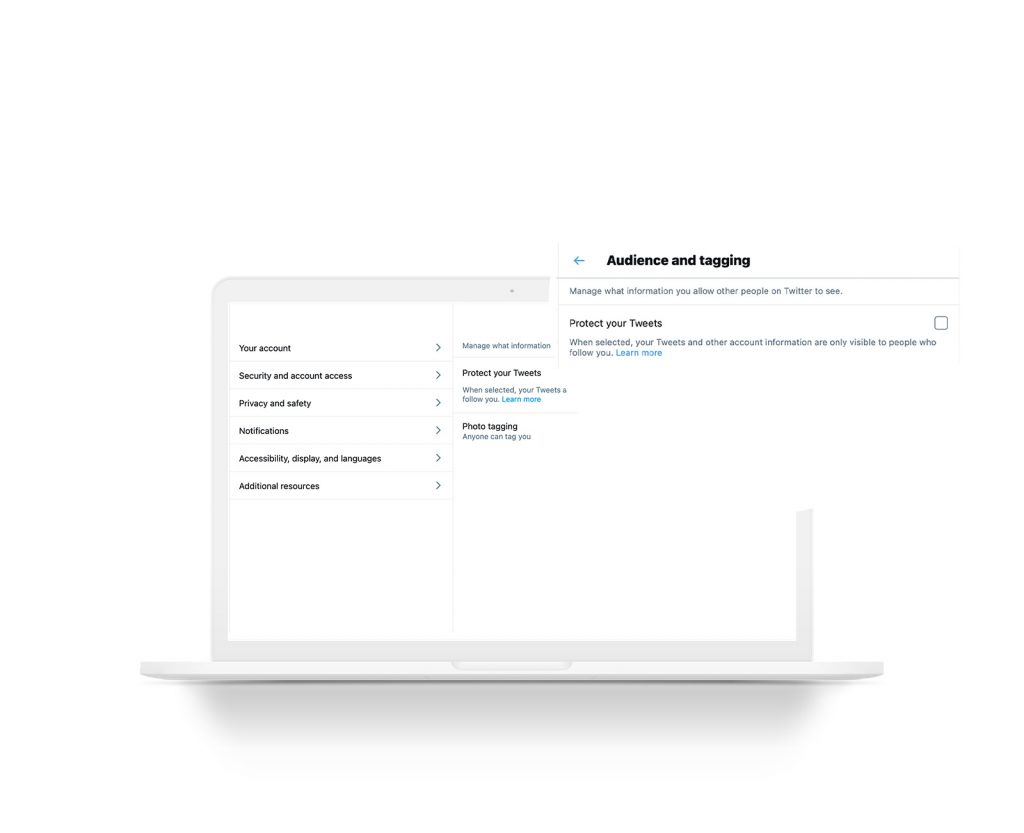 4 Confirm your tweets privacy
After checking the box to protect tweets on your account, Twitter will show a small window where you confirm 'Protect'.
Now that you have activated this option, you don't need to save changes. This will update automatically.
What happens if you protect tweets?
Are you planning on protecting your account? If so, we will show you what happens when you activate this option.
✅ Regarding your followers.
If any user wants to follow you they have to send a follow request that you will have to accept or reject.
This is only the case for new followers. If someone stops following you while your account is private, and they want to follow you again, they will have to send this request.
· Your account followers can't share your tweets, neither by retweeting nor retweeting with a comment.
If they follow a link from your tweet, and they share it with other users who don't follow you, they won't be able to see your tweet either.
· Only those users following your account and who can see your tweets are able to search and find your content on Twitter.
✅ Regarding your tweets.
· The tweets you post can only be seen by those that follow you. The same applies to any link to your account, as is the case with Twitter Moments.
· Content you share on Twitter will not appear on any search engine outside the platform, such as Google.
· When you interact with another account, responding to a post for example, the users who see the conversation but don't follow you will not see your tweets.
· Tweets you posted before your account was private are no longer public and will not appear in search results.
How to Make your Tweets Public

To go back to having your tweets public, all you have to do is follow the same process for protecting them.

When you reach the protection box, all you need to do is uncheck it. All the content from all your tweets, even the ones that were posted before making this decision, will go back to being public to every user, except those you have blocked.
It is also recommended that you look over your follow requests. These will not be accepted automatically, you will have to go through them yourself.
Now you know how to protect tweets from your Twitter account. Remember, by default, when you begin your Twitter journey, your content is public and anyone can interact with you.
Do you want to create a Twitter account and don't know where to start? With this step-by-step guide, it is a piece of cake.