Interview to Michiel Heijmans, COO of Yoast
Original Version
Michiel Heijmans is the COO, Operations Director of Yoast, company from which he has been a partner for a long time. He is a partner in Yoast for a long time already, writes a lot of articles and speaks at events. He is one of our SEO experts as well.
For us, it is a pleasure to have Michiel in this interview in which we will discuss different topics about social networks, SEO and also the updates of the plugin SEO by Yoast, one essential plugin for the on -age positioning and content optimisiation.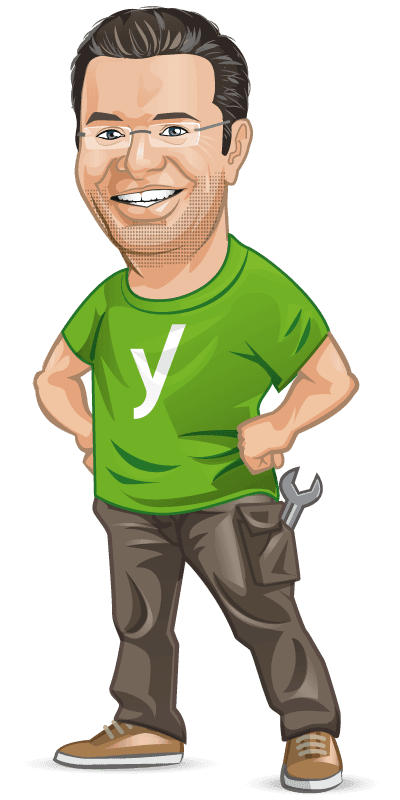 What has been the path from the beginning where the CEO of the company Joost was developer and now manages a company with more than 50 employees?

MH: That was never the intention, but organically 'occurred'. The trick in growing your business is to hire people that complement you and make these excel in what they do and want to do. If you surround yourself with smart people this process becomes much more convenient.
Is it hard to manage a global company with million of users worldwide? Are there difficulties such as the language, different time frame, etc? Have you ever thought about moving the headquarters to EE.UU.?
MH: Never. The Netherlands are great in many ways and the only thing that requires 24/7 attention is our support. Next to a staff of 45 in The Netherlands, we have a staff of around 10 people (and growing) located all over the world (in Bangladesh, EE.UU., Spain and the Philippines for instance) that handle our day to day, or rather hour to hour, support emails. So that works pretty fine, actually!
How did the idea of the Yoast SEO plugin begin? From the beginning was it as we know it today?
MH: At first, this was a collection of SEO tools (different plugins) that fulfilled personal SEO needs but appealed to a lot of people. At one point in time, Joost combined all these plugins to establish the very basis of what we now call our flagship product Yoast SEO.
Could you tell us some of the coming updates for the plugin? What are you working on?
MH: Our main goal is SEO for everyone. So we're constantly working on making our plugin easier to work with. Think along the lines of accessibility and user experience. And of course, our main focus in this is following any changes in Google, to make sure our plugin matches all of the latest developments there. For specific features, you should really keep a keep eye on our website yoast.com.
SEO vs Social Media
What is you opinion about the relation between post shares on Social Media and having a better SEO?
MH: Social Media is the offline market place where people refer you to a specific market stand that has the best bananas, socks, flowers or whatever. On social media, people talk about your product and refer people to you. Or tell people to stay away from you. This relates closely to the next question.
Which is your opinion about that Social Media is also Search Engine?
MH: Personally, I use the search on social media like Twitter to find people that have questions about our products or brand. Besides that, it helps to determine a certain sentiment after for instance a product release. Search.twitter.com is your friend here. On Facebook, I use search for background checks (applicants, customers, potential partners).
Do you think that Social Media icons for sharing a post has influence on the SEO?
MH: Not per se. I think most people share content that is already on a social platform. So I find a link to a website on Facebook and share it on Facebook. I think the use of social share buttons is getting less and less. When sharing a link on Facebook from my iPhone, I use the build in iOS/browser share button instead.
Could you tell us to our readers some of the best strategies for improving the SEO in a post from your point of view?
MH: Be the best result. Make sure that Google has a reason to link you at that very first spot in their search results. Put your best effort in determining what the most common questions of your visitors are and answer these the very best way you can. That really is the only way to set up a long run SEO strategy for your blog.
Which SEO factors are more benefited by the Yoast plugin?
MH: Readability, post optimization, internal linking (premium feature). And we take care of all the site-wide other stuff in our general section. You should really do it all. SEO is holistic, not a trick. Our plugin helps you in streamlining that SEO workflow.
There are posts very well positioned on SERP that Yoast consider with poor readability, what do you think about it?
MH: I think that means there is room for improvement in every post 🙂 Improved readability makes your post or page accessible to a larger audience. More people will understand what you are talking about, or finish your post. And in the end, you are writing for these people, right. Not for Google.
Many companies only set no-follow links from their domains because they think it is negative for them. Do you think that having many external links "follow" affect in a negative way to the SEO and domain authority of a domain?
MH: If the links are relevant, for instance in a post, please do follow them. If you're only sending no-follow links to others, why would they send links to you? The Internet as a whole is a group effort.
The sitemap is very important for positioning. Yoast allows to make sitemaps, even so, a lot of SEO Specialists recommend to do this with other tools. Is this option not very effective on the plugin or it is a urban legend?
MH: The sitemap is relevant as it tells search engines if a post has changed and should be re-crawled. But really, you should read my elaboration on that on our website: The sense and non-sense of XML sitemaps https://yoast.com/the-sense-and-nonsense-of-xml-sitemaps/