Building social media reports is the best way to analyze the growth and improve of your social media strategy. And creating these type of reports are fundamental for this.
What should be included in a weekly or monthly social network report? Are you sure you know how to do it or should you express your doubts with your client?
Don't worry, we are here today to talk you through the steps of how to write an effective report on social media. You will be surprised how easy it can be.
What is a Social Media Report?
Before we get down to business, it's important to comprehend what a report on social media is and what it is used for. The main purpose is to improve your daily work through understanding how to measure the impact of social media since you took control.
A Social Media Report will allow you to measure your work efficiency as a Social Media or Community Manager
This report must show the activity that a specific brand or company had on different social networks.
➡️  When should a Social Media Report be delivered? This depends either on the agreement reached with your client or your interests, if we're talking about your own business.
➡️  A report on social media is normally delivered at the end of a specific period of time and depending on that we can identify three types of reports: Weekly, monthly or annual report.
If you want our opinion, you should tend toward a social media monthly report. However, it's also important to elaborate an annual report to present to the company so they can see the evolution of their brand during the year.
Social Media Report: Why it is important
It might look like a tedious task but a Social Media Report is important for the following reasons:
✅ It gives value to your work. If you don't monitor your work, you'll be unable to know whether your social media strategy is working or not.
✅ To allow your clients to see the evolution of their social networks accounts.
✅ To show that the obtained results helped to reach the targets outlined by you or the client.
✅ To measure ROI (Return of Investment).
✅ To make changes or repeat actions.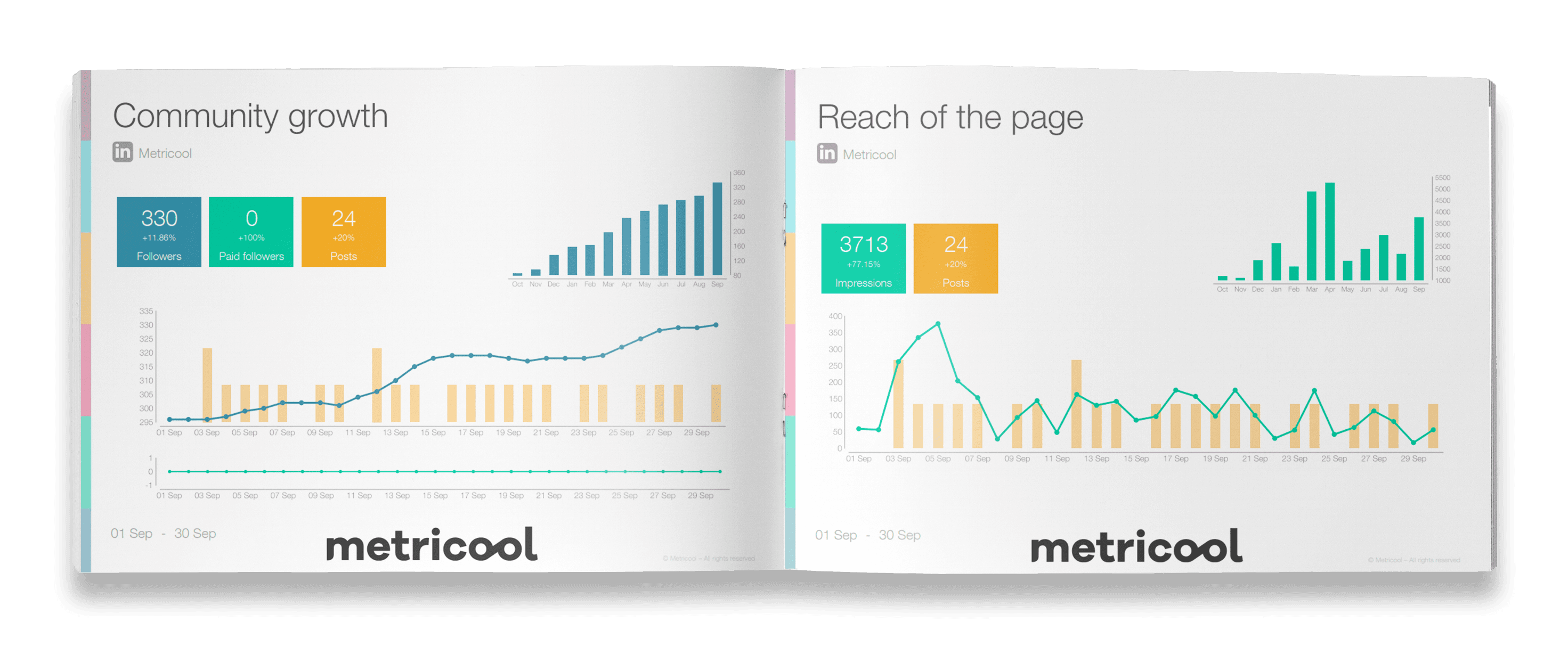 What do you need to create a report?
It's time to act and learn the steps to create your report. Pay attention!
Define the brand's objectives on Social Networks 
Didn't you establish your objectives for your social networks accounts yet? Setting clear targets should be agreed with your clients before starting to manage Social Media.
Going ahead without a destination in mind will take you nowhere, especially when you are creating a report.
Your work is not only data collection but interpretation so you can implement the knowledge gained to improve your business or your client's. These are the most common objectives determined by most brands:
✅ Engagement or community development: Is your objective to get a high number of shares, likes and comments following your client's instructions? Then, this is your goal.
✅ Branding or attention-seeking: This should be your target if you focus on your brand being recognized.
✅ Traffic: Choose this objective if your aim is to increase the number of visits to your website or blog.
Metrics that should be included in the report
The next step should be choosing the KPI's that adapt better to these goals. With this illustrated example, you can get an idea of how you can do it:
Objective: Increasing the number of followers on social networks.
The KPI's or metrics should be: Followers on Twitter or Instagram, Fans on Facebook, YouTube subscribers…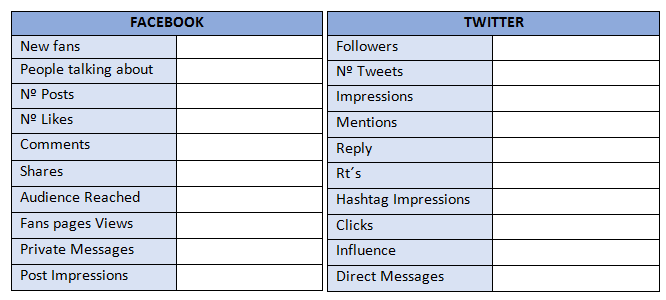 Design a social media report template
How should you create your template? Now your report is starting to take form. There is no specific format to design the template, you can use Excel, PowerPoint or PDF.
Don't have time to design a template that gathers up all the information in a visual report? Then you should use tools that can prepare you a report in a matter of seconds.
Your Social Media Report is not just data put together.
The presentation and design is also essential.
Advantages of writing your social media report with Metricool
So, didn't you know that with Metricool you could create your own reports?
The best part is that with our tool you obtain many of advantages, read carefully to learn all of them:
✅ You can personalize reports without having to screen capture stats on social networks.
✅ It allows you to choose the type of report on social media that you want: weekly, monthly or annual.
✅ The information is presented in a very visual and attractive way, your reports will look professional.
✅ You can include all the information you want
✅ Adding yours or your client's logo in every page of the report.
✅ Choosing the format that best adapts to your preferences: PDF or PowerPoint.
✅ It will be ready in a few minutes and with no effort.
How to present your report to a client
To avoid overwhelming your client with large amounts of data, your aim should be to create a simple and clean presentation. You should only include the main information and how you achieved your goals.
We recommend that you use PowerPoint or PDF format to make the information more visual.
So, now it's time to put into practice everything we talked about today and amaze your clients with a striking Social Media Report.
Were you left wanting to know more? Tell us!