Before telling you about all the things you can do on your Twitter account with Metricool, I want to remind you that if you're going to carry out any activity from this platform, first, you need to connect your account.
Analyze your strategy on Twitter
If you enter Metricool, you will see that the first tab in the main menu is called evolution. Within this first section, you can see all the analytics of each of the accounts connected to the tool.
Let's see which metrics you can gather from your Twitter account:
⏩ Analytics about your community
You can analyze the evolution of your Twitter community in this graph.
With the balance of followers, you can see in a straightforward graph when you gain or lose followers in relation to the days you published.
You can also see which people you follow and who don't follow you. Plus, the followers that you have recently gained or lost.
⏩ Analytics about your tweets
In this section, you can check the impact of your posts on your profile.
You can find out more things than you think …
Which posts have been more successful in your strategy? How did the frequency of publication impact the success of your tweets?
Plus, you can check which tweets received more likes or were more retweeted.
This table will help you draw valuable conclusions very quickly:
✨ The time when your posts work best
✨ The most successful type of tweets
✨ What days of the week are best for your account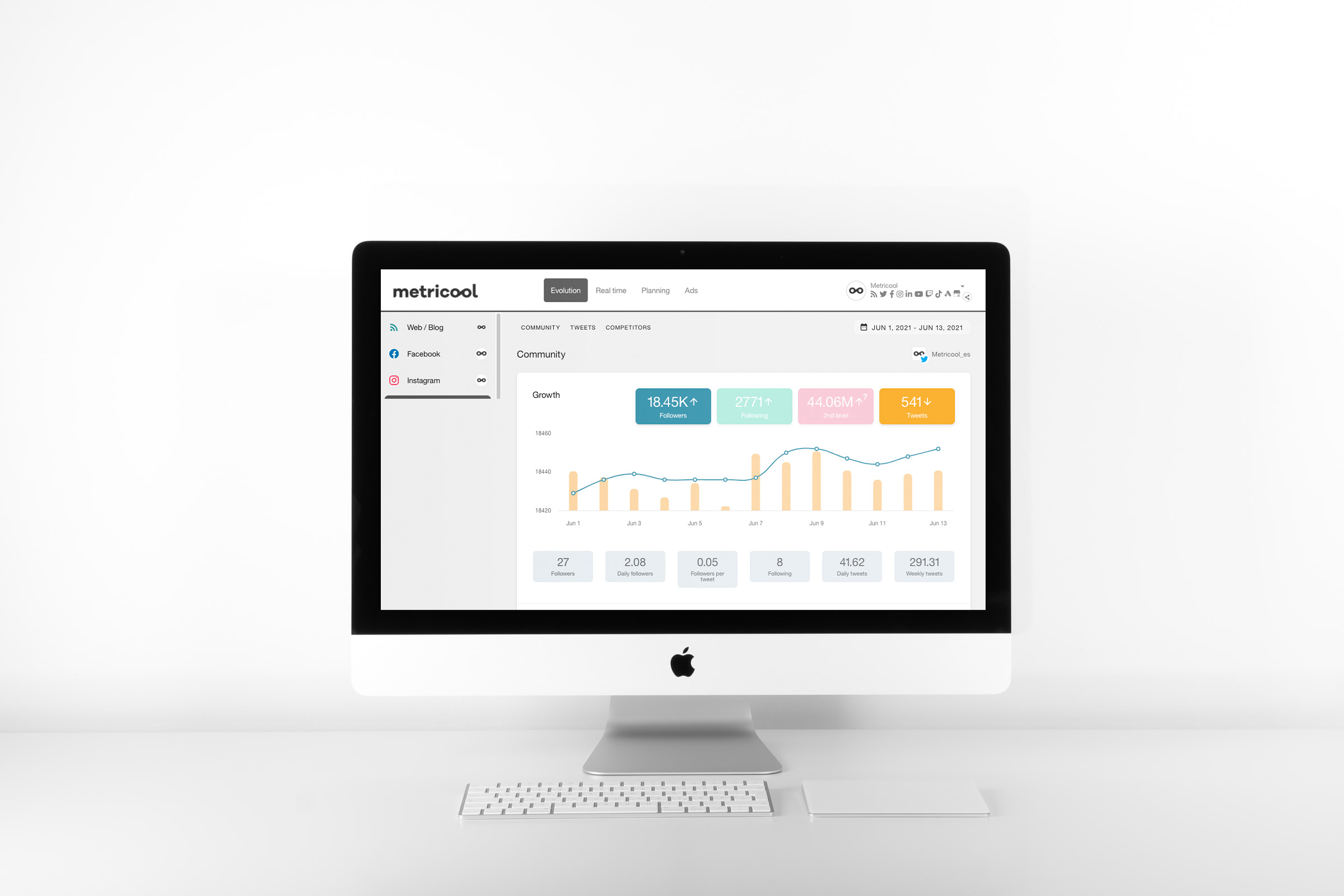 ⏩ Competitor Analysis
Analyze your main competitors on Twitter and discover everything about their metrics in groups or individually.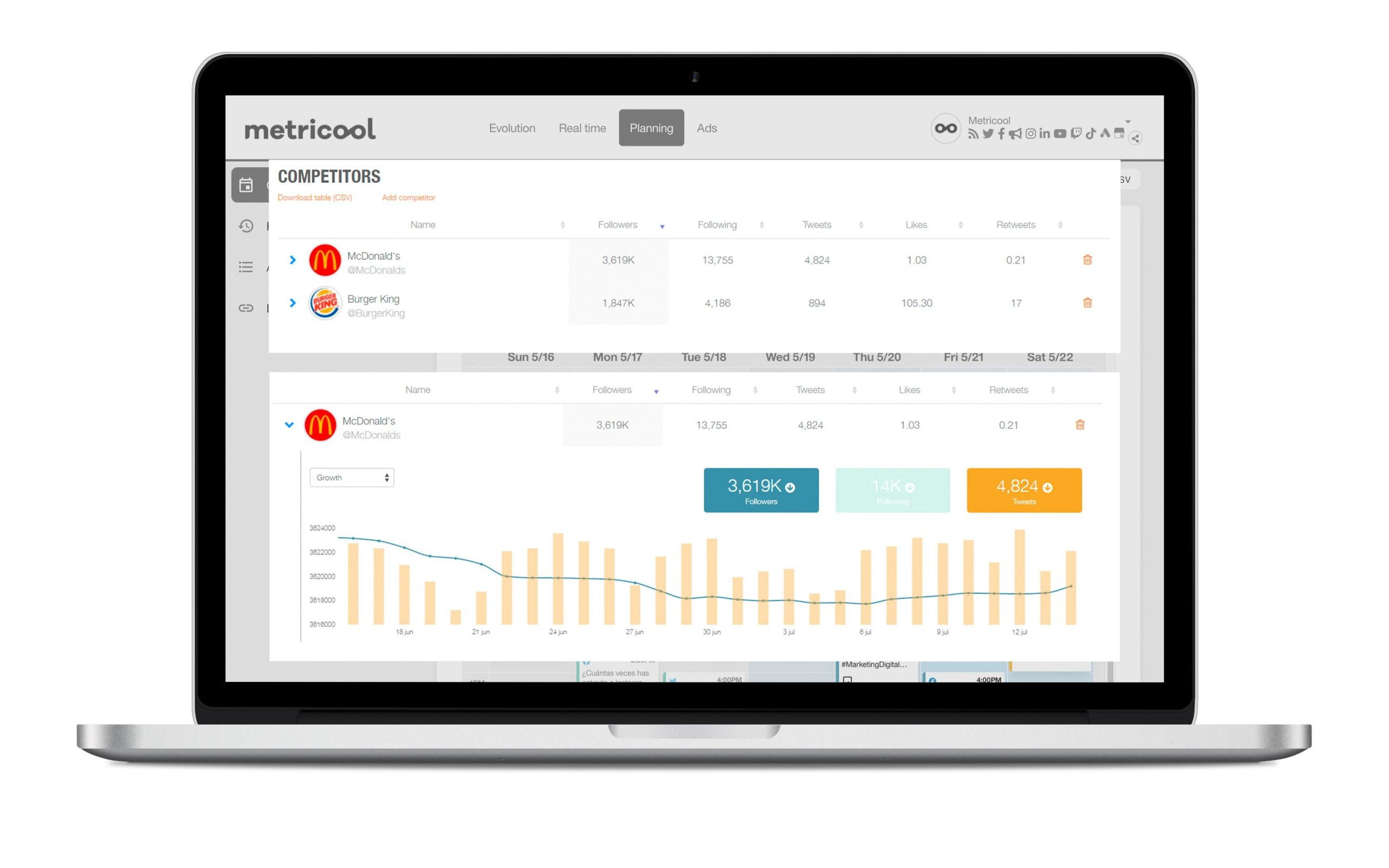 Analyze your competitors in real time
In the second tab of Metricool's main menu, you will find Real Time. In this section, you can compare your Twitter account to a competitor's account and obtain insightful information.
You just have to add the account of your competition and see all the data:
Monitor hashtags or accounts
Do you want to monitor a hashtag for an event you organize?
With the hashtag tracker tool, you can know everything that is said about your event with the hashtag you have chosen.
Monitor the number of tweets that are published, the language used, if photos have been shared or the number of impressions generated:
✅ As easy as adding the hashtag you want to track, the duration of your event, and the start time.
The ideal tool to measure an event on Twitter and present it to a collaborator or sponsor to strengthen your relationship with them.
Manage messages from your Twitter account
In the real-time section, you will also find the inbox management module to manage your messages.
This functionality is helpful if you manage multiple Twitter accounts and you have to reply to the DMs from the platform.
With Metricool, you save time because you have everything you need on the platform to respond to your messages in any registered account. Instead of logging out or changing accounts, here, you have them all open at all times.
Schedule your content on Twitter
Do you share content on Twitter daily? Then, we have the solution to those wasted hours searching for tweets every day, the Metricool planner!
✅ Schedule your content on Twitter, with links, multimedia elements, and mentioning the user you want.
✅ Discover the best times to post on Twitter based on your audience's interactions.
✅ Keep posting on Twitter nonstop, thanks to Metricool's autolists, don't let the pace stop.
✅ Use the tag option to add up to 10 people to those tweets that contain photos from the scheduler.
✅ Schedule threads on Twitter. You have up to 40 tweets to create a thread and schedule it from Metricool: include images, videos, tags, mentions. Organize the tweets as you want and let Metricool publish it automatically for you.
Generate reports with your performance
If you are a social media manager or have your own Twitter account, collating data at the end of the month with your work can be difficult.
Let's be honest, there is always something that we miss.
With Metricool, forget about those problems. You can create Twitter reports with a thorough analysis of each month. It includes the growth of your community, the interactions you have achieved with your content, among other interesting data.
In addition, you can personalize your report by adding the logo of your personal brand or company, a detail that does not go unnoticed by a client.
Now you know what you can do on Twitter with Metricool. You can now focus on your content on the bird's social network!