Do you use Twitch and carry out strategies on this social platform? I have great news for you. Now with Metricool you can analyze your Twitch account and take advantage of your analytics to optimize your strategy and your content: discover Twitch with Metricool.
Let's get into the matter…
Connect your Twitch account with Metricool
Before telling you what you can do on your Twitch account with Metricool, I'm going to show you how to connect your account.
Access the connections section of your Metricool profile and click on Twitch: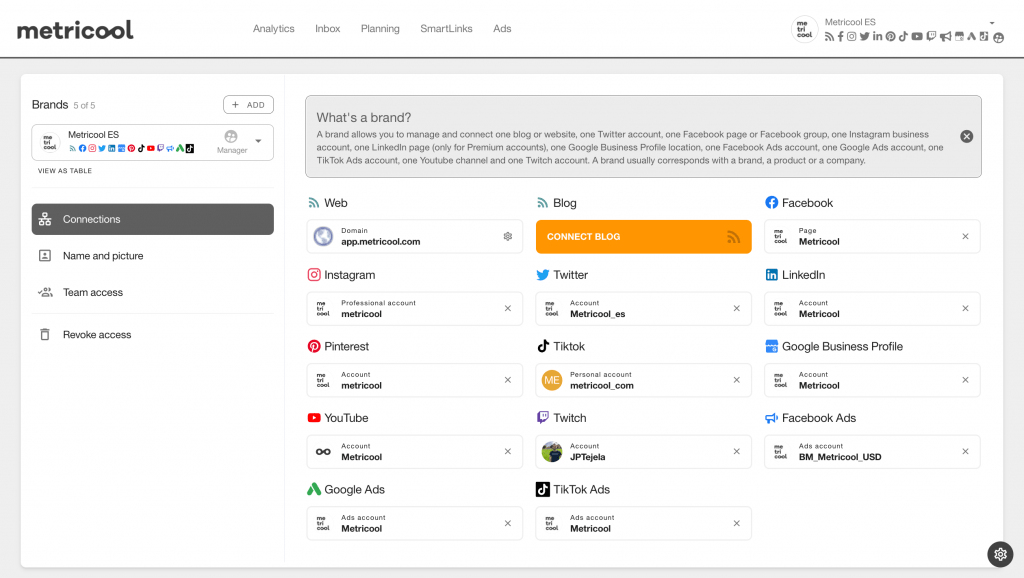 Log into your Twitch account:
Analyze your Twitch Channel
To analyze your Twitch account with Metricool, first select the dates for which you want to see the data.
Once you have chosen the time range you can start analyzing and obtaining the metrics that will help you make better decisions about your channel and your streams.
Evolution of your community
The first thing you can see within Metricool is how your community has evolved on Twitch.
You can extract this information from two graphs:
➡️ Growth of your community
Here you can compare the growth of your followers, your subscribers and also have information on your frequency of publication.

➡️ Balance of followers
Analyze how is the balance of your followers over time.

Information about your subscribers
Find detailed information about your subscribers with a graph that shows you the evolution of your subscriptions, a doughnut graph with the distribution of the subscription types (Tier1, 2, 3 and gift) and the detailed list of your subscribers.
Analytics of your streams
You can know the performance of your streams thanks to the analytics offered by Metricool.
With Metricool you can see:
➡️ Evolution graph
A graph with the evolution over time of your videos, their views and their duration.
➡️ Your most viewed streams
You also have a table with the most viewed streams of the period and their main information: publication date, duration and number of views. Order the table however you like and download it in CSV format.
In addition to the streams, you can see the clips that users take from your streamings.
Analyze your competition on Twitch
Discover the data of your competitors to know how their videos work and optimize your strategy and your content.
Analyze up to five of your competitors with the free version of Metricool and up to 100 with the Premium.
Download reports with your channel information
Do you want to have all your information collected in a document and be able to compare it over time?
With the Premium version of Metricool you can download all the reports you want on your Twitch channel.
Do you want to know what else you can do with Metricool?
Here is a guide with all the features: