Today, we will show you how to schedule carousels and automatically post them on Instagram with Metricool. We will tell you all about it here.
How to schedule an Instagram carousel on Metricool
The Instagram carousel is a type of publication that allows you to include up to 10 elements in the same post: an image gallery, a video gallery, or a mix of both types of content.
This option allows you to unleash your creativity. You have more space for your content, and it makes your reader spend more time on your post.
💡 A carousel is a great format to explain how a tool works, give tips to your followers, or combine video and image formats.
Scheduling carousels with Metricool helps you manage your work time more effectively. You can focus on other tasks while the app takes care of publishing your carousels for you.
In this article, we'll explain how to do it step by step.
✅ This carousel scheduling feature is available for all the Metricool plans.
STEP 1: Log In
Enter Metricool and log in with your email or Twitter account.
If you haven't created a Metricool account yet, you can do so by following these steps:
STEP 2: Schedule your carousels
Tap on the planning tap and click on the best hours for Instagram to see when it's best to publish on this platform according to your community. 
Another option is to program your content from Canva. Yes, the online design tool.
With the integration of Canva and Metricool you only have to design your content in Canva, click on Share and the tool itself takes you directly to the Metricool scheduler.
From there you just have to finish editing your scheduled post with tags, location or whatever you need. Done!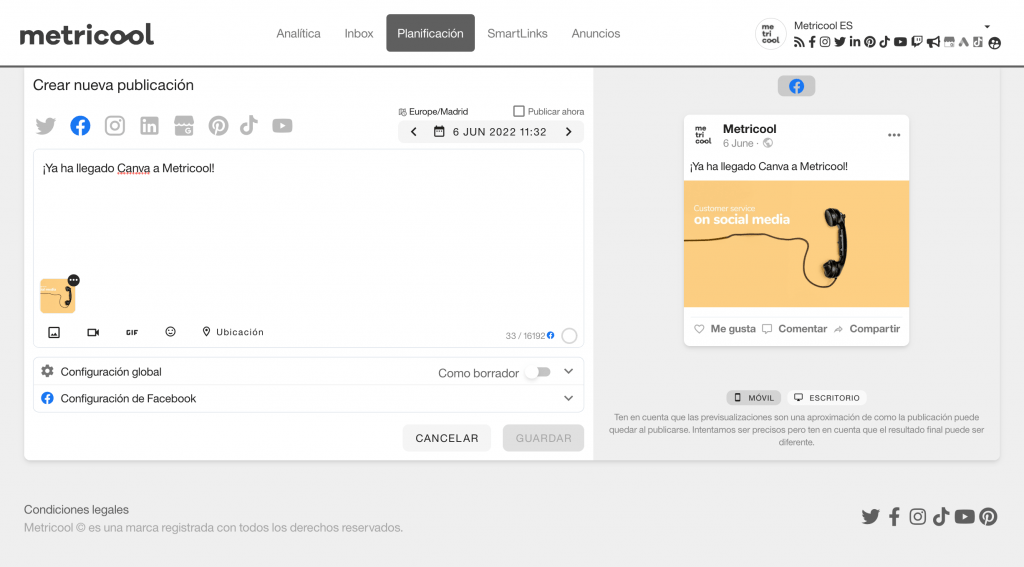 STEP 3: Choose the date and time to publish
You can create a new post directly by clicking on the calendar or clicking on 'Create New Post.' Depending on the method you choose, you will have to edit the time and date you want your post to be published.
STEP 4: Upload your text and carousel
In the new popup window, you will have a complete dashboard to schedule your posts.
Add the copy, hashtags, mention other accounts and add the media files you want to share on Instagram: up to 10 images that you can modify in Metricool's internal editor, short videos or a combination of both, short videos, or a combination of both. Also, tag other users and add a location. Bear in mind that you can only tag users in the first image. It's not possible to tag users in videos.
You can also check how your scheduled carousel will display once posted by clicking on 'See Preview'. You can see a preview of the content and how it will look in the feed with other content.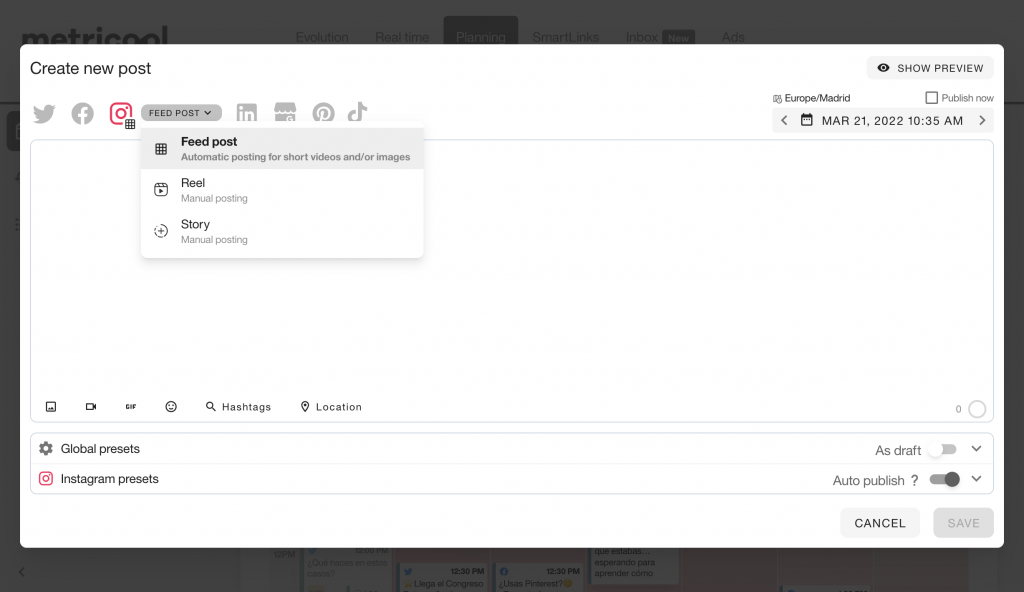 In this way, you can quickly identify the type of format you have scheduled and save time because Metricool will take you directly to the stories/reels or feed section to publish a carousel, or video.
Once you have scheduled your carousel, you just have to wait for your chosen date and let Metricool automatically publish your content.
This will help you manage your time in the best possible way and dedicate yourself to other important tasks that need your attention.
If you have any questions about how to schedule Instagram carousels with Metricool, we'll read your comments.👇🏻