You have the date marked on your marketing content calendar. You have the designs ready to upload to Instagram. When the time comes, you forget to publish it because you are busy with a thousand things to do.
As a social media manager, probably this situation sounds familiar, right?
Planning your social media content ahead of time will help you organize your day-to-day work in a more efficient way to make the most of your time and avoid missing important dates.
Today we'll show you how you can plan your Instagram carousels with Metricool. We'll tell you everything about it here.
How to schedule a carousel on Metricool
The Instagram carousel is a type of publication that allows you to include up to 10 elements in the same post: an image gallery, a video gallery, or a mix of both types of content.
This option allows you to unleash your creativity. You have more space for your content, and it makes your reader spend more time on your post.
A carousel is a great format to explain how a tool works, give tips to your followers, or combine video and image formats.
Scheduling a carousel with Metricool will help you manage your time more efficiently: focusing on other important tasks while the application takes care of your posts.
In this article, we'll explain how to do it step by step.
STEP 1: Log In
Enter Metricool and log in with your email or Twitter account.
If you haven't created a Metricool account yet, you can do so by following these steps:
STEP 2: Schedule your carousels
Tap on the planning tap and click on the best hours for Instagram to see when it's best to publish on this platform according to your community.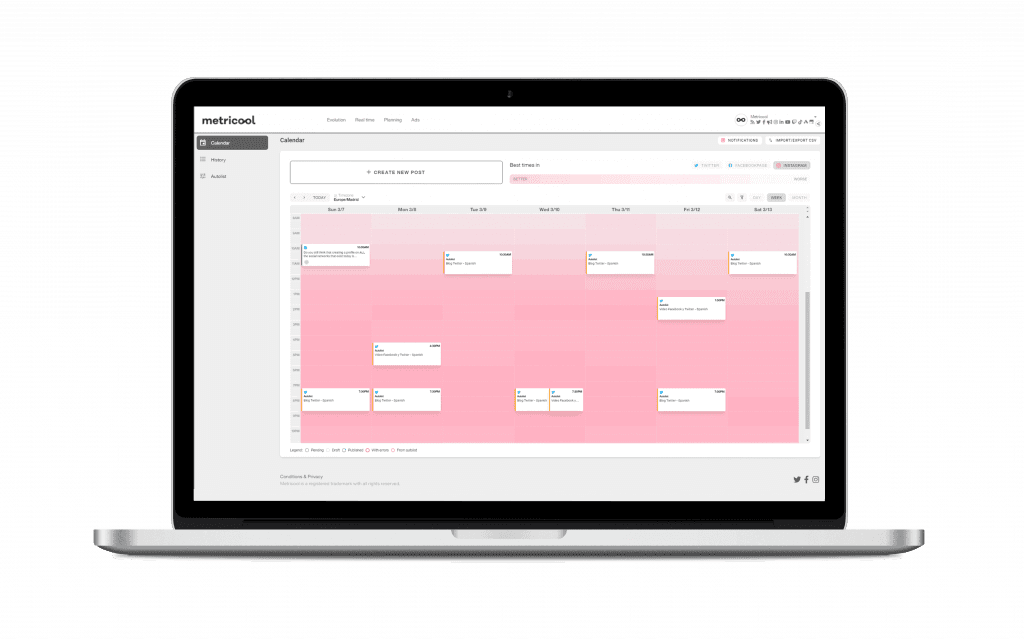 STEP 3: Choose the date and time to publish
You can create a new post directly by clicking on the calendar or clicking on 'Create New Post.' Depending on the method you choose, you will have to edit the time and date you want your post to be published.
STEP 4: Upload your text and carousel
In the new popup window, you will have a complete dashboard to schedule your posts.
Here you can add or write the copy for the post, include hashtags or mentions, and add the media files you want to publish, both videos and images.
STEP 5: Toggle the auto-publish mode off
Once you have all the material to publish, you will only have to deactivate the 'Auto publish' button right under the text box on the right side.
If you forget to deactivate it, the tool will let you know that it is not allowed to program carousels to automatically publish on Instagram. Therefore, you need to toggle the auto option off. Once you do it you can hit the "save button."
STEP 6: Set up how to receive the notifications to publish
Finally, configure how you want to receive the content when the time to publish comes. You can do so by clicking on the "Notifications" button located at the top right of the calendar screen: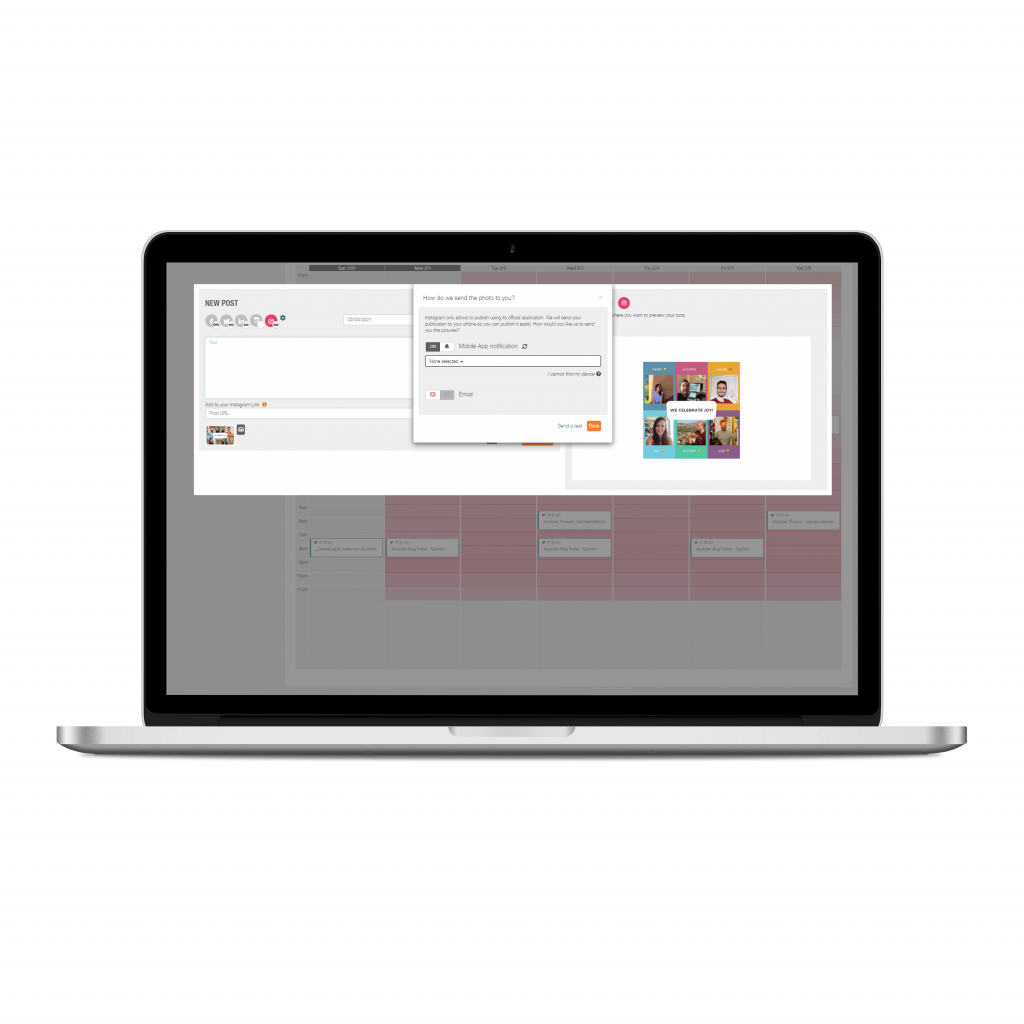 In this section, you will choose how you want to receive the notification: on your phone through Metricool's app or in your email. If you choose to receive the notification on your mobile device, you will see that the text has been copied in your clipboard, and the images or videos have been saved in your phone's gallery.
Congrats! You have already planned your content. Now, you just have to wait for Metricool's notification when the date and time arrive.
This will help you manage your time in the best possible way and dedicate yourself to other important tasks that need your attention.
If you have any questions about how to schedule Instagram carousels with Metricool, we'll read your comments.