With Metricool, you can schedule TikTok, obtain analytics of your videos and ad campaigns, and create reports.
After reading this post, you will go directly and register with Metricool… so we make it easy for you. 👇🏻
Let's start at the beginning. What you can do on TikTok with Metricool is classified into four blocks: Planning, Analytics, TikTok Ads, and Reports.
You are in good hands.

TikTok has authorized Metricool to develop all these features. We are a trusted tool.
Grab a coffee, and let's start!
Planning and scheduling TikTok with Metricool
Yes, you read that correctly. You can plan your content and schedule it on TikTok with the Metricool tool. No more being glued to your smartphone to record a video, forgetting to upload videos…
Prepare as many videos as you want, and Metricool will be in charge of scheduling them and notifying you when it's time to post them.
💡 How to schedule your TikTok video on Metricool?
The steps are simple, and you will learn them in a moment, pay attention. The TikTok posting process is automatic for business accounts and semi-automatic for personal accounts!
TikTok wants to maintain its essence, so you will need to give the final touches of your video from the TikTok platform itself.
▶️ ️ Record your videos for TikTok and go to the Metricool app or web version.
▶️ ️ Select the planning option and 'Create New Post'.
▶️ ️ Upload the video you have recorded, add a copy, include the hashtags, and choose the date and time you want the video to be posted. Click save!
▶️ ️If you have a business account you will have the Autopublish option activated. So, you already have your work done, your TikTok will be published automatically when you have planned.
If you have a personal account…
▶️ Pay attention to the notifications. When it's time to publish, you will receive a notification from Metricool (if you have the app downloaded). When you click on it the video will be saved in your mobile gallery as well as the copy, which will be automatically copied to paste it when you upload the video.
▶️ Give it the final touch: From the Metricool app you can directly open TikTok, so you just have to go to the inbox, create a video, upload the one you have saved in the gallery, give it the final touches and publish.
Ready! Now you just have to wait to see how your video works while you dedicate yourself to other tasks.
💡 We recommend that you activate your mobile notifications from both the TikTok app and the Metricool app. So you won't miss anything in the process.
Scheduling your videos will allow your team to plan videos on the assigned date and time. The social media manager will be in charge of retouching the video directly on TikTok and posting it. Also, once the video is uploaded, you can delete it from your smartphone or PC because we have already saved it for you. Free up space.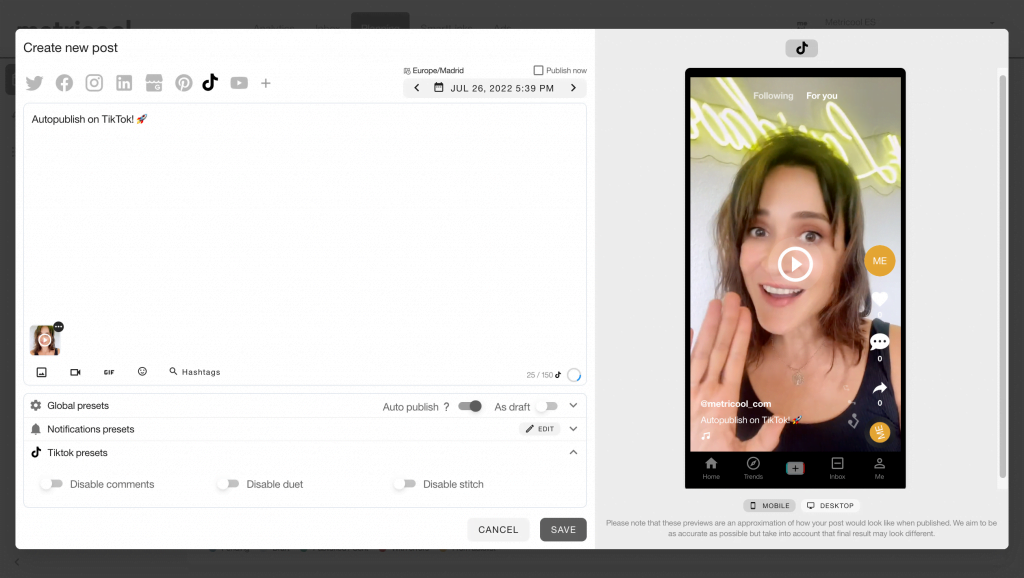 Video Analytics
To improve, you have to measure, which also applies to TikTok. So with Metricool, you can monitor your TikTok personal and business account and the performance of all your videos, sorted by likes, comments, shares, and duration.
A great way to measure your strategy and know what type of content works best to replicate it.
The amount of data you find in TikTok analytics depends on the type of account.

It is recommended to have a business account to access all metrics.
What metrics will you find on Metricool?
Community
⚡️ Growth
The number of followers on the date you have selected and the number of videos you have shared.
⚡️ Balance of followers
The followers you have gained per day during the selected time period.
Demography
⚡️ Gender
Whether your followers correspond to male, female or unknown.
⚡️ Followers by country
The origin of your followers divided by country of origin.
Account
⚡️ Profile
The metrics of the views you have had to your profile as well as the number of videos shared.
Videos
⚡️ Views
The total number of views in the chosen time frame and videos uploaded.
Also, in the graph, you can see how many videos you have shared each day and how many views you got in total.
⚡️ Interactions
How have your viewers reacted to the videos you have uploaded? Review your TikTok account interactions in total or in detail.
You have information about likes, comments, and shares.
⚡️ List of Videos
A complete list of the videos you have uploaded to TikTok with information about the date the video was posted, views, likes, comments, shares, and duration. Ideal for comparing your own content.
Also, two advantageous extra options: you can sort them by any parameter that Metricool offers and download the table in CSV for further analysis.
TikTok Ads
Do you want to measure the results of your TikTok campaigns quickly and at a glance?
Wish granted. Of course, first, you need a business account on the platform to see your ads' performance.
▶️ ️Within the Evolution section, select TikTok Ads on the left-side column, and if you don't have the account connected yet, this is the moment.
▶️ ️ Choose the period you want to analyze and measure.
What information will you find?
✅ The first graph shows you the reach of your campaigns, the number of clicks and conversions generated, and the performance: CPM, CPC, CTR.
✅ The second graph shows you the previous data but divided by campaign. So you can see the performance of your ads in detail and one by one.
Analyzing the performance of your ad campaigns with metricool is so easy!
Reports
And now comes the favorite feature of the 'metricoolers': the reports. This feature is included in our premium plans.
Download your reports with a single click and select the metrics you want the list of videos or ad campaigns sorted by.
▶️ ️ Within the Evolution section, go to Reports and choose the dates you want to show.
▶️ ️ By default, all your connected networks appear activated. You decide which ones you want. In this case, if you only want to include TikTok, only leave this option toggled on.
▶️ ️ Add your logo and generate the report in PPT or PDF, as you prefer.
You now have your report ready to send or download.
Bonus Track
✅ Use custom templates for your reports. With a Metricool's TEAM plan or higher, you can create custom templates for your reports to keep your brand's visual identity.
✅ Schedule your reports to be sent monthly. You can select to have it sent to an email address, yours or your client's, and send a message
💡 Start using TikTok with Metricool today
And if you want to be up to date with everything that Metricool can do for you, don't miss this Metricool's Mega tutorial.