What is Metricool integration? Metricool provides different types of metrics to analyze what's going on with your webpage and which content is shared on social networks.
It's an all-in-one tool: post planner, analysis and online advertising creation and management.
In order to measure and understand what's going on with your website, first you must integrate Metricool with your site.
FIRST STEP
Create an account with Metricool. You can opt for a Free or Premium account. This will depend on the brands you need to manage and the features that you need to have access to.
Once you create your account, it's time to start integrating and connecting your website and social networks.
SECOND STEP
In the option website & blog , click the configuration button and a new window will pop up with the following options.
There are three options to integrate your website with Metricool in order to analyze all the metrics of your website.
Choose one of these options depending on the type of website: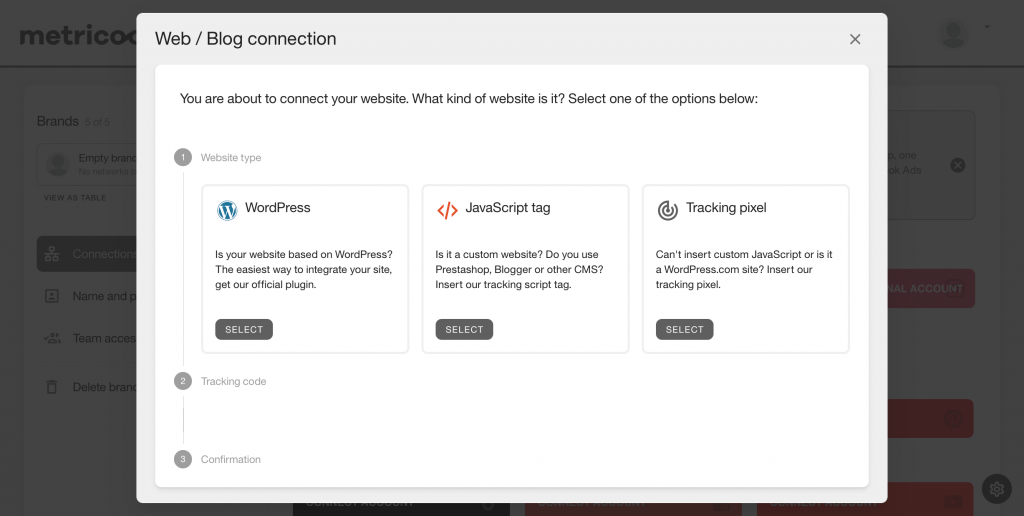 Integrate Metricool with WordPress
▶️ Install "Metricool plugin for WordPress" in your website and activate it.
▶️ Select on the WordPress right side menu Metricool Plugin and add the identification code that appears in option A. It's that simple.
Metricool Plugin installs a Javascript code in the page footer and in all public pages. This way, it can register all the visits to your website and show them on Metricool's dashboard.

You can uninstall it from your blog at anytime by deactivating the plugin or removing Metricool's identification code in settings.
JavaScript Tag
Insert the JavaScript tracking code in the footer of the page, sidebar widget or main menu of your web. In a place where it replicates on all the pages in order to measure all your users interactions.
This option is usually used for custom websites, Prestashop, Blogger, etc.
Integrate Metricool with Shopify
In order to integrate the JavaScript code in Shopify, follow these steps:
❇️ Enter the Shopify control panel, go to Online Store and tap Themes. Click the button Actions and select Edit code.  
Select theme.liquid under the Layout folder.
On the right side, the code of the page will display. Scroll down to the page until you find the following tag: </head> and add the JavaScript code before the closing </head> tag.
Make sure you save the changes and the integration is finalized. Everything is ready to start measuring.
How to integrate Metricool with Wix
If your website was created with Wix, in order to install the JavaScript code, follow these simple steps:
Tap on the 'Add +' button on the left side of the Editor.
Click on Embedded.
Choose 'Embedded Site' to be able to add an iFrame to your page.
Add your URL.
To do this:
▶️ You have to click on 'Enter website address'.
▶️ Now paste the custom HTML code into the text box and finally click Apply.
How to Integrate Metricool in Google Tag Manager
The steps to integrate Metricool into Tag Manager are this simple:
Copy the JavaScript code from Metricool
Go to Google Tag Manager and click to add a new tag. Then, click on "all pages"
Now, on the right side menu, select the custom html option and paste the code.
It's done!
You can also check out this video with all the previous steps.
Tracking Pixel
⚠️ Less recommended option
Another option to integrate Metricool with webpages that don't allow you to insert a JavaScript code.
However, bear in mind that with this alternative, you won't obtain all the information. You can only monitor visits and demographic data.
Apart from WordPress, Metricool can be integrated with other CMS platforms easily. Here you will find how to do it by using option B.
Metricool integration with Joomla
Integrating Metricool with Joomla is very simple thanks to SIS Metricool plugin developed by Sergio Iglesias.
It's not an official Metricool plugin but it works perfectly and it's easy to install.
Install the plugin
Insert Metricool tracking code, option B.
If you need to know how to integrate Metricool with a different CMS platform, let us know and we will add it to this post.

Discover Metricool integration! 💥