Scheduling your TikTok videos is now possible. TikTok allows you to schedule videos without losing reach. Follow the steps to control your content calendar on this social media platform and save time.
Also, programming your content will make for more effective teamwork and collaboration. This means several team members can participate and upload videos while a single person can supervise and add the final touches.
With Metricool, you can schedule content but also analyze your videos and create reports with all the relevant information.
Steps to Schedule your Videos on TikTok
Apart from your TikTok account (personal or professional), you need a Metricool account.
Remember that TikTok has authorized Metricool to include the scheduling feature in our tool.
If you don't have a Metricool account yet, we´ll give you 3 minutes to sign up and connect your TikTok account to Metricool.
That's all it will take! 🙂
Ready? Let's get started scheduling your first video on TikTok from Metricool.
1 Go to Metricool's Planning tab
Click on Create New Post and select TikTok from the available social networks that allow scheduling.
2 Attach the video that you will post
Upload the video you want to share on TikTok to Metricool. The content has to meet these requirements:
⚡️ The size: less than or equal to 500 MB.
⚡️ The format must be MP4 and MOV format.
⚡️The resolution must be higher than 540p.
⚡️The duration must be between 3 and 10 minutes.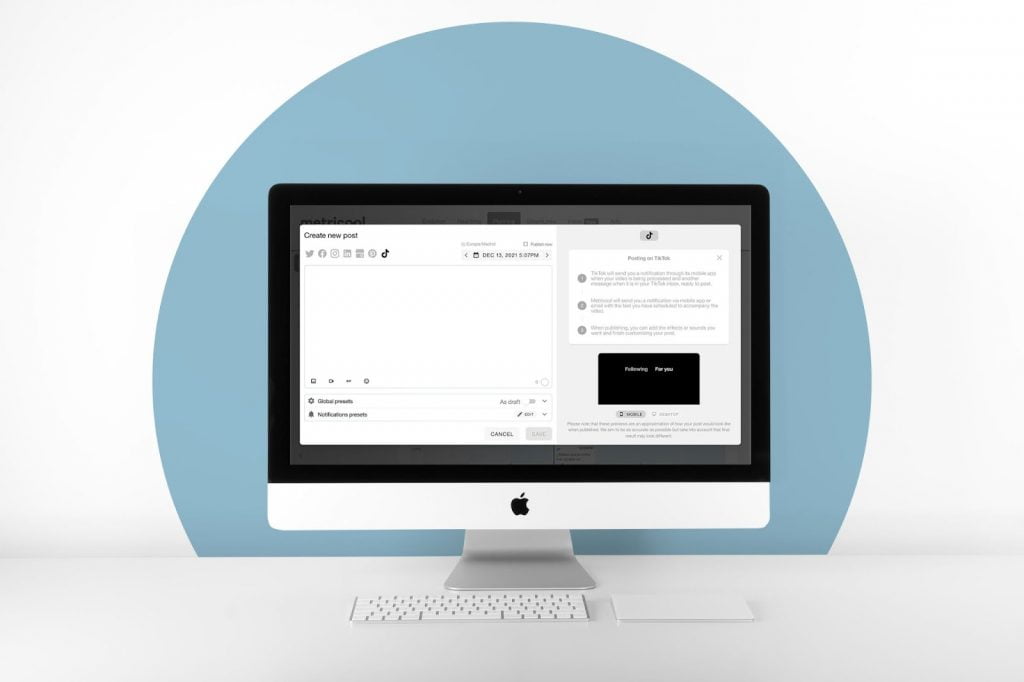 3 Schedule your TikTok Video
When you have uploaded the video to Metricool, remember to add the text that will appear below the content on TikTok, with its corresponding hashtags or mentions.
Then select the date and time you want to post the TikTok video. Check it out on your planner's calendar.
4 Check the notifications
This scheduling system for TikTok is semi-automatic. This means that Metricool will notify you when it's time to share the video, but you will be in charge of giving the final touches to the video and pressing the post button on TikTok.
TikTok has authorized this process since it respects the essence of their social platform as the filters, stickers, and music are added from the platform itself.
💡 Turn notifications on your mobile device to ensure you receive push notifications from TikTok and Metricool.
When the time to publish comes according to the date and time you have selected, you will receive one notification on your mobile device.
5 Time to Post
When you have received the Metricool notification, tap on it (or enter the application), you will see a preview of your publication, the video will be automatically saved in your gallery and you will have a button to access directly to TikTok.
Metricool redirects you to the TikTok app. Here click on 'Create a video', choose the previously saved video from the gallery (if you do it via email you will have to save it manually) and take the last steps before publishing: add filters, music, effects, cover image or the details you want.
6 Click on Post!
When you add the finishing touches to your video with the TikTok options, you just have to paste the text you had programmed in Metricool and choose a cover photo.
Select the privacy and content options you want… Done!
Click Post, and you have your scheduled video successfully posted on TikTok.
Scheduling on TikTok allows you to keep your content strategy under control and ensure that your profile is permanently active.
Remember that in addition to planning your TikTok content, you can also analyze the performance of your videos, generate professional reports and import your data to Data Studio.
If you have any questions, we will read your comments. 👇🏻