The way we communicate and what we talk about changes and evolves each day, and in the digital sphere, it changes in leaps and bounds. What's a trending topic one day, the next day nobody remembers and it's replaced by another subject.
Using influencers, celebrities and popular personalities for marketing purposes is not new. All of us want to be as successful and appealing as they are and this has a positive impact on the sales of the products that they advertise. In fact, several studies carried out by CPI Celebrity Performance, confirmed that:
Brands that use the image of well-known celebrities, influencers, for their ad campaigns earn more credibility and sympathy with their audience. Ultimately, this translates into higher chaces of sales.

The use of Influencers marketing in your digital strategy activates the persuasion principle of "authority".
The principle of authority establishes that a user who receives a recommendation from an 'influential' person will be more predisposed to take an action or make a decision.
Brands realized this phenomenon and started collaborating with YouTubers and Instagramers: they would publish photos and videos of a product in exchange for the free product itself. Finally, this type of collaboration became more professional, high level influencers started to work with agents and requesting formal contracts for their collaborations and an economic remuneration in exchange. This type of collaboration started to be considered as another type of advertising. This is when the term Influencer Marketing started to be used.
What Marketing Influencer Is
Influencer Marketing relates to communication or marketing actions carried out by influencers.
🚀 But, what's an influencer?
A person who has the ability to affect the behavior of followers on social networks, blogs or other digital media.
The communication actions with these type of people, through their channels (such as social networks, blogs, etc.) are considered influencer marketing actions.
Influencer Marketing is an exchange between users with certain authority on digital media and a brand. The Influencer promotes a product, service or brand in exchange for a monetary or in-kind remuneration.
Types of Influencers
Influencers are classified into different categories based on the number of followers in their community and on their nature. There is much controversy about how many followers an influencer should have but iab in his white paper on influencers clears up doubts.
Let's look at the differences.
Types of influencers based on the number of followers
⚡ Nano influencers: People who have up to 10,000 followers on their social networks.
⚡ Micro influencers: Influencers with a community ranging from 10,000 to 50,000 followers on Instagram or other social networks And on Youtube a range of 10,000 to 100,000.
⚡ Mid-tier influencers: From 50,000 to 250,000 followers in networks and in Youtube 10,000 to 1,000,000 million.
⚡ Macroinfluencers: From 250,000 to 1,000,000 million in Instagram and from 1M to 10M in Youtube.
⚡ Top influencers: Top influencers are those who have a community of more than 1M followers in networks or more than 10M in Youtube.
Types of influencers based on their nature
⚡ Natives: They are those influencers who have become famous through the social network they influence. They are Instagrammers or Youtubers by birth.
Like the Rubius who wasn't known before his birth on Youtube.
⚡ Non-native influencers are those whose fame comes from other non-social channels (television, music, sports, media, film, art etc…)
How to Collaborate with Influencers
If you are considering the possibility of including influencer marketing in your digital strategy, keep in mind the following tips before getting in touch with any influencer.
➡️ How to launch a campaign with Microinfluencers ⬅️
Make sure they 'influence' the right audience
To make sure that your actions get the expected results, you must search for the right collaborator. Influencers marketing doesn't center around the influencer but around the audience that follows them.
You must analyze whether the followers of the person that you are planning to contact is part of your target audience or not.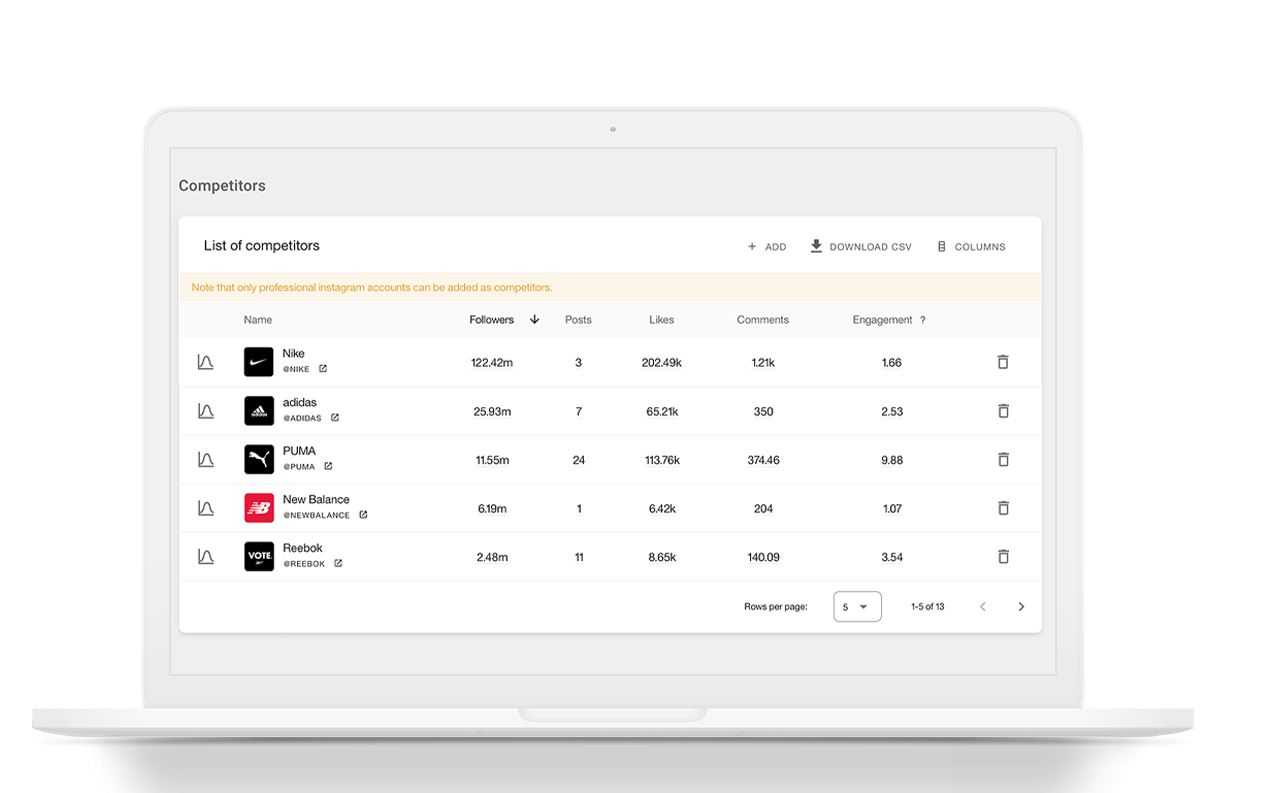 Best tool to find influencers on social media
You can perform the search yourself, typing in the details of potential influencers for your campaign. This task is quite time-consuming and the data may vary over time.
If you want to optimize your time, use a tool that helps you to see the data of potential influencers.
With Metricool you can analyze influencers on Youtube, Twitch, Instagram, Facebook, and Twitter by simply including their names in the tool.
At a glance, you get the data from their social networks and you can compare by reach, followers, see their posting frequency, their best posts, etc.
Not everything is about followers
In the selection of an influencer, you must consider more things beyond the number of followers. First check the interaction and engagement that they generate. There has been some cases of influencers that bought their followers, especially on Instagram. Assess the comments and likes that their photos receive. In short, their engagement.
It could happen that a person with half as many followers as someone else has more engagement.
Establish a clear proposal
So, what's your proposal? what are you planning to offer and what are you expecting to receive in exchange? You should have an answer to these questions before you ask for a collaboration. You must know what you offer:
You should also know what you will ask influencers in exchange for your marketing strategy:
A blog article
A discount for their subscribers
Sharing on social media
Video reviews etc…
Writing a blog and generating content for social networks requires a lot of time and effort. Don't undervalue their work and be sure to make them a fair offer in line with what you are asking them to do. Remember that if you can't pay them fairly, you can't expect too much.
Find the contact
Normally, their email address will be available on their blog, Instagram Bio, Twitter or in their Facebook Page info.
When you send them an email, remember to explain who you are, what you need and what you can offer in exchange. You never know when you are going to need to contact them again.
Some of the advantages of introducing influencer marketing in your digital strategy is the diffusion and attention it brings, the reputation, as well as the increase in the number of followers on social media. If you make a good selection of influencers and propose an interesting and creative collaboration, the success is guaranteed. Are you ready to start your influencer marketing?
If you have any question about how to work with them or analyze their work, we will read your comments…
Discover the influencer's resume
Influencers or content creators usually work with an influencer media kit. This is a portfolio or presentation which shows the effectiveness of their work.
This work can help a brand decide if the influencer is the best option for their campaign: take the time you need to review it as many times as you need, study it, etc.
⭐️ What is an influencer media kit?
Analyze your influencer marketing collaboration
For a marketing strategy to be successful and effective it is important to collect all the important information and analyze the statistics throughout the process: before, during and after the partnerships; this way you will be sure and can guarantee that you have achieved the expected results.
If you want to know which are the most important metrics to analyze in the world of influencer marketing I leave you an article explaining the main metrics to be taken into account…
▶️ INFLUENCER MARKETING METRICS ◀️
Top Influencer marketing platform
When executing your influencer marketing strategy you can choose to outsource the search through influencer platforms.
Check out 3 platforms that are highly rated by their clients and can help you find those influencers that fit your brand.
NeoRich
NeoRich has a database of more than 3 million influencers. It uses artificial intelligence to show influencers related to your brand or product.
The search for influencers is done with a high level of detail, you can choose between topics, social metrics by channel, demographics of your audience, etc.
Grin
Grin.co specializes in influencer marketing for e-commerce brands.
In addition to offering multiple influencer search options, and having a large database, the platform also displays influencer campaign metrics.
Grin also offers a communication system with influencers that goes beyond email, such as SMS or Slack. Undoubtedly the new means of communication for generation Z.
Tribe Dynamics
Tribe dynamic is an influencer marketing platform based in San Francisco. Its goal is to be the easiest and simplest platform to use, not only to find influencers but also to measure campaigns and collaborations.
It has integration with Shopify and other platforms.
Articles that may interest you…
Speaking of influencers and their success, especially in social networks, here are a few articles on influencer's rankings, their metrics, and some of their strategies to achieve success.
Check out the posts! They will help you learn more about the world of influencers…
✅ eSports players ranking on Social Media
✅ Parkour Influencers on Instagram
So much for influencers marketing and how to work with them or analyze their work. If you have doubts we read your comments below…