If you are an influencer or content creator, collaborating with businesses is one of your main objectives. To do this you need an influencer media kit.
What Is an Influencer Media Kit?
An influencer media kit is like a "resume" that you present to companies and brands to show them the work you have done as a content creator. It gives them information on the audiences from your social media and your own website. It includes real information so that brands can decide if they will take a chance on you.
Some important aspects…

Remember that your media kit is your professional portfolio. As well as followers, views, etc.; it is important that you include your personal information, so they can get in contact with you.
If you are starting your journey in collaborating with companies as an influencer, this post will show you how to create a professional influencer media kit, to improve the possibilities of making money through collaborations.
How to Create an Influencer Media Kit
Most users choose to do the information gathering and analysis manually.
This takes up a lot of time, and there is always the possibility that you accidentally add or leave out a figure. This may lead to the brand receiving it, to think the information is not genuine.
If you want a professional and credible influencer media kit that never fails, create your media portfolio with tools like Metricool.
Why using Metricool for your media kit
With Metricool, you can create your media kit in a report format, as a PDF document or as a PowerPoint presentation. With these formats you can include information from all your social media that you have connected to Metricool and your website.
This influencer media kit template can be personalized with your own brand colors, your logo, or the logo of the company you want to work with.
With the PowerPoint format, you can also edit it by adding your information, photographs or collaborations with other brands.
What Information to Include in the Media Kit Template?
Website or blog information
Do you have a website or a blog? Having this information available is useful when showing page visits, most visited pages or a profile of your average user and their demographics. Ultimately, a brand wants to know if your audience is similar to theirs.
✅ Audience
Add information about page views, page visits, but also where most of the traffic comes from: social media, Google searches, etc.
This way brands can decide if they want to include a post on your web page.
✅ Demographics
Include traffic by country or by region. If you click on any country that appears in your results, you will see details about the regions. This is something that brands are also heavily interested in.
Information from Twitter that you can add to your influencer media kit
✅ Demographics
You can also add an overview about the changes in your Twitter following. Such as comparing gains or losses of followers.
With this information, you can include a graphic showing the evolution of your followers.
✅ Mentions
One thing that is interesting to know is the users that mention your account and comparing that with the tweets you have put up. This can give them an idea of how your account works and how your followers interact.
✅ Tweets
A view of the relationship between the tweets posted on your account and the engagement with the content.
✅ Summary
How many times your tweets have been viewed during the selected period? Here you have the number of views and engagement your tweets get, and you can compare that with previous tweets you have posted.
✅ Interactions
Interactions show how your followers have reacted to the tweets you have posted: likes, retweets, replies, quotes, profile clicks and clicks on the links you have added.
This information is important for brands to evaluate how reactive your followers are on Twitter.
✅ Tweet Ranking
If you normally share different content, such as external links, interviews or YouTube videos, this information can be extremely helpful when planning your long-term strategy. This will let you know what type of content works best, so you can focus on that.
✅ Competitors
This section will help brands understand how your competitors perform and will also show them how you compare with them.
They now have all the information to know who to choose.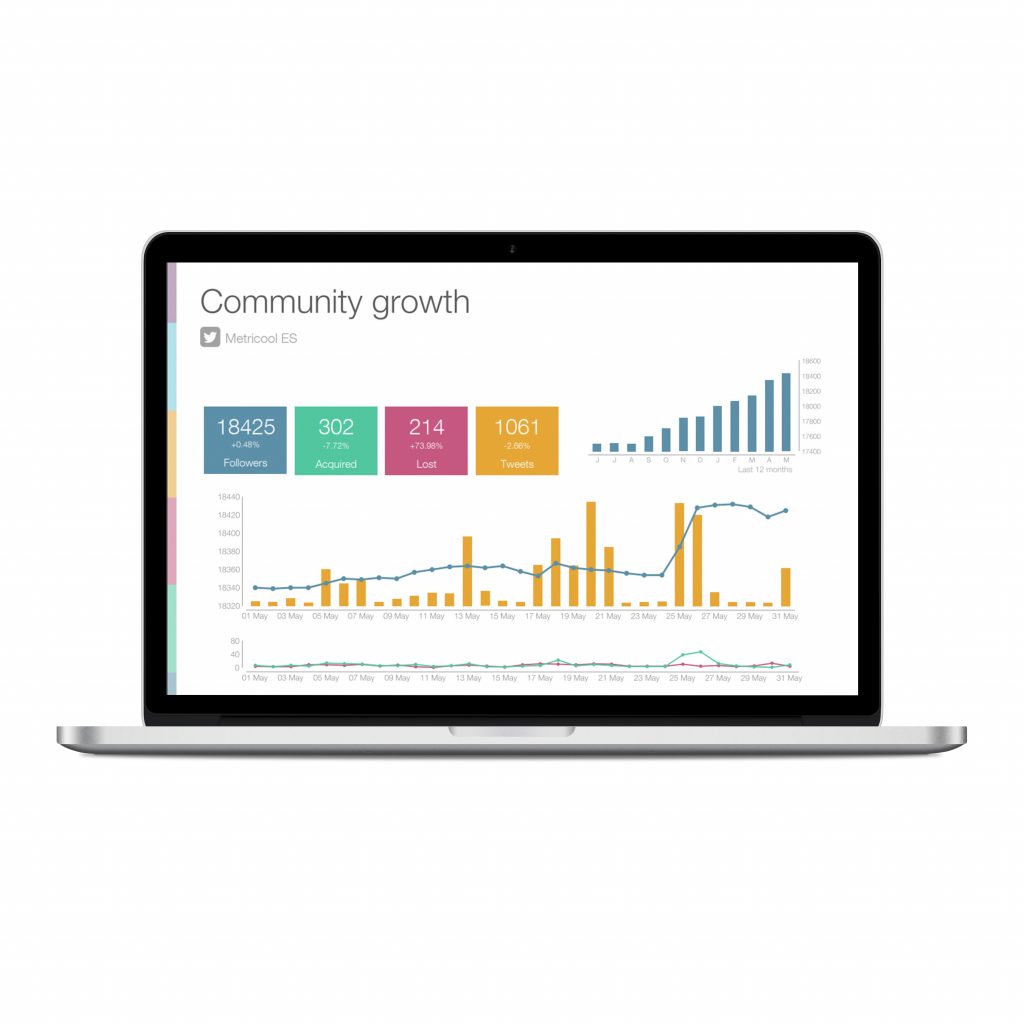 Facebook Information
✅ Community growth
An overview of how your Facebook page performed this month: How many likes you got, number of followers and number of posts.
You can also see how many followers you have gained and lost compared to the previous month.
✅ Demographics
Here you can add the gender, age, and where your followers come from. An overview of your followers' demographics can allow you to focus on one brand or another.
✅ Page views
A comparison between the number of views your Facebook post got, and the number of posts you have shared.
It will give you a percentage, positive or negative, with respect to the previous month.
✅ Clicks on Page
The clicks on your page are usually synonymous with how successful your content is and how much influence your page has.
In this case, with Metricool you can see the number of clicks on the call-to-action (telephone, mail, etc.) and on your website.
✅ Posts
A complete overview of the posts you have shared on your Facebook page, together with the level of engagement and scope it achieved. 
✅ Interactions
Reactions, comments, clicks on posts, the number of times a post has been shared. Here you can see how your audience has interacted with you.
✅ Post ranking
The posts you have shared throughout the month are placed in order: by reactions, by date, by clicks, etc.
A quick glance at how well your posts have worked, and which ones have performed the best.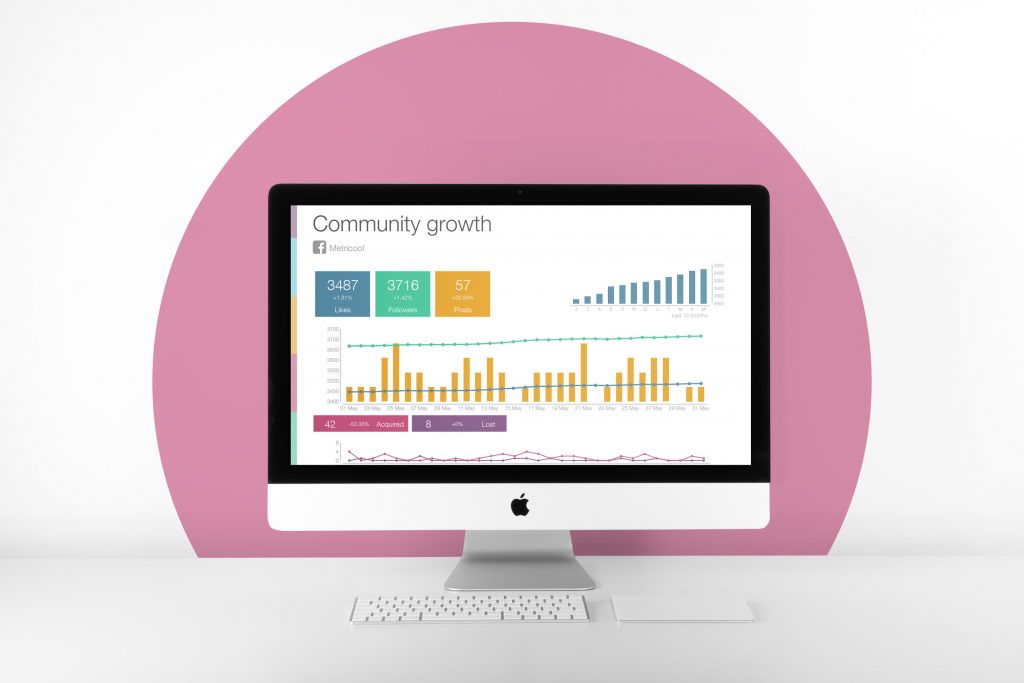 Instagram Information
✅ Community growth
How are your followers doing? The first analysis shows the number of followers you have at the end of the month and the growth you have achieved.
✅ Demographics
What is the profile of your followers? This detail allows you to focus on one type of content or another, and helps you know which brand would fit in with your profile.
✅ Reach
This information shows what kind of reach your following has, through views and profile visits.
You can also compare this with the number of posts. This figure only corresponds to posts, not stories.
✅ Posts
Calculating engagement can be quite boring. With Metricool you have this figure ready to show to your brand, together with the number of posts you have shared, all included on your influencer media kit.
✅ Interactions
On this graph, you can see the interactions of Instagram users according to how they connected with your profile: likes, comments and how often they have saved your post.
If they have saved your content, it is because they liked it, which is something Instagram keeps in mind when giving visibility and presence to your account.
✅ Post Ranking
A list of your posts that have performed best throughout the month. The default setting shows your posts in order of the number of likes, although you can change how this is classified.
✅ Hashtag Ranking
Hashtags are used on Instagram to position your content and allow Instagram users to find your posts.
On this page, Metricool offers information on the hashtags you have used, and how efficient each one has been.
✅ Stories
This content has grown over time since Instagram released it as a new feature.
Here you can see how successful your stories have been according to the reach and the views you have obtained. You can also see the number of stories you have uploaded and a ranking of your best stories.
✅ Competitors
Study your competition by using Metricool's 'Competitors' feature: compare and analyze followers, posts, number of likes, comments and engagement.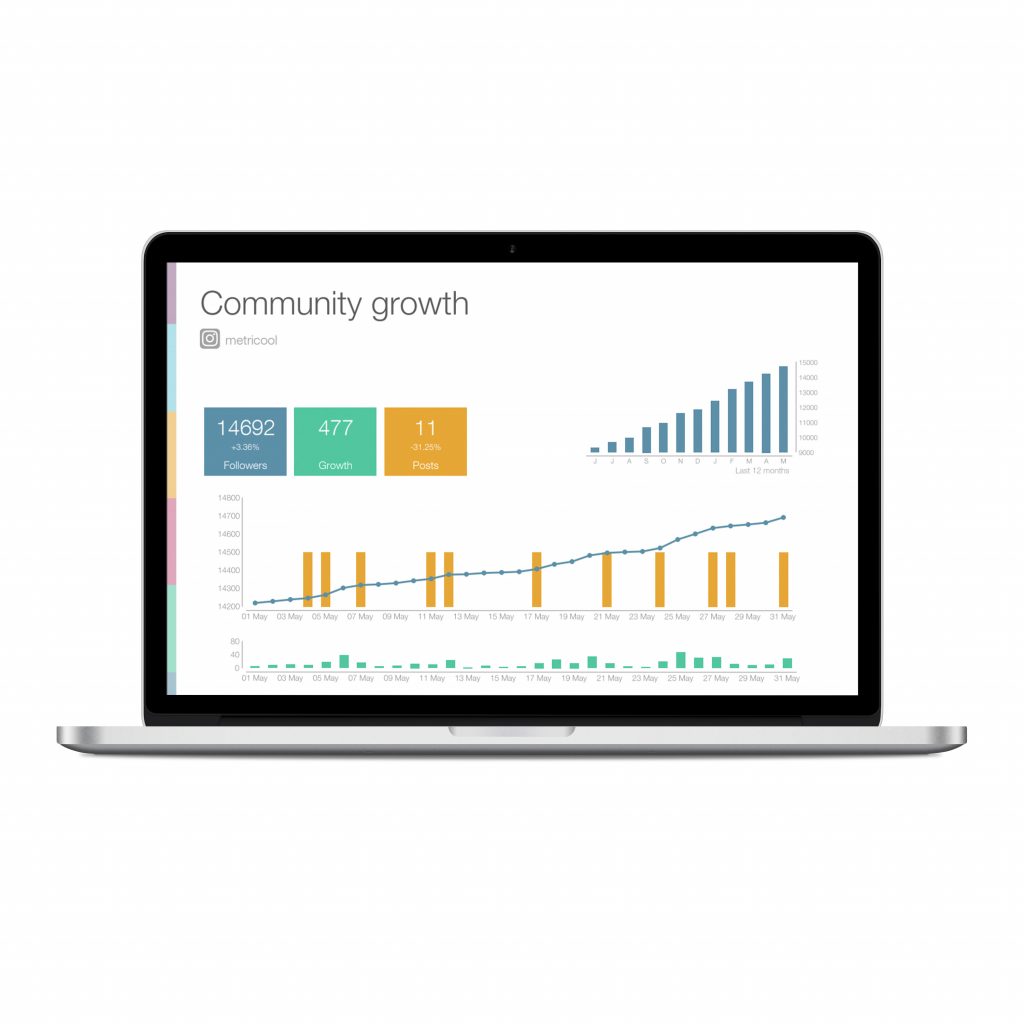 LinkedIn Information
✅ Community growth
Analyze how your LinkedIn community has grown. This information can be measured based on your paying followers, or your followers that don't pay.
✅ Page Reach
This shows the views that you have obtained during the month, with your posts and the number of posts you have shared.
✅ Interactions
On LinkedIn interactions are measured by the reactions, comments, and clicks you receive on your posts.
✅ Post Ranking
Order the posts you have shared on your LinkedIn page by the number of reactions, comments, views or clicks. Whichever you prefer.
YouTube Information
✅ Community growth
Demonstrate how your YouTube following has grown by the number of your subscribers, the number of times your videos have been played, and by the amount of income you have generated.
✅ Demographics
The gender, age, origin of your plays as well as where your views come from, are important factors for enhancing your content.
With Metricool, information about YouTube searches, notifications, and playlists is made available to you.
✅ Interactions
The 'likes', the 'dislikes' and the comments on your videos are the interactions that matter for YouTube.
These can help you position your videos in the platform's search box.
✅ Video Ranking
You can rank your videos by looking at how many times each one of your videos was played, how long they were played for, or what was used to view them.
✅ Competitors
Compare your channels' numbers with other competing channels by analyzing subscribers, views, and the number of videos or plays.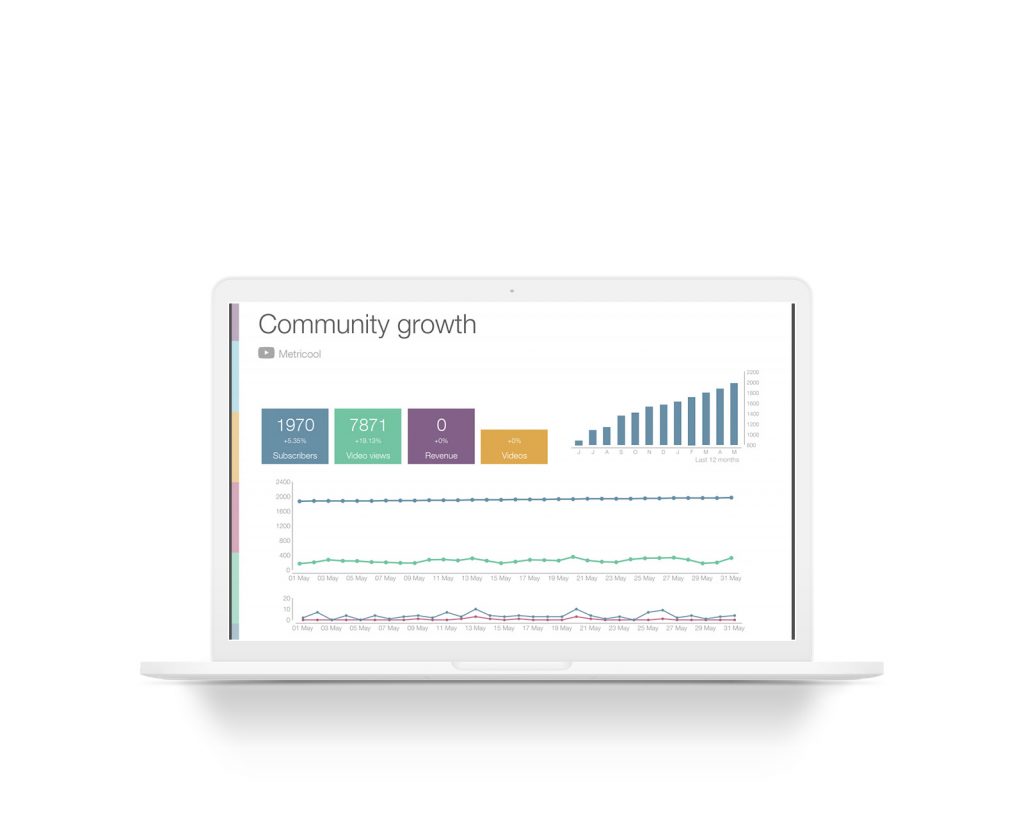 Twitch Information
✅ Community growth
Your Twitch community is reflected in your number of followers, which is a free option for the viewer, and your number of subscribers, which is a paid option that helps support the streamer.
✅ Videos
Here you can see a general overview of your live viewers, the number of views your videos have managed after being live, and the hours you have spent streaming.
✅ Competitors
One way of seeing how your competitors work and the numbers they are getting is by tracking their followers, plays, videos and clips.
Clips are the highlights of your live videos. They can be created by yourself or your viewers, and they are a sign of success among your community. Afterwards, you can download and share them on your social media.
This is all the information you can add to your influencer media kit, ready to send to brands and companies. All you have to do is decide what to include and what to leave out.
On the media kit template, fill in the boxes you want to include, add your logo or choose a template, and within seconds you will have your influencer media kit ready to share with brands and companies.
As you see, within seconds you have your influencer media kit created, ready to add your contact information or details about any collaborations with other brands.
With this you project a professional image, with real information and a social media kit with an impressive design.
If you want to have everything ready to start collaborating with brands, prepare your influencer media kit with Metricool.