Instagram has become one of the most popular social networks with about 800 million users around the world.
✅ Thousands of people have Instagram personal profiles for entertainment, being in touch with other people, discovering what celebrities do, and a long etcetera.
✅ Also, thousands of companies have their own Instagram accounts to get more visibility and develop their digital marketing strategies.
With Instagram's growth and the different uses that this social platform has, it is very important to analyze the performance of the content shared on this platform, generate reports with all the relevant information and plan the content… here is where Metricool comes into play.
With this article, I will tell you everything you need to know about what Metricool is and what it can do for you and your Instagram digital strategy.
Instagram with Metricool: all features
Metricool is a digital tool to help you manage your digital content and analyze the performance of your content and strategies.
Here you will find all the features that will help you grow on Instagram and increase your brand awarenes.
First, you will need to connect your Instagram professional account to Metricool to get started.
Once your business or creator account is connected, it is time to enjoy all the features that you can find on Metricool to manage Instagram.
Analyze the performance of your Instagram
Within Metricool, you will find a section called Evolution, the first tab at the top.
On this screen, you can review all the main metrics related to your Instagram account divided into three sections: Community, Posts and Stories.

Also, at the end of the evolution section, you will be able to analyze how your competitors are performing.
➡️ Community metrics
In this first section, you can check your analytics related to the growth and evolution of your Instagram account.
Growth
On this first graph you can check the evolution of your Instagram followers across time.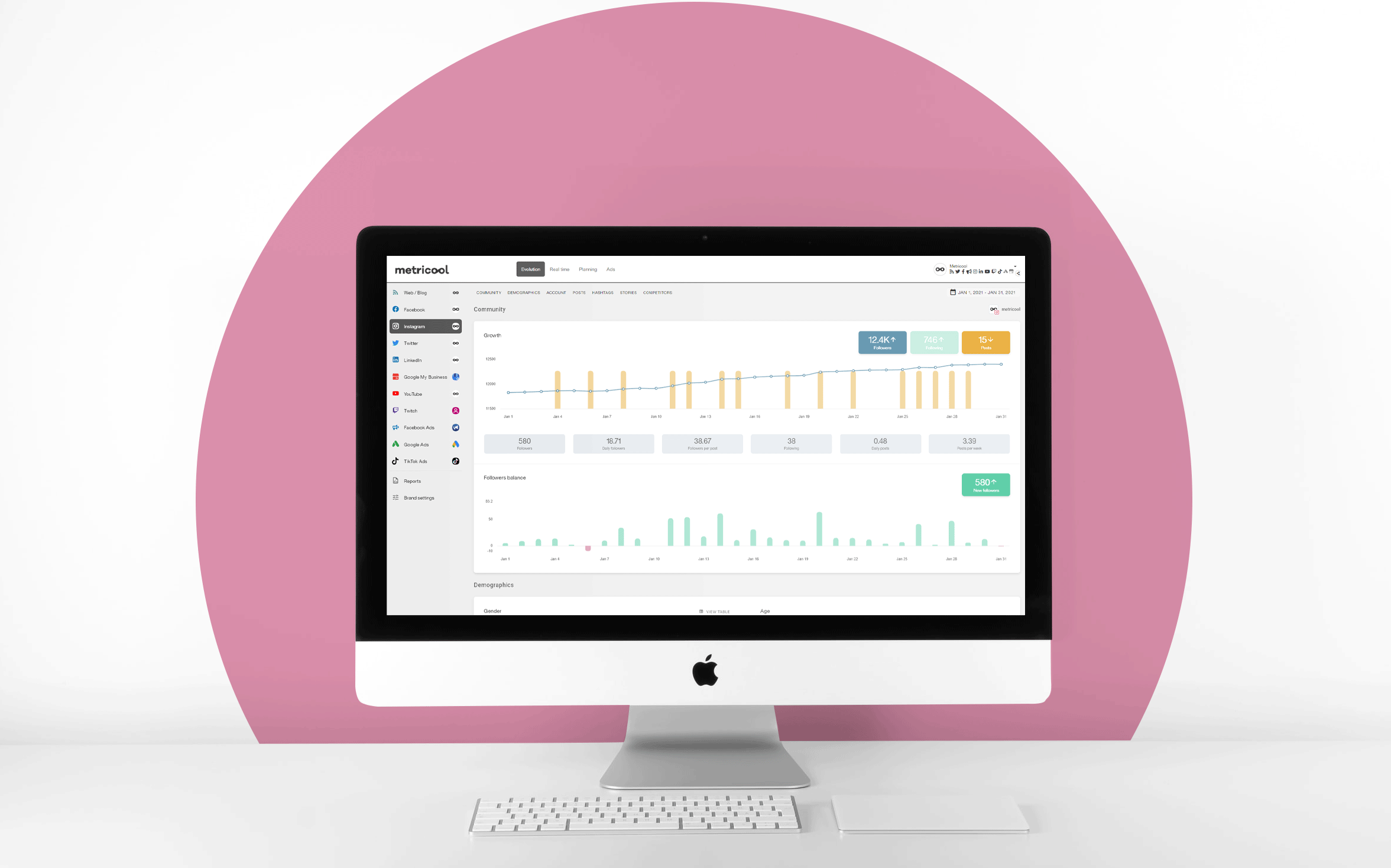 You will discover if your strategy is working and whether your community likes the content you share or not. You will gather very interesting information and draw valuable conclusions:
Evolution of your followers, if it is continuous growth that means that your strategy is working. That is, followers like the content you share and everyday more people are showing interest in your content. If the evolution is declining, then you should analyze why this is happening.
The evolution of your followers in relation to your posts: Do you gain followers when you share posts or vice versa? Analyze the behavior of new followers in relation to the frequency of your posts, it will help you decide the focus of your publications in the next months.
Followers Balance
Apart from learning about the evolution of your followers, you can check the balance of followers gained or lost on your Instagram account each day.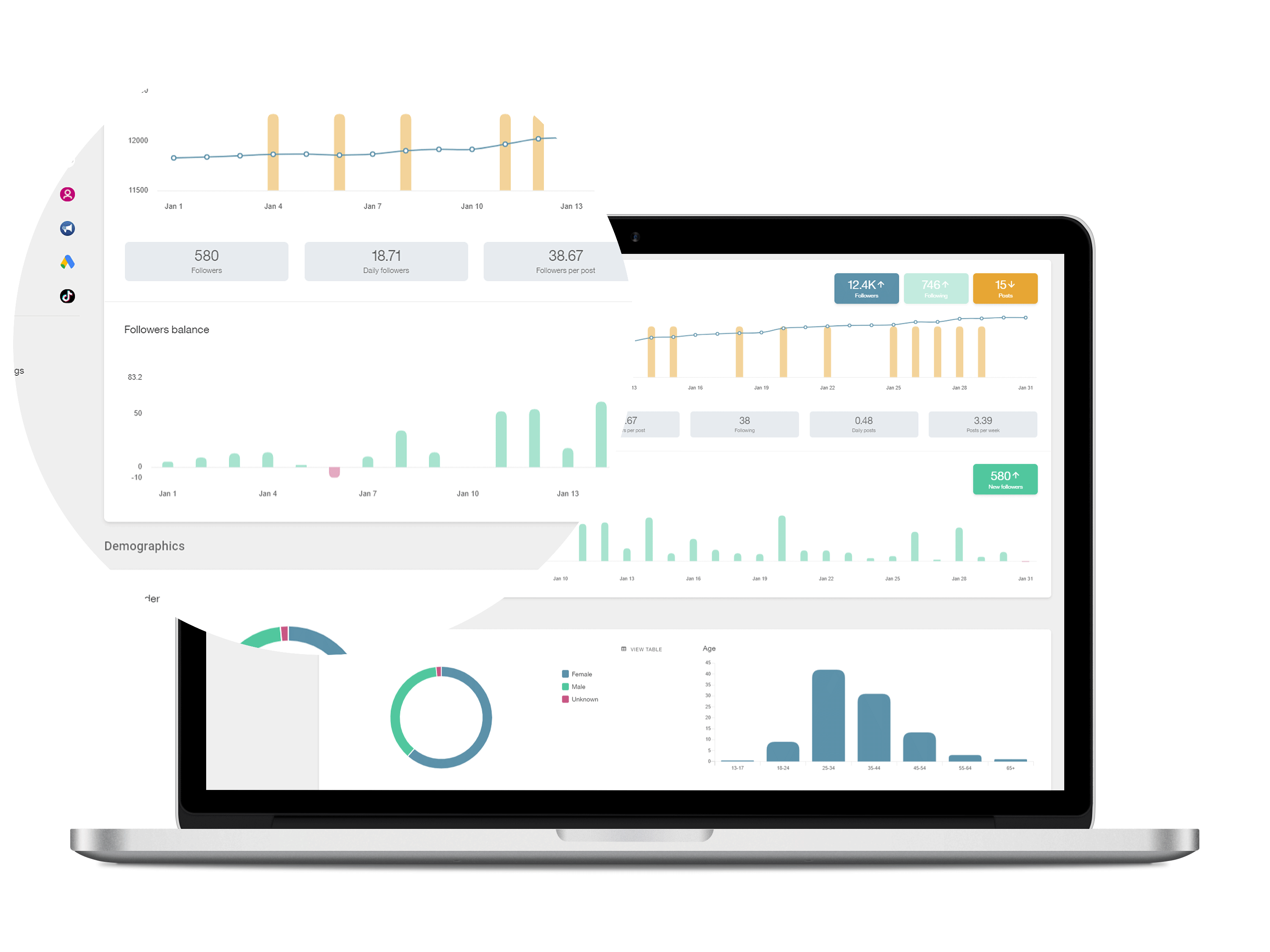 You can check on this graph how many new followers you have gained everyday. This information can be very useful if share with different types of formats:
Live Videos
Stories
Posts
Did you gain more followers the day that you uploaded several stories? If the answer is yes, it might be a good idea to include more stories in your content strategy.
Gender and age
The third graph collects information about the gender and age of your Instagram community.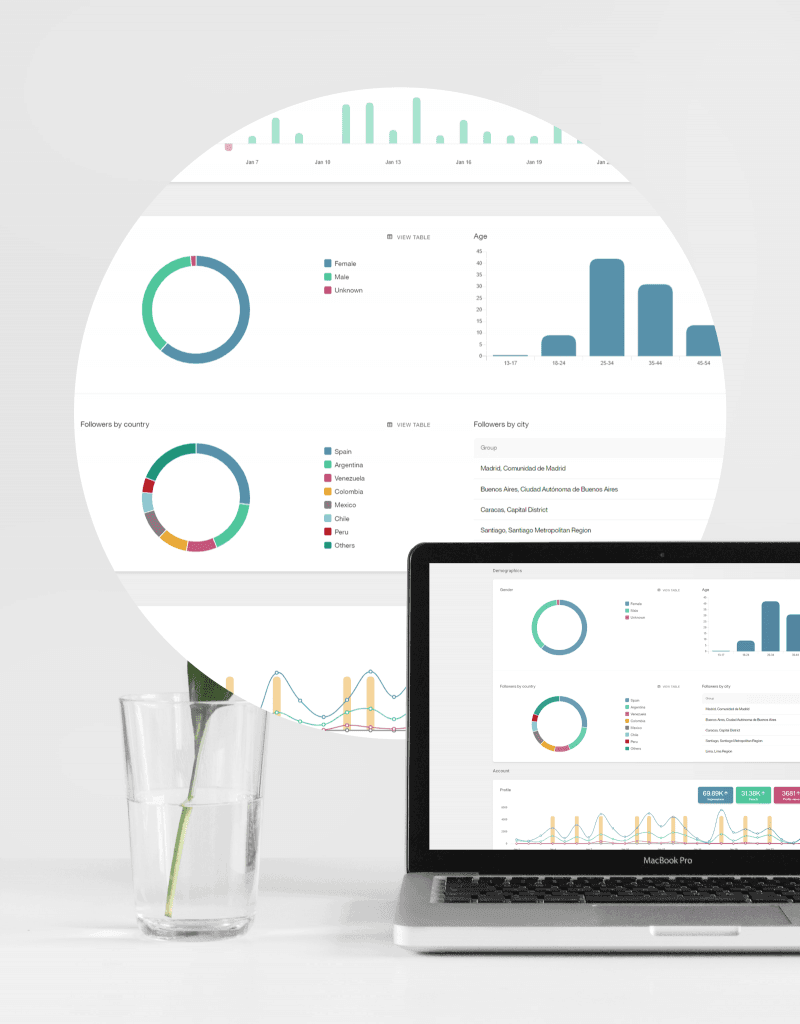 Do you know your Instagram Community well? Do you know your target audience?
With this information you will discover the type of audience interested in your Instagram profile so you can adapt your strategy to this target.
Followers by country and city
The same question as before, do you know your followers well? That is, which countries and cities they are from. This is priceless info that will help you manage your content too.

If there is a high percentage of users from the USA, it would be recommended to publish in english and spanish, right?
Profile
Information about your Instagram profile that is very useful too…
Impressions
Reach
Profile views
Clics on your link in the bio
Posts
On this graph you can also draw valuable information about your link in the bio for example. If the curve has declined, you could changed the CTA to make it more attractive to users. What do you think?
Another example would be, if your reach and profile views are increasing, that means that your content is succeeding.
➡️ Instagram posts analysis
In this section, you will find all the insights related to your Instagram posts.
Posts
With this data you will find out the type of content that works better and which ones don't have the impact that you expected. For instance, you might notice that videos perform better or carousels receive more likes from your audience than a different format.
You can carry out a thorough analysis to redirect your strategy and focus on the content that got better results and delete those publications with fewer interactions.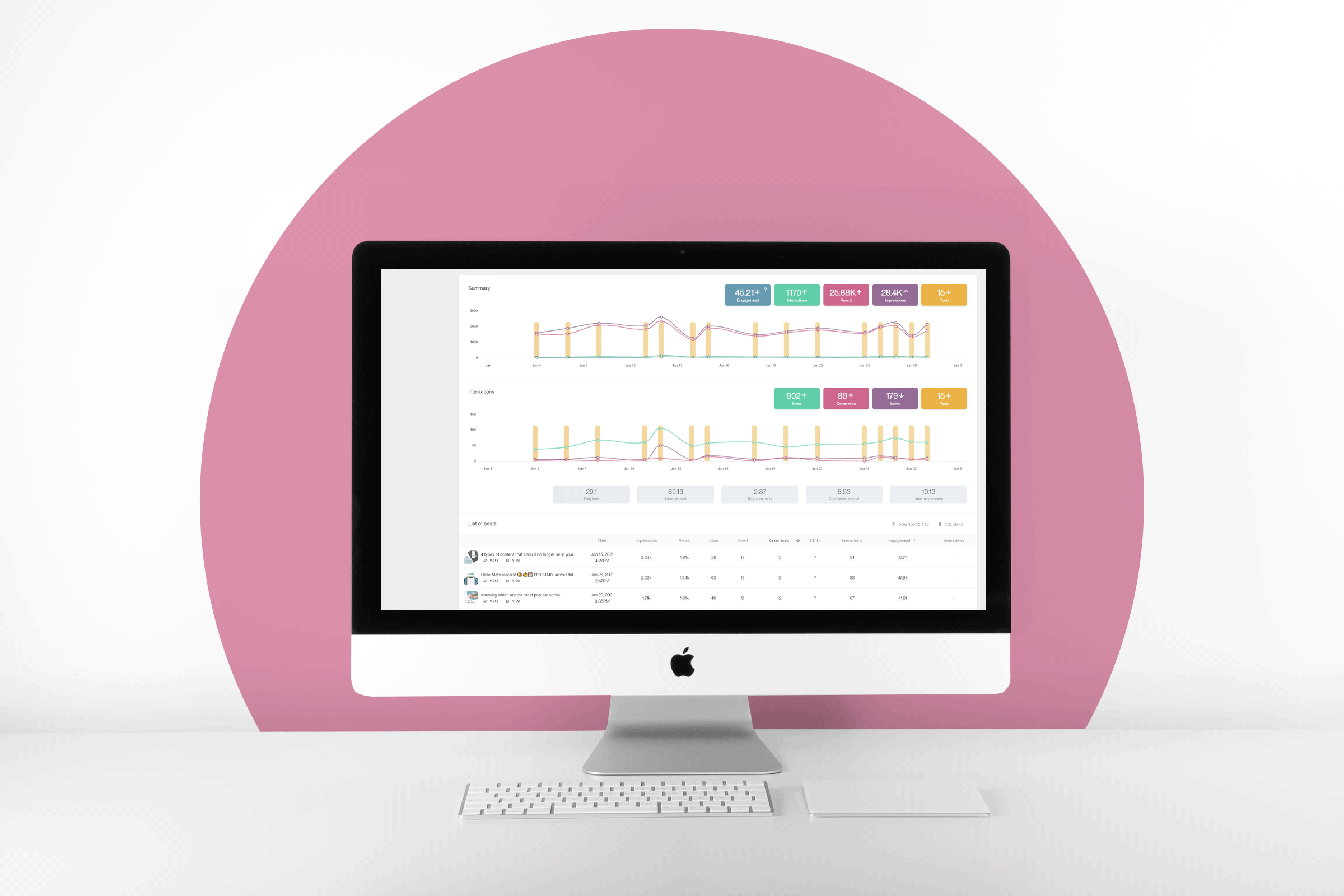 List of posts
In the next chart you will see a list with all the posts published in the period selected with the most relevant metrics. This will also help you to make informed decisions about what direction your strategy should take and where to focus on.
You can download this table in a CSV file for further examination and you can organize the table by the the metric that you consider more relevant for your strategy.
Hashtags
Next, you will see a table with the hashtags that you have used, that is on how many publications you used them, the likes that those publications received and also the comments.
This table lets you get more information about your publication and the hashtags that you have used strategically.
Bear in mind that hashtags can change the impact of your publications so you should analyze them carefully and get the most out of them to optimize the performance of your content.
➡️ Stories
Instagram stories are another important part of your strategy.
In this section you can see a graph with the evolution of the reach and impressions in relation to the stories published in the period selected. Plus, a table with all the stories and the main metrics. This will allow you to discover which stories your followers liked the most.
Questions and Answers?
Surveys?
Stories about a specific product?
Dive into all this information and improve your Instagram strategy.
Remember, that you can download all the tables in the evolution section in a CSV file.
➡️ Competitors
At the end, you can add your competitors to observe the most relevant data and to understand how they are performing and their impact on Instagram. If you tap on the arrow next to each competitor, you can get even more detailed information about their growth, interactions, posts published and hashtags used.
So, all this information will help you get a good general idea of how your strategy is doing, which areas need to be improved and which changes you can implement to keep up with your competitors and ultimately leave them behind.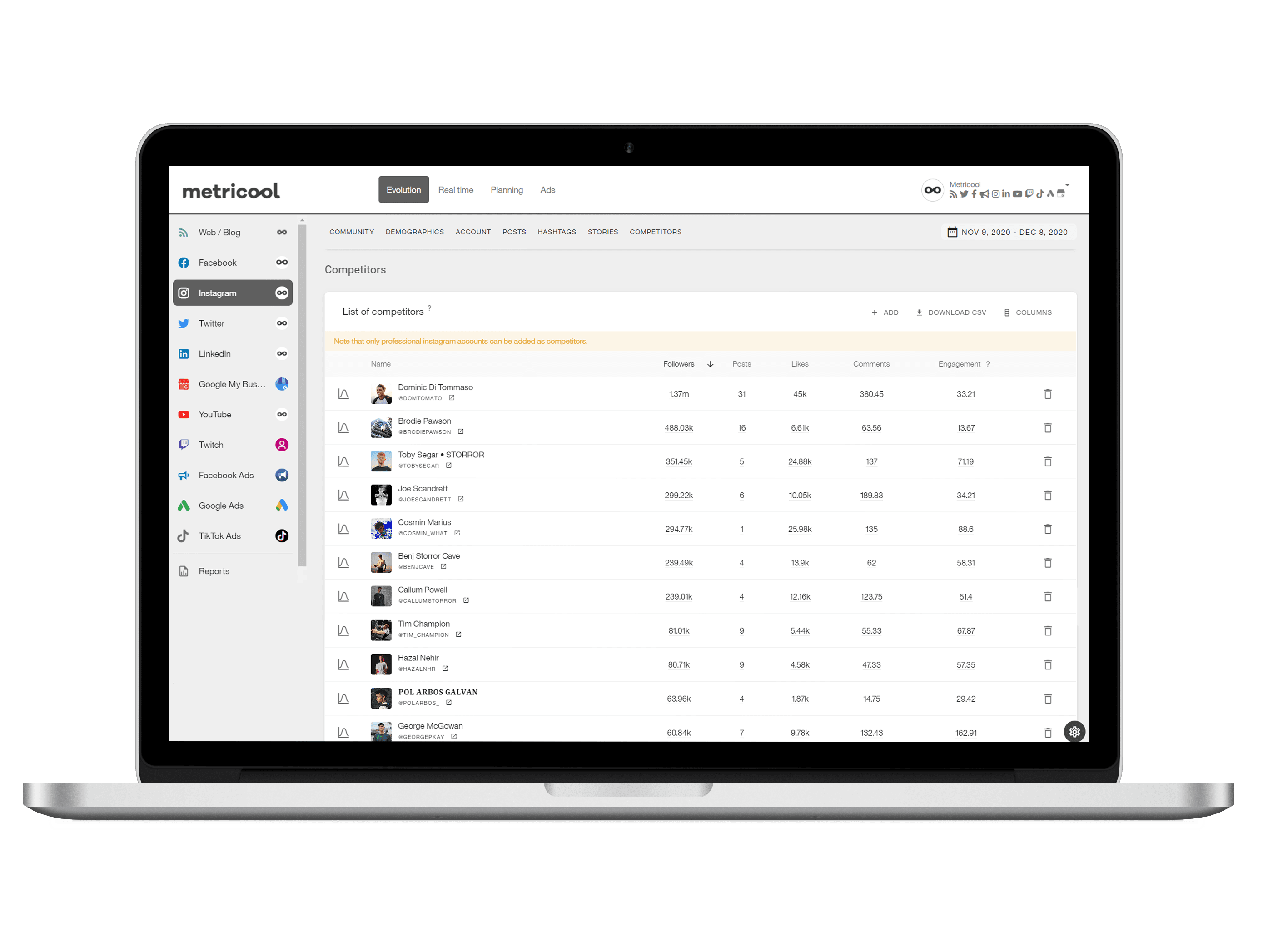 Plan your Instagram content with Metricool
With Metricool, you can also plan your content and discover when it is best for you to upload your publications by looking at the calendar.
Calendar and best hours
Under the planning tab, you will see a sidebar menu and the calendar.
On this calendar, you can plan your content for your social networks, not just for Instagram. This way you can leave all your content planned and up to date.
You will also discover the best hours on this calendar. If you click on the Instagram icon next to "Best Time On" you will see different shades of pink. A darker hue means that at that time your followers are more active on Instagram, that is, it indicates that your chances of getting more impressions on your posts are higher.
One feature that comes in handy is to preview the Instagram feed. With this tool, you can check out how the posts you have scheduled (even draft posts) will look in the feed before they are finally published. This allows you to anticipate possible errors in the design of images. Plus, you will make sure that the feed is organized to your liking.
Hashtags are a great complement to your Instagram content: they help users find your post through keywords.
In Instagram with Metricool, you have a hashtag search engine to find the most popular ones when publishing your content. This feature is only available for Premium users.
When you upload your videos directly to Instagram, you can add a cover, right? If you schedule your content from Metricool, you also have the possibility to choose a frame of your video as the cover. This option is only available when the auto-publish button is enabled to publish directly on your profile.
From Instagram with Metricool, you can plan your content to be auto published on your Instagram account or via push notification or email. There are three options to publish Instagram content with Metricool:
Auto publish posts in the feed with a single image or video
Notification via email to publish stories, reels, IGTV or carousels.
If you have downloaded Metricool's app on your phone, you can set it up to receive push notifications to your device.
Planner History
On the left sidebar menu, you will see 'History'. Here you can check all your publications planned from Metricool on all the social networks.
Plan your content automatically with autolists
An autolist is a group of publications that you can share on different social networks. This content can be programmed periodically so you can relax with the peace of mind that your social networks are well taken care of.
⏩ Autolist lets you plan your content on social networks faster giving you more time to focus on creating new content.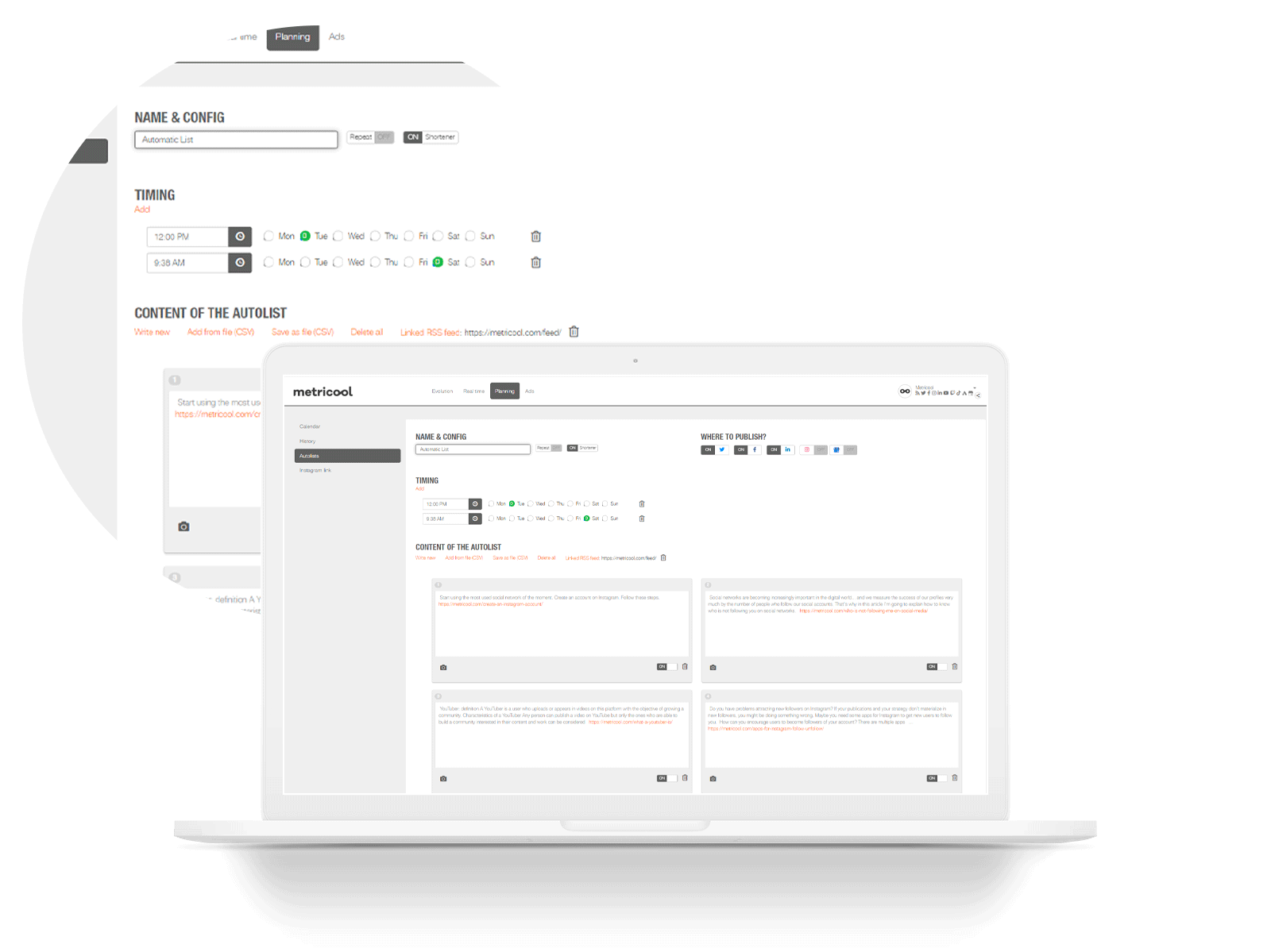 You can configure the days of the week and time that you want your autolists to be published. Plus, on which social networks you want them to be posted.
You can upload posts to an autolist manually, through a CSV file or with an RSS Feed.
Add multiple links to your bio
If you often use Instagram, you will know that only the link in the bio is clickable apart from the ones you can add to your stories. You can't add a clickable link in the caption of your posts in the feed.
This is a downside for companies that want to add links to drive users to products, services, etc.
With Metricool, you can add links to all your posts and buttons thanks to its SmartLinks feature. With this tool, you can direct users to a page with all the clickable buttons and posts you previously configured from Metricool.
Once you have configured the page, simply copy the URL provided by Metricool and paste it into the link of your bio. When followers click on it, they will land on a page with all your clickable buttons and post, as shown in the image: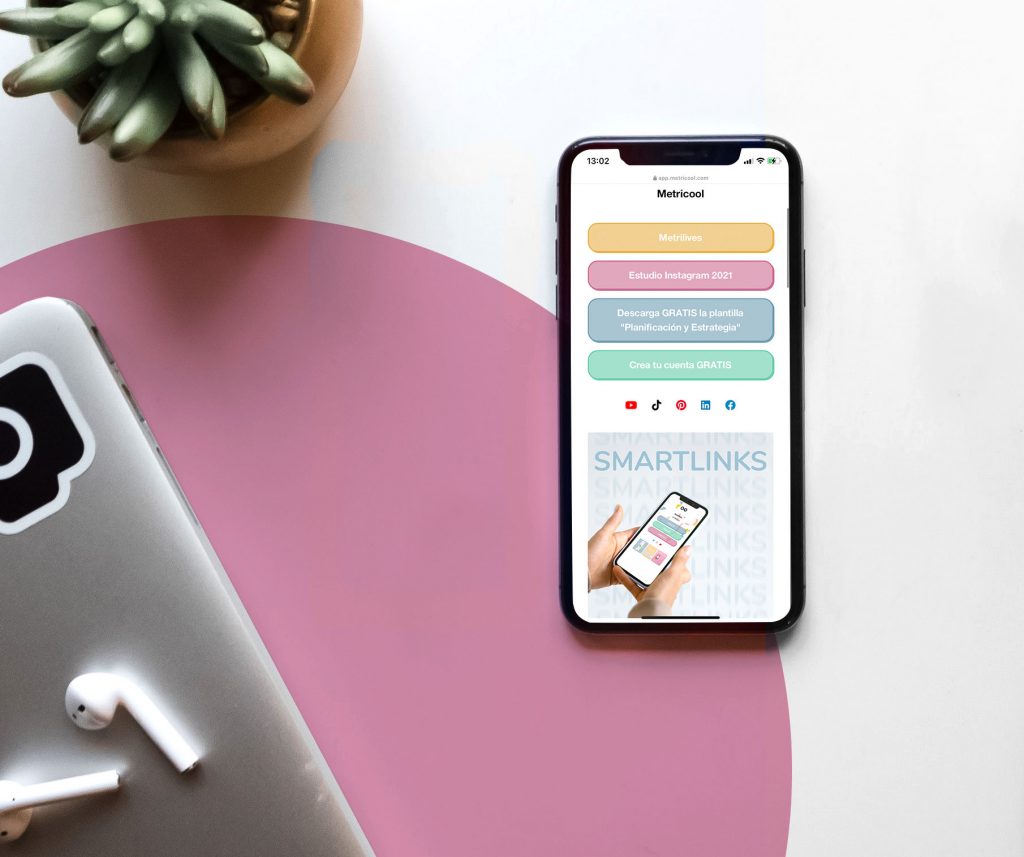 Instagram Product Tags
We also now have a new feature for the inbox. Now, professional Instagram accounts who have a shop are able to tag products in their posts.
The process is very simple and easy to use. The requirements are this: Have a business account, accept the new premises, and have a shop on Instagram.
Once you have all the requirements, you have to access the planner and select the photo in which you want to tag products. Then go to the presets and you will see a new bottom titled "Add tag product".
A new window will open to allow you to place the tag in the area of the photo where the product is. 
Once you have selected the placement, you can select the catalog and product that you want to tag.
At the end you will see the tag in the presets.
Manage your comments
On the upper menu, you will see the tab called Real Time. When you go there, on the sidebar menu go to Messages where you can manage comments and messages from the different social networks.
So, apart from planning and analyzing your Instagram strategy and adding links to your publications on Instagram, you can manage all the comments received on your publications.
The advantage of this feature, is that you can do everything from Metricol, you don't need to enter your Instagram account to reply to all your comments. You have everything in the same platform.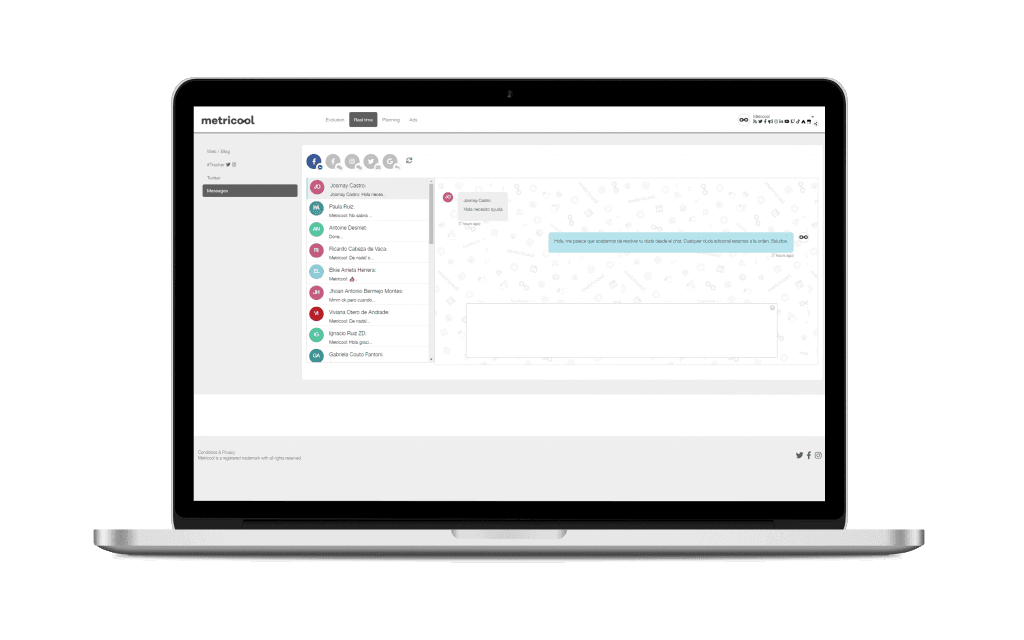 Monitor a hashtag on Instagram
Under the Real Time section, you can click the option Hashtag Tracker. With this feature you can monitor your Instagram hashtags and gather valuable information:
How many publications have been published with your hashtag
The type of publications
The impact of your hashtag on Instagram
When it has been used more and when less
Create Instagram Ads
From Metricool you can create and manage your Instagram ads. You will find it in the last tab that I haven't mentioned yet: Ads.
Under this tab, you will see several sections on the left side menu where you can manage your campaigns from Google, Facebook and Instagram.
Today we are focusing on Instagram, and for that you can check two sections:
Campaigns: Here you can analyze the performance of your Facebook Ads campaigns (you can check Google Ads too) and manage them directly from the chart. You can change the status of a campaign or even modify the daily budget depending on the results of each campaign.
Create Campaigns: On this section you can create your ads on Instagram, Facebook and Google. The process is quite simple, simply follow the steps on each screen and fill out all the information requested.
• Types of posts in the Evolution section, a doughnut chart with the number of posts to Instagram classified by format: photo, video, carousel or IGTV.
• Detailed stats: In the list of posts, you can analyze the most relevant metrics separated by columns, both organic and promoted data.
For interactions, clicks and reach, you find each metric separated into columns by organic and paid content. With regards of organic clicks, it refers to the clicks received in the posts added in your bio
Impressions and video views are displayed in the same column but if you hover over the number, you have a bar that separates the organic from the promoted.
Download reports about your Instagram Strategy
With the Premium version you can download reports with the following information:
Metrics about the Evolution of your Instagram account
Information about the performance of your campaigns on Facebook Ads for Instagram
Also, if you have tracked a hashtag on Instagram, you can download all the information in a report once the event has finished.
You can choose the period of time that you want to analyze on your reports, one month, trimester, etc. This will help you to understand what is working or not in your strategy.
So, these are all the things you can accomplish on Instagram with Metricool's help. If you are interested and want to try out our tool, click this link:
➡️ Try Metricool for free ⬅️
Now you know all of the features about Instagram with Metricool. If you want to learn more about other Metricool features that can help you carry out your digital marketing strategy, check out this article to discover what Metricool can do for your: