The ultimate tool to analyze, manage and measure the success of all your digital content.
Free. Complete. Intuitive.

A new and more intuitive way to see all your marketing analytics
Metricool is free to use for as long as you want. All in one site: web analytics, blog content, Twitter, Facebook, Instagram, Linkedin publication planner, real-time and more.
Finally all the information that matters in an easy and intuitive tool.
Find out what's happening in real time
Easy. Complete. Reliable. All the information you need to make calculated, yet swift, decisions.
Monitor your website and blog to know how your content or your promotional campaigns are working. What pages are your readers looking at? What navigation path do they follow? Find out where they come from, What they are reading now, what pages they have read or how long they spent on your site.
Using Twitter in real time you'll know which followers are active in the moment so you can interact with them immediately or publish content relevant to their interest.
Easily schedule your posts and tweets
With our handy post planner, you can publish right away or set it up at another time. Do you want to schedule your content for Twitter, Facebook, Linkedin and Instagram at times when your audience is online? Do you want to co-ordinate your messages across both platforms in one place? Your wish is Metricool's command.
Organize your posts visually. Adapt your schedule based on the best times to publish. Post links, multiple images or animated GIFs. Keep track of all your content statistics: clicks, interactions or impressions.
Group and organize your content with Autolists and define days and times to publish them. Rearrange your content easily. Pause a list when you need to. All the tools and information you need to plan and manage your social network posts.
Follow the evolution of your networks, your website and your blog
You will not find another tool like Metricool to analyze all your content. Your website, your blog posts and your social networks: Twitter, Facebook, Instagram and Linkedin.
See how all your metrics evolve. Not only page views, visits and visitors, countries and traffic sources, but also the impact of your blog posts and the engagement of your audience on your social networks. Watch your audience as they grow and interact with you.
It is the most easy-to- use and intuitive tool on the market.
All the information that matters is presented in a user friendly design. Intuitive and simple. You will not get lost in layers of statistics or complicated menus.
Exceptional reports for professionals like you
Show your boss or your customers that your content is the best without spending huge amounts of time and effort compiling reports from different sources.
Metricool reports show the results of your content and your social networking strategy. In a professional and simple way.
Customize the content of your report by choosing the information you want to include. Web analytics. Blog content. Twitter. Facebook. Instagram. Linkedin. Personalize the design by including your logo on each page.
Analyze the reach and the impact of any hashtag on Twitter
Track and analyze any hashtag, any topic, any keyword or any user account.
Stimulate the engagement of your audience and expand your reach. Our real time displays show you who the most active and most popular influencers around that hashtag or topic are.
The professional PDF reports enable you to show how important your hashtag or topic is to any relevant stakeholder.
Find out where and how long your hashtag or topic has been trending across your social networks.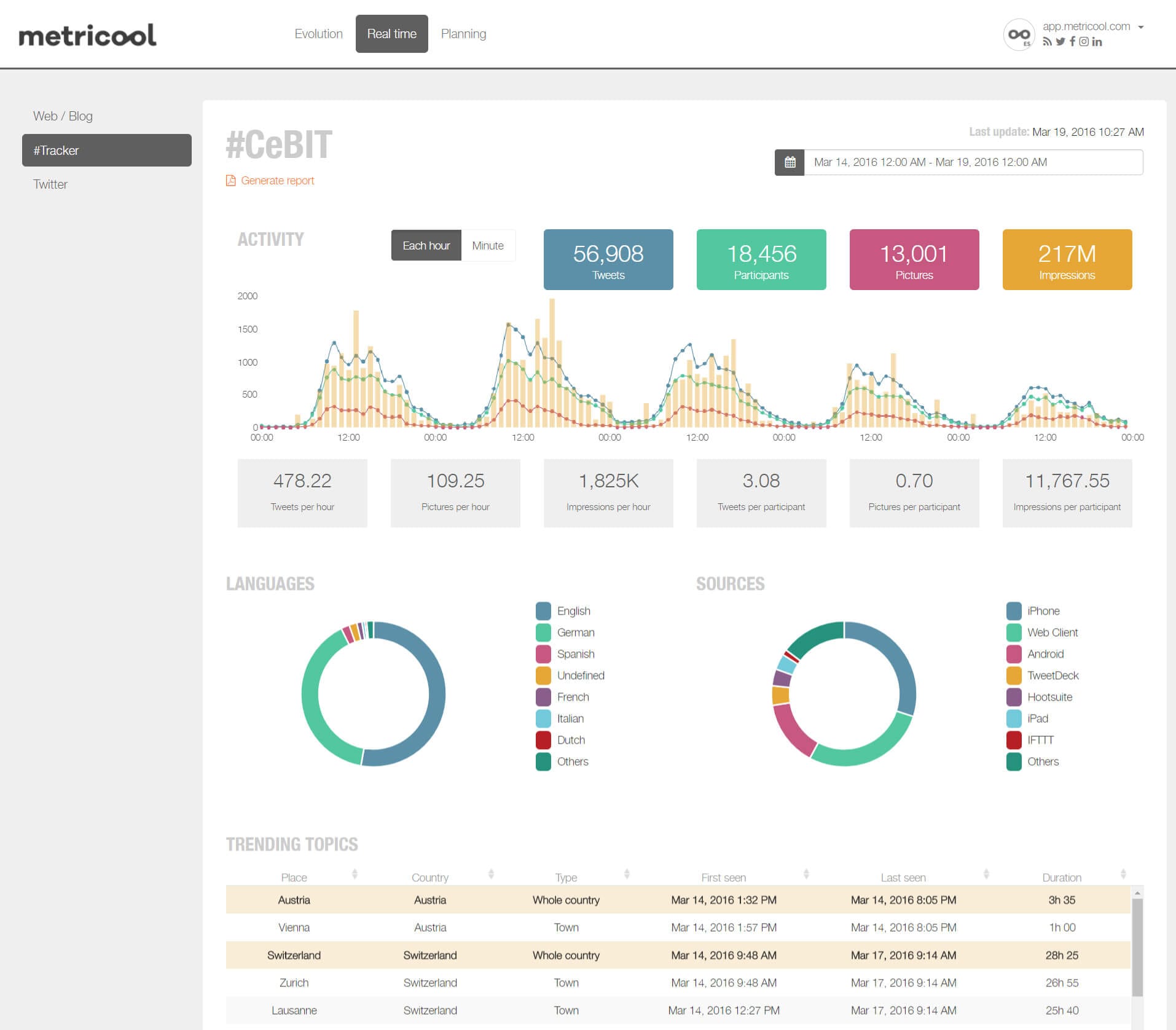 Measure and analyze the success of all your digital content
The tool that lets you spend less time in analytics and invest more time creating great content
Thousands of brands trust Metricool