I am sure you have heard about Pinterest on multiple occasions. This social network keeps growing, and in some sectors, it is one of the main platforms to consider for your digital marketing strategy.
If this is your case, if you want to gain a presence on Pinterest while carrying out the rest of your digital strategy, there is no doubt that Metricool is for you.
Keep reading this article because I will show you everything you can do on Pinterest from Metricool… Let's go!
Pinterest with Metricool: all features
Metricool is a social media analysis and management tool.
So the first thing you have to do is connect your Pinterest account to start managing your strategy with Metricool.
Measure your Pinterest Strategy
Analyze how your Pinterest strategy is evolving in the time frame of your choice. Go to the Evolution section and click on Pinterest on the left side. Then select the dates you want to analyze and voilà… The dashboard will appear with three graphs that will help you to analyze your strategy.
Impressions
Engagement
Interactions
With this data, you will know how the pins you publish on Pinterest perform to make informed decisions and thus, optimize your strategy.
Download reports with your metrics
Pinterest is part of your social media strategy, so you should add it to the monthly analysis along with the other social media platforms.
With Metricool, you can download reports in PDF or PPT with all your information from Pinterest. You can generate a report with this data and the rest of the analytics of your other networks or only download the result of your strategy on Pinterest.
Schedule your Pinterest content with Metricool
Apart from analyzing the performance of your strategy and content on Pinterest, you can also schedule your pins from Metricool.
Enter the Metricool planner and click on Create New Post. If you select the Pinterest icon, you can schedule your pins to post on existing boards, or you can even create new boards from Metricool when you program your content.
Fill in the information of your pin:
Attach the image of your pin (images in PNG or JPEG format with a maximum of 20MB). We recommend using a ratio of 2:3 or 1000×1500 pixels, so your Pin properly displays when it is published.
Add a video: MP4 format, duration between 4 and 15 seconds and maximum size of 500 MB.
Add a description: text with which you want to accompany your image.
Title: the title of your pin that will appear above the description.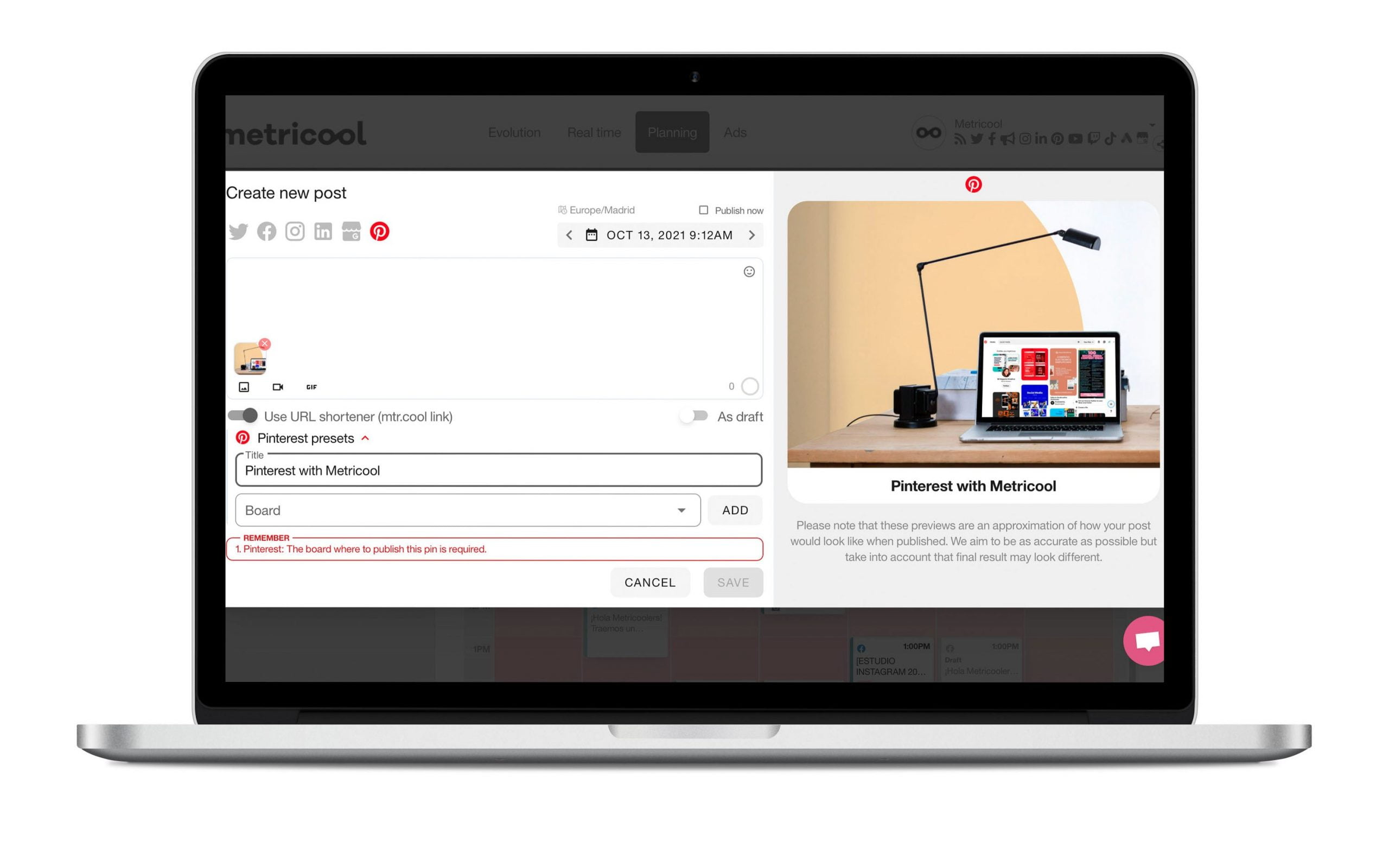 Automate your Pinterest content with Metricool autolists
You can create lists of content that will be published automatically in the hours and days you decide. To do this, access the autolists section on the Metricool planner.
Create a new autolist, select Pinterest, and choose which board you want to post on. Then, simply add the pins you want to share on this platform.
And ready! You already know everything you can do for your Pinterest strategy from Metricool. Optimize it and save time.