YouTube is the main social network for videos and more and more people are using it and creating channels to get the most out of this platform. Now with Metricool you can analyze your YouTube Channel, the performance of your channel and optimize your strategy to maximize benefits.
I will tell you all about it…
Connect your YouTube channel
I will explain all the steps you need to follow in order to start seeing all the metrics related to your channel from Metricool.
Sign in your Metricool account.
Click on the top-right menu and tap Connections.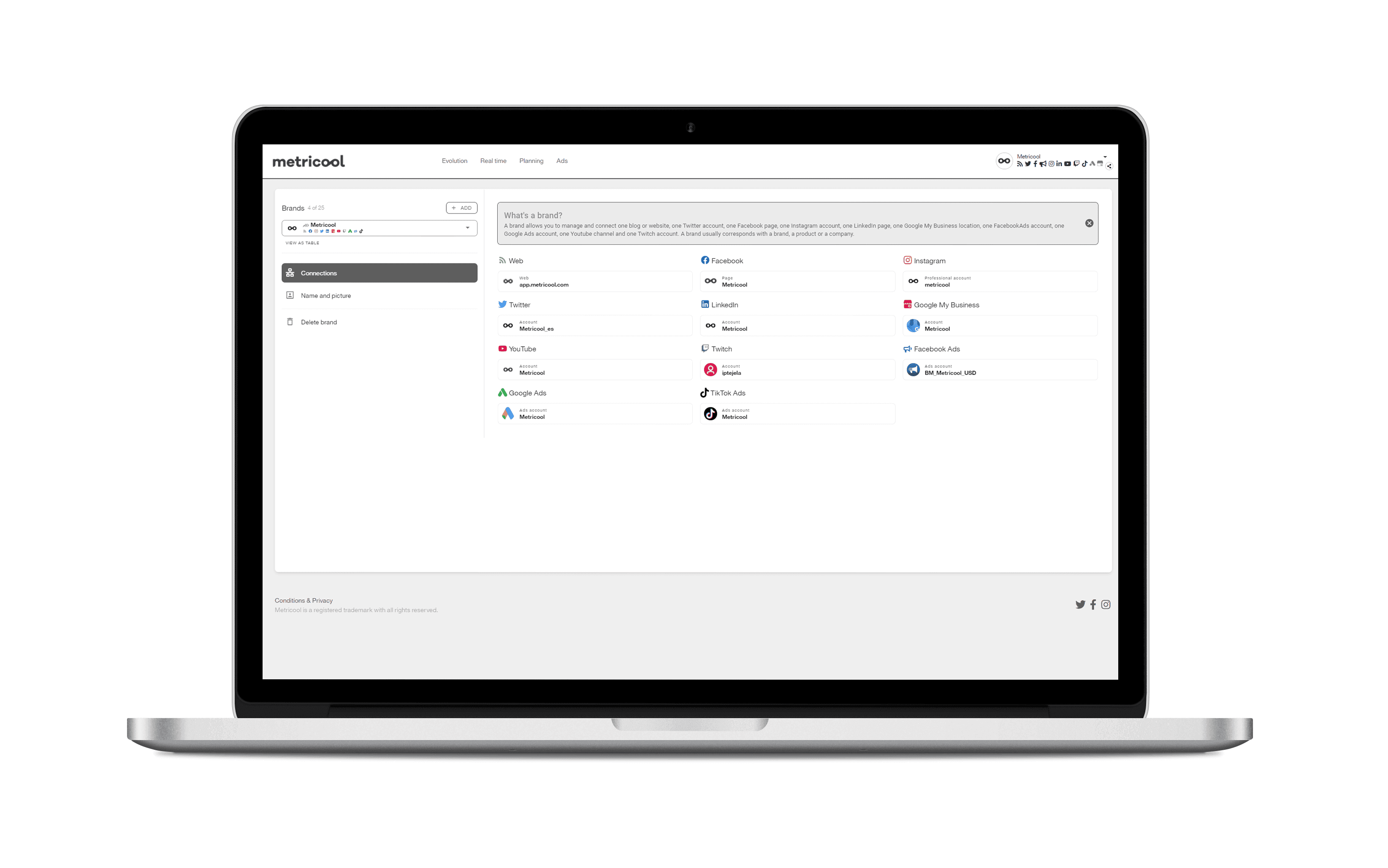 Once you are on the connection panel, you can check all the social profiles added to Metricool. Today you are going to connect your YouTube channel, so click connect under the YouTube icon.
Once you have clicked the button to connect, a new window will pop up requesting that you sign into your gmail account. Afterwards, a page with all the permissions will open.
Once you accept all the permissions, your YouTube account will be connected to Metricool and you will have access to all your metrics.
Which YouTube metrics can I analyze with Metricool
Analyze how your community is evolving: its growth, interesting demographics to optimize your strategy, videos you have posted…
To start analyzing your YouTube channel you have to select from which time period you want to get the metrics.
Choose it on the right side of the screen before seeing what metrics Metricool offers you.
If you do not select any period, the last 30 days will be analyzed by default.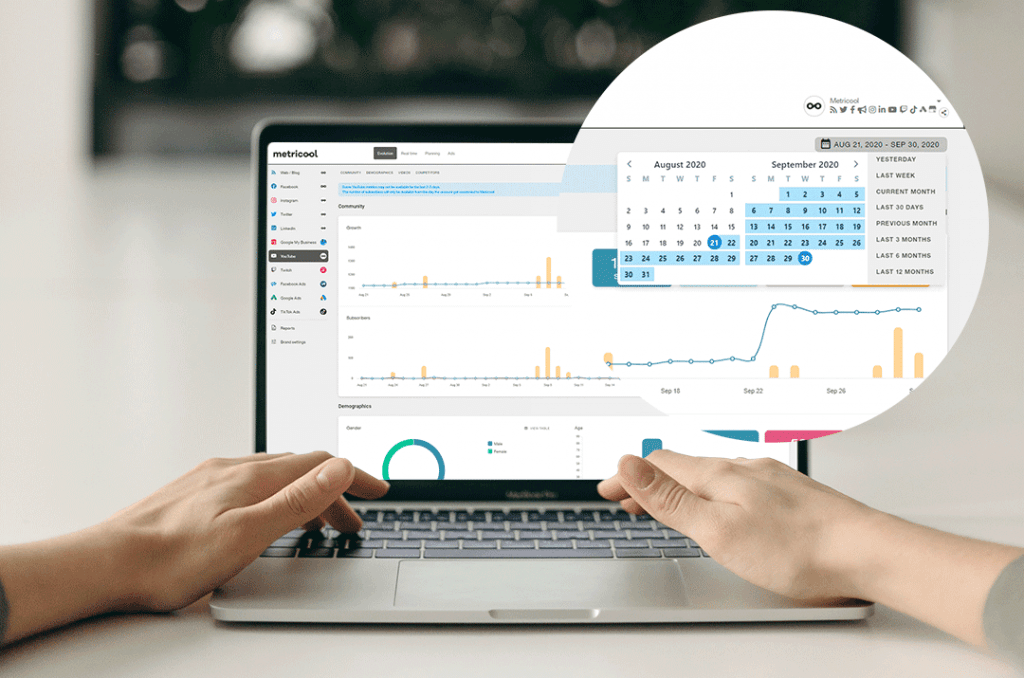 Community
Analyze how your community evolves: Check out the growth and insightful demographic data to help you optimize your strategy in contrast with the videos published in the time frame selected.
Growth
First thing you will see in the Evolution section is the growth of your community, that is, the evolution of the number of subscribers to your channel. Besides, you will find other valuable data such as how many views your videos has received, the revenue and the number of videos published in the time frame selected.
Balance of subscribers
Extract information about the balance of subscribers. Analyze the graph to discover when you gained or lost subscribers in relation to the videos published and across time.
Audience Demographics
Plus, Metricool offers insightful demographics:
A graph with the gender of your subscribers
Bar graph with the age range of your subscribers
A graph with the country that your subscribers are from
Information about the traffic source
Metrics about your videos
Videos graph
Analyze the performance of your videos on a graph where you can check out the main metrics to determine whether your objectives have been achieved or not:
Video views
Likes
Dislikes
Comments
Videos uploaded to the channel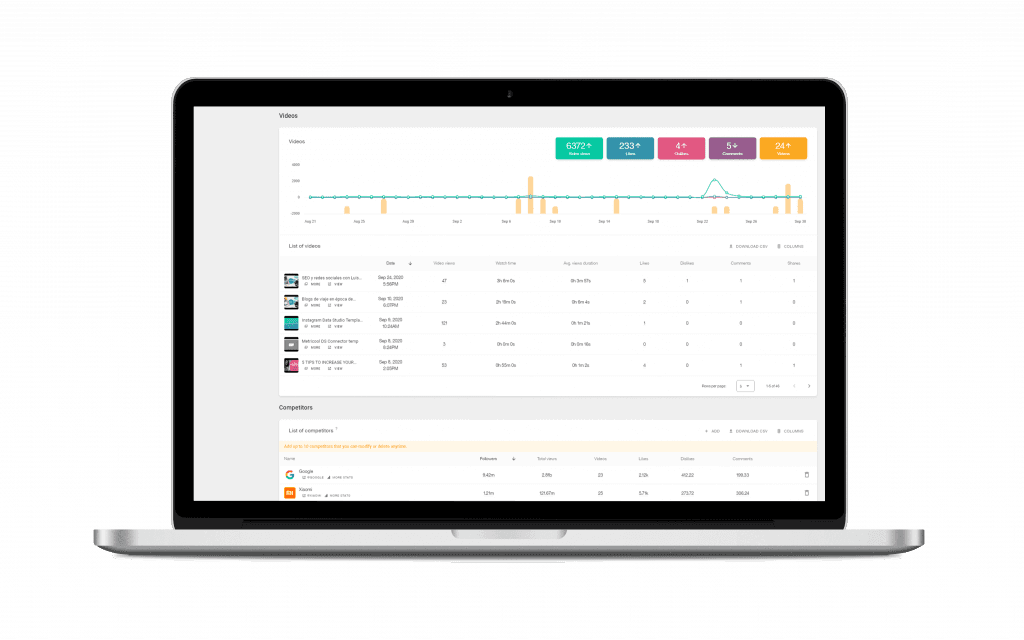 Table: Most viewed videos
Analyze the most-viewed videos on your channel. You can sort the table by the metric that you consider more relevant for you.
In this most viewed videos ranking, you will see a maximum of 200 videos uploaded on your channel independently of the time frame that you have selected for your analysis.
Revenue 
In this table you can analyze the revenue generated by each video uploaded to your channel.
Competitor analysis
If you have a Premium account with Metricool you will be able to analyze up to 10 competitors too see their relevant metrics.
➡️ You can organize the table by the metric that interests you the most
➡️ Download the table in a CSV file
➡️ Dive into the analysis of each competitor: more detailed metrics and videos.
Download reports about your performance on YouTube
With any of Metricool's Premium plans you can download unlimited reports about the performance of your YouTube channel.
Access the section Generate reports, configure the metrics and download it in PDF or PPT.
Connect your YouTube channel to Metricool and start collecting metrics to thrive with your videos and optimize your strategy.
Do you want to learn more about what can you do with Metricool?