How many times have you wanted to bring in leads through TikTok but you haven't been able to because users have to leave the platform?
The solution is easier than you think with the new TikTok Lead Generation feature.
What does TikTok Lead Generation involve?
TikTok Lead Generation helps brands that are registered on the platform reach users by making lead conversion easier.
This process solves the problem that various brands face since they couldn't score leads directly from TikTok. They had to provide an external link to get data from potential customers.
How Does TikTok Lead Generation Work?
This new TikTok feature is simple and ready to boost lead intake and generation for brand accounts.
Users fill out a form
The process is similar to any kind of lead generation, where users can fill out certain data that the application asks for: name, email address or phone number.
The form appears once they have clicked on the call-to-action on the TikTok content. An example of a CTA could be 'Sign up!'.
What's more, as a business, you can create personalized messages to encourage users to enter their data: the call-to-action text, as well as the banner and profile images for the form.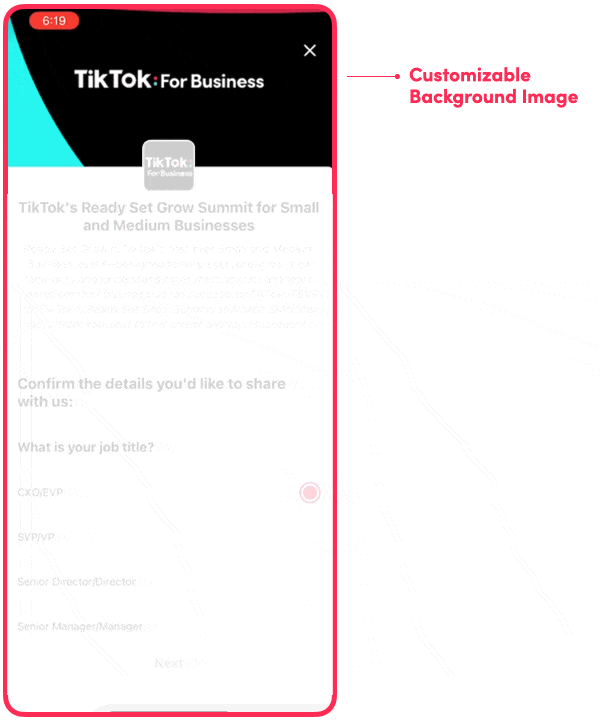 Take this as a sign that the user is interested in your product or service.
Brands download the data
Once the users sign up and provide their data using the form, the business that posted the ad can download the data manually to use it.
The data collated can also be integrated into the business' CRM, if you wish, making it easier to collect.
What's more, the TikTok form loads up to 9 times quicker than a URL and has an autocomplete feature, making it as quick as possible.
As you can see, the process is simple, and the best thing about it is how quick it is to implement and the fact that it can be done without leaving the app.
If you are used to putting up ads on TikTok, and you want to start using TikTok Lead Generation, but you have some doubts, here you have some of the advantages now.
Why using TikTok Lead Generation to bring in leads??
Nowadays, TikTok is moving closer to becoming the network on which you can work on your digital marketing plan and get benefits for your brand.
No doubt, one of them is the customer engagement form to bring in leads to your brand. What advantages does this feature have?
Connect with your audience
A contact form on your TikTok profile helps you to connect with your audience, making them feel part of a community on any platform. In this case, on your TikTok account.
Get more customers easily
As we mentioned before, TikTok Lead Generation forms are really simple to use: users automatically fill out their data, and you just have to download them.
By sharing good content, you can be sure to have a full portfolio of customers.
Keep your users' data private
One of the most interesting aspects for both TikTok users and brands is the legal matter of data collection.
In this case, TikTok displays a privacy warning and a Privacy Policy, since only those who advertise on the platform can collate and access the data.
Market your products and services
Without this form, the content you upload on to TikTok to promote one of your products didn't take the user anywhere.
With this TikTok Lead Generation feature, you can engage customers who are interested in what you're promoting and convert them into potential buyers. 
Now you have another opportunity to score leads and potential customers from your brand account. Start using it!
Do you want to get started with TikTok? Here you have our TikTok Marketing Guide, from which you'll need to get the most out of it.