Facebook Live is a Facebook feature to broadcast live videos through its app. It was first launched in April, 2016 as a way to connect with your followers. When the broadcasting is over, it's possible to see the recorded video on Facebook's timeline.
Live videos are increasing in importance each day, since it is way of getting direct communication with your audience and encouraging them to interact with your content.
Haven't you decided whether to use Facebook Live?

According to Vimeo, 78% of Facebook users are watching live videos.
If you don't have a fear of being on camera or receiving any type of questions or comments in real time, there are multiple platforms available in the market to go live, Facebook Live for example.
In this article we will explain to you how Facebook Live works so you can get started with this feature.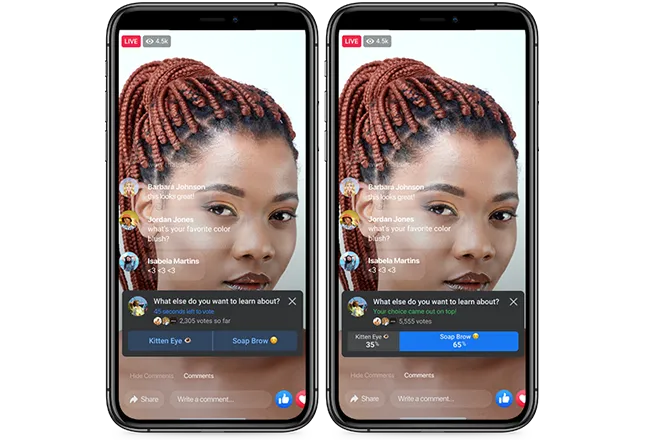 How does Facebook Live work?
Facebook Live is quite straightforward: Simply connect with the Facebook profile or page you want and start broadcasting from the camera of your PC or mobile device.
Do you have everything ready?
Let's see how to start your first live video on Facebook.
1 Click the option Live Video
The first step is to access your News Feed and click create post, you will see several options that you can choose from.
Although all of them might sound interesting, today you will try Live Video.
2 Give permissions to Facebook
To start a live broadcast, Facebook will request access to your camera and microphone.
It's crucial that you have both options activated, a failure in one of them could wreck your live video.
Once you give Facebook access, you won't be asked again.
3 Select your audience and privacy
Before you go live, you can choose who can see your video: anyone on or off Facebook, your Facebook friends or only some of them, amongst other options.
You can draw or include effects, add your location or tag other users in order to entertain your audience.
Don't forget to include a small description about your video to help users understand what you will be talking about. It will attract more people.
4 Tap 'Go Live'.
Once you finish choosing your options, press the blue button 'Go Live'. Make sure that the camera is properly oriented.
Although we always recommend using the front camera so your face is shown, you might prefer focusing on a different aspect.
5 Make comments and interact with your Facebook Live audience
If your audience interacts and participates in live, you must pay attention to what they are saying and reply to them. Otherwise, next time they might decide not to watch your video or won't participate actively. Your live video will look empty.
Once your video ends, you can save or share it as a post so users who have missed it can watch it. However, their comments will appear in the post not in the live video.
How Facebook Live helps your Marketing Strategy
You might be still debating whether you should use live videos on Facebook or not.
It's normal, being in front of a camera can be kind of scary the first time.
If you have an online or physical store and you want your personal brand to keep growing, including this option in your Facebook marketing strategy is vital.
Next, we will tell you some of the reasons for why you should use Facebook Live:
✅ Enhance 'engagement'.
After all, a live video is another type of content for your Facebook social channel.
Any type of shared content that attracts users and encourages comments, will increase engagement.
✅ Improve the relationship with your followers
Letting followers see your face helps to build a relationship. They will know that behind a webpage, a store or brand there is a person.
Besides, they will see your reactions to their comments, allowing you to interact in real time through the different options that Facebook Live provides.
This builds trust and encourages conversions that can be translated into a sale if you own a store.
✅ Ease the access for users
Facebook Live is a very straightforward tool that doesn't need external apps. With your own Facebook account you can live broadcast and your followers will be able to see you in real time.
This will save you time by avoiding tedious tools installation processes or having to log onto other websites.
Conclusions
Facebook Live is the perfect complement for your marketing strategy:
✅ It Increases engagement.
✅ It builds a strong relationship with your community
✅ It makes the access for users easier
Everything that involves generating content and includes followers is a plus for you and your strategy.
Do you dare to be in front of a camera? We will read your comments. 👇🏻