Landing pages: What are they?
A landing page is a webpage specifically designed to increase the traffic through banners, emails or social networks. They are created with the objective to turn one-time visitors into subscribers, buyers, assistants, etc. They are essential in any online marketing action.
Landing pages are conceived for a campaign or specific action and they don't necessarily have to be part of your website. Imagine that you're creating a particular campaign for Halloween or an offer through Facebook Ads. To do so, you'd create a landing page for this specific one-time campaign with the goal of gaining more clients. Once it's over, the landing page would disappear.
The way it works is very straightforward. If you offer valuable information in a captivating way, you will have more probabilities of catching the attention of your visitors, encouraging them to take specific action, such as: filling out a form, buying a product, subscribing to a service, etc.…
Landing pages are usually created with two main goals in mind:
Branding: A landing page can be very useful to position your brand. If this is your objective, the content must be coherent with the position that you are looking for.
Direct response and conversion: When the target of your landing page is to get more potential customers to take action. Landing pages are crucial to help you achieve your goals and to generate information for a specific marketing campaign.
Elements of a landing page
If your objective is to increase the conversion rate, the key is to build a landing page. But, why should we generate a new page instead of driving users to our already existing homepage? The answer is easy, a website home page is more generic while a landing page will lead visitors to the specific action that you want them to take. The main elements of a landing page are:
Value Proposition. Click here to learn how to design a strong value proposition.
Images or videos showing your product or service.
Explanation of the benefits of your offer. The best way to attract potential clients is talking about the benefits that they will obtain if they buy your product.
Clear objective. Which kind of action do you want your visitors to perform? Fill out a form, subscribe, buy a product or service or any other action.
Tools to create landing pages
There are several specialized tools that can help you easily build an effective landing page and increase conversions.
An online tool created for marketing professionals and entrepreneurs. It offers easy-to-use templates with editing features like drag-and-drop and several landing pages for different goals and industries. It allows you to add a countdown timer, CTA buttons and much more with few clicks.
This tool offers a wide range of templates as guidance or to find some inspiration. Besides, Unbounce integrates with WordPress, Google Analytics and other marketing tools.
Instapage offers customizable landing pages, satisfying all your needs instead of having to adapt them to the available templates. It also provides CSS editor module to customize a variety of templates.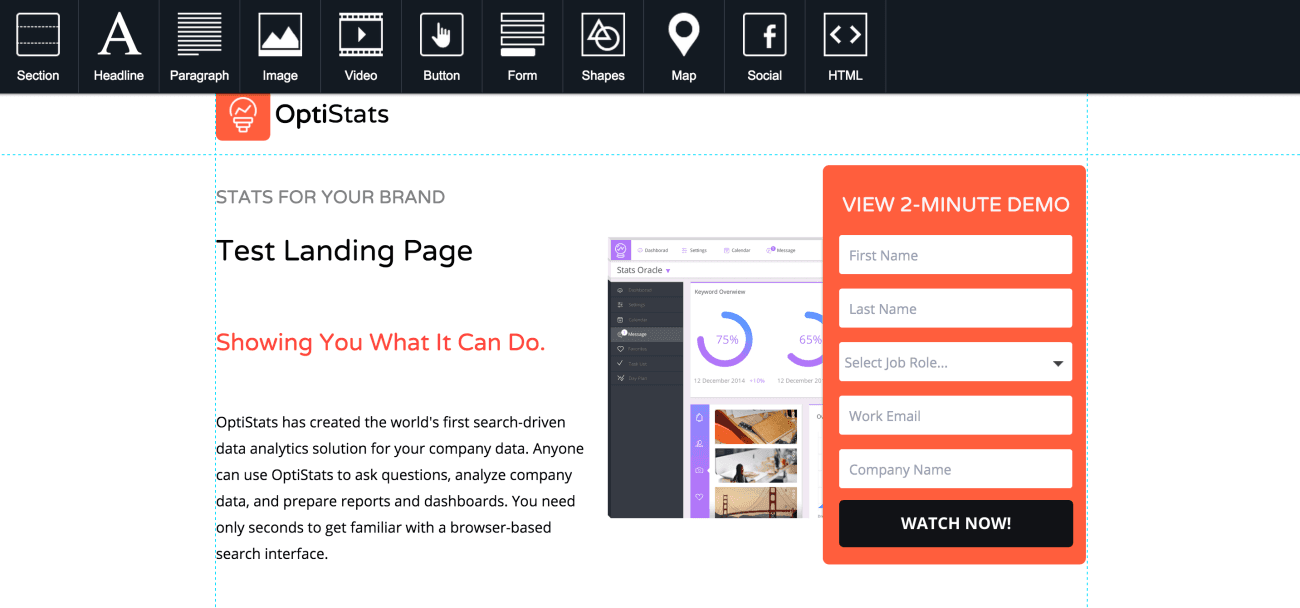 Besides, if you are working with more people, Instapage allows all members of your team to be synchronized, being able to collaborate in real time, such as editing and responding to comments about the design within the platform.
Some tips to optimize your landing page conversion rate
The main objective of a landing page is to convert. However, even if you use specialized tools to create your landing page, conversions are not guaranteed. This is the reason why we put together some useful tips to build stunning landing pages to help you reach your goals.
Lead your clients to a relevant page: clicking a link should direct users to a relevant page. If you lead them to the home page, they will probably get lost and won't be able to find the information they were looking for. So, it's always better to send them to a webpage specially designed for any specific purpose.
Eliminate distractions and go directly to the point. On these types of pages, avoid the attention of your users' being drawn away and they will likely take the action you want, that is, convert their visit. If you leave other links on your landing page, users might end up clicking on them and getting lost, so they won't materialize a conversion. Therefore, remember to delete other links to other websites.
Create a striking title to encourage users to keep reading. The objective of your landing page is to attract potential clients. Use the right font for your headlines and leave space around. The title is the first thing they will see, and you might not have a second chance. You can use some Copywriting techniques to reach these goals.
Use images that reflect clearly the message that you want to transmit in your landing page. Don't focus exclusively on the image of your product or service, all the graphic elements that appear on you landing page can be key to attract your potential clients. Try to find a connection with your audience.
Try different call-to-action messages. CTA buttons are an essential element to make users perform the action that you are looking for. Try different texts for your CTAs so you can find out which one works best. You can find here some tips to write effective calls to action.
 ➡️ Clic here for more digital marketing definitions ⬅️
Analysis of your landing pages
The objective of building landing pages is to increase the conversion rate, sales or leads. But, how can you know whether you reach your target if you don't analyze the results?
Did you think about it?
Monitoring and analyzing your landing pages is fundamental to know whether they work or not.
The tools that we mentioned before also offer metrics to monitor visits and conversions. This information will allow you to learn whether you are reaching your goals or not.
A landing page that receives many visits, but a low number of conversions, probably means that the audience found some barriers that stopped them from taking a specific action.
What type of barriers?
A pricey product
Low expectation in relation to the offered product
Unattractive content
There might be multiple reasons that keep you from reaching the desired conversion rate. In any case, it's very important that once you create a landing page, you monitor it in order to know the impact and results after you've launched it.
So, how do you build your landing page? Can you add any other tip or another tool to our list? Leave us a comment!