What are the Linktree alternatives? Linktree was born in 2015 to offer a solution to this problem, but this is not the only tool on the market and has its pros and cons.
Linktree alternatives: SmartLinks by Metricool
Metricool's SmartLinks is an excellent Linktree alternative. In addition to the buttons on the bio link, it also allows linking the images that you share on your profile and even a post that you have uploaded.
Sounds good, right? This is only the beginning…
With the Metricool SmartLink:
✅ You can create a page with the links you want to direct your audience to.
✅ Customize the page, with the background and buttons to your liking
✅ It is easy and intuitive to create the buttons or add links to Instagram posts.
✅ You can combine clickable buttons and posts, as well as images and videos.
✅ Add unlimited links
✅ Track the performance of your links, both of your buttons and that of the images, videos, or Instagram posts.
✅ Without watermark
Two easy ways to add links on Instagram
Clickable Instagram posts
Something that Linktree does not allow is to put links on Instagram posts. This is one of the significant advantages of Metricool.
With SmartLinks, you can add clickable links to each Instagram post.
This is how it looks on Metricool's Instagram profile: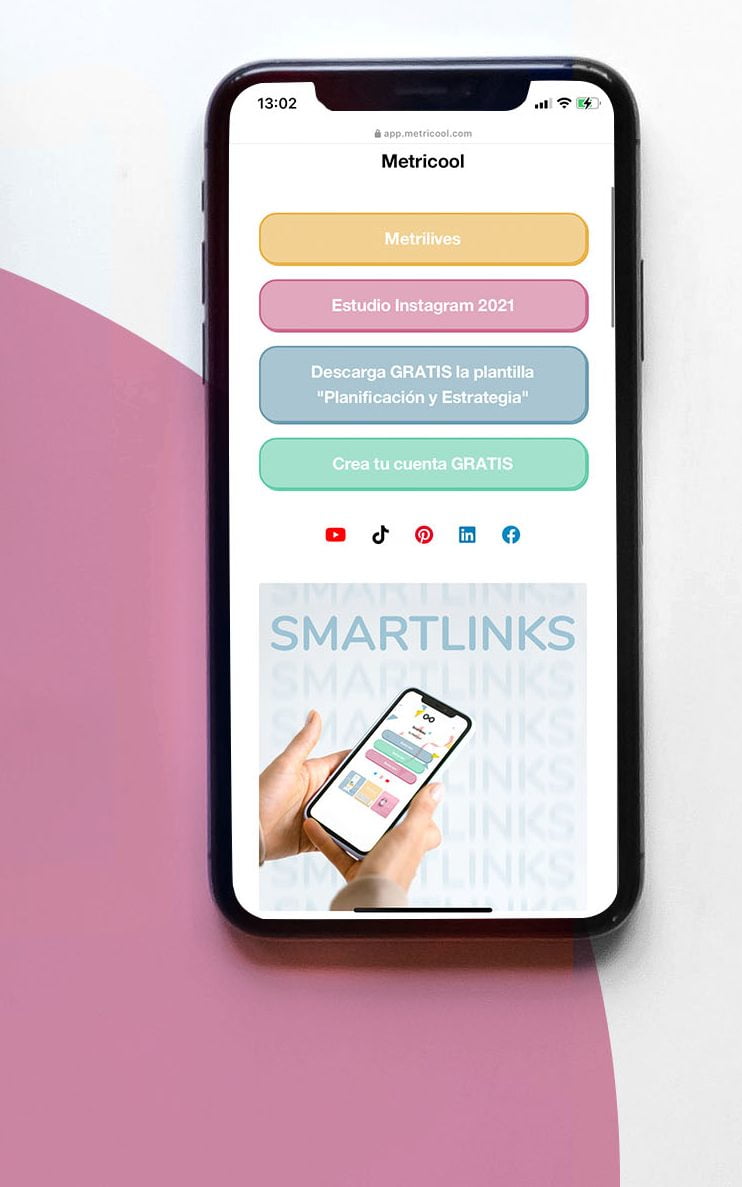 To do this, on the SmartLinks screen, you have to go to 'Media'> Add from Instagram> Select the uploaded post and add the link you want to your post.
Buttons with links on Instagram
With this SmartLinks, you can also set up custom buttons to take your community to the documents, videos, or URLs you want.
✅ You can put as many buttons and links as you want
✅ Customize the colors of each button, the color of the text, and even the style of the button
✅ You can sort them out
✅ Combine the buttons with the links in all your posts
✅ Add headings to separate each button into sections
Take a look at the example below that combines custom buttons with clickable posts.
As you can see, SmartLinks by Metricool is an excellent alternative to Linktree.
It is your choice!
This functionality is free, but free users have some limitations:
✅ You can only add 1 SmartLink, unlimited buttons, 12 images, icons, 4 fixed templates, profile photo, name, and description.
❌ They do not have access to: headers, multiple images, unique templates, buttons, and image appearance, featured image, and analytics.
✅ Metricool Premium users have access to all the functionality options.
Metricool is a wonderful and free Linktree alternatives that gives you the chance to manage, analyze and plan your social networks in the same place.