Are you a Blogger or do you have a website? If your answer is yes, you must know that the content is as important as the performance analysis of that same content: you need web analytics.
In other words, the analysis of metrics to check how effective your content was.
This analysis is indispensable and essential to continue with your strategy. Metricool will make it easier in a graphically simple way, considering all the information that you might need.

Sign up on Metricool to enjoy web analytics feature 👇🏻
Once you enter Metricool you can see your web analytics and blog statistics in to different tabs: evolution and real time. So, don't stop reading and take a look to what Metricool can do for you!
Metricool has two different tabs within web analytics: Evolution and Real Time. You can find these tabs in detail below.
Analytics
Analyze all the information that really matters regarding the activity of your web or blog and improve your strategy.
Monitor the evolution of page views, visits, visitors, posts and comments.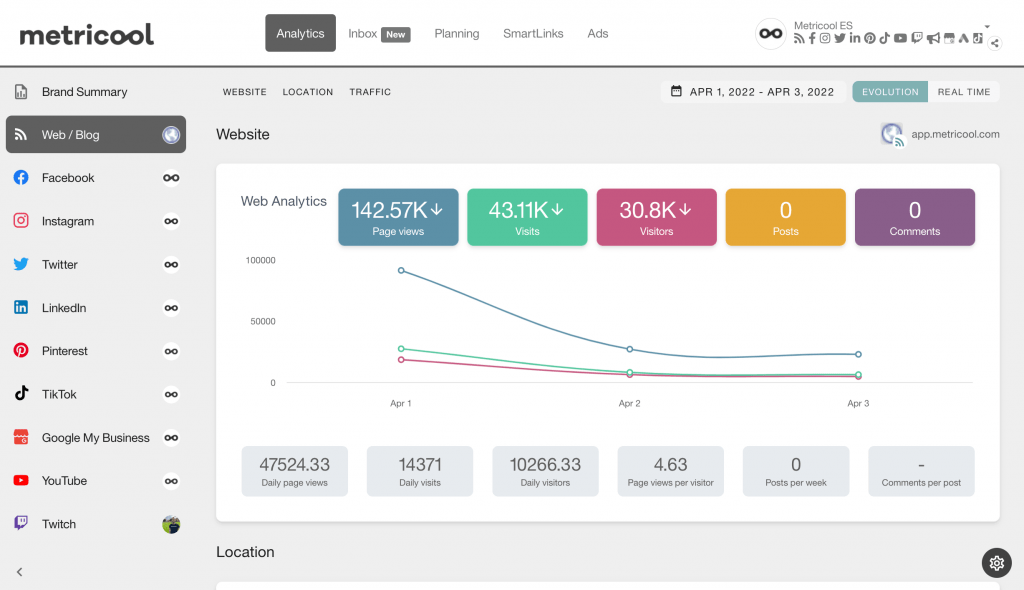 Analyze your results day by day, in a very visual and simple way, comparing variables and getting important insights about the activity of your web or blog during a specific period of time.
Besides, you will obtain average values calculated by Metricool that will provide you with a general overview of your activity: daily page views, visits and visitors, page views per visitor, posts per week and comments per post.
Visitor Countries
Analyze which part of the world your visitors are from, with the objective to adapt and improve the way you talk to them.
Metricool puts together the number of visitors from each country and also the percentage proportion of each. In addition, if you click on a specific country from the list on the right, you can see the breakdown by regions.
Page Views and Traffic Source
In this section, you can see which pages have more views of your website and also the source of traffic that is visiting your web or blog.
You can check the traffic arriving at your web or blog and confirm that your strategy is following the expected path. As with the countries, you can get the traffic source breakdown by clicking on any row.
Real Time
Follow in real time the activity of your web or blog and measure the data in the same instant. This characteristic will be very useful when you have to analyze data from a special action for a specific period.
You can obtain the number of visitors in real time, Metricool updates this screen automatically. Also find out the number of page views and visitors in the last 30 minutes.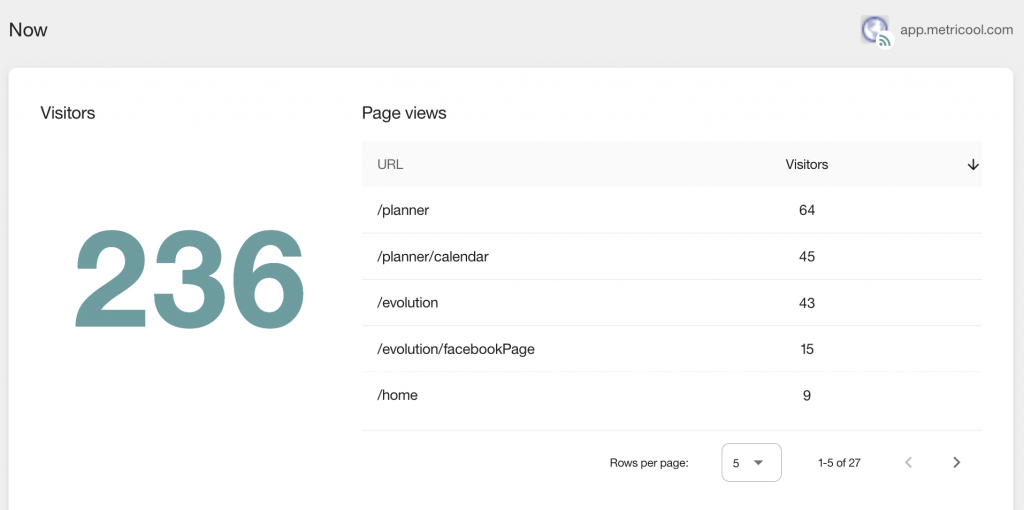 In this tab, you can get instant information as we mentioned previously and get an overview of the day.
You can also obtain info from the last 24 hours and discover what's going on every second. Also, you can look into which sections your visitors are navigating, analyze their route and get insights into their pattern of blog/web search.
Finally, the Real Time tab allows you to know which countries your visitors of the day are from, and also the page views and the traffic sources. You can also check the results of specific actions the same day they took place, helping you to get conclusions, adapt and improve your strategy on the fly.
Metricool App
You can monitorize your web from your mobile phone. Analyze all your metrics.
Here you can download the app: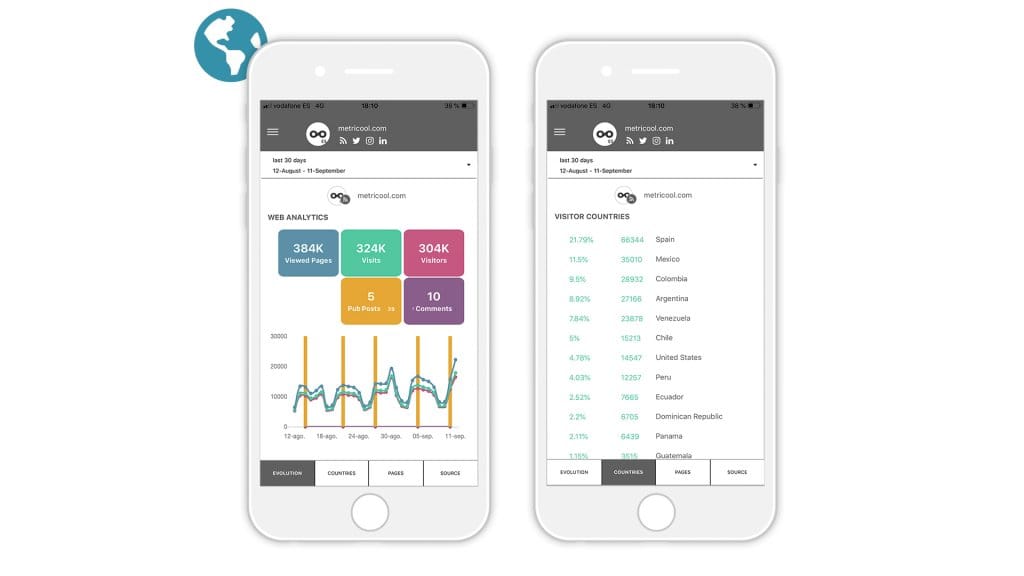 Customized Reports
This is one of the most important advantages that Metricool has to offer in comparison with other similar tools. Metricool creates web analytics reports also for your blog automatically in PDF or PPT format offering the metric of your Web or Blog in great detail. The result will be very professional and with an attractive design.
These reports can be presented to your clients or superiors, or simply show the information to potential sponsors or advertisers.
Besides the high level of professionalism, the reports will help you track your strategies and objectives.
On top of that, these reports can be customized with options like:
Interval of time of your choice
Metrics and sections that you want to show
Logo of your company or agency (it will appear at the bottom of each page)
All the statistics for your Web/Blog in a unique tool that will save you time and probably also some headaches with your metrics.