Do you want to know the best time to post on TikTok?
With Metricool's feature, you can identify the best time to share your content on TikTok. You will find this information in the planning section. Discover everything in this post.
Best time to post on TikTok
What is the best time to post on TikTok? Or, in other words, the time when most of your followers are active?
You have two ways to discover when your followers are online: From TikTok or Metricool.
Find your best time on TikTok
On TikTok, you can find the information you need about when it's best to share your videos.
You can see the statistics of your best time to post, but unlike Metricool, it doesn't give you a percentage of active followers at each time slot, so the information is not as clear.
Don't worry. There is another option to see the best posting times on TikTok.
Schedule your content on TikTok at the best times with Metricool
The downside of checking the best times from TikTok is that you don't know the percentage of users connected at any specific time. The solution: Metricool.
➡️ Create your Metricool account and discover when is the best time to post on TikTok ⬅️
Log in to your Metricool account and connect TikTok (if you haven't done so already).
Click on Planning in the top menu.
Go to Best times at the top right
Click on the drop-down and select TikTok
Voilà! The calendar shows the best times to post on TikTok: the darker hue, the better the time to post
Remember that you can enable the option to see the percentage of active users to see the info more in detail.
Click on the drop-down menu, and toggle on this option.
💡 The best hours in Metricool are only available for TikTok business accounts.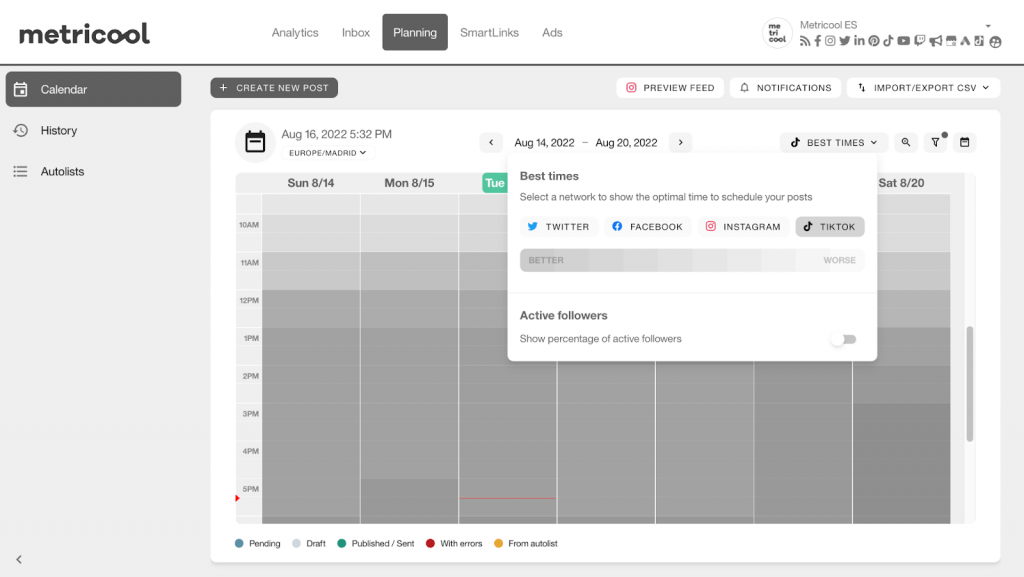 How the best time to post on TikTok work
Do you want to know how these best times are calculated?
It's simple. There's no catch: Metricool offers you the information with the best hours based on your active followers.
⚠️. Knowing the best times to post on TikTok…
Helps to optimize the timing when you share your videos but remember that TikTok's algorithm works differently than other social media platforms. One video can go viral days after it is published. Posting your content when your followers are online is only an initial push to help you reach your goals.
Make the most of this feature, follow the trends, be consistent, and interact with your community and other users. In other words, keep your account active with hard work, and the results will come.
Remember to use all these features to keep growing on TikTok with Metricool's help:
Check out our mega tutorial with all Metricool's features.