Do you want to say goodbye to a page or delete your Facebook account that you disapprove of and that no longer contributes anything to your strategy for Marketing on Facebook?
You found the right place to discover how to do it. Although it is a fairly simple task, getting rid of your Facebook account is not as easy as it seems.
Do you want to know all the steps you'll need to follow to delete both your page and your personal profile? I'll tell you about it below!
First steps to deleting your Facebook page
Let me guess… Some time ago you created a Facebook page as a result of an idea that you fell madly in love with. After a few months publishing, you have taken the drastic decision to do away with it because it has not turned out to be what you expected. Am I wrong?
So, what do you have to do to wipe it off the map? To put an end to your Facebook page (not to be confused with a personal profile, more on that below) you just have to take note of the following steps.
How can you delete your personal Facebook account
Before making this big decision, it is essential that you ask yourself the following question to be clear: do you want to disappear from Facebook forever? Or conversely, would you only like to take a temporary break from your personal profile?
Delete Facebook account with these steps
Do you prefer to completely delete your Facebook account? This can also be done. Of course, Facebook doesn't make it easy, to avoid people abandoning ship, there are many conditions.
First of all, Facebook asks you to download a copy of all your information in case you regret your decision.
If you have already decided to proceed: Log in to your Facebook account and click here. Once you are inside, click on the blue button that says Delete my account. Think about it because there will be no going back.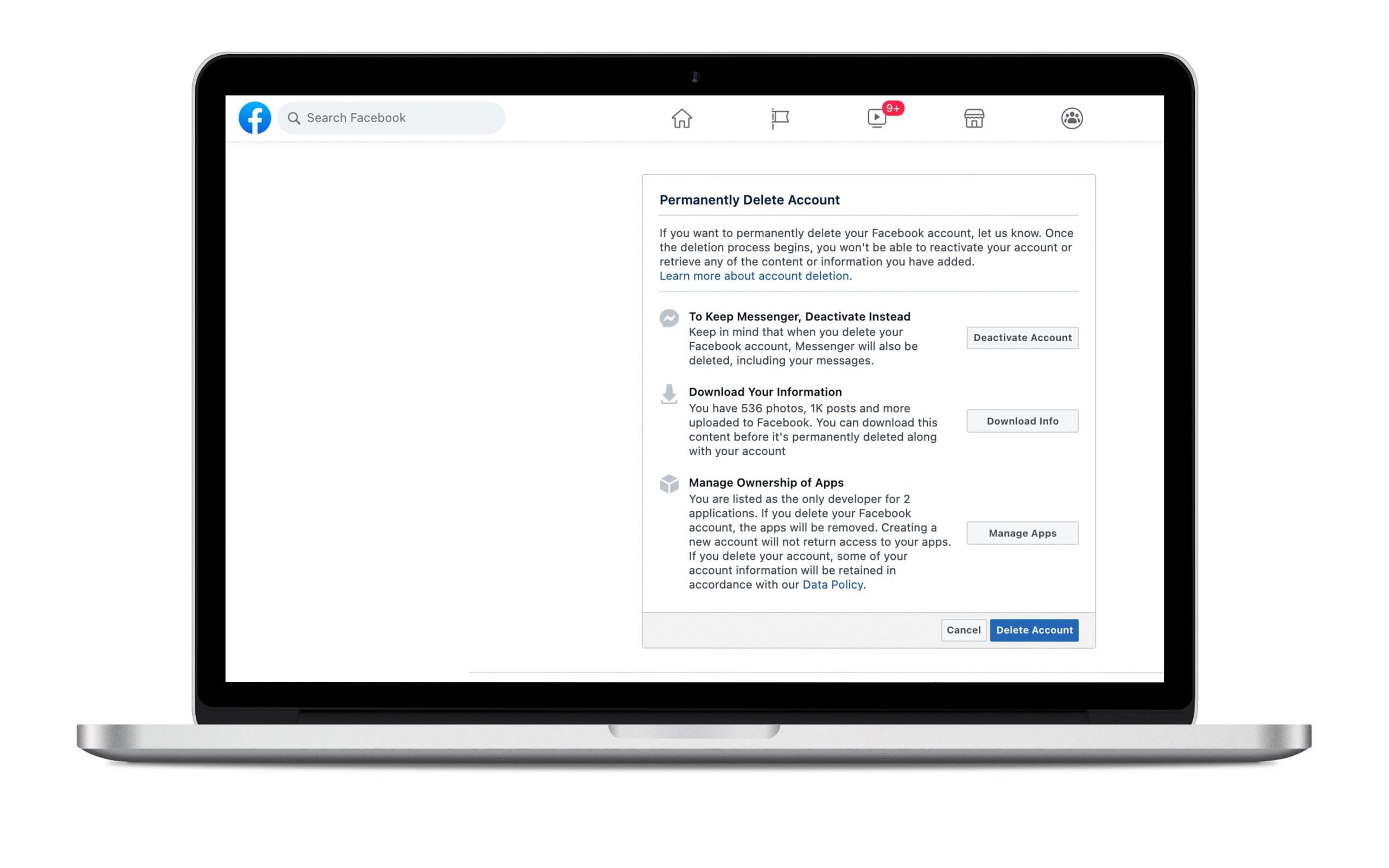 When you have confirmed, your process is complete!
It seems easy enough, right? But the process doesn't end here, since you will not be able to enter Facebook for 90 days, otherwise the elimination of your account will be canceled. Why would you want to go back to your account? More than anything because the social network does not want you to leave, so once you have completed the process, Facebook will initiate the "bombardment" of emails targeting your inbox to convince you to come back.
What happens if you delete your account?
The cancellation of your account will not take place immediately. And if you log in during this time, the deletion process will be canceled. If you want to say goodbye, do it from the first moment!
Once you have deleted your Facebook profile you will not be able to regain access to your account again.
The process can take up to 90 days. During this time, you will no longer be able to access your information on Facebook.
There are actions that will be maintained once you delete your account. For example: some of your friends may keep your messages private. Why? This happens because the messages are not stored in your profile.
Copies of some materials, such as records, may remain in your database, but may be removed from personal identifiers.
Steps to deactivate your Facebook profile
You are clear that you want to deactivate your account to take some time away from this social network. Now what do you have to do? Follow these steps and get on with it!
Go to the Menu of your personal Facebook profile and click Settings.
Once there, click on Manage account (within the General tab)
When you're inside, click where it says Deactivate your account.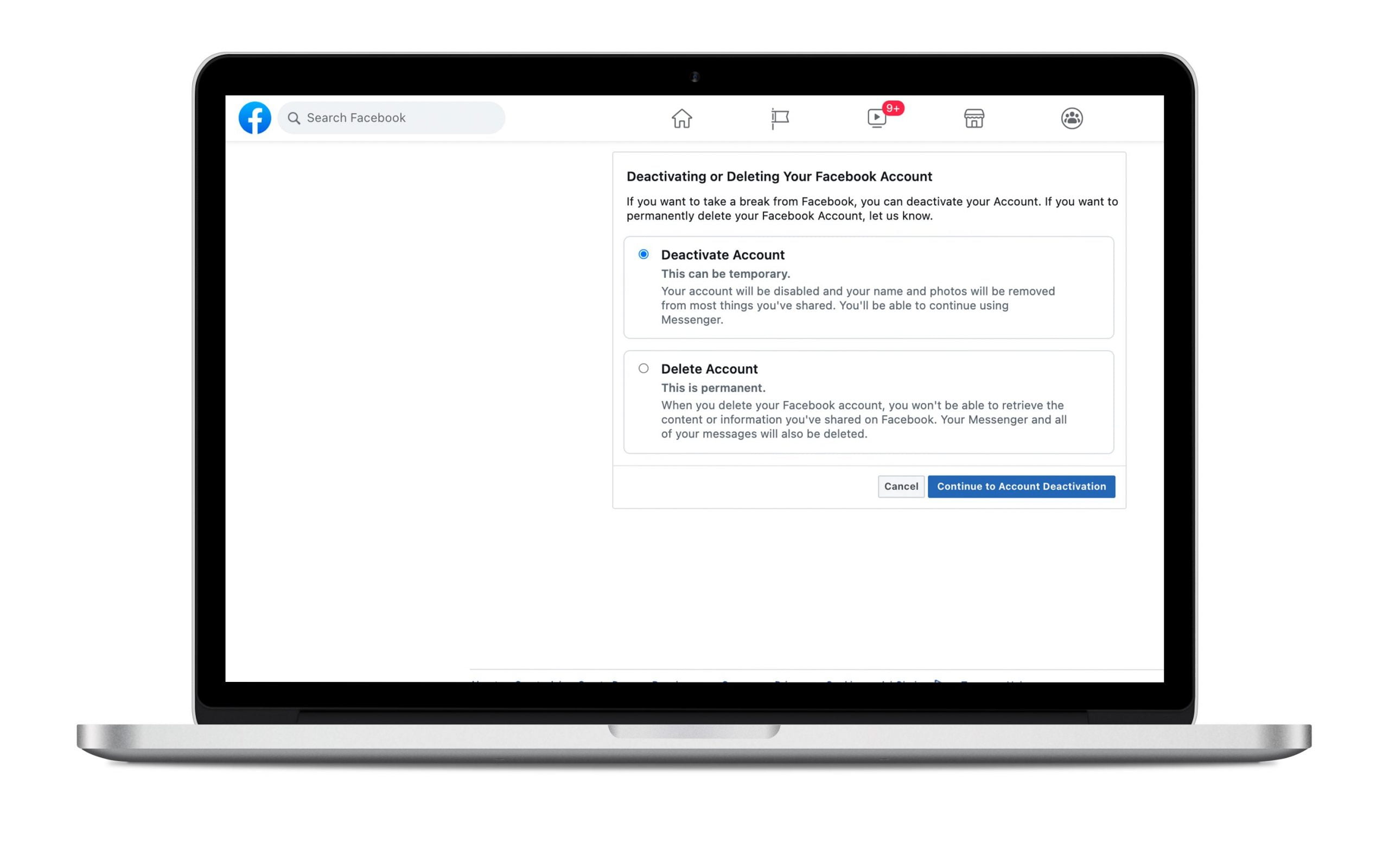 To finish, Facebook will ask you again for your password to be clear that it is you and not someone else who wants to deactivate the profile in question.
If you only want to leave your account for "x" period of time, it is not advisable to delete your Facebook profile forever. So, what difference is there between deactivating and deleting an account on this social network? The difference is:
If you deactivate your account…
You can reactivate your profile whenever you want.
Facebook users will not be able to see your biography or search for you on the social network.
Some other information that you made before deactivating it will be kept, such as: private messages.
Facebook saves your contact information and your friends. This way, when you activate it again you won't have to start from scratch.
Delete your Facebook page from the computer
Before getting down to business with deleting your page, it is important that you are the administrator of the page in question. Why? Because without administrator privileges you will NOT be able to carry out the process as laid out below.
If you are already an administrator, the steps you have to follow are very simple:
Click on Settings on your page
Once inside, go to the General tab: it's the first option that appears when entering settings.
The next step is to click edit where it says Delete your Page.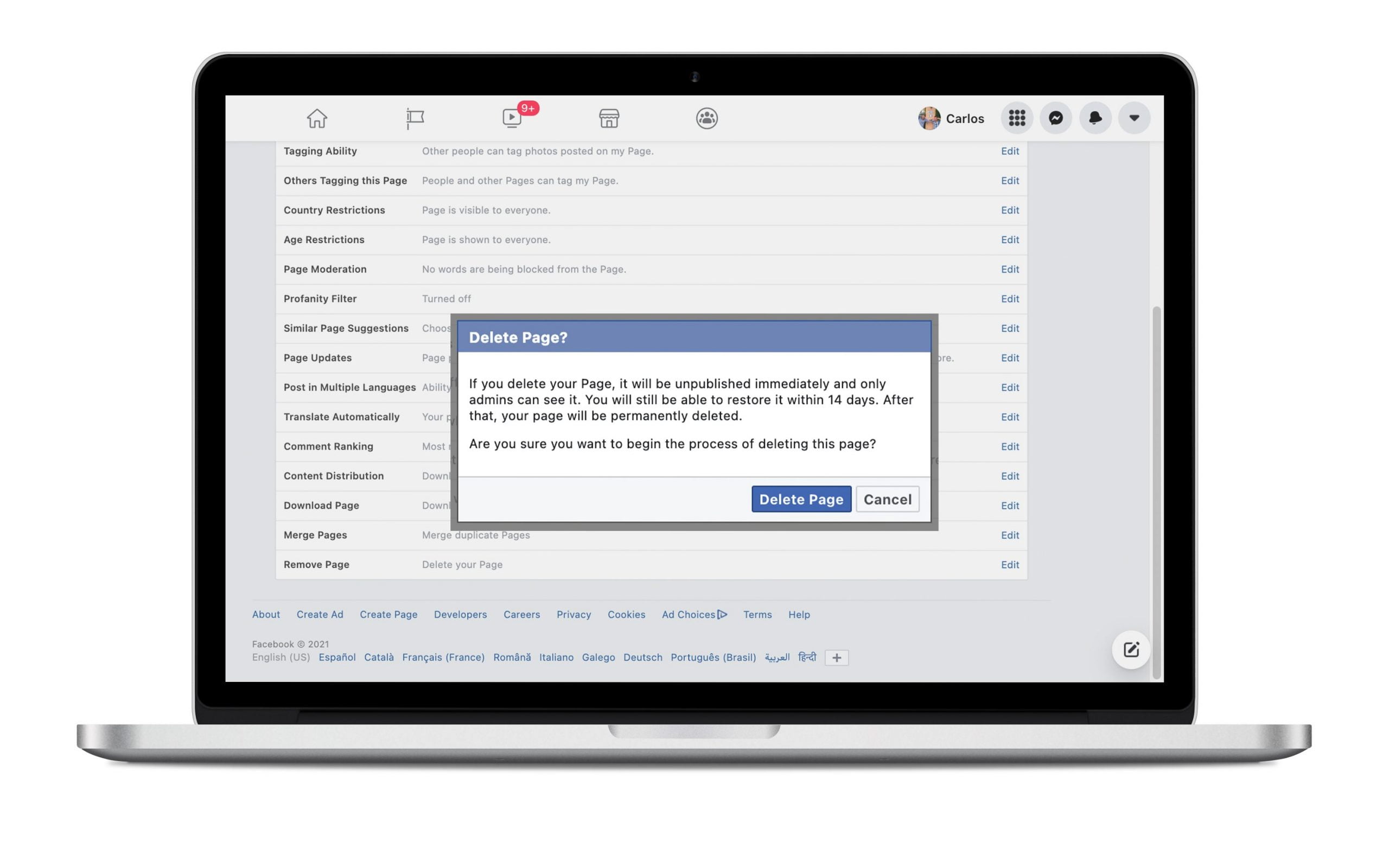 And finish the process by confirming that you really want to delete it.
What if you regret taking this step?
Relax, because if you have second thoughts you will have a period of 14 days to cancel the deletion of your page.
So, think carefully before jumping into the pool!
How to delete from a mobile device?
In order to delete your page from your mobile, you will need to have the Facebook page manager application installed on your Smartphone. Once you have it, you just have to follow the same steps to carry out the removal of the company page as you would from a computer. Easy right?
If you are curious and you allow yourself to be convinced by any of the emails that Facebook sends you, keep in mind that if 90 days have passed, everything will have disappeared. .
If I have left something out, I'll wait for your comments!