Growing on Twitter and gaining more followers is possible but magic won't help you. Follow these tips to grow your community.
Define your audience
You must know to whom your content will be oriented before you start tweeting. You must establish who your target audience will be in order to know the tone and language you will use.
Tweet relevant content for your followers
Once you have identified your target audience on Twitter, it's time to focus on your content, making sure it is relevant, loyal to your identity, and interesting for your followers.
Quality content will be the best way to conquer your public and get more Twitter followers. Share relevant and useful and visual content.
Post Visual Content

According to Twitter, 97% of users pay more attention to visual content because it stands out in the timeline. So add visual content to capture attention.
Keep active
Twitter is a very dynamic social network because people tweet at any time from everywhere.
It's important that you schedule your posts when your followers are more active. If your followers realize that your profile is not updated, or you don't post updates, they will stop following you. Be careful though, you shouldn't overwhelm twitterers with too many posts.
Some applications like Metricool allow you to schedule your tweets at the best time according to your audience so you don't have to stay on Twitter the whole day.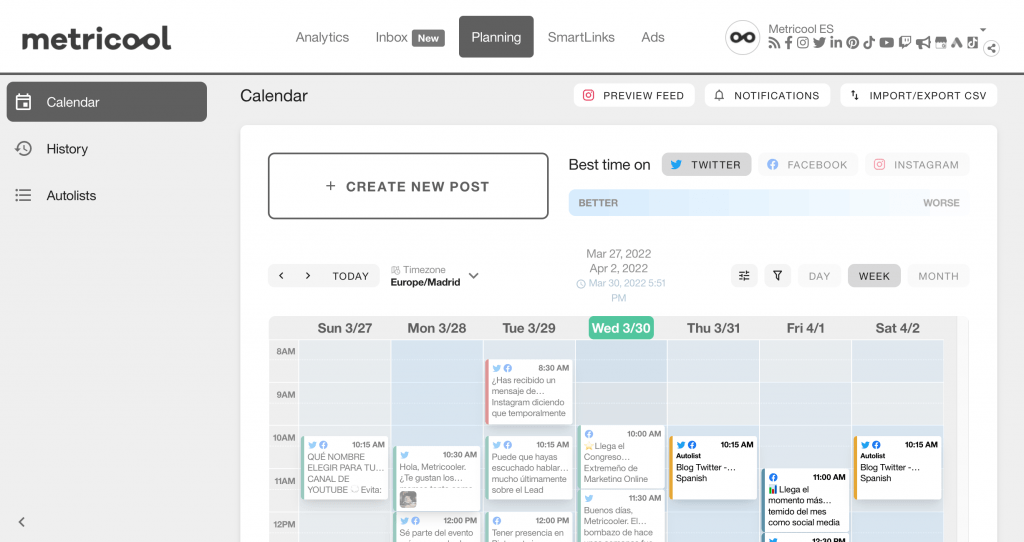 You can also automate content with Metricool autolists feature. You can create lists of content for Twitter and make the list circular, so you always keep your profile active.
➡️ Know more about the autolist feature and Metricool ⬅️
Find a captivating and successful tweet on your profile
People will look closely at the first two tweets that appear on your profile. This platform lets you set a tweet at the beginning of your timeline, so it will be easily seen by users as soon as they enter your profile.
Having a captivating tweet will help you to get more followers and make a great first impression with your audience
Use hashtags
A hashtag on Twitter is a kind of label that helps you find what you're looking for. It's crucial that you use them on your tweets correctly.
You can also analyze which hashtags are trending at the moment and if they fit within your editorial plan, use them. This strategy will also help you reach more Twitter followers.
Interact with your followers
Interact with people who are already following you. Ask questions or create your own surveys to attract their interest and improve engagement on Twitter. Once you establish a relationship with them, you can take advantage of those interactions.
Retweet and ask for retweets
Retweeting what you find interesting or what complements your info will capture your followers' attention. It's a way to make your timeline more enjoyable. Besides, this allows you to show other tweets in addition to yours.
Asking your followers to retweet your content sometimes works and spreads your content on Twitter, so you will reach more people.
Analyze and pay attention to your account
If you analyze your Twitter account, you will know how many followers you earn or lose and when it happens.
You will also learn how many interactions you get by publication and at what time of the day your followers are more active.
You should study your audience to know their interests or how you can draw their attention. Metricool also gives you the option to analyze your Twitter account where you can find metrics as follows: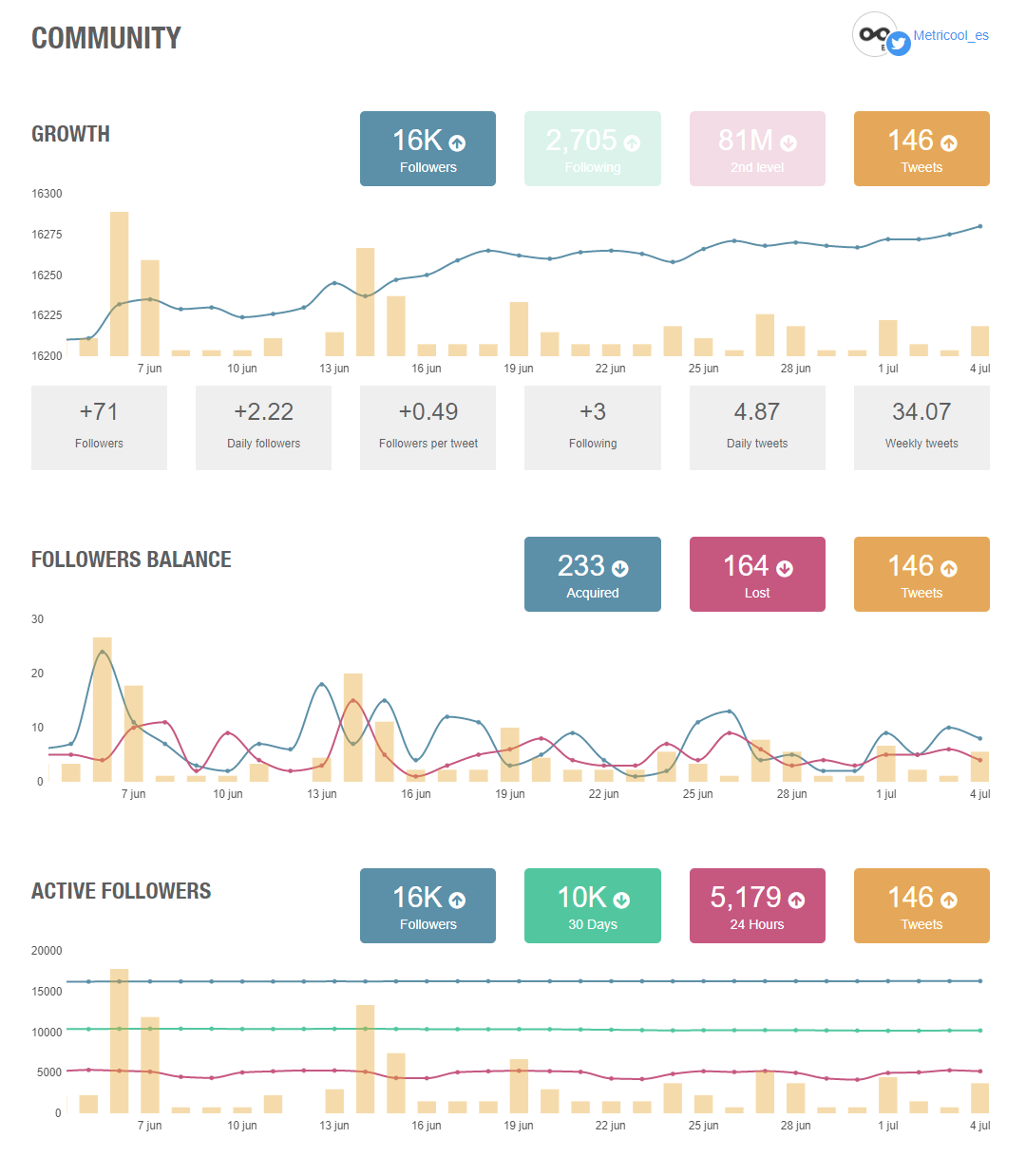 Mistakes to avoid to gain more followers on Twitter
Apart from following the tips mentioned before to get more followers, there are some things that you should avoid so you don't shoo your audience and make them stop following you.
❌ Don't send too many direct messages
If you send too many direct messages, your followers might find it annoying and stop following you. So, it's better to send messages when it is indispensable to build trust with your followers.
❌ Don't tweet constantly unnecessarily
It might be tiresome for your followers, so they could decide to unfollow you.
❌ Don't ask too much on Twitter
Asking for retweets, likes or any other type of interaction in excess can put people off. You won't build loyal followers.
❌ Don't always repeat the same tweets
Avoid very repetitive tweets because users will unfollow you. Nobody likes spam.
I warned you at the beginning of this article. There are no tricks to get more followers on Twitter quickly. If you want to increase real followers on this network, you will have to spend some time on your Twitter account. This will be the best method to increase your community
Do you have any questions?
You can sign up with Metricool for free and analyze your Twitter account, schedule, and view your best time to publish on this social network.