Is it possible to manage the comments and private messages of the social media profiles you manage in the same place? The answer is yes, with Metricool's social media inbox management feature.
Social media inbox management with Metricool Inbox
With Metricool's Inbox, you can manage Facebook, Twitter and Instagram, Facebook and Instagram comments, and Google My Business reviews. Everything from one place.
All in one and in less time…👇🏻
No more switching from one account to another to respond to comments and private messages. On Metricool, you go to 'Inbox' to manage any message or comment you receive on your Instagram, Facebook, Twitter, or Google My Business account.
How to reply to messages with Metricool
This is the way to simplify the daily task of answering all your social media comments, messages, and reviews.
1 Enter Metricool and go to the Inbox section.
2 Choose which social network you want to see messages from: you can select one, two, or all at once.
3 Select the messages that you have unresolved or unread, reply to each of them or leave them unresolved to answer later.
Remember that you can filter by social network, type of message, or by a specific user.
4 Solve the message or comment by clicking on the checkmark
5 Done! Your inbox is under control, your client is satisfied, and you did everything from one place.
How 'Inbox' works step by step:
The first thing you need is a Metricool account where you can connect your social networks. If you don't have one yet, you can do it here. In a couple of minutes, you will be ready to start working.
Ready? Let's continue.
▶️ Inbox section
You can manage social media messages from the 'Inbox' section, both private and public comments. This section is next to analytics.
If you don't have your social networks connected to Metricool yet, the '+' button will appear in this section to connect your network so you can start working straight away.
So, from Metricool, you can manage:
⚡️ Facebook: private messages and comments.
⚡️ Twitter: private messages.
⚡️ Instagram: private messages and comments.
⚡️ Google My Business: private messages and reviews.
⚡️ TikTok: comments.
▶️ Information on screen
What will you see in the Inbox section?
You will see the screen divided into two areas. On the left, you have a column with all the messages, social networks, and users. On the right side, you have the work area, where you manage each conversation individually.
Messages, comments, and users area
Here you have all the information of the users who interact with you through private messages or comments, depending on the social network you select. You can use filters to make it easy to review the conversations.
✅ User data: icons (depending on the social network, it can be an avatar or just the initials) and username.
✅ Social media platform: next to the user icon, you can see the platform's icon that the user is contacting you from.
✅ Messages: depending on the type of message you receive, you will see a different icon (envelope, chatbox, or stars to quickly identify whether you receive a private message, comment, or review). Also, you can see the date and time of the message. If the message is in bold, you haven't read it yet.
✅ Resolve conversation: You will see a grayed-out checkmark. The conversation will move from the 'unresolved' tab to 'all' if you click on it.
▶️ Work Area
When you click on a message, it will be highlighted in blue on the left side of the screen. While on the right, the work area will open to manage the message or comment.
What information do you find here? 👇🏻
✅ Who writes to us
Displayed will be the username of the person who has contacted us, an icon indicating the social network they write us from, and the type of message: comment, private message, or review.
You can mark the conversation as resolved or unread in this bar if you want to reply to it later.
In addition, you can find other information depending on the type of conversation.
For example, if it is a private message, you can see the last thing they have written to you and scroll up to the beginning of the conversation.
If it is a comment on a post, Metricool shows you the post on which the comment has been made so that you can easily have some context.
✅ Actions on the message
Once you identify who is writing to you, from which social network, and what type of message you have received, it is time to respond.
You can compose your message from the reply box located at the bottom right and add the text, photos, videos, emojis, or even gifs. Depending on the social network, if one specific format is not available in one of the networks, then that format is not allowed.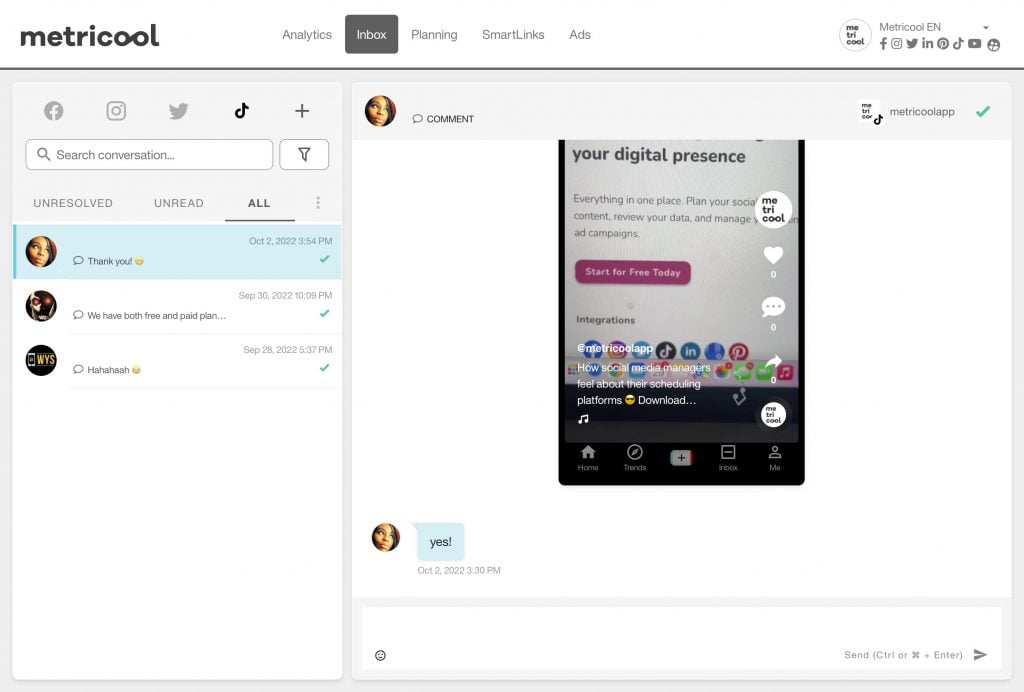 ▶️ Features
What features does Metricool offer you to simplify social media inbox management?
You can select which social network you want to see: by clicking on the icon of each one, you can enable which social network you want to manage. You can see all messages simultaneously if that's what you want.
Use the filter to see comments, private messages, or both options: only comments or only messages depending on the social network. Twitter and Google My Business, for example, have no comments.
Use the search engine to find a specific conversation with a user. As you type the name, Metricool will suggest matching results.
Filter by messages to have everything controlled at a glance. They are divided into three sections: unresolved (messages viewed but not resolved), unread (messages received without opening or reading), and all messages.
Reply to messages: reply to private messages or comments in your work area.
Inbox Metricool app
Manage from Metricool's mobile app all the conversations of the main social networks: Facebook, Instagram, Twitter and Google Business Profile.
📲 Download the mobile app for Android or iOS here.
How does it work?
Main screen
The Inbox section is between the Analytics and Planning sections. When you click on Inbox you will see all social media conversations: both private messages and comments.
If you click on the conversation you can reply with text, attach a multimedia content or check to mark it as resolved.
Filter screen
In the top right corner you can filter your Inbox to find the messages or comments you want according to three parameters:
Social networks: by Facebook, Instagram, Twitter or Google Business Profile.
Post type: private messages, comments and reviews; the latter only for Google Business Profile.
Post status: unresolved, unread, all.
When you have chosen the parameters click at the bottom on 'Save filters'.
Other options
In addition to these two screens, in Inbox app you have more options to manage your messages and comments from your networks:
Switch brands at the top right: click and the platform opens a window with all the brands registered in Metricool.
Search for the conversation by username in the magnifying glass next to the filter button: while filling in the name Metricool suggests related accounts.
In the list with the conversations if you scroll to the left on each of them you have direct access to mark the conversation as read or resolved.
On Metricool, you have all the features to save time and manage your clients' social networks in an agile way.

If you want to know more, in this Metricool mega tutorial, you will find all the information.
Do you have any questions about our social media inbox? We read you in the comments! 👇🏻