Want to know everything about social media management the professional way?
You've come to the right place. Coming up we'll tell you how to manage your social networks and those of your clients to maximize your work's performance and help it take off with your follower community.
Metricool, your social media management tool
It's a well-known trick of the trade, but it doesn't hurt to repeat it: you need a social media tool to manage, analyze, and schedule your content.
A social media management tool helps you:
✅ Save work time. The tool does its thing for you while you work on other tasks.
✅ Analyze your performance. If you don't measure what you're doing, how will you know whether you're doing it right?
✅ Simplify your work. Instead of having all your profiles separately, the tool lets you have everything on the same platform. It couldn't be easier!
If you want to cut down on work time, analyze your performance, and simplify your day-to-day life, you've found the right tool: Metricool.
How can Metricool help you manage social media?
Schedule your social media content
One of the great needs of social media managers is being able to schedule all content on social networks.
Spend an afternoon scheduling the week or month so that afterward you can focus on other activities for your brand or clients.
With the Metricool planner you'll be all set to do just that and more:
▶️ Plan content on the major social networks: Facebook, Instagram, Twitter, LinkedIn, Google My Business, TikTok, YouTube, and Pinterest.
▶️ Find out the best time to post on Facebook, Instagram, and Twitter: increase the chances of your community interacting with your content by posting at the times when they are most active.
▶️ Take advantage of Metricool's autolists so that you always have fresh content uploaded on your social networks.
▶️ Use the CSV format to upload multiple posts to the planner simultaneously: you can schedule as many posts as you have planned in the same file.
▶️ You can publish across all social networks at the same time. You can create a template with the content you are going to publish, choose the networks you will share to and edit each of them according to the rules of each social network.
For example, on Facebook you can upload a longer copy than on Twitter, which only allows for a maximum of 248 characters.
This way, you can schedule posts in the same window of the post, do you don't have to leave the editing, copy the post or duplicate it.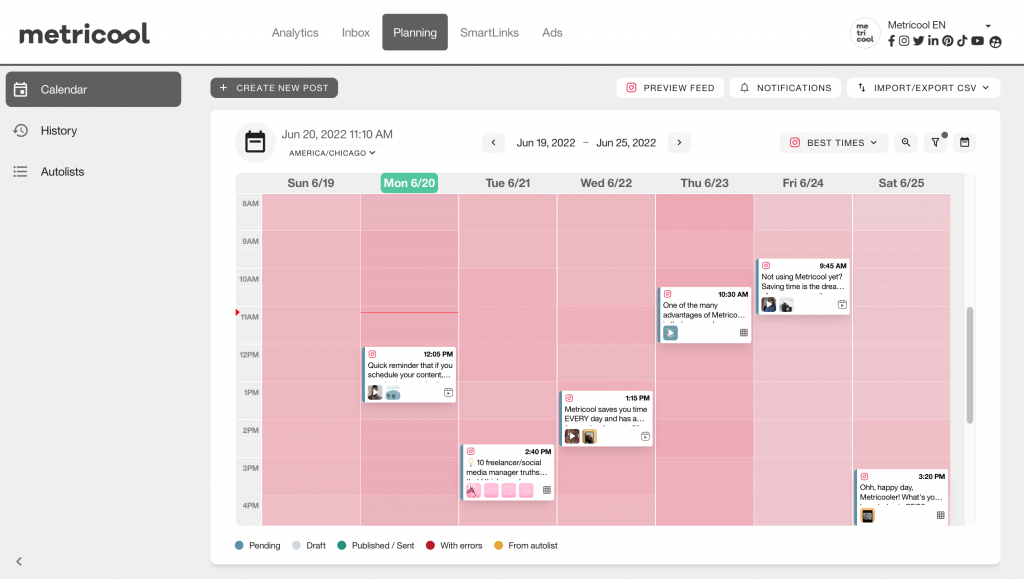 Analyze your work's performance
How do you know whether the content strategy you're following is hitting the mark? The answer lies in your metrics.
The 'Analytics' section on Metricool is a place where you can measure everything you're doing on social media:
▶️ Analyze what's happening on your website in real time: visits, best posts, traffic source, among other metrics.
▶️ Measure your social media metrics within the time frame you need. The best way to measure the evolution of your social media pages or those of your clients.
▶️ Analyze the performance of your ad campaigns on Facebook Ads, TikTok Ads, and Google Ads.
▶️ Discover Metricool's Brand Summary, the summary of your brand, with all the metrics of all the social networks together with the ones you work with.
Manage your social media communication
Managing messages from users and follower engagement is one of the main activities of social media experts.
If you don't make an effort with your community of followers, it'll be hard to grow.
Metricool has a handy Inbox feature, from which you can:
✅ Reply to comments from TikTok, Facebook, Instagram and Google Business Profile; and private messages from Facebook, Instagram, Twitter.
✅ Manage both comments and messages, sort them, and classify them into read and unread.
In short, you can manage all interactions from the same platform, without having to switch social networks or accounts.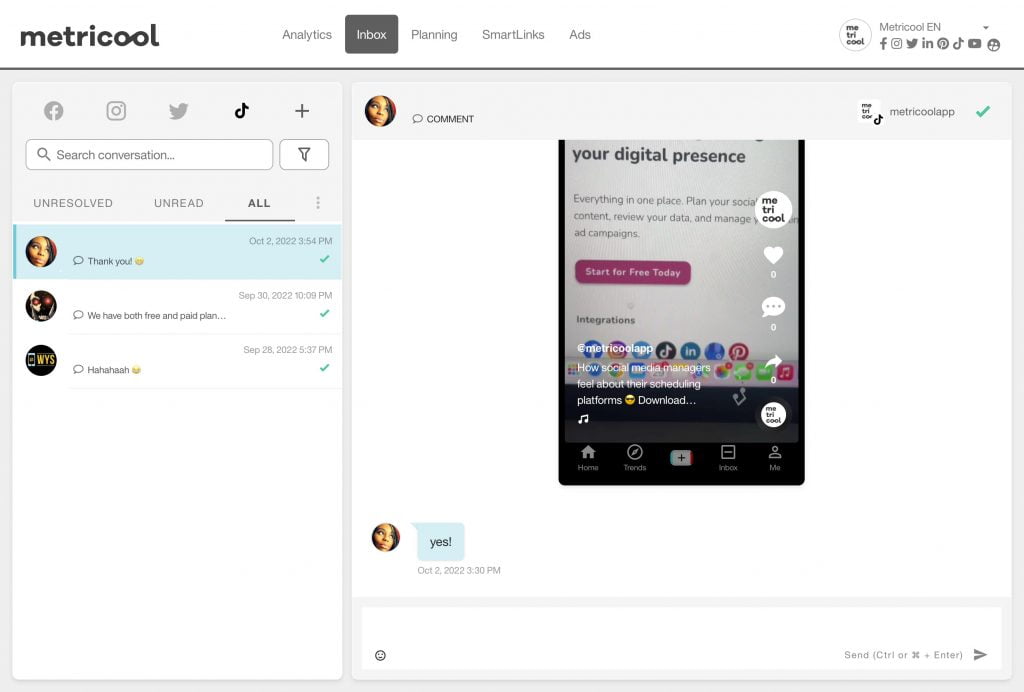 Other features
Seen enough with these three day-to-day social media features?
Well, that's not all — there are still a host of other features that will make Metricool your favorite tool for social media management.
A social media classic, performance reports with the results of the previous month. You know the drill: reviewing data, searching for formulas so that everything checks out and… spending hours and hours in front of the computer.
With Metricool you can generate these reports with a click of a mouse, customize them with templates, choose between a PDF or PPT format, and add your company logo.
A report with all your data in less than a minute.
Adding links on social media is often a conundrum: some networks, such as Instagram and TikTok, only allow them in your profile bio.
With SmartLinks, this is no longer an issue: create your own link page to attract more traffic to the landing sites you want, customize it with the buttons you want, and add links to your Instagram posts.
Hashtags are a great way to follow specific content on social networks: events, related posts, etc. If you usually do events with your clients or your own brand, you can measure user participation through a hashtag.
To do this, Metricool offers the Hashtag Tracker feature to measure your event's success. Add the hashtag to the tool, select how long you want to measure it for, and wait for the results.
Metricool also has a mobile app to work with all your content and analyze metrics from your device.
It's available for both Android and iOS and offers the tool's complete suite of features. A great way to carry your work in your pocket for any urgent need that crops up.
So, that's how Metricool can help with your social media management. Now you know:
🚀 Analyze, plan, and measure.