Planning your social media content is crucial to carry out a successful social media marketing strategy.
If you keep an active business profile on social networks, users can get to know your company well, interact with you and even become customers.
Companies and users often have profiles in more than one social platform so they can have multiple channels open to interact with customers. This way, communication becomes easier, it humanizes relationships and also increases empathy with the people who follow you.
However, dealing with several social networks daily can be a bit overwhelming.
So, how can I plan my social media content in an easy way?
Schedule your publications and content on social networks to have zero stress.
Forget about using Excel templates for social networks. A planning tool will be faster, more effective and more visual.
Metricool Planner
You can effectively plan your content with Metricool.
It offers you two options:
✅ FREE VERSION: You can plan up to 50 posts a month with one profile and it is completely FREE.
✅ PREMIUM VERSION: You have many more options with this version. Connect as many profiles as you want and plan up to 2,000, 5,000 or 10,000 posts on your social media accounts.
In which social networks can I plan my content?
You will have the opportunity to plan your content on the main social networks daily, weekly, monthly and even for a whole year. With Metricool you can schedule up to 10 images per post. Let's have a closer look to each social network where you can plan your content:
Program your content on Instagram
Instagram's API restricts the use of other external tools to schedule or automate your posts so they appear directly on Instagram.
There are only a few tools that can publish directly on Instagram because of a parthership they have with Facebook. Sheduling and posting directly on Instagram it is a functionality that is in testing right now and it is closeed.
But in Metricool we have two solutions for you!
✅ With Metricool's App: If you have the Metricool app installed on your smartphone, you can activate push notifications. You will receive a message on your phone reminding you that it is time to publish to Instagram.
The image you have programmed will be automatically saved on your reel.
The text that accompanies the publication is saved to your clipboard
✅ Without Metricool's App :Via email, choose the email account where you want to receive the message and we'll send you an email.
Once you receive the notification, you'll know that the time to publish has come. You will receive the photo and text that you previously scheduled. The next steps to follow will only take you a couple of seconds:
Upload the photo on your image gallery.
Also copy the text that you prepared beforehand.
Open Instagram and share it!
Schedule on Facebook
When you want to upload more than one photo on this social network, you will be asked to add a name to your album. Facebook arranges your photos by albums to keep them organized.
If you want to share a link, it is better that you add it at the end of your content. Otherwise, the preview of the link you are sharing won't be shown.
Otherwise, if you want to change the image that comes with the link, you must verify that the domain is yours on the business manager. This is meant to avoid falsifications.
Schedule your content on Twitter
It's the only social platform that has an autocomplete feature for mentions.
If your intention is to add audiovisual content on Twitter, pay attention to these specifications:
Image type allowed: JPG, PNG and GIF
Image size: 5 MB max (8192px x 8192px)
GIF size: 15 MB max
Video duration: between 0.5 and 30 seconds
Video size: 15 MB max
Schedule on LinkedIn
If you want to share a link on LinkedIn, a preview will be displayed too. However, the image must be added manually.
Organize your posts in a visual way and design your calendar considering the best times to do it. You will be able to post multiple images or animated GIFs.
Gather all your content and stats, like the number of clicks, interactions and impressions that your content receives.
Autolists with Metricool
Save your evergreen content in autolists and decide when you want it to be published. You can reorder your content and pause any post you want.
How Metricool's planner works
When you click Planning on the main menu located on the top of the screen, you can find the following fields:
A blank space to write your posts
On the left side of the screen, you can write your content. You can add emoji's, GIFs or images.
Select the platforms where you want your post to be published. You can share your posts on all the social networks or just on one.
Choose the day and time. Later on this post you will learn when it is the best time to publish on social networks. Make sure you choose the right hours.
Decide if you want to use a Metricool's shortener when you add a link. If you do, your URL won't take as many characters.
Preview
In this section, you can see your content and how it will be shown when you publish it on social networks.
Best times
Metricool provides you with the necessary information to know when it is best to publish on social networks according to your audience's activity. This data is personalized and exclusive for your social network accounts.
Planner
You can see in a calendar how your days are planned in each social network. You can see the schedule for a day, week or month. You can also easily check the best and worst times to publish by the different shades of blue.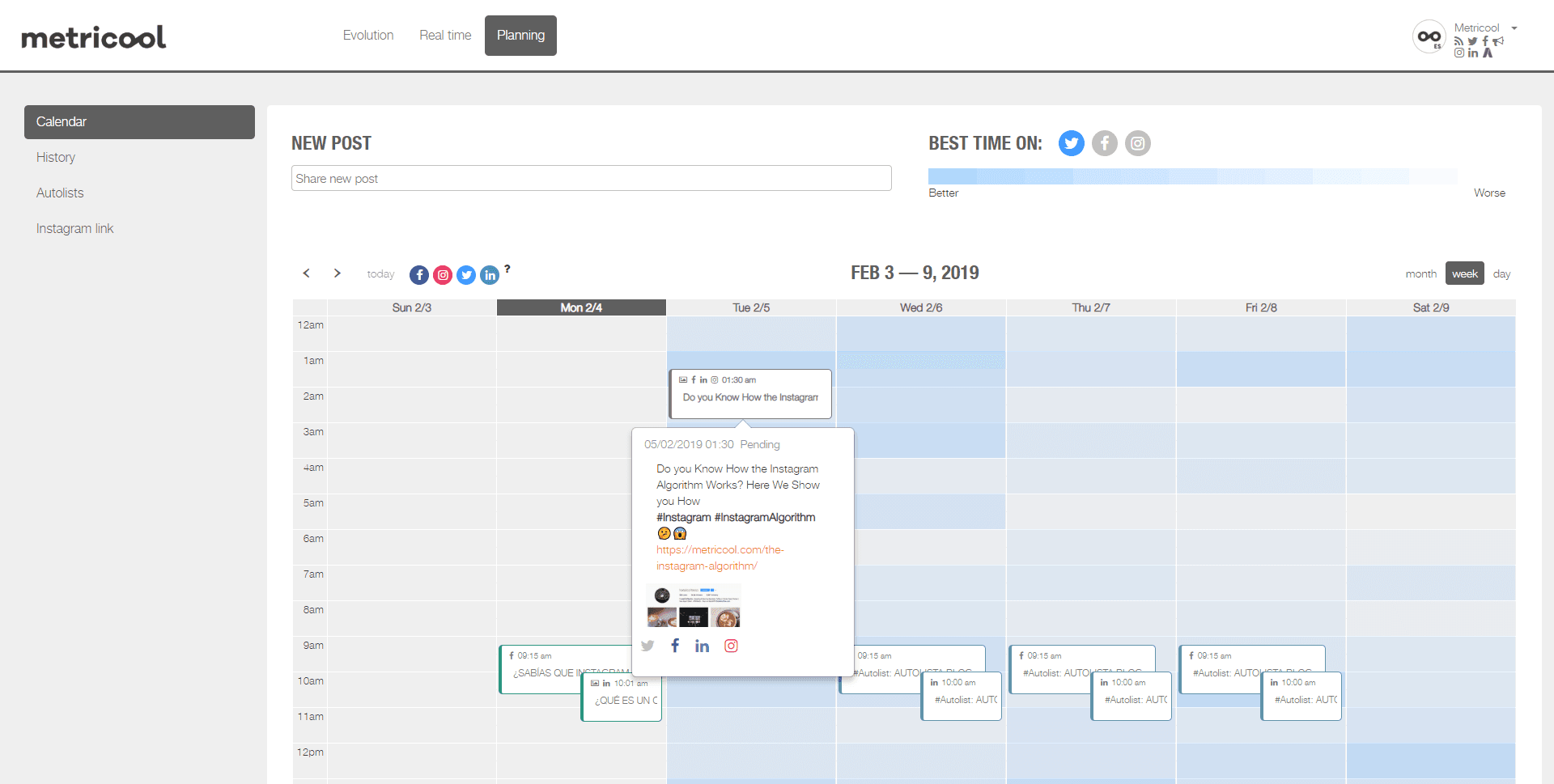 Benefits from planning your content on social networks 
The biggest advantages of using social media planners are having your work organized and not leaving anything to chance. On top of this:
You will save time having all your content planned.
Everything will be in the right place and coordinated.
It will be easier to publish the same content on multiple social networks at the same time.
You will activate your social networks in the most stressful moments with autolists. Your social networks will always be active.
Go ahead! Sign up with Metricool and you will see that planning on social networks is a piece of cake.