Do you include email marketing as part of your sales strategy?
If not, you are wasting one of the most powerful ways of attracting, selling, and gaining loyalty right now on the Internet.
Sending emails to a database is a way to communicate with your potential customers, build trust in your relationships and persuade them to buy your product or service.
In this post, I will explain how to create a newsletter step by step to start building your subscriber list and selling 365 days a year.
I will give you tips and show you some examples to inspire you, so stay until the end 🙂
Let's do it!
What is a newsletter?
A newsletter is an email you send to your subscriber database through an email marketing tool.
They can be informative emails, discounts and promotions, reminders of an event, or emails to sell your products or services.
Today we will focus on the latter since an email marketing strategy is one of the most powerful ways today to connect with your audience and convert them into customers.
The newsletter is a way of communication via email that businesses use to contact their subscribers, who may be existing or potential clients.
You can create daily, weekly, or monthly newsletters. Also, you can send newsletters only for specific occasions and without a predetermined frequency.
Throughout the post, I will explain how to make an effective newsletter with a sales objective, and I will make some recommendations depending on the type of business you have.
Let's go step by step!
How to make a newsletter step by step
✅ Step 1 – Define your goals, value proposition, and buyer persona.
The first thing you should be very clear about is what objective you are pursuing with your newsletter.
Why do you want to send emails to a database?
It can be to sell X products or services, get more traffic to your blog or social networks, affiliation to sell third-party products…
Everything will depend on your business model.
You should consider the SMART criteria to define your goals:
S – Specific – specific
M – Measurable – measurable
A – Achievable – achievable
R – Relevant – relevant
T – Timely – temporary
And in addition to the objectives, you should have a deep understanding of the product you sell.
Believe it or not, many businesses don't really know what they are selling. They have not defined their value proposition well and don't know what differentiates them from the competition, which makes them unique and an attractive option.
You have to know what you offer that other brands do not and who is the ideal customer to whom you direct your actions.
Identify your buyer persona, their needs, problems, desires, pain points…
This is extremely important because the message you transmit depends 100% on it.
The better you know your target audience, the more they will empathize with your message and feel the need to buy your product.
This will help you personalize your newsletters, build a relationship based on trust and encourage them to buy from you.
✅ Step 2 – Design an attractive lead magnet
Once you are clear about the objective you want to achieve, what you sell and whom, you must define how.
Which hook are you planning to use?
Most online stores have a discount code as a lead magnet.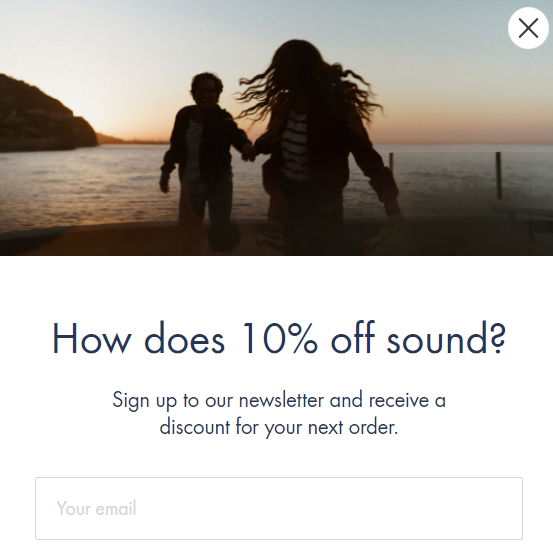 And the truth is that it is not the best strategy (although there are exceptions, such as online stores).
Think about it.
If the person has entered your website, it is because they are interested in what you sell, regardless of whether they are ready to buy or not at that time.
Then the discount code only serves for the person to subscribe and get that cheaper purchase.
Then they will not be interested in your newsletters and will probably unsubscribe from your email list.
In the end, the objective is to create a qualified subscriber database.
💡 For example, a cosmetic store that uses a test with multiple questions as a lead magnet and asks users about the products they are interested in, their daily routines, age and gender, type of skin, etc.
The user will receive the test result in their inbox. This will work as the starting point to send the user newsletters sharing interesting facts about cosmetics, the brand itself, news and promotions, trending products, etc. The objective is to sell a product from their catalog.
The lead magnet must have a direct relationship with the products you will sell.
It must solve a problem.
It should be quick and easy to consume.
It must add value.
✅ Step 3 – Design the pages involved
With your lead magnet ready, you will have to design the squeeze page where you will offer that attraction hook to get your subscribers' email addresses.
You can also add a pop-up or a subscription box on the blog or home page.
It depends on your business model and the strategy.
Creating a squeeze page to capture email addresses is quite common, so you should design one.
Also, you should design a double opt-in page where subscribers can confirm that they really want to subscribe to your newsletter.
Lastly, the thank you page for subscribing.
Many link the lead magnet on this page for subscribers to download, and others deliver it in the first welcome email.
✅ Step 4 – Choose your email marketing tool
There are multiple tools available on the market.
You should choose the tool based on the frequency and number of newsletters you intend to send, the size of your subscriber list, whether you want to create an automated email, etc.
If you start from scratch, I recommend MailerLite, which has a free plan for up to 1,000 subscribers to send unlimited emails.
On the other hand, Active Campaign is the one I use today, and I like it because of the tag system to segment subscribers and the personalized automation options.
✅ Step 5 – Define your strategy to capture leads
There are multiple ways:
1 – You can include a subscription box on the web pages with more visits (the home page, some popular product categories, blog articles, …)
2 – You can invest in paid advertising in search engines like Google or on social networks like Facebook and Instagram to capture leads with your lead magnet.
3 – You can add the link of your lead page to your social media profiles' bios or share content for this purpose.
4 – You can work on the affiliation and ask that other brands with good databases invite them to subscribe to yours.
5 – You can organize a free online workshop or try to be interviewed on podcasts or YouTube channels related to your sector to promote your lead magnet.
There are a thousand ways to reach your ideal client and get them to subscribe to your newsletter.
✅ Step 6 – Design of your newsletter
Decide how you want your newsletter to look. Do you want to add a corporate image to your header? Which signature will you use? Are you planning to use ready-made templates?
Of course, you must be careful with the images you choose. The photos you share should have good quality, even if they affect loading times or slow the delivery of your emails.
However, if you can do without images and keep a simple design and structure for your newsletter, the reader will have fewer distractions and focus on the text itself, which ultimately persuades and converts.
The font you use is also important. When your subscribers have been reading you for a while and get used to your frequency, if you use a distinctive font, somehow, as soon as they open the email, they will know that it is you straightaway.
✅ Step 7 – Frequency
You must establish a sending frequency. If you send newsletters in a timely manner, to sell something specific and then abandon your list, the consequences would be:
1 – You lose an opportunity to create a bond between you and your subscribers.
2 – They will forget their subscription to your newsletter, and the moment they receive something again, the chances that they unsubscribe are high, especially if you are trying to sell your product.
Therefore, I recommend that you be consistent. If you are betting on email marketing, do it well.
Create a sending frequency, and I recommend that you do it at least once a week. Think about the number of things we do in a single day. If you send emails once a month or every two weeks … Do you really think they will remember you?
With the newsletter, the goal is to be in your subscriber's minds. So that when you offer them something that may interest them, they are ready to buy from you because there is already a relationship based on trust. In other words: It is not a cold sale.
The higher the frequency, the more you will settle into their routine.
✅ Step 8 – Subject
The subject is one of the most important things in your newsletter.
If you don't arouse curiosity, the recipient of the email won't click to open the email, and the opportunity to sell your product will be lost.
Make sure your email subjects are eye-catching and addressed directly to the subscriber. Use numbers and action verbs, contradictions, and any other resource that makes your email stand out from the rest.
Of course, do not promise content they will not find in your newsletter to generate curiosity and click.
You can provoke rejection and have the opposite effect to what you were looking for.
✅ Step 9 – Newsletter content
The content of your emails should be entertaining and attractive to read.
Use storytelling and tell your subscribers stories or anecdotes that you can relate to the products or services you sell.
Talk about emotions and situations in which the reader can be reflected and cover their pain points or problems at that moment. Ensure you show your product or service as the solution.
Tell the news of your business, your day-to-day. Humanize and bring your brand closer.
The length of the newsletter? It is not too relevant.
An email of over 800 words can indeed be more difficult to read in full.
You have to tell an entertaining story and use your words very well so that the recipient reads the email till the end.
Although it always depends on the commitment and interest of your subscribers.
I usually read more than 1,000 words emails because I am subscribed to newsletters from other brands and professionals in the sector that I enjoy reading.
Ecommerce companies usually send catalog newsletters with a short text, which does not mean that it is the most effective.
The truth is that most businesses don't take advantage of the newsletter's full potential.
You can also tell stories, anecdotes, and reflections related to your product catalog.
In the end, awakening positive emotions is the first step to persuading readers to buy.
If you need an estimate on how long your newsletter should be, an email of between 400 – 800 words is the standard and what usually works best.
✅ Step 10 – CTAs or Calls to Action
You must be clear about this:
One email. One goal.
It is not practical to ask the subscriber to do several different things in the same email.
For example: buy X product, follow me on social media and watch my latest YouTube video. If you are fortunate, the reader will do one of these actions.
Each newsletter will have a goal, and every time you add a link or invite readers to take action, the action must be consistent with that goal.
Usually, the call to action is included at the end of the text.
The exception to the rule one email, one goal is when we have several related products or services that we can offer at the same time.
For example, an online store that sells different models of sneakers, and also socks, and other accessories.
Postscripts also play an essential role here.
It is interesting to add postscripts at the end of the email since many people scan the text or read only the beginning and the end.
I advise you to add postscripts to summarize or reinforce what you said in the email, make a reminder, or add remarkable info.
✅ Step 11 – Result analysis
Finally, one of the most important parts of making a newsletter is analyzing whether the newsletter works.
In your email marketing tool, you will find a section with reports and metrics where you can see the deliverability of the email (how many emails have been successfully sent), the open rate, the link clicks rate, conversions…
You must check your metrics from time to time to keep track of your newsletter's performance.
So that you can test which type of emails work best and what your subscribers like the most.
So these are all the steps you must follow to create a successful newsletter, get a committed subscriber list and sell on a recurring basis with your emails.
Conclusion
I hope that the post has been helpful to you, and now that you know how to make an effective newsletter, you are encouraged to send emails to your subscriber list and sell through this powerful channel.
If you have any questions or want to tell me what you think of the post, we will read your comments. 🙂