Probably you have heard mixed opinions on email marketing – "Email marketing is dead", "the money is on the list", etc.
What is clear is that nowadays Email Marketing is still one of the most powerful tools for digital marketing.
So, pay attention and learn how to design a successful marketing strategy through emailing.
What's Email Marketing?
Email marketing is a digital communication strategy that comprehends the creation process of contact databases, emails and the strategy to convert those leads or encourage them to take a specific action.
In email marketing, as the name implies, email accounts are used to send quality and valuable content to a group of contacts.
Emailing or email marketing has multiplet objectives:
✅ To convert leads, or email accounts, in customers
✅ To build loyalty amongst contacts or customers from your email marketing list.
✅ Generate community
✅ Increase sales
✅Give visibility to your product or service
In short, emailing is an effective strategy to communicate with customers or prospects and provides great results.
With Email Marketing you can convert leads into customers
You can personalize your emails depending on the group of people that you want to share your message with. Besides, it's a non-intrusive and scalable method.
⚡️ Importance of emailing in the digital world
Advantages
If you are still considering whether to use emailing or not, we are here to remove your doubts with the benefits that an email Marketing strategy brings.
➡️ Effective
Email Marketing is a way of direct marketing that works well. When users give their contact information, it means that they know they will receive information, that is, they are open to offers, news, etc.
➡️ Affordable and scalable
It's a strategy that doesn't need many expenses beyond investing in an email marketing tool and the time needed for writing the body of the email. You can send the same email for hundreds or thousands of people.
➡️ It allows you to personalize
You can segment your database and personalize your emails. This way you can send emails to your target group of people or to those who fit in a specific campaign.
➡️ Measurable
Something that differentiates email marketing from the traditional door-to-door delivery is the metrics. When you use emails you will get data that you can measure: open rates, number of clicks on the link. Data that allows you to make the right decisions.
➡️ Non-intrusive
When someone gives you their email address, it means that they are willing to receive your messages, that is, when you send them an email you won't be invasive.
Like with newsletters. A newsletter is an email you send to subscribers who have previously shown interest in your business, company, or product.
However, make sure you include a button to be removed from the list, so each time someone wants to unsubscribe from the emails they can do it.
➡️ Immediate
In the case that you want to send temporary offers, such as Black Friday, emailing is a good way to let people know. Emails arrive at the same time that they are sent so people will be aware of the news very fast.
Types of emails in an email marketing strategy
Depending on how you approach your strategy, there are two email types that you can send:
1 Authorized emails: emails that are sent automatically, there is no one sending them manually. Within this category there are two types:
➡️ Transactional
The delivery occurs after a transaction, that is, after a user has taken an action. For example, emails that you receive after a hotel booking or having bought something on the Internet.
➡️ Marketing automation
Emails that are triggered by something. For example, if you have a flight to Rome tomorrow, the airline company will send you a reminder with the time of the flight and when you should arrive at the airport. Email Automation:
What is it and what are its benefits
2 Occasional emails: As the name implies, they are emails sent on specific occasions. For example, when you carry out a Black Friday campaign you only send emails during that week. Another example is when you share news about your company.
Where to start with your email marketing
strategies
If you haven't developed an email marketing strategy for your business, don't wait any longer, it will help you to increase the conversion rate and sales opportunities.
Let's see how you can start with email marketing…
Create your database: Get leads
In order to create a campaign you first need a contact database tol send your emails to…
BE AWARE OF REGULATIONS!
The General Data Protection Regulation is the legal framework that protects people's personal data, one of them is to make sure that email addresses are collected legally.

That is to say, you can't send emails to people who haven't accepted that want to receive emails.
You could be subject to fines for failing to follow the privacy rules.
Choose an email marketing tool to send your emails
In a company, many emails are delivered and you can't do it manually… it would take you ages and it wouldn't be scalable. It is highly recommended to choose a good email marketing tool to lay out and send your emails to your contact database.
Apart from these tasks, these platforms offer you analytics about how your strategy has worked and information about the best times to send emails. They also allow you to create labels or lists to divide and segment your audience, etc.
✅ Segment your audience
One great advantage of this marketing strategy is that you have the opportunity to divide your database into groups to send more specific and personalized messages.
A good example is: if you have a database with native Spanish speaking people and English speaking people. In which language are you going to send your message? In this case, you should divide these contacts into two groups and send an email in English and another in Spanish.
✅ Design your email layouts
Create a design that identifies your brand, that is, use your logo, your colors and communicate the same way your company does.
The ideal is to create a design and use it as a template for future email campaigns.
✅ Think carefully about the subject and body of the email
Apart from the design of your email, the subject is one of the key points as it is the first thing that the recipient will see when the email lands in their inbox.
The body of your email must be easy to read and not too lengthy, consider that many people review the inbox on their phones.
Some tips to carry out an email marketing campaign
You can find some valuable tips when you start creating your emails below:
⚡️ Search for a striking subject
It's one of the most important parts of an email. You must capture the attention of users with only the subject that you choose for your email.
⚡️ Use a simple layout for your email
Don't overdo it. Your email must be attractive but not too elaborated so users still want to read it and feel comfortable with the content.
Add the logo of your business so they know that it comes from you and don't think that it's spam.
⚡️ Add buttons to social networks
These are very useful when the recipients like your email so they can share it on social networks. It's also a call-to-action to encourage them to follow you on social media.
⚡️ Add your company info
On several occasions, users might want to contact you because they have questions or suggestions that they'd like to share. Most times it's not possible to reply to massive emails. So, include in the footer your contact info so they can get in touch easily.
⚡️ Don't hide the unsubscribe button
it's important that users can easily unsubscribe from the emails if they are not interested in the content or don't want them in their inbox.
⚡️ Use storytelling to capture users' attention
Write naturally and by telling a story, avoid sending purely commercial communications. It's the best way to build a community.
How to avoid that your emails end up in the Spam folder
You know what Spam is, right?
So, you know that you must avoid your emails going directly to this folder for several reasons…
Users won't ever read your emails.
Google is the one that classifies your emails, so if it sends them to SPAM, it means that you must have a penalization on your domain.
You will lose credibility amongst your subscribers.
▶️ Email example
Below, you can check an example of an email sent from Metricool so you can see how we applied some of the previous points: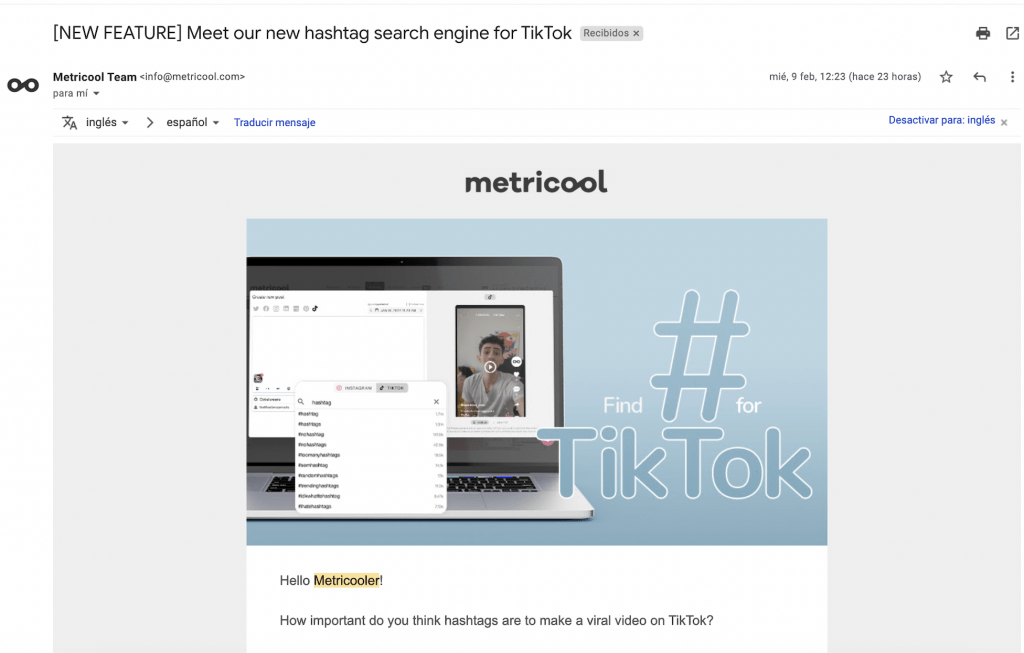 ➡️ The title is striking
Emoticons are used to stand out over other emails that users might have in their inbox. Also, it mentions news… New features! which arouse curiosity and encourage users to open the email to discover what it is.
➡️ The info of the company appears
In the header of the email you can see the logo of the company with the characteristic colors of Metricool. Thus, it is a personalized email easily to identify it with us.
➡️ The text of the body is clear
One person can read this email easily from their pc or phone.
Email Marketing KPIs
The same as with the rest of digital marketing strategies, it's necessary to measure the results to figure out whether our strategy is working or not so we can make the right decisions for futures strategies.
These are the main metrics to measure when you carry out an email marketing strategy:
⭐️ Bounce Rate
It is the percentage that shows the amount of emails that couldn't be delivered to certain inboxes.
⭐️ Open Rate
This metric shows the percentage of people that have opened your email, in other words, it represents the level of users' engagement.
The higher the percentage, the more people are opening your emails, that is, your subscribers are interested in what you are telling them.
Increase the opening rates of your emails
⭐️ Click Rate
This KPI could be interpreted as the percentage of user's interactions with your email.
⭐️ Cancellation Rate
It's the percentage of people who stop their subscriptions. If this rate is high you should identify the problem and try to solve it so you minimize the possibility of losing more contacts from your database.
⭐️ Business conversion Rate
You can measure this rate when you have a clear and specific objective. Depending on the objective of conversion that you establish, you will know how many people has taken the action you want. (For example, buying a product, clicking a specific link, accessing a webpage, etc.)
Never forget to measure your strategies, they will always help you to improve and understand what your users like!
This is everything about email marketing. Are you eager to start your next campaign?