As a social media manager, this situation will sound all too familiar: you're getting Facebook messages from users who have questions and queries… then you get another message from another company page. And you're starting to lose track of where you're at and what you're doing.
Guide to answering Facebook messages
We have the solution to get your head in the right place and stop you from getting tangled in a web of DMs: in this post, we'll tell you how to respond to messages on Facebook from your browser, from the app, and from Metricool.
That way you can manage all your messages from your various company pages from the one platform.
Replying from your browser
The first way to reply to messages on Facebook is to do it from the social network's browser page.
The message window is on the Facebook homepage, although here you can only access private messages from other users on your private profile.
To access your messages, you'll need to:
Click on the company page you want to manage messages for.
Go to the column on the left-hand side, where you have all the options for your page.
Tap on Inbox.
You'll be taken to a page with all the private messages on your company's Facebook page.
From here you can reply to them, move them to other folders such as drafts, or delete messages.
If you want to reply to messages from other pages, you'll have to switch pages on the Facebook platform itself.
Let's keep going!
Replying from your phone
You can also reply to private messages from the Facebook mobile app for Android and iOS.
Go to the Facebook app > Menu > Select the page you want to reply to messages on.
Once on the business' page, click on Inbox, the button on the top menu of your page.
Facebook will take you to its dedicated instant messaging app, 'Messenger', from which you can manage all the conversations on your company page:
All you have to do is click on the conversation and reply to the messages.
You can also press and hold the chat to mark as unread or delete the conversation.
 Messenger is an independent Facebook app, so you'll need to download it separately: on Android and iOS. Once you've downloaded it, you can go straight to the app and skip the previous steps.
With Messenger, you don't need to go back to the Facebook app to switch accounts to reply to messages from another page:
Click on your page's profile picture, the button on the top left.
Here you'll see a screen with all your messaging options: notifications, dark mode, etc.
Tap Switch Account and you'll be taken to another page you manage.
Don't leave just yet! We've saved the best till last: how to answer all your Facebook messages from the same platform.
Replying from Metricool
Want to have all your messages on Facebook in one place and manage them in the same tool?
Then Metricool is exactly what you need: all you have to do is connect your Facebook page to Metricool and… presto!
💡 But hang on a sec… First, you'll need to create an account, because if not, you'll have nothing to connect.
Metricool's Inbox feature will become your best ally from now on.
Go to Metricool and select the Inbox feature.
Here you'll see all the social networks you can manage your messages for.
Select Facebook, and then in the filter icon on the right, choose private messages.
All your conversations will be conveniently displayed so that you can reply to them and offer your community first-rate customer service.
Why is Metricool so great for managing you messages on Facebook?
✅ Lets you manage all conversations on your Facebook pages from a single platform. Click on the switch account button and you're all set. Without having to exit Metricool!
✅ Sort Facebook messages into 'Unresolved', 'Unread' and 'All' to keep on track with everything.
✅ Allows you to connect other social media accounts to manage messages: Instagram, Twitter, and Google My Business.
✅ Connect and manage all your social profiles and work with them from Metricool: analyze, plan, and manage all your work.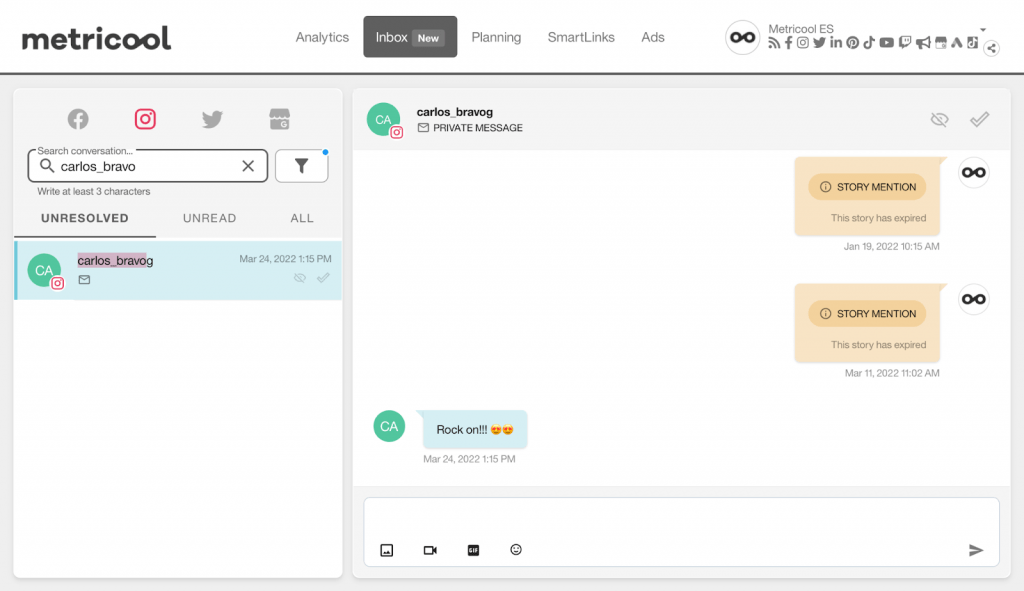 These are the tools Metricool gives you to manage and respond to Facebook messages.
Remember you'll need to create an account with Metricool to use the inbox feature and keep on top of your message answering.
One of the keys to growing on Facebook is managing your messages and delivering excellent customer service to your users and community.
If you're new to this social site, here's Metricool's Facebook marketing guide to help you get started.