Metricool allows you to schedule and plan your posts on your professional profile so the content can auto publish on Instagram or through email or push notifications on your mobile phone.
Careful! Only Instagram Business accounts can post automatically on Instagram from Metricool.
If you want to plan and schedule your Instagram content with Metricool follow these steps.
Both free and premium plans have access to this feature, in addition to the best hours to publish. If you still don't use Metricool
IMPORTANT
→ Instagram stories and videos longer than one minute can only be programmed on Instagram through push or email notifications.
→ The auto-publish option is only allowed for Instagram Business accounts, and as long as Instagram requirements are met: only images in JPEG or PNG format, videos in MP4 or MOV or carousels and Reels.
How to schedule content and auto publish on Instagram
The steps to schedule Instagram from Metricool and publish automatically are that simple.
1) On the top menu, click on the Planner and a calendar will display.
2) Select the best time on Instagram to see when your community is more active and therefore, it is best to publish.
3) Click on New Post or directly in the calendar. A new window will appear where you can select Instagram. Then, select the time and date you want to publish and add your text, video, Reel or image and carousels with both formats combined. (Remember that you can only include one image in JPEG, PNG, a video in MP4 or MOV format and Reel).
You can edit the image that accompanies the post from the planner. Click on the three upper points and you can crop it, add filters or modify the brightness, contrast, among other options.
You can preview the publication on the right side.
▶️ If you are a Premium user, you have the option to search for the most popular hashtags related to the topic of your post when scheduling your content. 
▶️ If you are a Free user, Metricool will provide you with the ten most popular hashtags, but you will not be able to search further.
4) Make sure the auto publish option is on and then save.
5) If you have uploaded a video or Reel to schedule on Instagram and you activate the auto-post functionality, you can choose the cover photo of the video being a fragment of it.
As if you were doing it from Instagram, on Metricool you can select a frame of your video and use it as a cover.
Would you like to know how it will display on your feed? With Metricool, you have the Feed Preview feature, which shows the feed of your Instagram account with the photo or video that you have scheduled.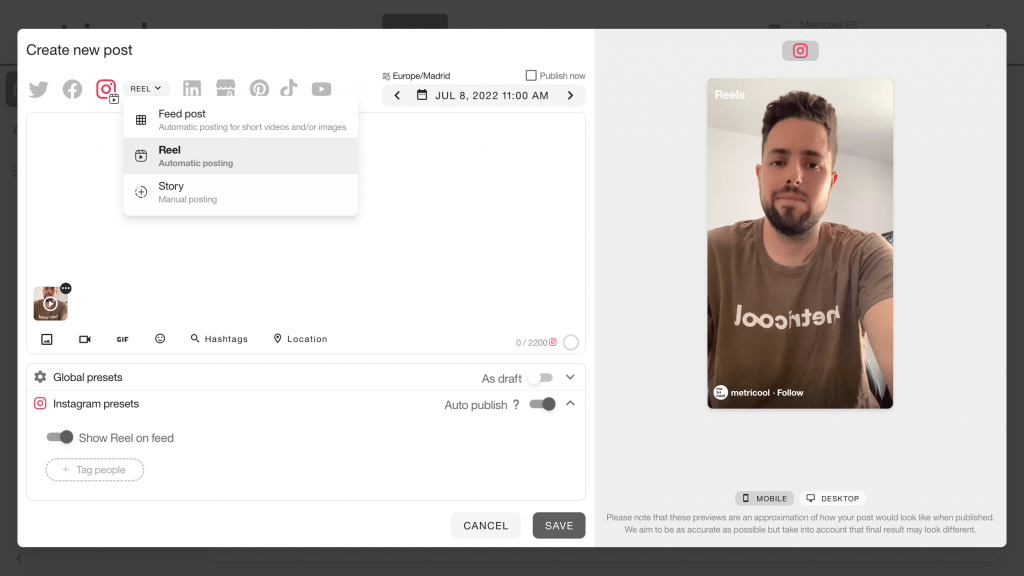 Now the post is ready to be auto published when the date and time comes.
What are Instagram requirements to auto publish images and videos?
✓ IMAGES MUST BE IN JPEG OR PNG FORMAT and also comply with these standards:
Maximum file size: 8MB
Aspect ratio: Must be within a 4:5 to 1.91:1 range
Minimum width: 320 (will be scaled up to the minimum if necessary)
Maximum width: 1440 (will be scaled down to the maximum if necessary)
Height: Varies, depending on width and aspect ratio
✓ VIDEOS IN MOV or MP4 FORMAT  and following these requirements:
Container: MOV or MP4 (MPEG-4 Part 14), no edit lists, moov atom at the front of the file.
Audio codec: AAC, 48khz sample rate maximum, 1 or 2 channels (mono or stereo).
Video codec: HEVC or H264, progressive scan, closed GOP, 4:2:0 chroma subsampling.
Frame rate: 23-60 FPS.
✓ Picture size:
Maximum columns (horizontal pixels): 1920
Minimum aspect ratio [cols / rows]: 4 / 5
Maximum aspect ratio [cols / rows]: 16 / 9
Video bitrate: VBR, 5Mbps maximum
Audio bitrate: 128kbps
Duration: 60 seconds maximum, 3 seconds minimum
File size: 100MB maximum
✓ Reels:
Container: MOV or MP4 (MPEG-4 Part 14), no edit lists, moov atom at the front of the file.
Audio codec: AAC, 48khz sample rate maximum, 1 or 2 channels (mono or stereo).
Video codec: HEVC or H264, progressive scan, closed GOP, 4:2:0 chroma subsampling.
Frame rate: 23-60 FPS.
Aspect ratio: 9:16 to avoid cropping or blank spaces.
Duration: 90 seconds maximum, 5 seconds minimum.
In the case of having enabled the auto publish feature but program posts that are not allowed to be published automatically or don't meet the requirements, you will receive a notification to your phone or email and thus be able to publish manually.
How to program and publish on Instagram through push notifications
To publish videos longer than one minute or stories via push notifications, follow these steps:
1) Install the Metricool app on your mobile and log in to receive the push notification when publishing.
2) From the computer, enter Metricool and go to the planning menu.
3) Once here, click on a new post, be sure to deactivate the AUTO option and then click on the gear icon next to the Instagram symbol.
4) A new window will appear where you can activate the notification option in the mobile App and select your mobile device.
Once you have followed these steps you can schedule your posts as you did before. That is, selecting Instagram, date and time, text and images or video and save.
In addition, on Metricool, you can choose the type of content you are going to upload so when the app takes you to Instagram: you will go directly to the stories section or the Feed if it is for videos longer than one minute. You can find this option in the 'create new post' window, in the drop-down menu at the top.
When the day comes, you will receive in the app the notification to publish along with the video or image and programmed text.
Click on Post on Instagram, and once on this platform, click on the "+" at the top right and select in which format you want to publish.
The programmed image or video is automatically saved in your photo app.
The text that accompanies the publication is saved to the clipboard.
Schedule with email notification
Like the push notification, from the Metricool web application you can configure it to receive the notification via email. Once you have planned your publication and the time to publish arrives, you will receive a message in your inbox:
Open Instagram and click to publish
Download the photograph in your image gallery.
Copy the text from the clipboard
If you want to know all our Metricool features:
Benefits of scheduling posts on Instagram from Metricool
✅ Discover the best hours to publish
The planner shows you your hot hours on Instagram. The hours when most of your audience is connected. This way you will improve the possibilities of increasing the reach of your publications and interactions.
The best hours are displayed through a darker color in the planner and a percentage of the active followers there are at the time you want to schedule.
✅ Create autolists to always keep your social network active
Create content lists with multiple publications to share them on Instagram automatically. You can schedule those contents periodically and save time.
✅ Obtain all the relevant Instagram metrics from the same place
All Instagram statistics and metrics in one place: reach, impressions, interactions, evolution, followers, etc. All the data you need for your Instagram marketing strategy.
✅ You won't leave anything to improvisation
When you plan your content, you can download the calendar from the Metricool planner and review all the scheduled posts with your team so that no important details are missed.
✅ Make sure you send a consistent message across all social media
When you plan from Metricool you can plan the same publication on other social networks at the same time to make sure that the message you send is consistent with the rest of the networks.
✅ Add your post to our Link in Bio automatically once it is published
It will allow you to drive your followers to the website of your choice when they click the publication.
✅ Utilisez Canva pour intégrer vos posts programmés avec Metricool.
Utilisez l'outil de conception en ligne de Canva pour intégrer vos posts programmés avec Metricool.
Concevez votre message dans Canva, rédigez le texte et finissez de le programmer dans Metricool. Un excellent moyen de gagner du temps dans la gestion de vos réseaux sociaux.
As you can see with Metricool planning, posting on Instagram automatically and knowing your best hours is a piece of cake.
Happy Instagram planning, Metricooler! ✌🏻