This brief guide scheduling content on Twitter with Metricool will come in handy and you will learn how to make the most of our planning tool.
Make sure to take note so you don't miss anything. When you finish reading the post, you'll master scheduling a tweet with ease, using Metricool.
Schedule tweets from Metricool
First things first, do you have a Metricool account?
▶️ Sign up with Metricool Free ◀️
If you already have a Metricool account, go directly to login and enter your dashboard.
1 Click on Planning.
2 Tap '+ Create New Post' or click on the calendar.
You can choose the best times to post on Twitter if you look closely. The darker hues show the hours when your audience is more active on the platform. Take advantage of this information to maximize your reach.
3 A new window will display where you can start creating your post.
Add text, mentions, hashtags, emojis, etc. Below the text box, you can add the multimedia element you want, photo, video, or GIFs.
💡 In the images remember that you can add an ALT text to make your content easier for visually impaired people.
If you upload photos (between one and four), remember that you can tag other users in your tweet.
4 Choose the time and date you want the content to be posted at the top right.
Also, look at the preview to see how your tweet will look with everything you've included.
5 Done? Click on Save.
Now you have your tweet scheduled with Metricool. So, while you dedicate yourself to other tasks at work, it will publish automatically.
If you want to delete or duplicate the scheduled tweet, you just have to click on it in the calendar and click on one of these two options.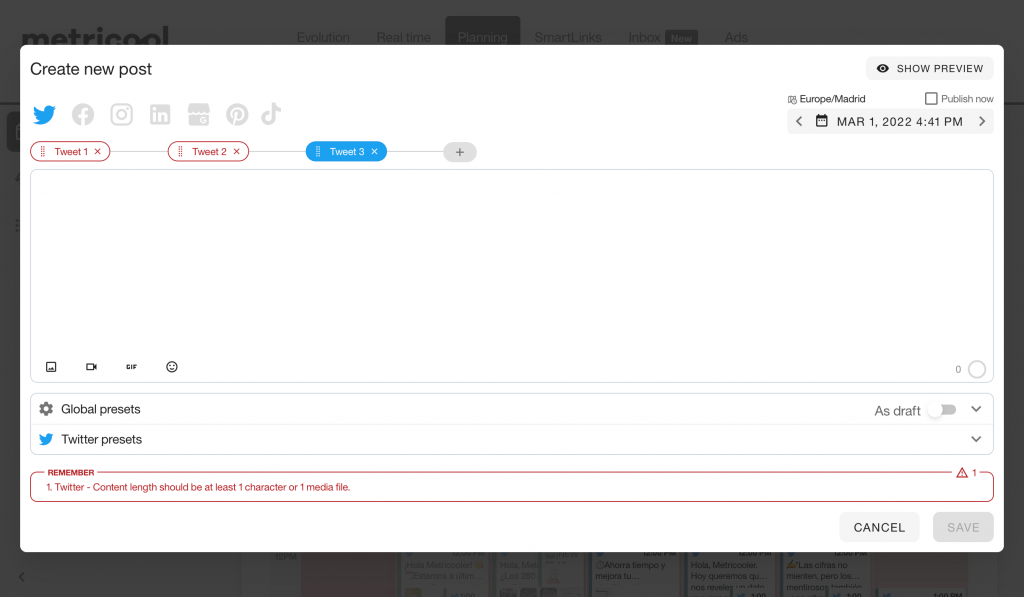 💡 Metri Tip
Do you want to double-check if your tweet has been scheduled successfully? You just have to go back to your calendar and see if your scheduled tweet appears. From there, you can easily see all your past and pending posts in the history section in the left column.
Why plan your content with Metricool?
Are you still considering using Metricool's tweet scheduler? This list of advantages will help you to decide. 
What are the advantages of programming on Twitter with Metricool?
✅ Tag users
With Metricool, you can schedule any tweet type containing at least one image and tag users you want. Of course as long as they are not suspended accounts, and the user has not blocked the tag option.
On Twitter, which does not allow you to program tweets with a tag, the tagging feature works differently than on Instagram. In this case, you don't tag on one part of the image but in the entire tweet, even if you need to add a photo to have this option.
✅ Best hours to post
With Metricool, you can post at the best hours when your audience is more active on Twitter.
This feature is based on the hours in which your followers are most active. The darker the tone, the better the time to share your content on Twitter.
Use these hours to maximize interactions and stand out from your competition.
✅ Schedule Threads
"I open thread". You have probably seen this phrase hundreds of times on Twitter. A chain of tweets explaining something. Given the limitation of characters you can use in one tweet,  this option comes in handy for describing something that requires more information. 
With Metricool, you can easily schedule Twitter threads to plan them ahead of time and ensure they will display properly once posted.
✅ Post autolists.
With Metricool, you can always have content that will post automatically and periodically. Metricool's autolists work like a wheel that never stops turning.
It's easy: type the text and add the multimedia content, choose the day of the week and time you want to share it, and toggle the repeat button on. This way, the content will be shared every week at the day and time of your choice. 
✅ All social networks in one place.
What better way to work with the social networks you manage than to have them all on the same platform?
In addition to saving time, with Metricool, you can simultaneously schedule the same content for different platforms. The tweet scheduler ensures you share a consistent message across all platforms. 
✅ Connect Canva with Metricool.
Save work time and efficiently manage your social media with Canva's integration with Metricool.
Design your Twitter media content in Canva and the tool itself takes you to the Metricool planner with your design and copy – ready to schedule!
Now you have the tool to schedule content on Twitter. You're ready to create a content strategy and apply it on this platform. 
Do you want to know more about the features of Metricool?