You've spent some time watching different Twitch channels, and now you want to create a Twitch account but don't know how.
Not to worry. Today we are going to show you how to sign up on Twitch from your desktop and from a mobile device so that you can enjoy everything it has to offer.
How to Create a Twitch account
If you usually use the platform from a computer, just as much as you do from a smartphone or tablet, it doesn't matter, as you can create a Twitch account regardless of the device.
There are some differences between the two devices. Here you will find the process for each one.
Sign up with Twitch from a Computer
To create a Twitch account, you have to sign up on the platform's official website: https://www.twitch.tv/
Understood? Let's start!
1. Click on 'Sign Up'
You will find this button at the bottom right, beside 'Log In', which you can use once you have your account.
2. Fill in the information
Fill in the information that the platform requires to create your account.
A username between 4 and 25 characters, a password, date of birth and an email address. The username is what you are going to be known as on Twitch. Don't worry if you can't think of a good name, you can change it later.
3. Click on 'Sign Up'
Once you have filled in all the details, click on 'Sign Up' and Twitch will email you to the address you added to verify your account.
To register, you must first accept the Terms of Service of the platform.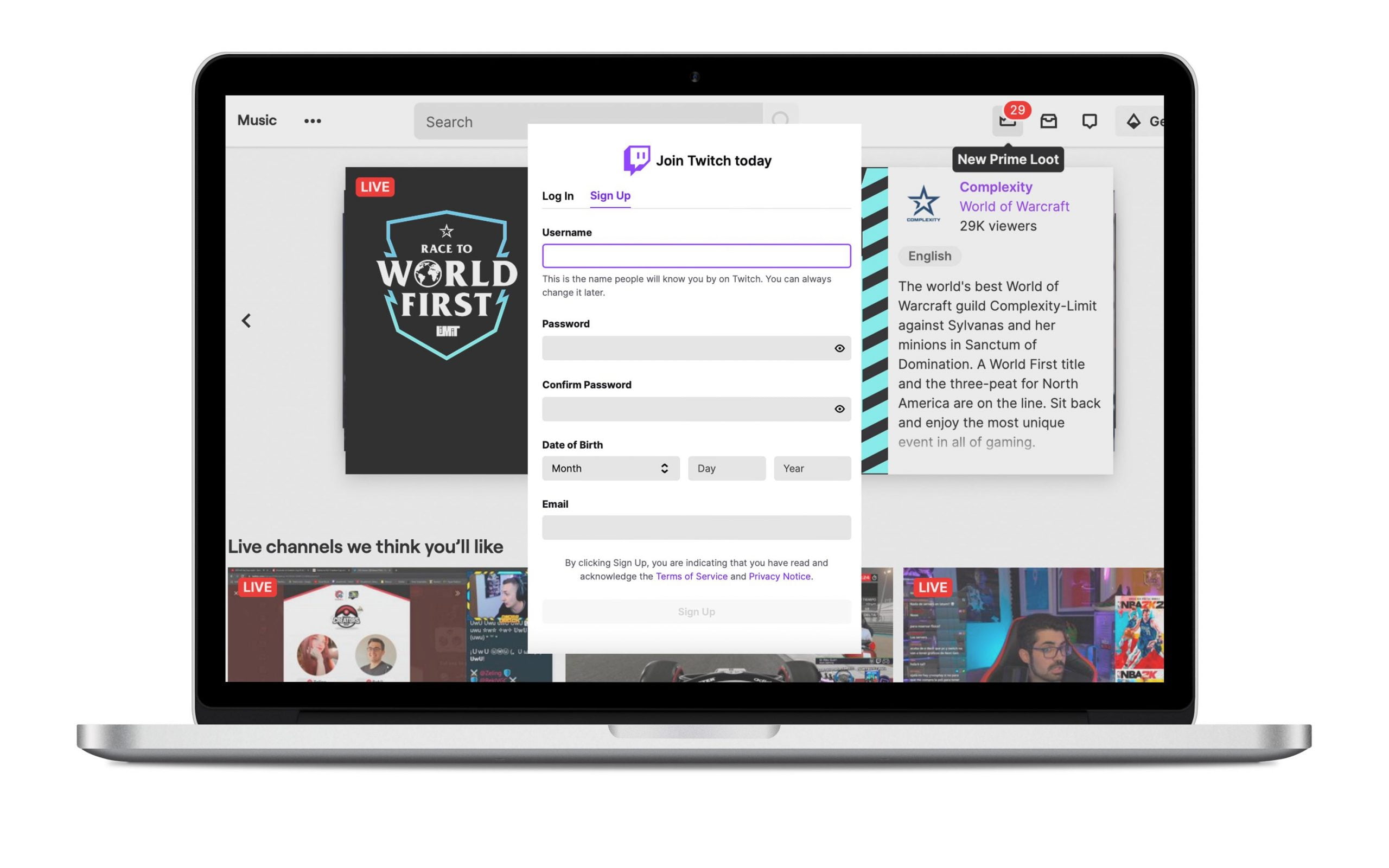 4. Verify your account
Look at the email you have registered with to verify your account. You can do this by clicking on the email or by inserting the code you have received.
Now you have a Twitch account created from your computer.
Do you want to use your smartphone for the streaming platform? You can also create a Twitch account from your mobile.
Sign up for Twitch from a mobile
To create a Twitch account from your cellphone, you need the app on your tablet or smartphone.
If you have it already, open it and let's start!
1. Click on 'Sign Up'
When you open the app, you have two options: To log in, or to sign up. Right now, we are interested in the second option.
2. Fill in the required fields
One difference between signing up from a PC is that when you sign up from a mobile, you can add a phone number instead of an email.
However, Twitch recommends that you register your phone number as well as your email address, just in case you need to recover your account and don't have access to your phone.
The phone number must be a mobile. A landline or VoIP number are not suitable.
If you register on Twitch with a phone number, remember to add the prefix of your country.

It is possible that the device will add it automatically but if it doesn't, be sure to look for it because you will end up not receiving the account confirmation message.
3. Click on 'Register'
When you click on 'Sign Up', Twitch will send you an SMS with a single-use 6-digit code for verifying your account.
4. Insert the code and verify.
Finally, insert the verification code to your account within 5 minutes. If you don't, you will have to ask Twitch to resend the code.
Now you have created a Twitch account from your most-used device, computer or mobile phone.
Benefits of Having a Twitch Account
Even though you can enjoy Twitch for free, and you don't have to sign in or pay to view the content, being registered allows you to access certain features on the platform.
Here we go!
✅ Live streaming
The most important: without a Twitch account created, you can't do livestreaming on the platform and everything that comes with that.
Creating a Twitch community of followers, getting subscribers, creating content, etc.
✅ Following streamers
Having a Twitch account allows you to follow your favorite streamers and you can then grow their Twitch community.
✅ Chatting during streams
This option is reserved just for those users that are registered on Twitch. Similarly, there are some streamers that only allow subscribers to send messages to the chat.
✅ Subscribing to channels
If you don't create a Twitch account, you will not be able to subscribe to a streamer's channel, and therefore miss out on all the subscriber advantages that a channel has: competitions, private parties, etc.
✅ Receiving notifications
As well as using it to avoid losing your account, adding an email address allows Twitch to send notifications when the streamers that you follow go live.
Now you know how to sign up on Twitch and the advantages you have when using the platform. If you have any questions, let us know in the comments.