What's Twitch?
Twitch is a live streaming platform free of cost for both 'streamers' (those who live stream) and the audience.
Twitch is a social platform like YouTube, open to everybody, where users can see people going live, playing video games, giving a cooking class or playing the piano.
➡️ For more information about Twich definition clic here ⬅️
A bit of context and history about Twitch
When it was founded in 2011, the objective was focused on live streaming video games. With time, the content has increased in variety and users can also see music shows, makeup classes or TV shows.
Twitch has belonged to Amazon since 2014. They acquired the platform for 735 million euros.
How many users does Twitch have?
The number of users keeps growing and it doesn't seem to have a ceiling thanks to how easy they make streaming: on the Internet or PC. Last year, the number of unique streaming surpassed 180 million.
They say Rome wasn't built in a day, Twitch neither.
If you don't know this platform yet, with this guide you will understand why it is so popular and why it is growing so fast.
Where to watch Twitch
The main live streaming platform offers different ways to be viewed:
Twitch has an official website Twitch.tv that works on any of these browsers: Safari, Chrome o Firefox.
Twitch app is available for free on both iOS and Android: only the app offers a separate Twitch creator mode and viewer mode.
Both last generation video consoles (such as Xbox ONE and PS4) and previous generations (Xbox 360 and PS3) can enjoy streaming.
If you have access to them, Roku (TV streaming platform), Amazon TV or Google Chromecast.
INTERESTING FACTS ABOUT TWITCH
Audience record for Twitch: 2 million viewers simultaneously.
What Twitch Prime is
If you have Amazon Prime, you might know what we are talking about. Twitch Prime is included with Amazon Prime and Prime Video memberships. It gives you the possibility to subscribe to a channel and support your favorite streamer once a month free of charge and provides members with an ad-free viewing experience.
Twitch Prime comes with other additional perks such as: access to select games and in-game loot, loot gifting, exclusive emoticons, expanded chat color options and member-only Prime chat badge so Prime members are easily identified. Plus, you can save your past broadcasts on Twitch for 60 days instead of the standard 14.
✅ If you have an Amazon Prime and Amazon Video membership, you will have access to Twitch Prime.
What Twitch Prime is
Differences between follower and subscriber on Twitch
In order to avoid any misunderstanding, we should clarify the difference between follower and subscriber on the Twitch platform:
Follower They can watch all the streaming videos
Subscriber It's a payment to support your streamer and it comes with some advantages: subscriber badge, contacting the streamer in private, etc.
Twitch subscription Price: You can subscribe to a channel for 4,99 $, 9,99 $ or 24,99 $
Some advantages of subscribing to Twitch:
Ad-free viewing experience.
Exclusive emoticons, subscriber badge or different chat color options.
Download games without additional cost.
How Twitch works
So, once we have introduced you to what Twitch is, how does it work?
On the home page, you will see that you don't need to register to start watching live or other videos. Grab your popcorn, go to Twitch, select the streaming that you are interested in and enjoy!
Twitch Homepage (Discover)
In the center of the Twitch screen, the platform suggests a slider with channels going live at that moment.
You can check the name of the channel with a brief description, the number of viewers and the language of the broadcasting.
If you scroll down, you will see live channels that you might like. Plus, categories and recommended trending channels such as Valorant or Fortnite.
On the left-side column, you can see several recommended channels that are going live. Also, you can check the number of viewers.
It is similar to the slider shown in the center of the screen but with less information, you can't check the live video unless you click on it so you won't know the content until you enter.
Browse
In this section you can find channels by categories or live channels. Plus, you can filter by tags and sort by recommended or viewers (high to low)
Try Prime
A call to action to encourage you to try a Prime subscription.
General (…)
Where you can solve all your questions about the platform.
Search
Search bar to look for channels that you already know and find them quickly.
The crown
If you click here you can find all their new items and get in-game "loots".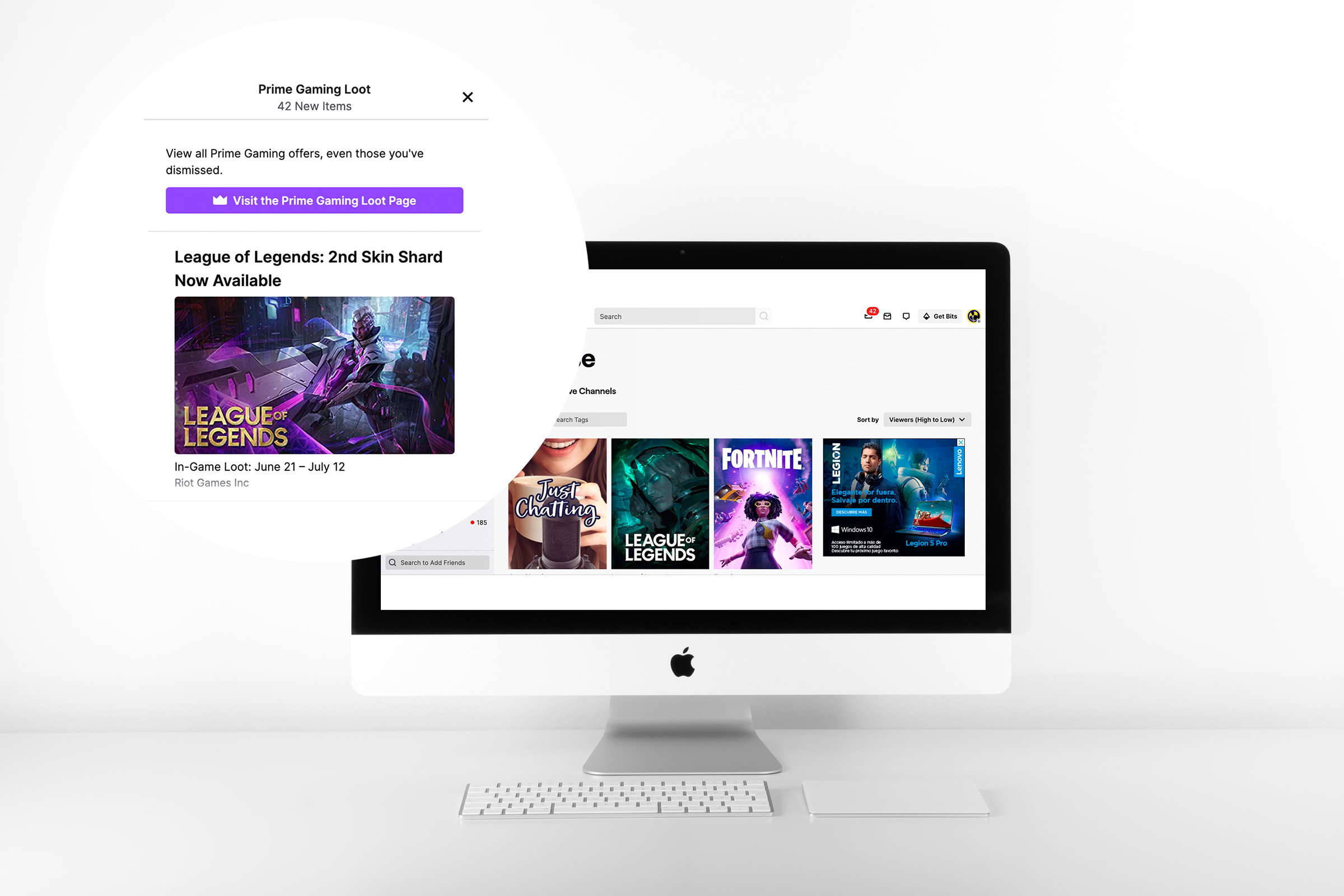 Log in and sign up
You can create a new account or if you are already registered, you can log in with your credentials.
Twitch Channel
Have you familiarized with Twitch homepage?
Then let's go deeper into the matter. Click on any of the channels to see how Twitch streaming works.
Once you are watching a specific live channel, you`ll find several options:
At the top of the screen, you will see the name of the channel, if it has been verified (with the check) and also if it is a live video.
If for any reason you are not interested in the current live video, you can choose from the top menu to watch other previous videos, short clips or check the followers of that specific channel.
Lastly, you can follow this channel for free or subscribe by choosing amongst the three different tiers offered by Twitch.
You can also download the video from Twitch to watch it offline later, or if you are a streamer, not to miss any broadcast you do.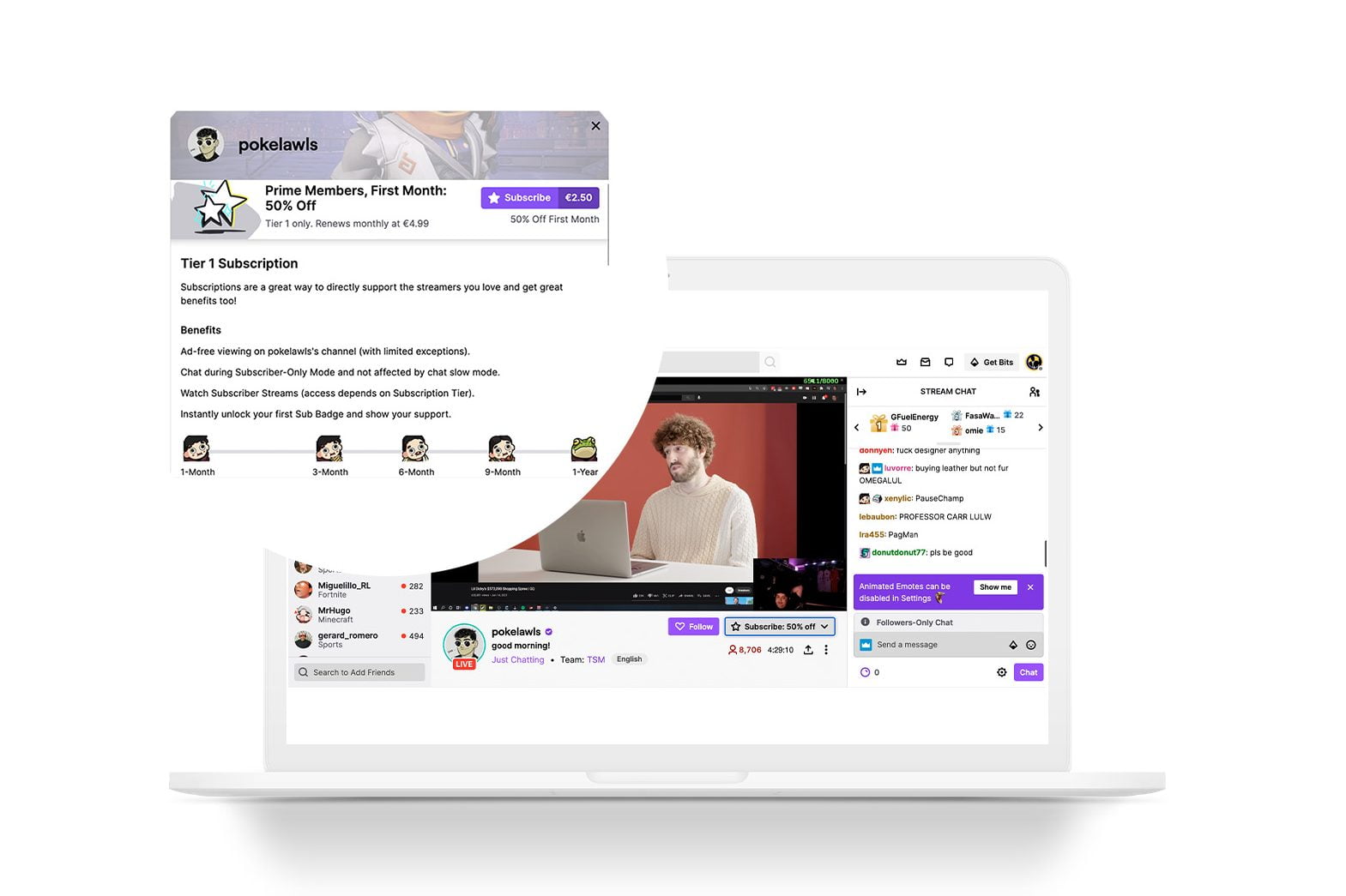 At the bottom, you can see the title of the live video, the category, tags, the people who are watching now and the total views.
Also, you can share it on different social networks and insert with a code.
If you scroll down, you can find more information about the channel edited by the streamer.
Here streamers can share their other social channels, rules, donations, etc. It shows more information about the streamer so you can know more about them.
Twitch recommended channels by IRL category
If you're new to Twitch, you might not know which channels to start following.
Apart from video games, which have their own category, Twitch also has IRL categories. IRL means In Real Life, not video games.
Which ones should you follow?
How to create your Twitch account
Once you know how to navigate well in the main panel and each channel, you probably want to create your own Twitch account.
Let's see how
Step 1
REGISTER
When you click Sign up, a window will pop up. Here, you must include your username This is the name people will know you by on Twitch. You can always change it later.
You will also have to create a password, add your date of birth and email account.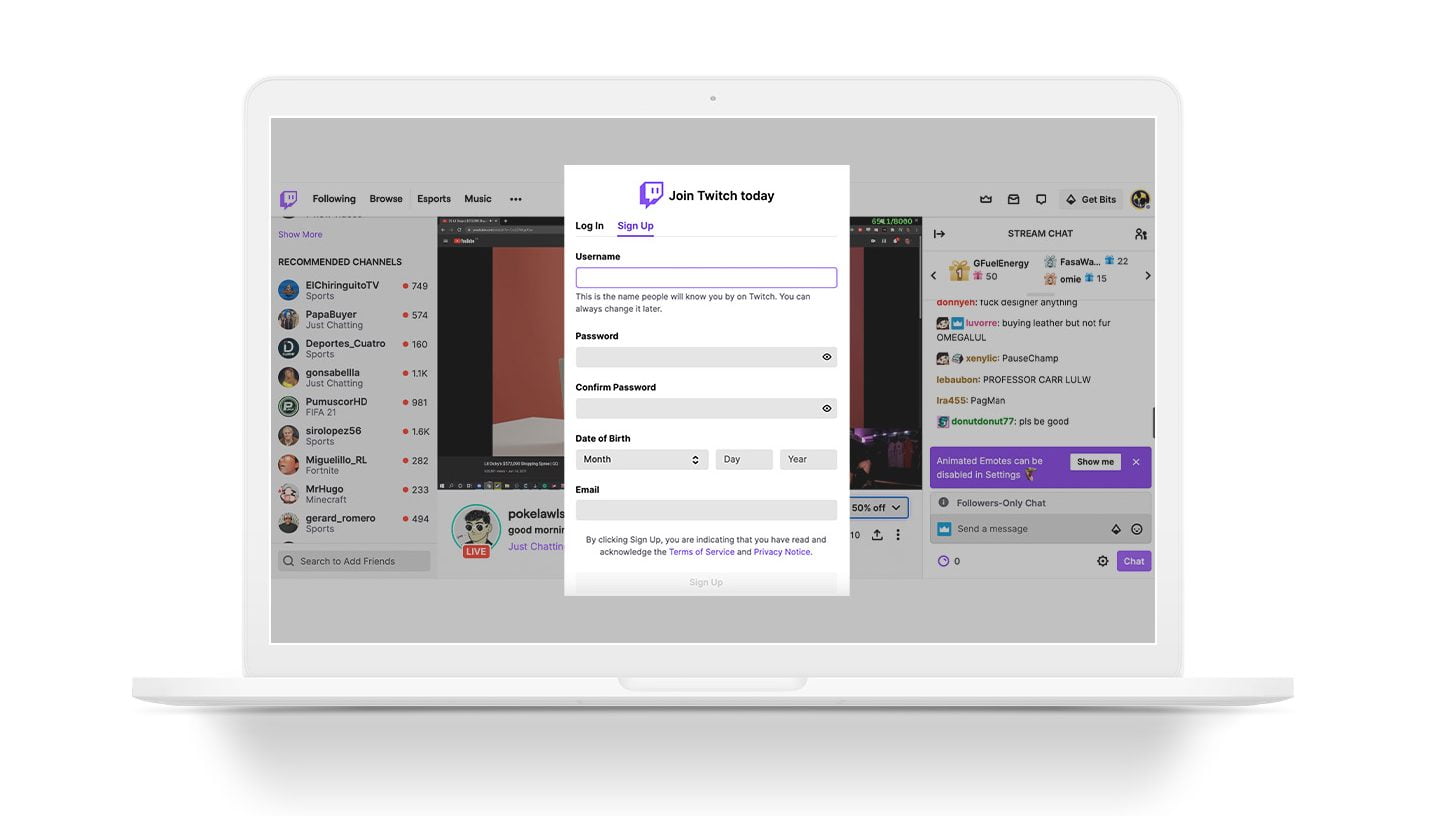 You can change your username on Twitch at any time. However, if you've recently changed it, you'll have to wait at least 60 days to change it again.
Step 2
VERIFY YOUR EMAIL ADDRESS
Once you fill out all the information, you will receive a code to the email address associated to your new profile to complete the verification process.
Insert the code and if it is correct, the platform will verify your account automatically.
Congrats, you have your own Twitch account!
Step 3
PERSONALIZE YOUR TWITCH CHANNEL
Once your account is enabled, you can edit your channel and start creating videos when you click on your profile, you will see three different sections:
CHANNEL
In this section you will find everything related to your channel. Everything you need to start streaming. Channel, Video producer and Creator dashboard.
SOCIAL
In this second section you can find new friends, subscriptions, Inventory and Payments.
SETTINGS
In the last block, you can edit everything related to your channel, for instance, change your profile picture, update your banner, add your channel preferences, etc.
On the top-right side, next to your profile icon, you can turn on notifications.
You'll get an on-site notification when a channel you follow goes live or new updates.
Now is the moment: Let's start streaming on Twitch.
How to streaming on Twitch
Before you start live streaming, you need to have everything ready so nothing fails when you are broadcasting.
Requirements to start streaming on Twitch
Which elements do you need for your streaming?
High-quality hardware that guarantees a good performance during your streaming
From Metricool, we recommend that you use a PC with an i5 or higher processor. Also, you can use a last generation video game console, such as Xbox ONE or PS4.
Elements that will help improve the streaming experience
A microphone: It will improve the quality of the sound
A webcam: indispensable, it improves viewer's experience if they can see you.
A second monitor: Many streamers use a second monitor to see their own live video so they can check that everything is working properly.
Good connection to the Internet
This is key to avoid an unpleasant experience to your viewers. Make sure you offer a video with high quality and without interruptions.
Do you have everything ready? It's time to get started.
How to start with your streaming on Twitch
Once you have everything prepared, you need to download a streaming app to go live on Twitch. We recommend 'OBS Studio', the most popular one and also, recommended by Twitch.
Download and install a streaming software
If you don't know how to do it, click 'Get streaming Software'.
Start your channel session.
If you are already registered as you learned in the previous step and have logged in, simply edit your channel info so your viewers know who you are.
Configure the information about your streaming.
If you click the icon for 'edit', (under channel) you can select broadcast options to create a more personalized video.
You can enter a striking title so viewers know what you are going to talk about and get their attention.
Edit the 'Go Live Notification' or leave the message that appears by default
Search a category that best describes your broadcast and add tags to be found easily. Don't forget to include the language for your streaming.
Connect 'OBS' with Twitch
Start the OBS Studio program and connect it to Twitch by clicking in the streaming option.
It's very straightforward, with OBS default configuration it is enough and recommended to broadcast on Twitch.
Start streaming
Once connected, enter OBS platform and choose the source: An image from your PC, videos, webcam captures , etc.
If you are not sure what to choose, in the option studio mode you can see the preview. If everything seems correct: 'start streaming', when it's over click 'stop streaming'.
It's time to increase your audience, views and why not, make money with Twitch.
Please note that Twitch no longer allows the use of copyrighted music in your live videos and may penalize you for it.
Here's more information on what kind of music you can use in your Twitch streams.
How to Moderate Your Streams on Twitch
Moderating Twitch streams is a way of ensuring that everything runs smoothly during your live.
You can select a user to be a Twitch mod in the chat or from your dashboard. Remember that the person you choose is only in charge of managing your community during a stream.
If you are unhappy with one of your streams and want to delete it from your account, we have the guide for you: How to delete a Twitch stream
How to build a Community
One way to grow on Twitch is to reward your community and make them feel part of every stream.
To do this, channel points or Twitch commands are a great resource.
Host other channels
Are you a streamer with a big impact? Hosting other channels is going to give you visibility and good reputation in the Twitch community, as it serves to support other smaller streamers.
With the host what you get is that while you are off live, your viewers can see another streamer. If they visit your channel, they will find the live stream of another streamer.
Raid on Twitch
One of the ways to create community on your channel is to raid another streamer. This action means that at the end of your stream, the viewers you have will be moved to another channel of your choice.
With this type of action, you gain the respect of your community, because you help another streamer, and you will be better valued on the platform.
Channel Points
Channel points are a way to contribute to the participation of your streaming chat.
Through these points, which are free, Users can unlock some rewards and interact with you in the chat.
Twitch Commands
Twitch commands are used to send messages to the chat automatically.
One of the most commonly used commands to interact with your audience is Twitch predictions. Write the command /prediction in the chat, choose a question and offer results to the viewers. They can win channel points while having fun with you.
How to add commands on Twitch
Twitch offers multiple default commands, although you can create your own as well.
What are Bits Twitch?
By using Bits Twitch, you can help a streamer obtain revenue while also livening up the chat during a livestream.
Bits are virtual objects that you buy from Twitch with real money to send Cheers in the chat as a way of taking part in the stream.
Make a Poll on Twitch
Polls during streams help to connect with your audience and viewers.
You can ask them what they think about a topic to discuss or ask them to help choose what to do on the stream that day.
Using commands or your Creator Dashboard, you can create your own polls.
Twitch statistics
Going live and maintaining your channel is just as important as having the data and statistics of your streams under control.
From Twitch, you have access to your channel analytics and a summary of the performance of your streams.
Also, with Metricool, you have all your channel's information at the click of a button. All on the same platform. In addition, you can download reports in PDF or PPT that will come in very handy if you are a content creator.
In addition to your metrics, you can analyze your competitor's Twitch channels from Metricool. Enter the streamer's username and review all the information and data about their channel.
How to monetize your Twitch account
Apart from voluntary donations, Twitch offers two ways to earn income with your channel.
Twitch Affiliate Program
To enter this program you have to fulfill certain requirements (this criteria is likely to change as Twitch develops this program):
At least 50 followers. So keep up with your content to gain followers.
At least 500 total minutes broadcast in the last 30 days.
An average of 3 concurrent viewers or more over the last 30 days
At least 7 unique broadcast days in the last 30 days
As you see, the criteria is simple but it requires hard work. For instance, 500 minutes is almost 9 hours….
If you fulfill these requirements you can:
Accept viewer's subscriptions and establish memberships.
Receive money through bits, virtual coins that your subscribers buy and for what you will receive part of the cost.
Sell games related to Twitch and receive 5% of the sales revenue.
Twitch Partnership
The Twitch Partnership is a level up from Affiliate
How do you access this program?
Stream for 25 hours during 30 days
Stream on at least 12 different days in the last 30 days.
Average of 75 viewers in the last 30 days.
Is that all?
In fact, it is not. Even if you meet this criteria, this does not secure becoming a partner.
Once you ´check´all the requirements you can apply to the Partnership program. Twitch will review your applications and they will give you an answer in 7 business days.
Becoming a partner is not as easy as becoming an affiliate. You will have to work hard to achieve it.
That said, if you are accepted in Twitch Partner program. The benefits are better than if you are an affiliate. Apart from the affiliate program benefits, you will be able to:
Earn a share of the revenue generated from any ads on Twitch played on their channel.
Personalize your channel: Chat badger, custom emoticons, bit badges or lifetime subscriptions.
Have streamings stored for 60 days, vs only 14 days for Affiliates
Do you want to start streaming on Twitch?
If you are considering using a different platform, figures speak for themselves:
Twitch attracts 70% more viewers than YouTube Gaming.
If you still have some questions about how to earn money with Twitch check here or how to do a host.
This guide about Twitch is alive, so if you have any doubts we will read your comments. ☺