Hosting on Twitch has become one of the common forms of collaboration between streamers, where streamers with large numbers of subscribers and viewers help smaller channels.
So, how can you host on Twitch?
In a simple explanation, it consists of hosting another streamer's live video on your channel when you are offline.
When viewers go to your channel they will see the streaming that you have hosted instead of seeing you offline.
✅ This option is available for any streamer, even if they are not a partner and regardless of the number of viewers they have.
Now that you know what hosting on Twitch means, how can you do it?
How to host on Twitch
One of the main features of hosting on Twitch is that you can help streamers with fewer subscribers to grow faster.
By following these steps, you can host another streamer on your channel for as long as you want.
Hosting on Twitch from your Desktop
Enter your channel's chat and type the command '/ host' and the name of the channel you want to host.
From that moment, your viewers and subscribers will see the content you have chosen. You can stay with them and comment live on the streaming.

To end the hosting 'just type the command' / unhost 'in the chat and the hosting will end.
Hosting on Twitch from your mobile
Twitch also allows hosting from wherever you are with your mobile.
Enter the streaming you want to host.
Tap the icon with an arrow that you will find at the top of the live streaming.
Choose the option 'Host Channel'.
To end, follow the same process but this time tap the option 'unhost'.
This option is useful when you are disconnected from Twitch, since you will automatically host channels that you have selected before.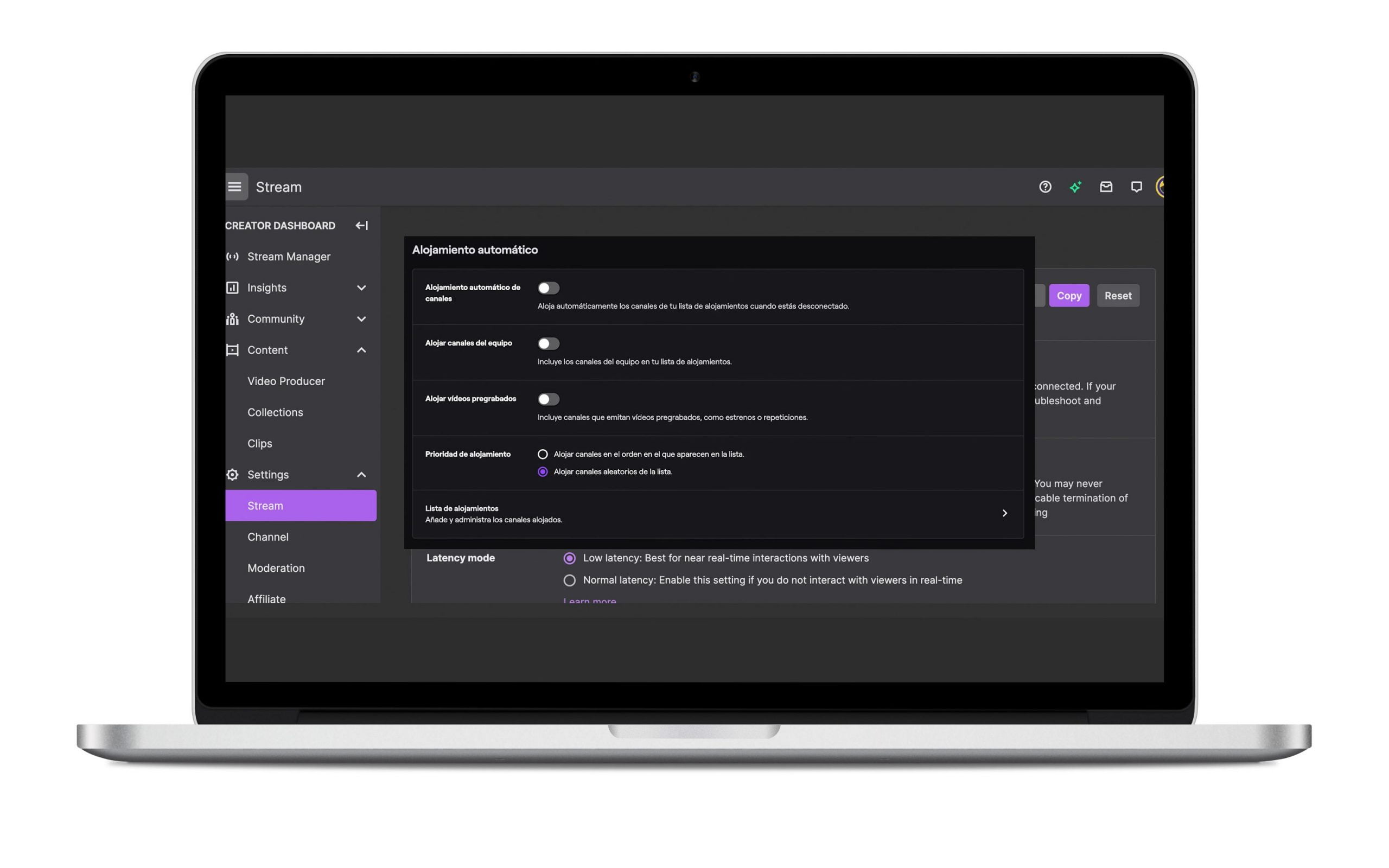 Steps to enable auto hosting:
Go to your channel's settings by clicking on your profile icon or enter directly by clicking this link.
Go to the Auto Hosting section to enable this option.
It's done! Now it's time to select your preferences. You have two options:
➡️ Choose 'Host Team Channels" to include team channels in your host list.
This will give priority to the team channels that are streaming.
➡️ Choose 'Host pre-recorded videos':to add specific channels that you want to host. Then, you can choose the order of appearance: random or the order they appear in the list.
Twitch recommends that you include at least 10 channels on this list, which ensures an average of 40 additional hours of streaming during the week on your channel.
Why host other channels
Collaborating with other channels and helping them grow through a host brings numerous advantages for your channel.
You will connect your community
By hosting different channels and streamers focused on other topics, your subscribers will get to know you a little more and you will be able to share other hobbies with them.
You will improve your brand image
Twitch community often appreciates the gestures made with the smallest streamers.
if you have a large community hosting other channels, it will improve your image and reputation.
You will increase your visibility
In addition to appearing in the live channel section of Twitch, you will be able to appear in the 'live hosting' section.
Here you will attract new viewers to your channel, increasing the number of visits.
You will get other channels to host you.
If you treat the rest of the community well and participate with them, the possibility of being hosted by others increases.
This will increase your presence on the platform and boost your visits.
Now you know how to host other channels on Twitch, so don't wait any longer.