Have you created a Twitch channel and do you want to advance to the next level?
It's time to monetize your channel, let's see how to get started and the different ways you can make a profit through Twitch.
The most popular streamer on Twitch, Ninja, earns at least $100,000 per month from Twitch alone
How to put some money in your pocket with Twitch?
On this post, we will tell you how to start monetizing your content. Earn extra income by playing your favorite video games or with live videos about your hobbies.
How to earn money with Twitch Affiliate Program
Before we get started, you must know that Twitch offers two different ways to earn income through your streamings.
You can become an affiliate or a partner of the platform. Which perks do each of them offer?
What it means to be a Twitch Affiliate
If you are just starting with this platform and your objective is to earn some money on Twitch, start with an affiliate program.
However, to be part of this program you must work hard.
Fun and work? Here, please.
In order to join Twitch affiliate program, you must have:
⏭ At least 500 total minutes broadcast in the last 30 days.
⏭ At least 7 unique broadcast days in the last 30 days.
⏭ An average of 3 concurrent viewers or more over the last 30 days.
⏭ At least 50 followers.
Once you meet this criteria and your channel has been accepted in the program, Twitch will send you an email and notification on your dashboard to start the process.
Become an affiliate
Once you receive the notification, simply follow the steps indicated by the platform.
1. Provide general information to be registered into the program
2. Sign and accept the Twitch Affiliate Agreement.
3. Provide your tax information to Amazon
4. Tell Twitch where to send your payments (direct deposit, wire, PayPal or check). Depending on the payment method that you choose, the processing time varies.
Two-factor authentication is required to complete the onboarding process…
What's a two-factor authentication process?
It's a security measure to avoid unauthorized logins. It is called two-factor because it requires to complete two different methods to login, through a password and with the mobile phone.
To do so, follow these steps from your PC, you can't do it from your phone.
1. Go to your security settings page.
2. Select Enable Two-Factor Authentication.
3. Enter your Twitch password and phone number
4. Enter the verification code you receive via text message. Done!
Ways to earn money on Twitch with an affiliate program
Now that you are an affiliate, it's the beginning of something great:
For those who have Amazon Prime/Twitch Prime, they already have a free subscription (equivalent to a $4.99 subscription). However, you will still get a share for that subscription.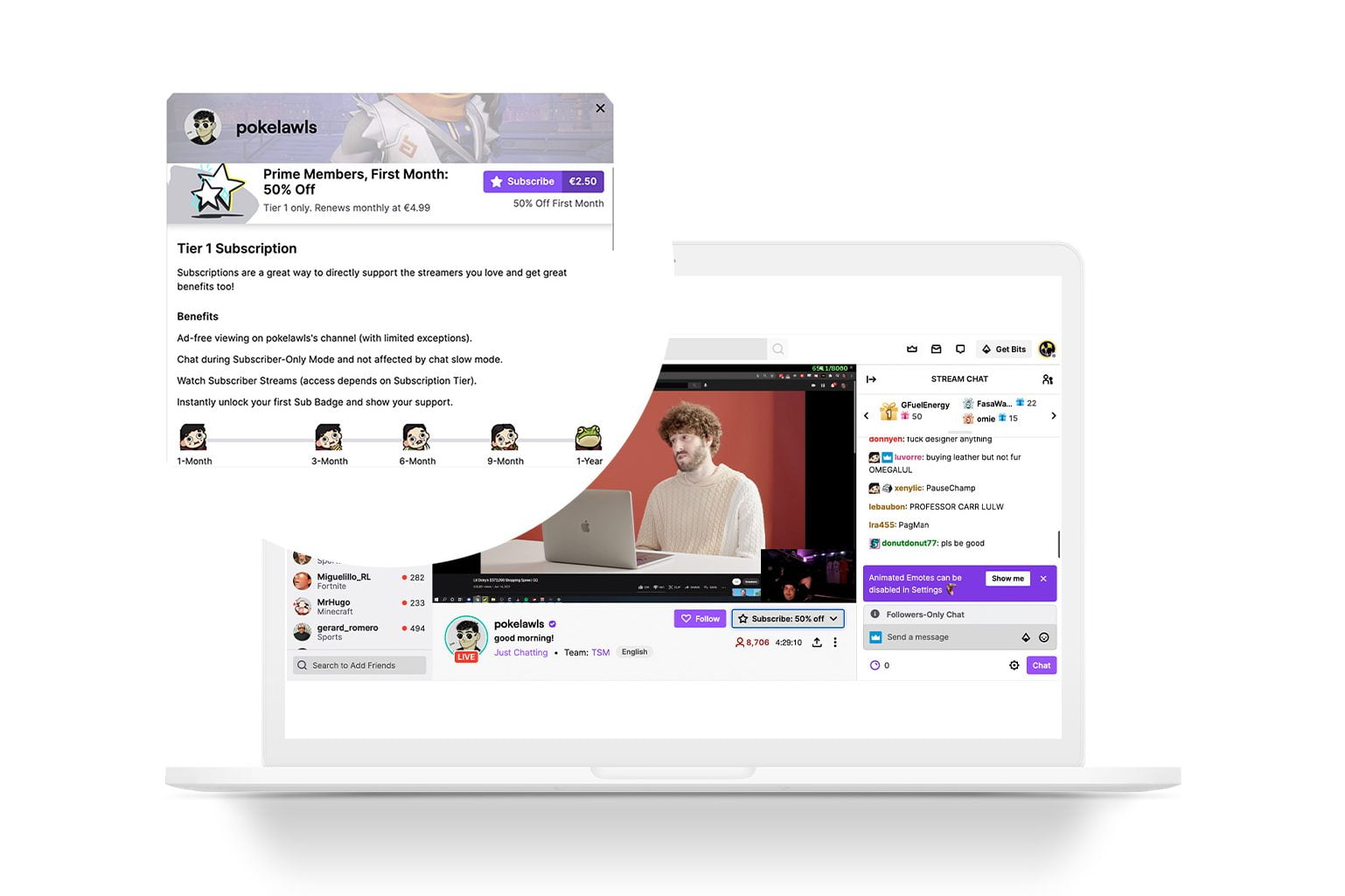 Make income with Twitch Bits
Bits are virtual coins that you, as a streamer can enable so your viewers can buy and "cheer" to offer support to your channel. Bits can be animated gem emotes, or Cheermotes (animated versions of global emotes).
For each viewer whos uses Bits to Cheer, the streamer gets a share of the revenue.
It's considered the official donation system for streamers. You can buy virtual Bits via Amazon Payments and Paypal.
Earn with Game sales
If you advertise games or related items during your streamings on Twitch, a call to action will pop up to encourage viewers to buy the product.
With a purchase originated from their channel, Affiliates earn a 5% revenue share.
How do you know if you meet the criteria?
Twitch puts at your disposal a screen with the 'achievements' that will be updated every time you take a step forward to fulfill the requirements to join an affiliate or partner program.
▶️ On the right column you can check all the goals on Twitch. Listed first on the page are a number of goals that help you track your progress from your first time on Twitch to applying for Partnership. Afterwards, you'll see your in-progress achievements and then, completed achievements.
▶️ On the left side you can track your progress towards eligibility for the Twitch Affiliate or Partner program.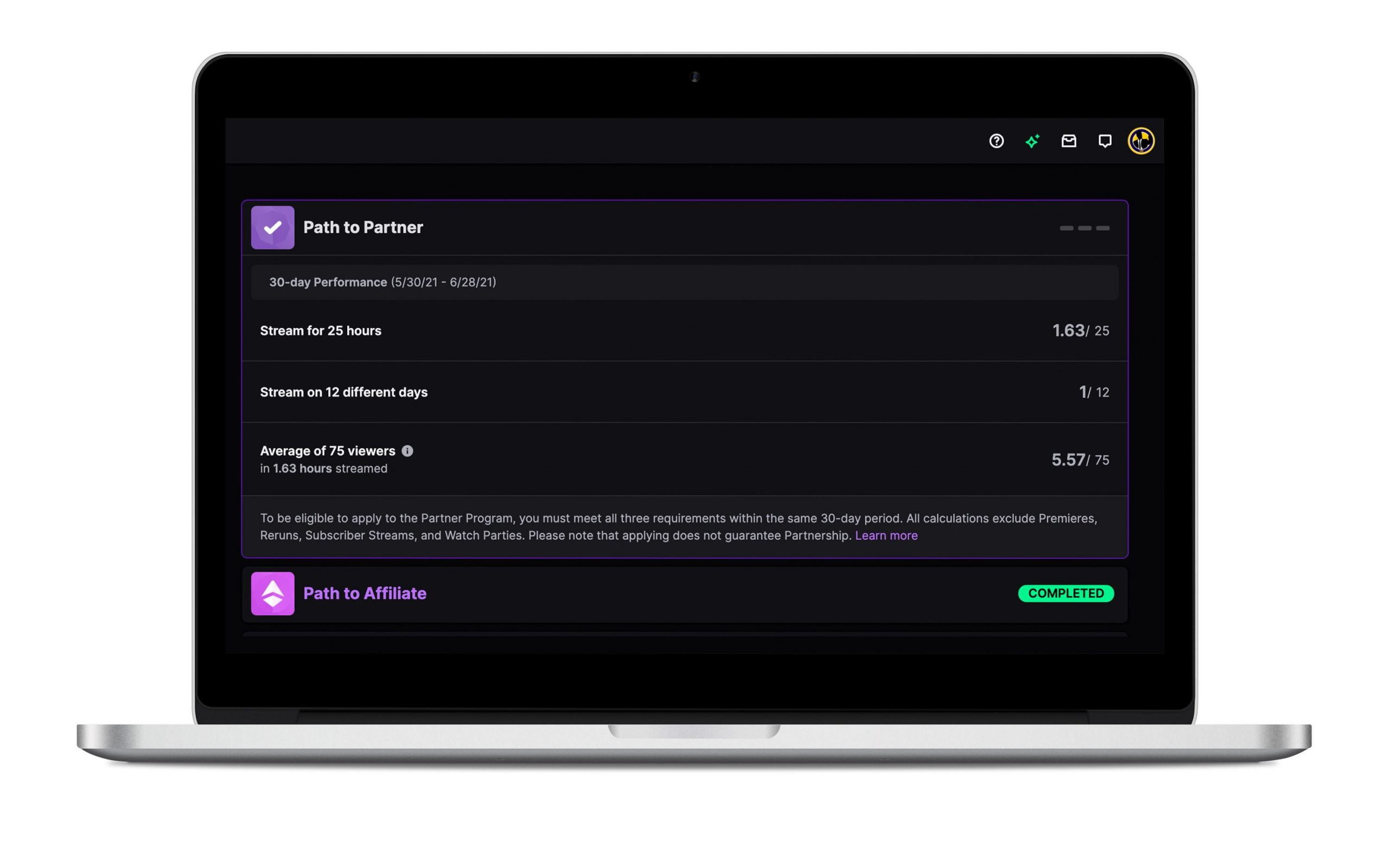 Twitch Partner: another way to monetize your channel
In order to join the next level and join the Twitch Partner program, you must achieve some merits, all of them in the same 30-day window.
▶️ Live stream for 25 hours.
▶️ Stream on at least 12 different days
▶️ Average of 75 viewers.
When you start completing these requirements, you will see a check next to the criteria on the 'achievement' dashboard.
Despite your hard work, meeting all this criteria doesn't guarantee that you will reach the Partner status.
Once you complete all the requirements, you must apply for the Partner program, Twitch Partnership team will review your application and give you an answer within 7 business days.
If your application is declined, keep calm, you won't lose your achievements and you will be able to apply again in the future.
Which perks can you get as a Partner?
When you become a Twitch Partner you will reach a higher level that will let you earn a higher income than when you are an affiliate.
Apart from the benefits mentioned before, with subscriptions and Bits, as a Twitch Partner you can:
Include ads in your streamings
This is another way to monetize your streamings and earn a share of the revenue generated with any ads included ads in your live streamings.
With this method, you will start attracting more important brands. Don't worry if you consider it a bit invasive for your subscribers, from your dashboard you can determine the length and frequency of advertisements in your streamings.
When will Twitch pay your share?
Twitch begins paying 15 days after the end of a calendar month and once your accrued revenue balance reaches $100.
If your accrued balance is $100 or more (If you don't reach $100 in a given calendar month, Twitch will roll over the balance to the next month until this minimum is met). Once you are eligible for a payout you will be paid 15 days after the end of a calendar month.
For instance, if your revenue in august is over $100, the payout process will start around mid September.
Other ways to earn money with Twitch
The two ways to earn a share of revenue that we just mentioned are offered internally by Twitch. However, there are other platforms that can also help you generate income on Twitch.
This Spanish platform allows viewers to fulfill their dream to interact with streamers directly.
It is a simple process, the streamer creates cards with challenges or any other type of actions and they are kept in loot-boxes. For instance, an action could be a greeting while doing a handstand, stopping a videogame session or chugging a coke.
A viewer buys one of these loot-boxes with a random card and the streamer earns money with the purchase.
Streamloot will keep a 20% fee.
This platform is oriented to complement Twitch, where you can edit and add extensions for streamers or eSports teams.
Also, of course, it's a platform to receive viewer's donations via PayPal, for example.
StreamLabs is a software that will help you to monetize your broadcasts, but also a tool to manage your streamings that is very popular amongst streamers.
You can add custom alerts when your viewers take any action (e.g donate money, subscribe, etc.), embed a chat in your stream or edit background themes during the streaming.
As you can see, each of these external platforms offers different features to monetize your streamings.
If you want to keep a constant interaction with your viewer, the best tool is Streamloots with the cards for viewers. Viewers will get something in exchange for their donations.
Now you know how to earn money with Twitch.
Do you want to ride the wave of streaming?