Twitch Polls are a feature on the streaming platform that allow you to connect with your viewers in real time and find out what they think about a specific topic: what content to stream live, what game to play or a topic to discuss.
Twitch Polls are useful because:
·They help you discover what your community really thinks about something you ask.
·They allow you to interact with your viewers so that they can tell you their opinion and feel involved in the stream.
In this article, we'll tell you some of the features of Polls on Twitch:
✅ Twitch Polls are only available for streamers who are listed as affiliates or partners.
✅ You can only make one poll at once. When you finish the one you have opened, you can set up another one.
✅ The streamer manages the polls, but editors and moderators can create polls during broadcasts.
✅ In Twitch Polls, viewers vote for one of the options that the streamer proposes, but they don't have to respond.
✅ Viewers vote in the polls using their Channel Points, which must be at least one point.
✅ Once a response has been selected, the vote can't be undone and the points spent won't be refunded.
✅ If you think a poll is out of place or inappropriate, you can report it and notify Twitch.
Now you know a bit more about Twitch Polls, let's learn how to make one live.
How to make Polls on Twitch
There are two ways to create a Poll on Twitch: in the stream using the chat commands, or from the Creator Dashboard. 
Polls with commands
To create a poll with a command, you just need to open the chat during the stream.
1. Write the command /poll
This is the command that you need to write to start your poll with your viewers. Then click send and hit enter.
2. Add a question
Once, you've written the command, a window will pop up with the poll where you have to write the question you want.
You have a limit of 60 characters for your question.
3. Choose the answers
Now it's time to choose the answers you offer your viewers. You have to give them at least two options. 
Each answer has a character limit of 25.
4. Setup the Twitch Poll
Here you have to choose whether you want to allow for additional votes for users to spend Twitch Bits in their wallet or the points they have racked up. The cost has to be at least 1 Bit or 1 point.
5. Set the length of the poll
How long will the poll last? The best idea is to choose mid-length so as not to waste too much time during the stream: you can choose 1, 2, 3, 5 or 10 minutes.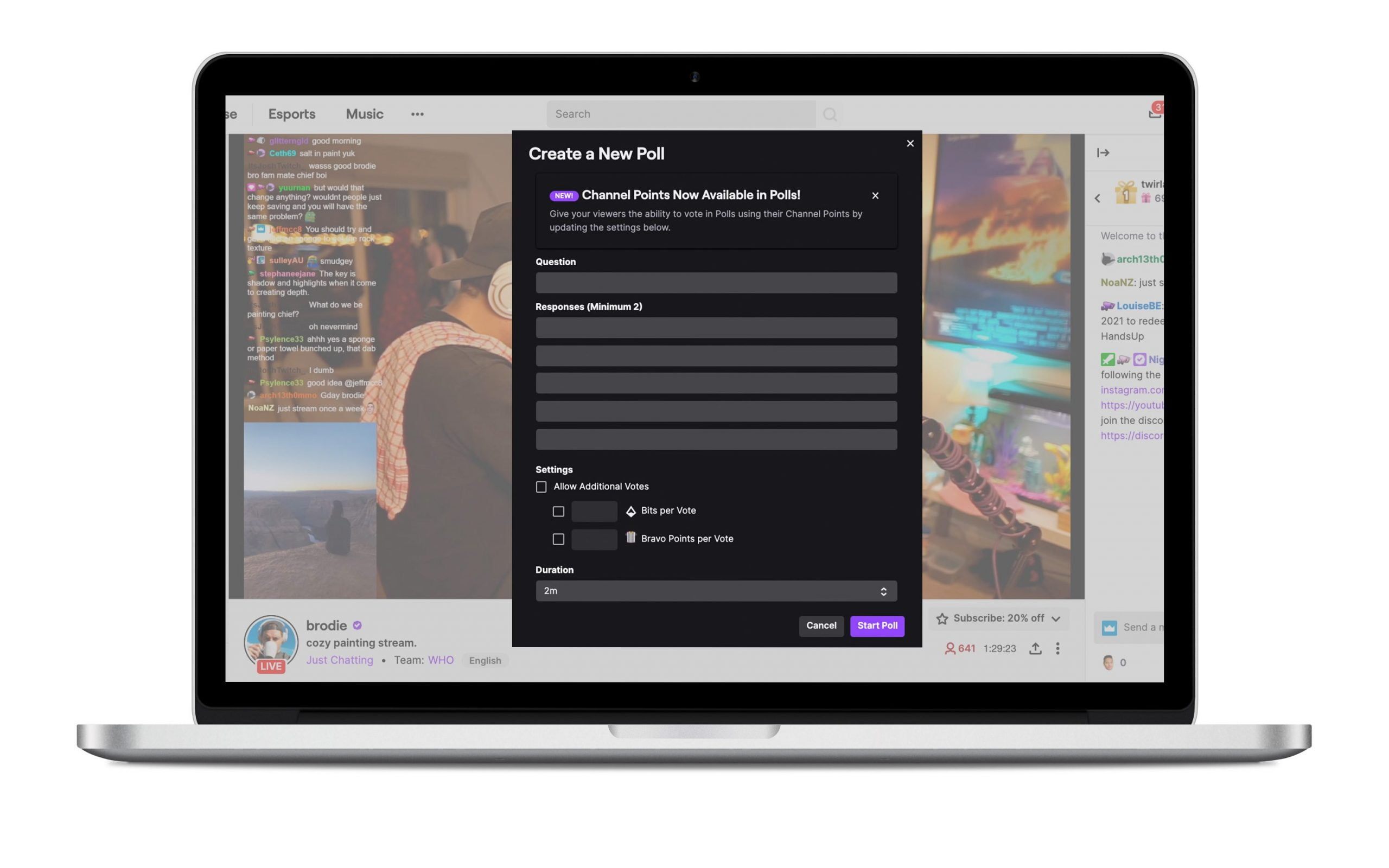 6. Click "Start Poll"
Check that you have entered the question and the answers correctly and set the right length.
Once that's done, click "Start Poll".
Twitch Poll from the Creator Dashboard
To create the poll without commands, you need to go to your Creator Dashboard on Twitch to set it up.
Are you in your creative control room yet?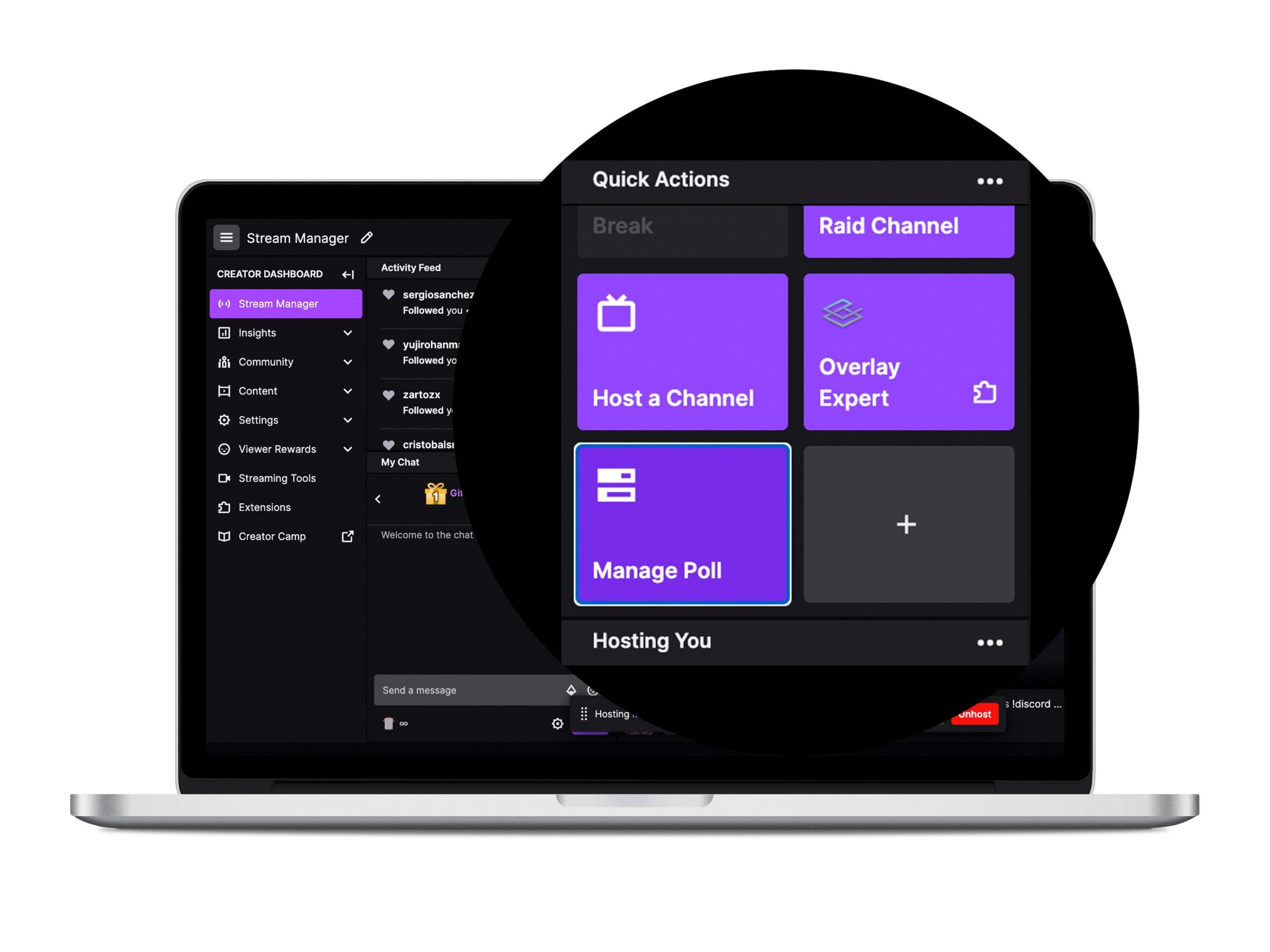 1. Click on "+" in Shortcuts
The Shortcuts section is in the right-hand column on your Creator Dashboard. There you can see your active shortcuts. 
When you click the "+" icon, you can add more.
2. Select the Poll option
In the window that Twitch displays, click "Add" in the "Manage Poll" section.
3. Click "Manage Poll"
Once you've added the Manage Poll option, click on it. Twitch gives you two options: view the final results and New Poll.
If you haven't made a poll before, the Results option won't be shown.
4. Click "New Poll"
When you click on "New Poll", Twitch will fire up a window with the same options we mentioned before.
You just need to fill it out in the same way: question, answers, settings and length.
Now you know two ways to create a Poll on Twitch.
What if you're a viewer? How can you vote in a poll?
How to vote in a Twitch Poll
When the streamer or the moderators create a poll during a stream on Twitch, in the top section of the chat the poll window appears. 
In that window, you can see the streamer's question, and if you click the down arrow, you can see the answers.
There are two ways to vote:
·By clicking on the option you want from the answers.
·Writing the command /vote and the number of the answer you want. For example: /vote 3 if you want to select option 3.
Now you're completely ready to create Polls on Twitch streams.
Connect with your community and make them feel involved in your streams with Polls on Twitch.
Learn everything you need to know about the platform in this Twitch user guide.