If you are still a bit green on streaming platforms and Twitch doesn't ring a bell, you are in the right place.
Twitch nowadays is the most important live streaming platform.
Here, streamers of all ages can broadcast themselves playing video games or e-sports teams can stream their professional competitions.
"However, is it as successful as it seems?"
Yes, it is. According to data from '99firms' there are around 55,000 Twitch channels live on average at any time.  
We will tell you how to use Twitch while you decide whether to start live streaming or not.
What Twitch is and how it works
Yes, it is a streaming platform. However, has it been always oriented to 'gamers'?
Twitch was born in 2011 with the idea that streamers from all over the world could broadcast themselves playing video games for an audience at no cost. Also viewers can access channels for free.
In 2014, Amazon purchased this platform and Twitch, still focusing on video games streaming, expanded its reach and included live music and other artistic channels. A whole new world to discover.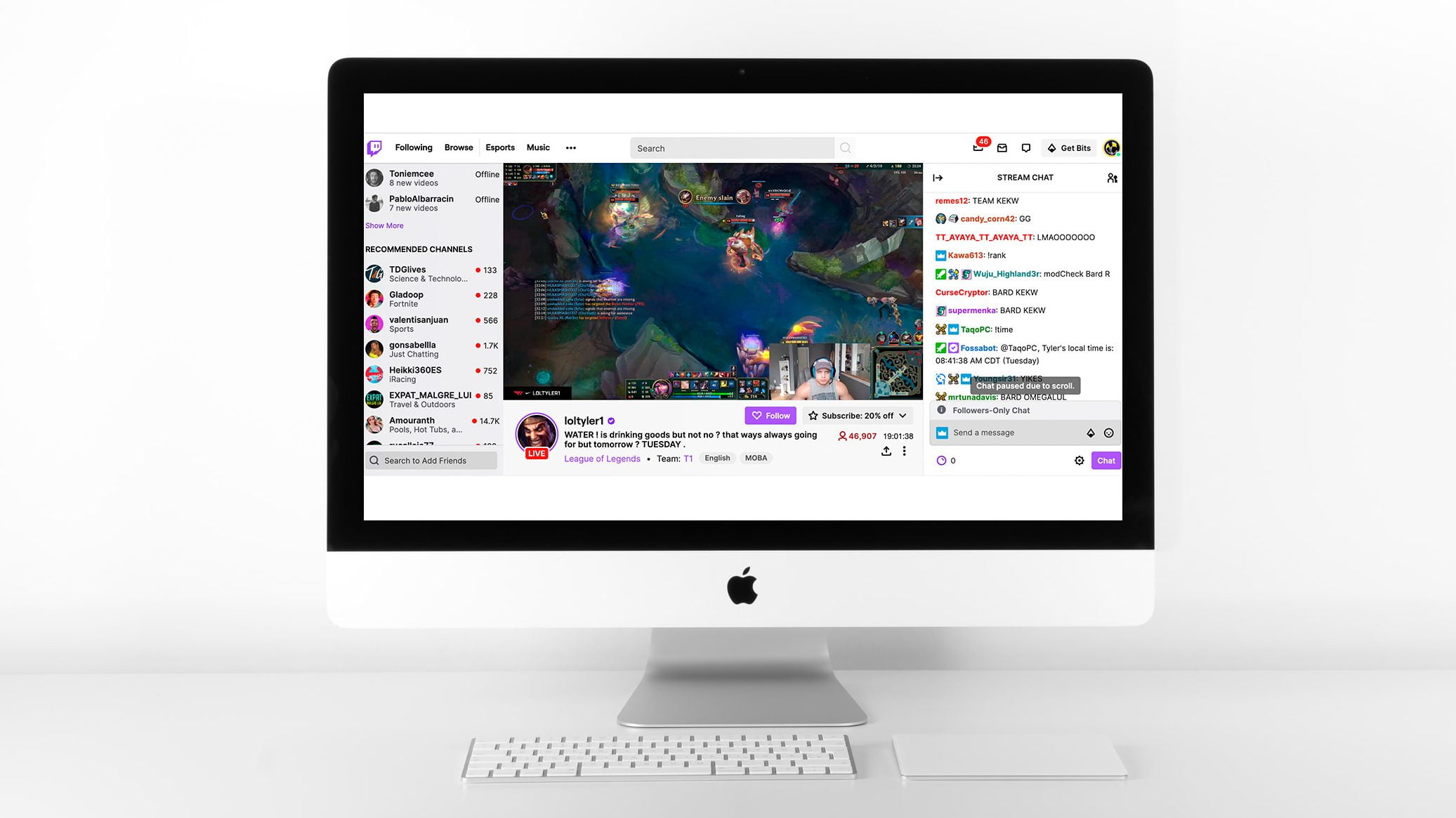 This platform has reached an average of 15 million active users per day. For instance, Game of Thrones, with the first episode of the final season, hit 17.4 million viewers.

Now, what Twitch is for?
▶️ You can use Twitch if you want to increase your presence in the streaming world.
This platform is free for you, you only need to use a good computer with a lot of memory, a microphone and webcam to start your live videos and build a community.
▶️ If you are a viewer interested in a wide range of topics
If you are more interested in streaming than what you can find on tv, on this platform, you can discover a wide range of video games, chats or music channels. Pure entertainment and… for free!
You can also interact with your favorite streamer and support them through donations.
How can you subscribe to a Twitch channel?
A subscription is a way to support streamers economically.
Twitch offers three different levels of subscription: $4.99, $9.99 and $24.99 and in exchange you can receive custom emoticons, subscription badges, etc.
Now you know what Twitch is and a bit about its history. However, how does it work?
How to start with Twitch
As soon as you enter Twitch you will see that you have immediate access to videos without having to register or pay anything.
You can watch all the streamings without opening your wallet.
However, we are here to learn, so don't get distracted watching the videos you love and hit 'sign up' to start your adventure.
How to create a Twitch account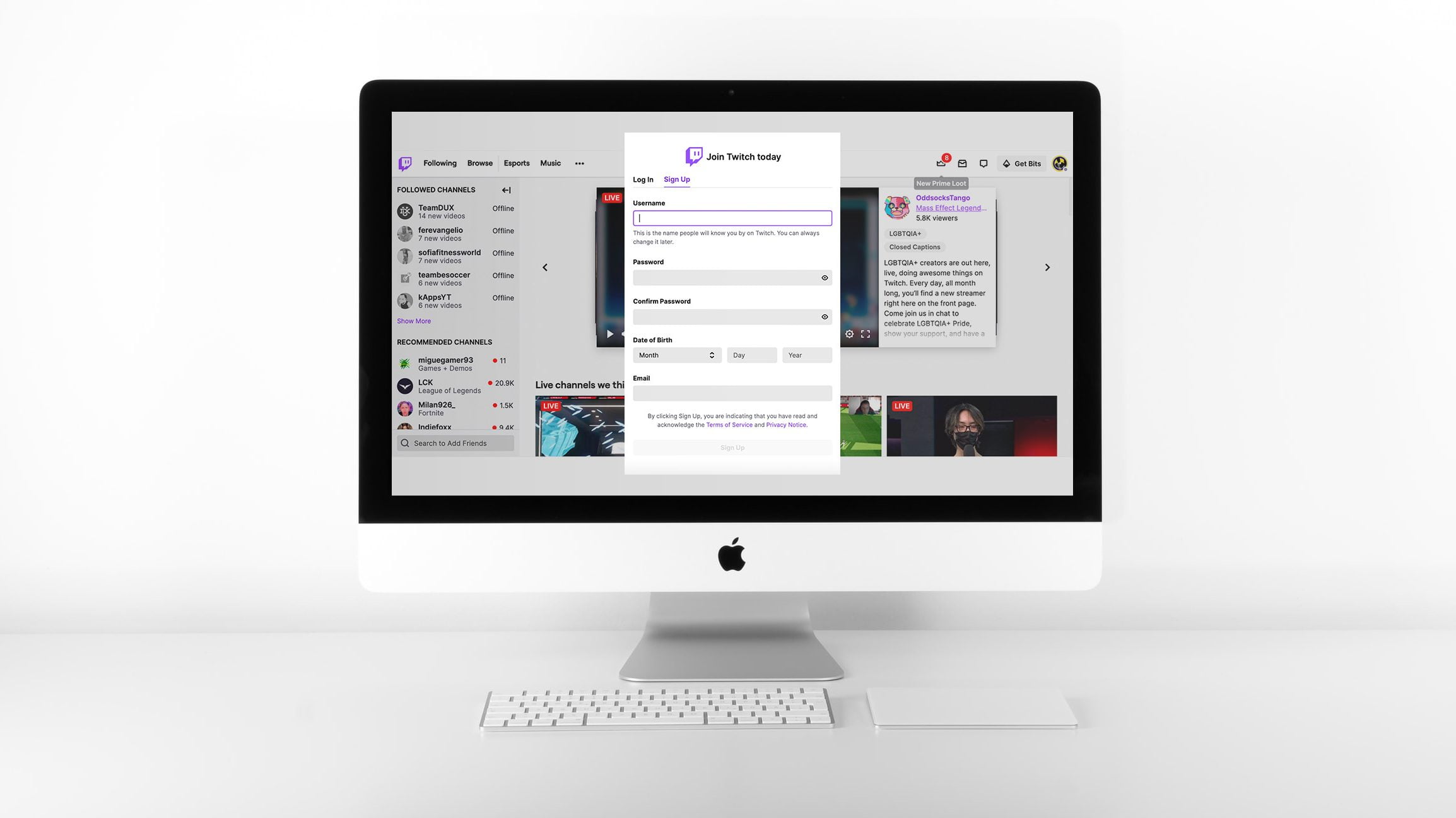 ▶️ Fill out the sign up form
It's time to join Twitch so complete all the information requested by the platform.
The username you choose will be the name the people will know you by and you can change at any time.
Then create a password for your account, add your email address and date of birth.
Then, by signing up you will accept the terms and conditions that you can read when you click terms of service.
▶️ Complete your registration
Once you sign up, Twitch will send an email with a code to validate your new account.
Insert the code that you receive and your account will be validated.
How to use Twitch
When you go to the homepage, you will see that the dashboard is very easy to understand. In the center of the screen you will see a slider with several channels going live.
▶️ In the slider, you can find information related to each video. The username, the name of the video game that the streamer is playing, the number of viewers, the language and brief description about the channel.
On this section, it's not possible to interact with a streamer. However, if you click on the screen, it will take you to the main video where you can interact after having logged in.
If you scroll down the page, you can see recommended channels classified by categories: video games, chats, music or art.
▶️ In the top bar menu, you can see several options:
Twitch button and Discover will take you to the homepage.
Browse: In this section you can find channels by categories (video games, chats or music) or live channels. Plus, you can filter by tags and sort by recommended or viewers (high to low). You can also browse directly and spend some time until you find what you like.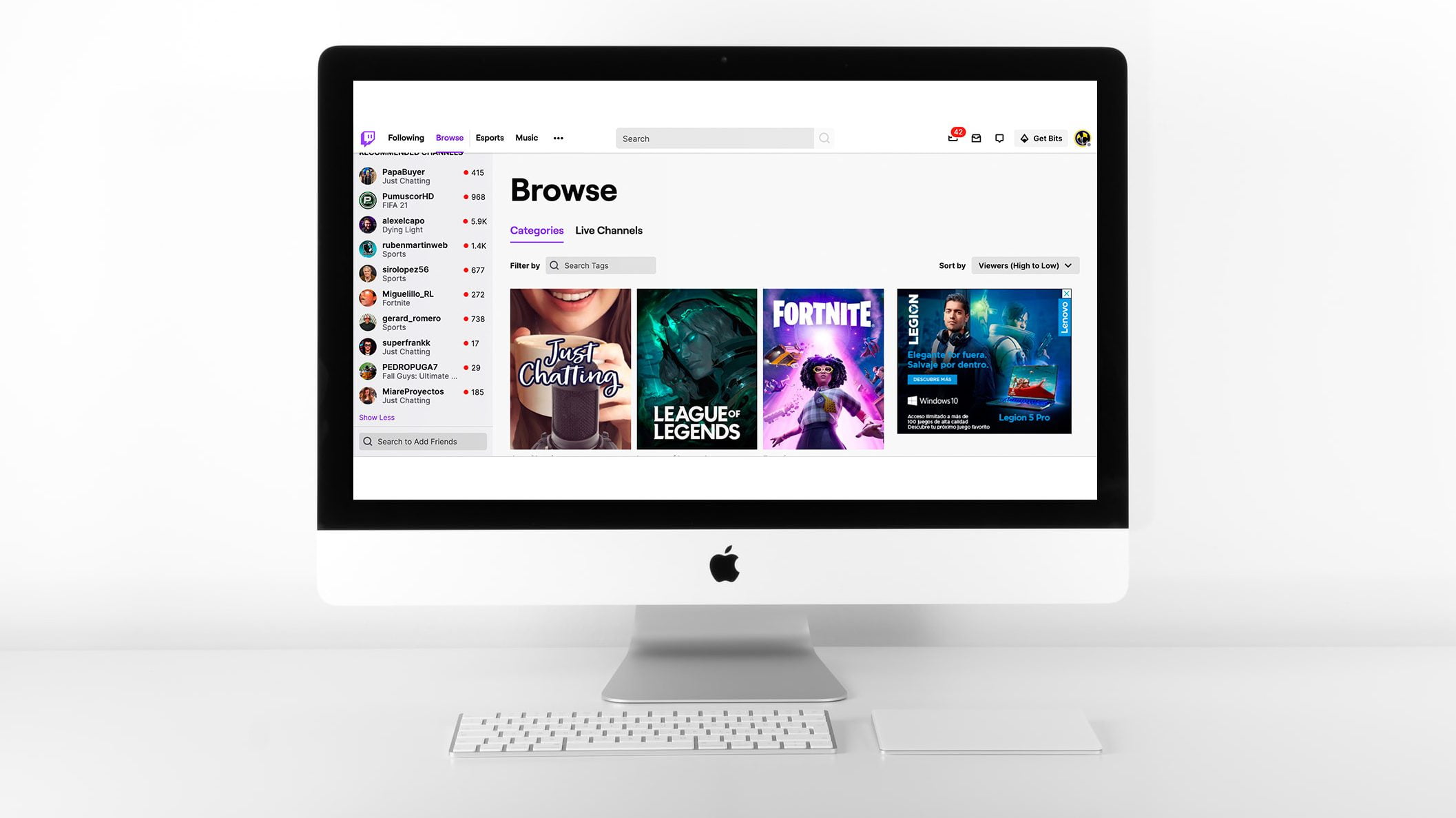 Try Prime: You can directly access this type of subscription from this option and you can search, if you know the name, and go to your favorite streamer's channel.
Lastly, you can check Prime loot notifications.
▶️ On the left-side column, you can check multiple recommended channels that you can visit.
It differs from the central slider since here you can only check the username and the number of people watching the channel at that moment.
▶️ If you click the live channel, you can watch the streaming and do some actions:
You can follow the streamer, subscribe to the channel by buying one of the subscription plans or send a message in the stream chat.
You can change the video quality if you want to save data or set it up in theatre mode or change it to fullscreen.
Finally, at the bottom, you can see the title of the live video that gives you an idea of what is about, the category, tags and if it belongs to a specific team. Also, you can check how many people are watching the video at the moment and the total views.
As you see, Twitch is a streaming and entertaining platform that lets you access multiple channels from the beginning.
Find the streamer you like and enjoy!
If you have any question, we will read your comments.