If you usually use Twitter on more than one occasion, you will have come across the acronym TT accompanying a tweet or in the trending column.
What does this acronym mean and why should you consider it key in your content planning on Twitter?
What does being a Trending Topics mean? (TT)
The acronym TT stands for Trending Topics, an algorithm that tries to highlight the keywords that set the trend on Twitter for a certain period of time.
That is, the algorithm makes a keyword trending for a certain time.
Where to see the TT or trending topics of the moment?
If you are on your timeline checking Twitter in the browser, the right column will indicate which topics are trending. When you see a topic accompanied by a label, it is a Trending Topics.
On the other hand, the mobile version does not include this column, but if you go to the magnifying glass you will find "Trending"
Is there a topic that doesn't interest you or you want to stop seeing it? You just have to click on the tab on the right and Twitter offers you these options:
"Not interested in this" or "This trend is harmful or spammy". In this way, the social network will eliminate this trend in your profile.
How does this algorithm work?
Twitter's algorithm for making a topic or keyword trending begins by using a # to accompany the keyword.
Then, the platform takes two factors into account:
✅ The number of people or users who write a tweet with that tag and keyword.
✅ The number of retweets that the tweets containing that keyword and the tag have.
How about we see it with an example?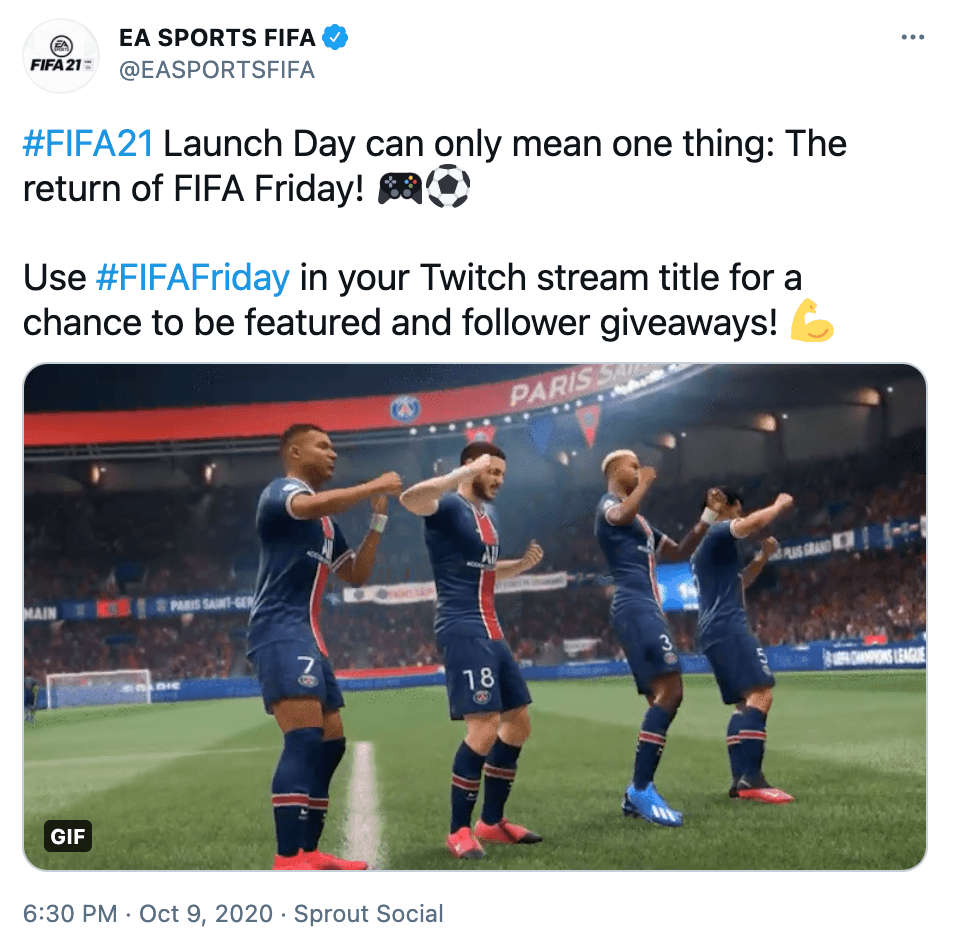 On Friday, October 9th, FIFA21, the football video game, was launched worldwide. The production company, EA Sports, published a tweet with the hashtag # FIFA21 and #FIFAFriday that became a trending topic thanks to the number of tweets and retweets it received.
What is the Trending Topics for?
The importance of the Trending Topic should be divided into two actors, Twitter users who see the trend and the brand that manages to position itself as 'trending'.
For both, this Twitter feature brings great advantages.
Why is it useful for users?
It allows the user to follow a current topic, seeing the reactions of other users, influencers and be aware of any news.
Users can give their opinion on the specific topic, sharing their thoughts, discussing the trend, and managing to interact with other users.
And for brands that create trends or participate in them?
It serves to promote a product or your own brand, become a trend and encourage users to talk about it.
They make their brand stand out from the competition when they become TT, thus increase their community and the number of interactions.
As you can see, being a Trending Topic is a success from the perspective of your brand: it promotes your brand, helps you get more visibility and increases the community.
However, being TT is not easy.

How to become Trending Topics
To be realistic, there is no magic formula with which you get to be a Trending Topics. Something similar happens with the posts you publish on Twitter itself or on Instagram.
➡️ When you think that a tweet or post is going to go viral and have a lot of interactions and in the end, it goes unnoticed.
And yet, another tweet that you had added without having great expectations is the one that gets many interactions.
Of course, we can give you some tips that you can put into practice to reach your goals.
Plan at the right time
Before you share your tweet and try to be a Trending Topic, it is important that you analyze the day you are going to launch it to avoid doing it on important or special days in the calendar.
For example, if you launch your viral tweet on the same day as the presentation of the new iPhone, the attention will be taken by this event. It does not mean that there is only one TT, but an event like that is too big to try to "compete" with.
Choose a unique hashtag
What differentiates one Trending Topic from another is the hashtag and the keyword that accompanies it. Here your creativity comes into play, show an original hashtag that motivates users to share it.
In addition, to become TT, we recommend that you use your own short hashtag, of about 8 or 9 characters to allow the user to tweet quickly.
With Metricool you can measure your hashtags and monitor participants, messages and trends.
Encourage participation
One of the premises to be a Trending Topics is that a large number of users share the hashtag of your tweet.
To encourage them to write a tweet with your tag and keyword, you can accompany it with a giveaway. So you can promote a new product that you have launched and get more people to participate in the hashtag.
Now you know what Trending Topics is and how it works on Twitter.
Give it a go and become trending on this social network!