Certainly, there are some hours that are better than others to share your publications on Instagram. In this article, we will reveal which hours are best for posting so your content can thrive and succeed on Instagram.
✅ Best time to post on social networks
Which hours are best to post on Instagram
What I said at the beginning is true. However, if you ask me right now, I won't be able to tell you which time is best for you specifically…. but there is an explanation for this.
The best time to publish on Instagram for you is tied to when your followers are connected to this social network. It makes sense, right? The more followers connected to Instagram at any specific moment, the higher the chances that they see your content and interact with it. Factors like where your followers are from, in which industry your business is, the age range of your audience, etc. can affect these hours.

So, I might not be able to tell you what time is best for you to share your content but I can tell you how to find out.
Even so, on Metricool we have carried out a study with 63,791 social media accounts that helped draw some interesting conclusions. To run the analysis, we calculated the most popular hours when these accounts were connected and this is what we discovered:
Most Instagram users are connected from 6-9 pm on weekdays.
Plus, users seem to be more active on Fridays from 3 pm.
With regards to the best days of the week to share your content, Sunday won big, followed by Friday and Wednesday.
How to discover which exact hours are best for you
It's true that in general, there are some hours that are better than others. However, as I mentioned at the beginning of this article, these hours might not apply to your audience. So, if you want to discover more specifically when your public is connected and active, there are several different ways to identify them.
1 – Learn about your audience: Analyze your followers
It's crucial that you find out who is following you. For instance, knowing where your followers are from is a very important factor to help you design your digital strategy. Besides, knowing which time zone your public is in can be a good starting point.
However, if your audience is from all around the globe, you will need to carry out a more thorough analysis to determine when you should share your content.
2 – Run some tests
You can identify your best hours through some testing. Upload your content at different days and times to discover which publications received more interactions or reach more people.
This is another way to draw some valuable conclusions that can guide your digital strategy on Instagram.
3 – Analyze the main metrics related to your profile
A thorough analysis of your performance and the impact of your content on social media is a must to design a successful digital strategy. It's the most effective way to discover whether your strategy is on the right path and also, to be able to react fast whenever you see a deviation.
From this analysis, you can also discover when your content is working better and direct your strategy accordingly. Plus, it will help you to know which time is best to plan your content.
4 – Use Metricool for free to discover your best hours
Metricool can help you to analyze the performance of your content that I just mentioned in the previous section. However, Metricool can do much more for you. After connecting your social media accounts to this tool, you can discover the best hours to plan your content on Twitter, Facebook and also, Instagram.
In a very visual way, you can discover on a planning calendar when your users are more active to program your content subsequently. A darker hue indicates that your followers are more active.
If you need more precise information about your best hours, try the 'active followers' feature. Metricool offers you a specific percentage of the active followers that you have in each time slot with this function.
Thus, you can decide when to publish on your social profiles.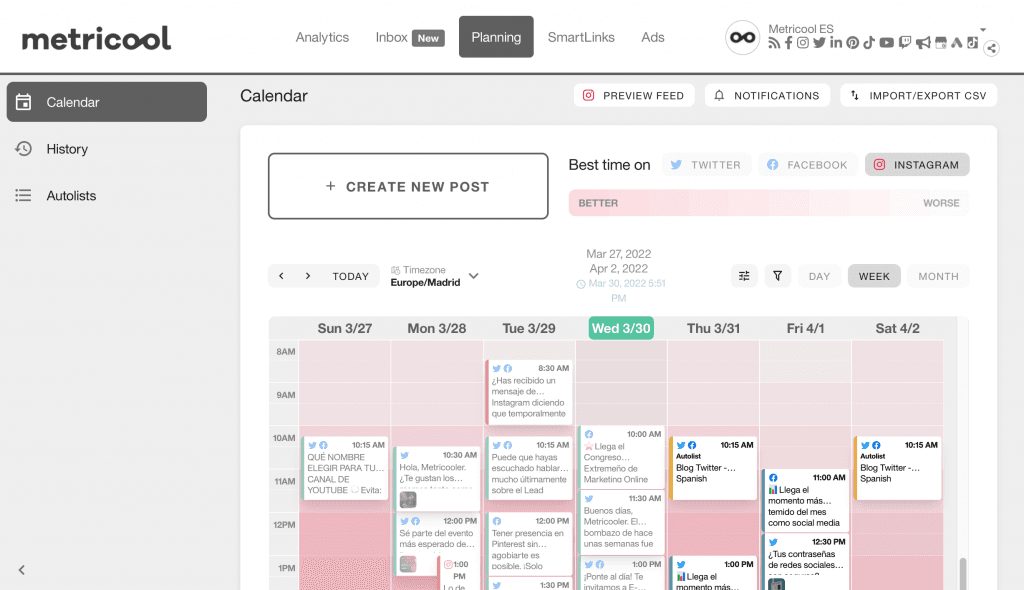 This is the easiest and quickest way to identify when it's best for you to publish. Check out the calendar, find at a glance when your followers are active and program your content.
Are you interested in trying this feature?
▶️ Register to Metricool for free ◀️
Discovering the best hours to plan your content is only a part of what you must consider when you design your digital marketing strategy.
If you are interested in learning more to create a successful content strategy, I recommend that you check out this guide.