As a social media manager, any tool that can help you in your daily work is welcome, right?
Google Chrome extensions are tools that can make your job as a social media manager much easier, helping you save time in your day.
To help you keep on top of things, we've created a list of 7 Chrome extensions that you just have to install in your browser.
Chrome extensions for social media
Once you find out about these extensions, you'll wonder where they've been all your life.
Let's go!
Check My Link is an ideal Chrome extension for social media managers who work on creating blog content, but also for web developers and programmers.
Its function is to check the links you have on your page to see if they're broken.
It is useful for saving time and work when it comes to the links that you put on your page. The extension does it for you, you just need to check that the page comes out right.
As a social media manager, you clearly use various hashtags when you post something online. Do you do it off the top of your head or do you follow a strategy? With RiteTag you can forget about them.
This Chrome extension offers information on the "quality" of your hashtags: it generates hashtags for images, suggests ideals tags, and tells you how strong the hashtag you want to use at the time is.
Ideal for selecting what hashtags you want to add to your post to make sure it's not just a meaningless paragraph of hashtags.
Pin It, also known as the Pinterest save button… you know what we're talking about, right?
This Chrome extension allows you to save images from the page you are browsing and shift them directly to your Pinterest account, without leaving the website that you're on.
This could be useful if you're looking for information or content to share on Pinterest and not lose it.
It's easy to use: once you access a website, click on the extension button and collect all the images on the page.
Have you ever published a webpage or blog post only to realize that everything gets messed up on the mobile version?
This problem, which is more common than you think, could ruin your users' experience and make visitors run off to the competition once they reach your website.
With Windows Resizer Chrome extension, you can resize the screen to different screen sizes and resolutions so that you can modify it and edit it in the best way possible.
This will stop your content from ever getting messed up.
PhotoStudio is an online photo editor, with no need to install external software or apps.
With this photo editor Chrome extension, you can modify your images before you post them on social media: adding a filter, adjusting the brightness or adding a text or sticker. There are many functions that could be useful for your work.
If you're not great with Photoshop, this editor could be perfect for giving your multimedia content a personal touch on social media.
Video tutorials and interviews, as well as other videos, have become a great form of content that brings in a lot of users.
With the GoCast Screen Recording extension, you can film your screen or tab from your browser. What's more, if you want to give your video a personal touch, you can use your external microphone instead of your computer sound.
If external apps and software aren't your thing, there are extensions designed for taking your first steps.
Scheduling and sharing on social media from your browser has never been as easy as it is with the free Metricool extension.
You have two options for sharing the content you want on your social networks with Metricool:

✅ Go to the webpage that you want to share and click on the extension icon.
Metricool will share the page title and the link. You can also add any text you want, such as a call to action, or schedule the content.
✅ Or highlight a paragraph of text you want to share, right-click, and then click on "Share with Metricool".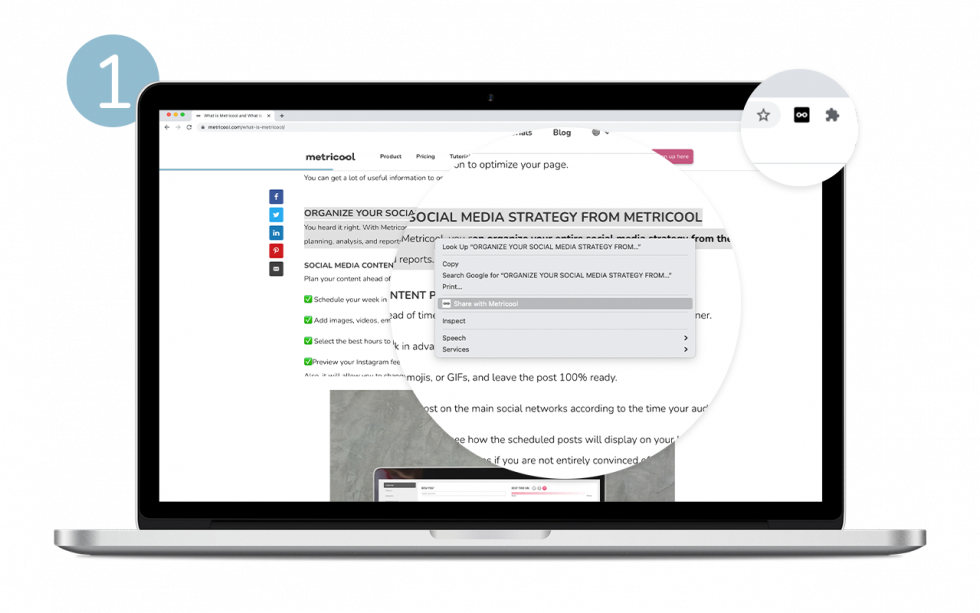 The extension will add the selected text to your planner and the URL of the page, YouTube video or Instagram post. Afterward, you can add multimedia elements, mention people or change the preview and schedule the content on the social network you want.
This way, you save time in planning content by sharing and scheduling posts on your social media profiles.
Are you ready to optimize your work time? With these Chrome extensions, you'll be pleased you work with Google Chrome.
Which Chrome extension for social media is a must-have for your browser? Looking forward to your comments.