Are you a social media manager or digital marketing agency?
If the answer is yes, that means you work in front of your computer or mobile device 24/7, right?
If you start scheduling and planning your social media content ahead of time, it will make your life easier and save you plenty of time. Today, we want to show you how to do it from your mobile device with Metricool.
How to program from your mobile device with Metricool
From the Metricool mobile app, you can schedule on:
✅ Facebook: post, posts in groups.
✅ Twitter: tweets.
✅ Instagram: fixed post of videos and images, automatic Reels, stories and manual long videos.
✅ Google Business Profile: publications.
✅ LinkedIn: post with images or videos.
✅ Pinterest: pins to add to a board or create one from scratch.
✅ TikTok: semi-automatic publication.
That is, the same options are available as in the desktop version. There is no difference.
If you have an account registered on these social networks, you can start working with Metricool.
Follow the steps, so you don't miss a thing!
1 Download and open the Metricool app
Are you an Android or iOS user? It doesn't matter. You have access to this app on both mobile operating systems.
Download the app from your system's Store and open it: Android or iOS.
2 Connect your social profiles
Before starting programming your social media content, first, you need to connect your social profiles.
To do this, tap on 'Connect new network' and follow the steps requested by the application. Once they are connected, you can access their main metrics and start scheduling content.
3 Click on Planning
At the bottom of the screen, you find three options: analytics, planning, settings. Today we are interested in the planning tool where you can program all your content.
4 Tap on Day, Agenda, or Calendar
Your 'planner' can be viewed by Day, Agenda, or Calendar. In each of these modules, you can review the content programmed in a different way and check out the hours that you still have available to schedule more content.
5 Click on '+'
This is the magical icon (bottom-right corner) to start scheduling your content on the go. Click on it to start working.
6 Schedule your content
The new window that will pop up becomes your operation center, where you find all the options to create your post.
➡️ Set the post date: You can choose the day and time when you want to post your content at the top left.
➡️ Choose the social network: you can select the platforms (previously connected to Metricool) where you want to share the post.
➡️ Add the copy: in the post content section, you can add the copy of your post. Remember that each content adapts to the character limit established by each social media platform
➡️ Customize the post: use the URL shortener, add the link to include in the Instagram link in bio, tag users, or set the location.
➡️ Add multimedia content: remember to attach multimedia files such as photos or videos. On Instagram, it is essential to be able to publish.
➡️ Include alternative text so that visually impaired users can understand your content. Available, for the moment, on Facebook, Pinterest and Twitter.
Is the post ready? Give it one last look to check it out and go to the next step.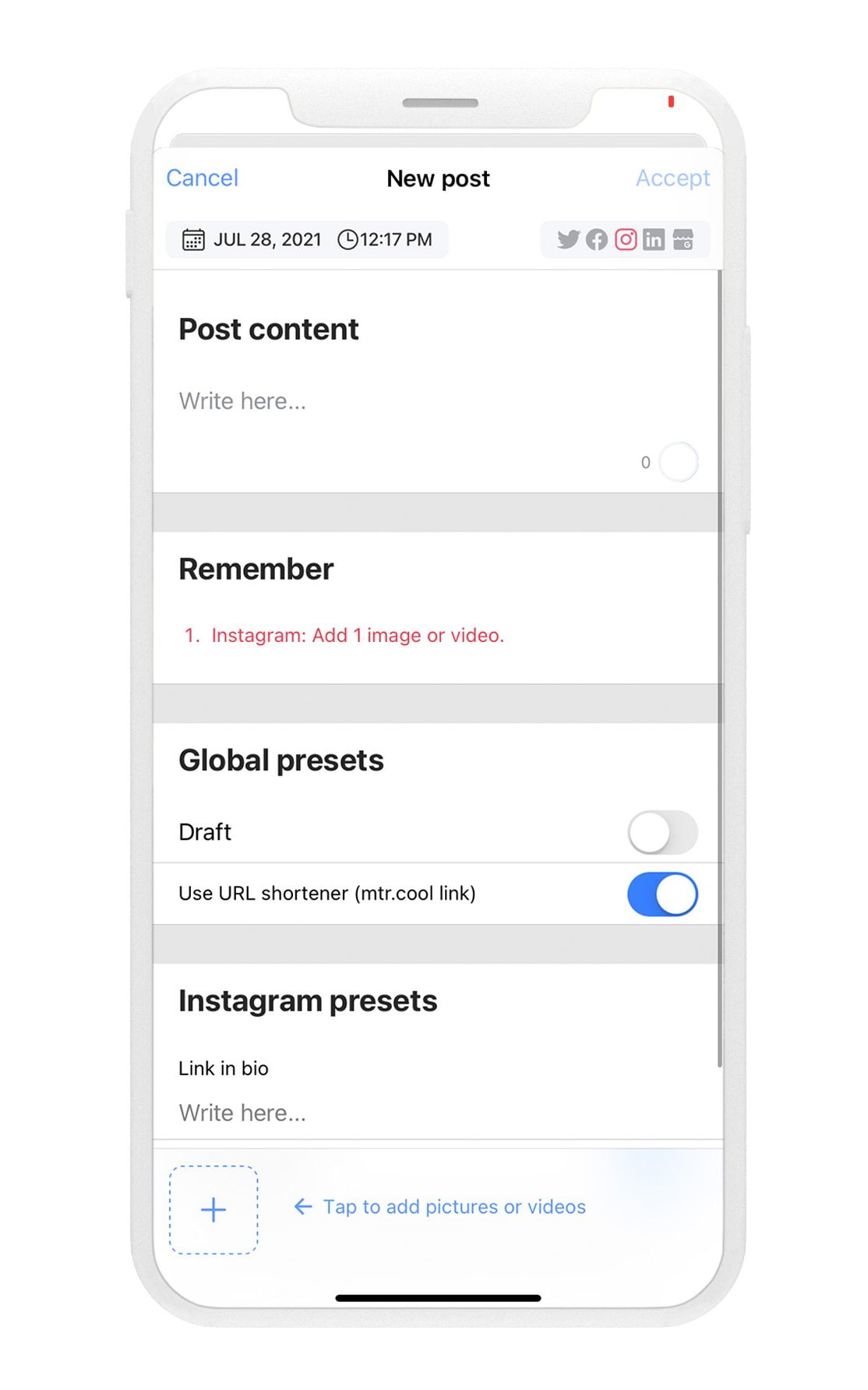 7 Click on Accept
When you have finished editing the content, click OK, and the scheduled post will be saved in your planner.
If you want to check it, you can go to the planner and look for the date you had previously chosen for your post.
Advantages of scheduling from mobile devices
Which benefits do you have if you plan your content from mobile devices instead of your desktop?
If you are still considering downloading the Metricool app or not, you can check some of the advantages of doing it here.
✅ It is the same as the web version.
Metricool's mobile application has the same features as the web version: multimedia files, dates and times, access to your different brands according to your Metricool plan, etc.
Also, it is straightforward to use, and you will get hold of it in a moment. Ready to work!
✅ Schedule your social media content wherever you are.
With the mobile application, you only need Internet access to use it and program your content.
Choose your favorite Coffee spots, beach, or any place in the world. You can program your post on social media wherever you want.
✅ You have everything in one.
In addition to planning the content of your social networks with the Metricool application, you have the analysis tool to visualize how your posts perform and the option to generate professional reports.
You will appreciate having everything you need for your work in the same application.
✅ Respond quickly to any work emergency.
How often have you faced a work 'crisis' with your social media platforms and had to run back to work to handle the emergency?
The Metricool app gives you the peace of mind of knowing that you can control the situation anytime, anywhere.
What are you waiting for to download the Metricool app? Schedule your social media content from anywhere and without complications.
We will read your questions in the comment section!