The most dreaded moment of the month for any social media manager arrives. The monthly performance report. How long does it take to collect data and organize it in an Excel file? A few hours. But to create a custom Twitter report with Metricool? One click.
Wondering how to find your Twitter analytics without having to enter endless data into Excel? Read on to find out!
Create custom a Twitter report with Metricool
The main benefit of getting social media reports with Metricool is saving time at work.
Instead of spending hours and hours extracting data, transferring it to Excel, organizing the information, etc. The Metricool performance report is just a click away: choose the period you want to see and download it in PDF or PPT format.
In addition, you can customize each report with the data you want to show, add your company's logo or that of your client, and create templates so that each report is totally personalized.
To find your Twitter analytics and generate a report, follow these steps:
1 Log into your Metricool account.
2 Click on the 'Reports' button located in the left column within the Evolution section.
3 Customize your report: choose the time period, the language, the template, the sections you want to see, and a logo to accompany the document.
4 Choose the download format by clicking on the PDF or PPT button.
5 Done! Wait for the download to complete, and you now have your complete and personalized report.
MetriTip 💡
If you want to receive the report every month in your email inbox, Metricool makes it easy for you. Add your or your clients address and the platform will send you the file to download on the first day of each new month.
Okay, that's all great, but what's included in this custom Twitter report? 👇🏻
What's included in Twitter Reports
Metricool reports are customizable and complete. All the analytics are organized so that you don't miss anything when delivering the report to your client:
⚡️ Community Growth
How has your community of followers evolved? Here you will have the performance that your tweets have achieved according to the number of followers you have obtained.
You have the complete number of followers, gained and lost, and the number of published tweets.
⚡️ Interactions
In this section, you can see how users have interacted with your account.
Look at the number of mentions, the engagement obtained, the impressions of your content, and the total number of interactions separated by retweets, likes, replies, quotes, or clicks.
⚡️ List of Tweets
In this table, you can see the best-performing tweets you have published in the period you have selected.
In the table, you can see all the interactions and engagement of each tweet.
⚡️ Competitors
Knowing your competition is an essential part of your growth. Understanding how those accounts perform can give you ideas for your strategy or understand your competitor's performance to compare with yours.
From Metricool, you can add competitors related to your brand. In the report, see the number of followers, who they follow, the number of posts published, likes, and retweets.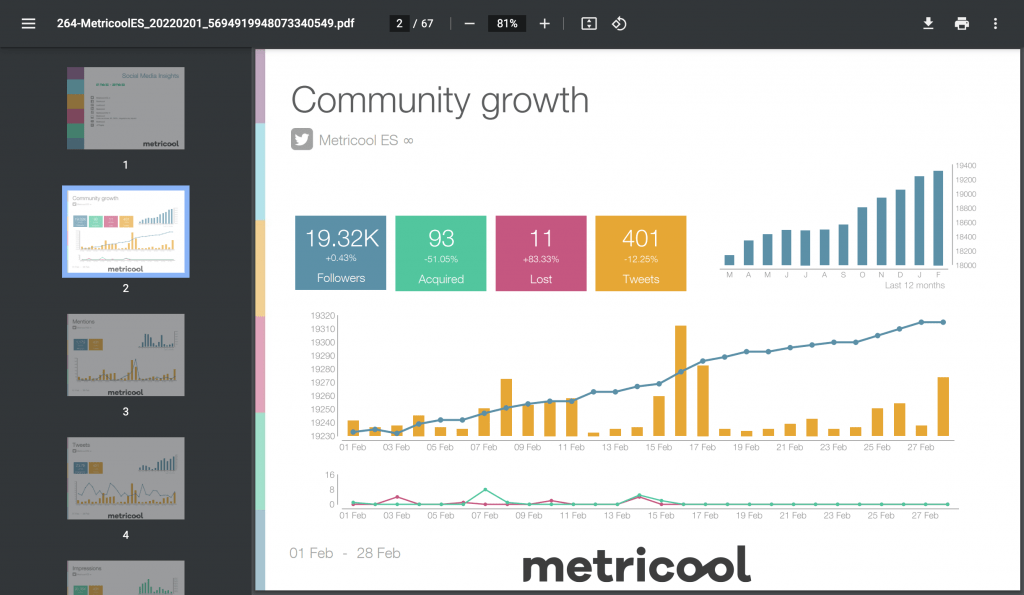 As you can see, having all your Twitter analytics in personalized reports with Metricool's performance tool is simple: just click, and that's it.
If you want to see all the features of Metricool, I'll leave you with the Metricool mega tutorial.
Do you have any questions about the Metricool reports? We will read your comments. 👇🏻