At the end of the month, that moment that you fear the most has come. It's time to create an analysis report with all the relevant information about the performance of all your client's social channels.
Imagine if you find yourself without a computer when you have to send a last-minute report.
Don't worry. The Metricool mobile app has come to save you. How? Keep reading!
How to download social media reports with the Metricool app
If you want to start generating social media reports on the go, you will need three things:
➡️ Having a Metricool account. If you don't have one yet, you can sign up with Metricool for free by clicking here.
➡️ Having the Metricool mobile application downloaded to your device. It is both available on Android and iOS.
➡️ Connect the social profiles you work with to your Metricool account, essential to start collating all the relevant metrics.
Do you already have everything? Then follow these steps to have your reports ready to present:
1 Open Metricool's app
This is your center of operations, where you will control everything you need in your day-to-day work: content scheduling, analysis, planning calendar, etc.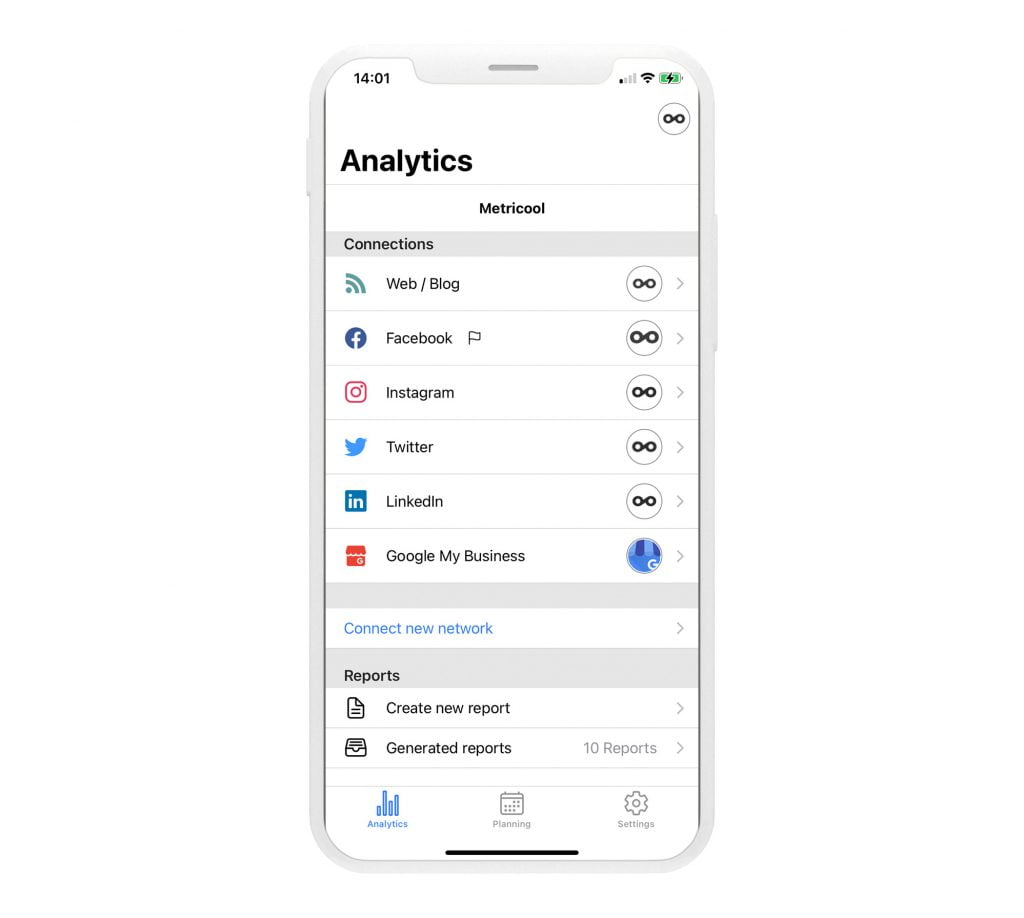 2 Tap on Create new report
At the bottom of the main screen, you have the button 'Create new report'. If you have generated one before, even from your computer, you will find it after the "Generated Reports" option.
3 Choose how you want your report
In this step, before downloading, you can choose how your report will be: the period you want to analyze, the language, templates (only for Team or Enterprise plans), social networks that you want to include in the report.
You can customize the report to your liking.
4 Add a logo
A distinctive feature that your customers will love. With Metricool, you can add the company's logo. It won't go unnoticed by your clients.
5 Download the report
Finally, click on 'Create new report'. You can download it in PDF or PowerPoint format.
Ready! You already have your report on your mobile to send it by email.
Why make a report with Metricool
Downloading your monthly social media reports from Metricool is very simple. What advantages does it bring for your day-to-day work?
✅ You save time at work
Can you imagine how it must be to sit down in front of your computer and start collecting the data from your social profiles one by one and manually?
You won't have to worry about this. With Metricool, you can create performance reports at the click of a button: the download speed will only depend on how fast you click the buttons. 🙂
✅ All the information handy
Metricool provides you with all the data from the social networks you work with gathered in the same report.
What's more, you can customize it to your liking to choose which ones you want to appear and which ones not.
✅ Professional presentation
Showing all the relevant metrics of your clients' social profiles in an organized and professional way will positively impact your clients.
Metricool reports have a neat presentation that you can customize with your logo: a clean and tidy aesthetic that will help you succeed in your meetings.
✅ They are used for influencers, social media managers, or agencies.
Collating data and information about your work on social networks makes the Metricool report useful both for influencers who want to get collaborations, as well as for social media or agencies that work with external clients.
In fact, it is the perfect Media Kit for influencers to present to companies that they want to collaborate with.
Do you already have the Metricool app? Boost your social networks and download the reports, so you don't miss out on anything.
If you don't know how Metricool works, this mega tutorial is your starting point.