If you want to reach your social media objectives, first you must develop a social media strategy where you include those goals and an action plan to achieve them. It's crucial to create customized social media reports periodically to monitor your strategy so you can:
Check if your action plan is working as expected
Discover what needs to be changed to achieve your goals
See the evolution of your community
Explain to your customer in a clear and detailed way how your strategy is performing and the next steps to follow.
If you are not sure about how to design a customized social media reports and what you should include, you will probably find the following article interesting:
Customized social media reports
Creating a social media report is the map that will lead your steps in the right direction. If you are going to build one, you should do your best, right? The design and presentation of a report is as important as delivering a report to your customers where they can see the conclusions and effectiveness of their strategy.
If you manage several social media accounts of different customers, you can customize each report with the colors and logo of each business. This will help you to build a positive professional image of your work.
Create and customize your report with Metricool
Metricool allows you to download customized reports of your main social media accounts, Google My Business, web or blog and ad accounts: Facebook ads and Google ads. If you have a Metricool Premium account, you will have three different options to generate your reports:
Export a report with Metricool's predefined template, directly to PDF in an automatic way.
Export a report with Metricool's predefined template in PPT. This will allows you to personalize the presentation of your report. However, with this option you won't be able to save the template to use it recurrently.
If you have a TEAM 15, 25 or Enterprise plan in Metricool you can also customize it by templates:
Templates: Create and save your own templates changing the background of your reports, colors and logo. You will be able to reuse any of these designs for future reports.
If you have a plan TEAM, you can create your own personalized templates: To customize the templates of your reports, follow these steps: In the Evolution tab, click the last option on the menu located on the left side: Generate Report.
STEP 1: Select the period that will be included in your report
On the top of your screen you can choose the period of time that you want to show in your report:
Yesterday
Last week
Current month
Last 30 days
Previous month
Last 12 months
You can also customize the dates you are interested in. In the first section, you must select the period of time that you want to appear on the cover of your report and the language. Remember to choose customize range if you previously selected the dates on the calendar manually.
STEP 2: Report Customization
The second section is new, and it is where you can indulge your imagination and create the templates for your reports. You can create templates from scratch or select the ones that you saved before
STEP 3: Steps to follow to create a template from scratch
Click on New Template and a new window will display where you have to choose a name for your template and select which social networks or accounts you'd like to include in your report.
Once you have chosen the accounts, click the pages you want to add to your report and select the number of rows you want to show in the lists included in that report, for example a ranking of tweets or a list of Facebook posts. Besides, you can choose the metric that you want your list to be organized by.
Once you finish configuring your report, tap Next located on the top-right corner. Then, you can add your logo and choose the background of your report. Each step will be automatically saved as you progress in the process of customizing your report. You will only have to press save at the end.
▶️ You can customize:
The background of the cover of your report.
The background of the rest of your report.
And, the logo.
After choosing the background and logos, the last step is to choose the colors for your report. You can customize the colors of your graphs and data that appear in your report. Click the colors shown of the left side and change them according to your preferences and the image of your brand.
The first row of colors are the ones that appear more often within the report, so I'd recommend choosing the colors that best represent your brand. In the second row, you find the colors that are only used for the circular graphs, so use those colors that are secondary for your brand.
Next time you want to use a template, click the drop-down menu on the template section and choose which template (that you previously created) you want to use.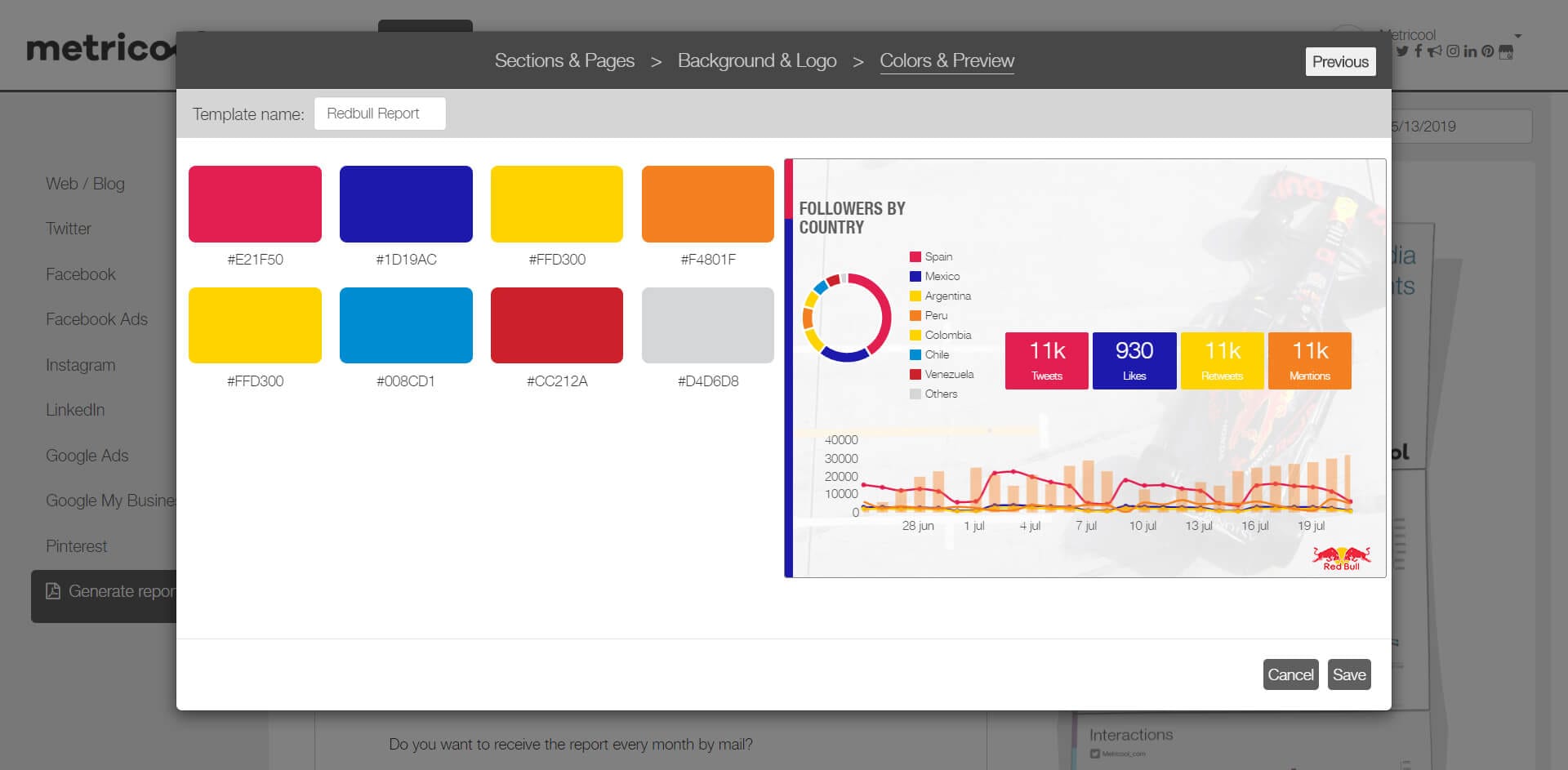 Download a report
When you have finished customizing your report and have chosen the template you want to use, it is time to download the data. You can do download your report in:
In addition, you can choose to receive your report in your inbox every month by adding your email address. If you don't select any template to download your report, you will save the report the same way as you used to do it with Metricool.

So, now you can create your customized reports with Metricool and make them unique for each customer. Let us know what you think about this new feature and if you have already tried it to build your reports.