How to delete an Instagram account
Be sure to follow each of the indications that I am going to describe below. I have broken down the entire process about how to delete an Instagram account. It's going to be a piece of cake!
The first thing you should do is enter this page.
Once there, a field will appear in which you can select the reason for saying goodbye to your Instagram account. Depending on the reason you indicate, Instagram will try to retain you as a user by offering you an option that allows you to leave for the time being but with an option to return at a later date.
Then, log into the account you want to delete and enter your username if you want to proceed.
In the next step, re-enter your password. You'll need to confirm to the platform that it's really you.
Finally, click on the red button that indicates the following: 'Permanently Delete my account'.
It's done! Your account is already deleted.
Your photos, comments, followers and profile data will disappear forever. You won't be able to recover them. Why? Because Instagram permanently deletes this content so that it can't be used fraudulently.
Careful! Your username will also no longer be available for use . Keep this in mind before choosing to permanently close the account in question.
You prefer to deactivate your Instagram profile temporarily?
Do you want to disconnect from Instagram for a few days? You can temporarily disable your account, Instagram also offers this possibility.
I'll show you how to do it!
#1. You'll need to log into the account that you want to deactivate. Access your profile and look for the option 'Edit my profile'.
💡 Tip.

If in the future you want to be part of the Instagram community again with this same account, you will only have to log in again with your password.

Everything you left behind will still be there.
#2. In the lower corner of your screen, on the right, you will now see the option 'temporarily deactivate my account'.
#3. Instagram will want to know the reason for your departure, select your option. It will also try to persuade you not to leave. If you have your mind set, proceed!
#4. Introduce your password. The same one that you use to start the app.
#5. Now you'll need to press the button with the call to action 'Temporarily disable the account'. Confirm that you want to disable.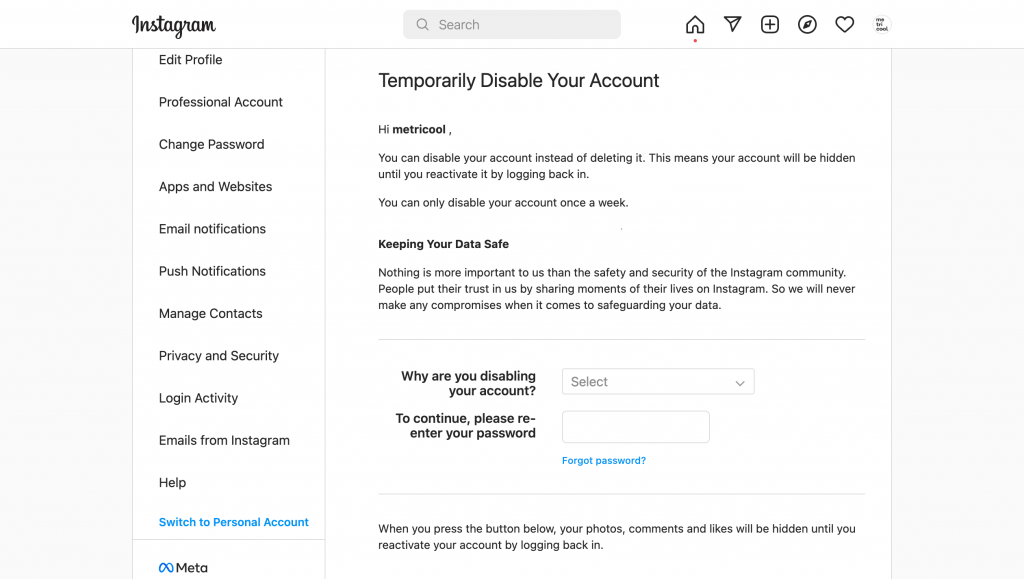 Why delete your Instagram account
There are a variety of reasons for wanting to disappear from the social network that is uniquely focused on images. What's yours? Among the most common we find:
Being a victim of trolls or haters that continuously harass.
Beginning a new Instagram Marketing Strategy. Replace the one you had previously used with the new one.
Fatigue with social networks and all that is implied (spending time monitoring interactions, updating profiles, uploading image, etc).
The account was from a brand, association or institution that has ceased or will cease to exist .
Whichever reason, it's your choice to move ahead with deleting your account!
But before you rush into saying goodbye, I recommend that you save your photos and videos that have been published. Once your Instagram is deleted, you will lose everything that hasn't been backed up.
Now we can proceed with disconnecting from this social network:
We begin to take the first steps towards ending the account that you'd like to get rid of.
Before deleting your Instagram account permanently, remember to download all your photos and videos, otherwise you will lose them forever.
It wasn't that bad, was it?

Planning to start a new account?
Connect your Instagram Bussiness Account to Metricool from the beginning and get the most of our planner and insights dashboard for free.
Your Instagram profile has been disabled by mistake?
When you try to log into your Instagram account, do you realize that it has been disabled? You may be breaking some of the rules and conditions of this social network. Instagram is very strict if they sense a violation in this regard, they will disable your profile without prior notice!
If you are sure it is a mistake, you can request that your infraction be reviewed. How?
Open the Instagram app.
Introduce your username and password.
Follow the instructions that will appear on the screen.
Alert! If someone else has managed to log into and use your profile and proceeded to delete the account, there is nothing that can be done!
Remember that you can always open another account with the same email, but under no circumstances can you use Instagram again with the exact same username of your old profile.
I hope that I've made things a bit easier for you and that today's instructions have been useful.
If you have any other questions about how to delete or temporarily disable your account on the social network that is all about the images, I'll await you in the comments! 😉