Little or nothing is left of the original  Instagram from when it first appeared in our lives. 
It was created in 2010 like so many other social networks, but more like a simple photo gallery, with the sole objective of showcasing images.
By taking a step forward and being fully integrated today, digital marketing cannot be understood without the presence in Instagram. Instagram is a mobile application, although it also has the Instagram web option (with fewer usage options than the app), which allows you to upload images and videos with effects and filters.
However, nowadays,  you can't conceive of digital marketing and Instagram as separate entities.
As of today , there are over 1 billion Instagram users according to an study carried out by 'Marketing4Ecoommerce'.
The question is:
" How can you get the most out of your business through Instagram Marketing? "
Why you should design an Instagram Marketing strategy for your business
It is a must to have an Instagram account for your business to include it in your marketing planning.
It allows you to

share

your products through multimedia posts.

You can reach a broader audience thanks to a large amount of active users on

Instagram

that keeps growing each day.
A study by 'ImpactBND',  72% of the people interviewed confirmed that after viewing an Instagram publication, they ended up buying a product.
Your online store could partake in this percentage if you take advantage of everything that Instagram marketing has to offer.
So, where should I start when creating an Instagram marketing strategy?
Keep calm, remember, always start from the beginning…
The first step is to choose a name for your Instagram account and then have your profile created. If you don't have it yet
➡️ See here how to open your Instagram profile ⬅️
If you have already created a profile for a long time you can face two different situations:
1. YOU DON'T REMEMBER YOUR DATA
Then you'll have to get your access data back. See here how to reactivate your Instagram profile.
2. YOUR INSTAGRAM PROFILE HAS A DIFFERENT THEME THAN THE NEW ONE
And it no longer has anything to do with your current brand. Maybe the first step is to close your Instagram account and start again following a winning marketing strategy.
Start from scratch with your Instagram Marketing plan
Do you have an Instagram Business account?
First, convert your profile into a  professional account
Create a Facebook Fan Page for your business,

otherwise you can't have a business profile.

Switch your personal Instagram profile into a professional account

, go to settings, select '

account'

and then click

'Switch to Business Profile'

.

Next, you must select your

'Business'

profile.

Lastly, connect it to the

'Fan Page'

that you have previously created.
That's it! 
You are officially a business in Instagram's eyes. Now, you can start designing  your Marketing strategy. 🙂
Despite of being an Instagram business account…
You can block trolls or people that might be prejudicial for your strategy
Why you should have an Instagram business account
Apart from giving a professional look to your Instagram profile, you will have these other advantages with a business account:
👉🏻 In your bio…
Users will see your contact button, your business category (clothing store, video games, etc.) and a direct link to your physical address if you have one that will open in the maps app.
In addition, you can customize your bio to give it a more professional look with these tips:
👉🏻 In your business profile…
You have access to data, metrics and analytics that you won't have with a personal profile.
Check a summary about:
👉🏻 With your business account…
You can advertise and promote your products or services through existing or newly created posts to reach more people.
Verify your account
Since Instagram has millions of users, it is crucial to get the blue checkmark that verifies that your account is authentic and original.
It will improve your credibility in the eyes of potential customers. An extra point for your Instagram Marketing strategy.
Why is it so important to get the blue checkmark?
✅ To avoid plagiarism from other accounts. 
✅ To be found quick and easy using the search tool.
✅ To reduce the chance of your buyers being scammed, all the transactions will occur through your official and verified Instagram account.
Now that you know why, start the verification process:

Plan your Instagram Strategy: Your objectives
 So you have already set up an Instagram account for your business.
The next step will be to define your marketing targets.
Your brand image is vital,

that is, how you are going to present yourself to your audience and build a strong relationship with them through your publications.
You products are the essence of your business,

make sure they get enough visibility and maximize their reach. Start using

 Instagram Shopping.  
✅ How to use Instagram Shopping
Plan your content  
Instagram offers you a wide range of possibilities to create content for your business with the marketing touch you are looking for. 
If you know what each publication offers you, you can organize your strategy and plan accordingly
▶️ Photos and videos: 
Your primary tool to 'face' your audience. This content will help you show the best of your products and brand image.
You can add filters, tag other accounts or even tag your products.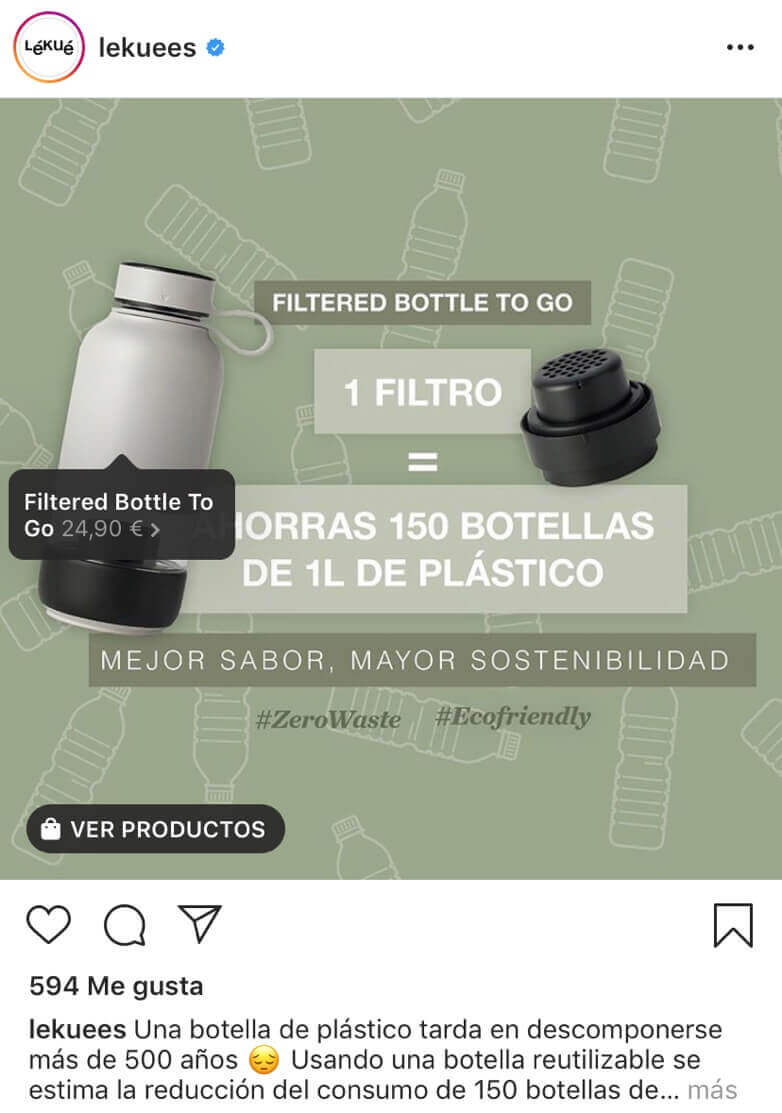 The Copy is an important part of Instagram publications. Don't forget to make sure it looks nice and has the right spaces. Here's an article that explains perfectly how to put spaces in the text without problems.
 How to add linke breaks on Instagram
▶️ Stories: 
Instagram's crown jewel. Publications with 24 hours duration in video format, unique image, Rewind or Boomerang. You have multiple combinations but… be careful, always in vertical format.
Instagram Stories are perfect to advertise new releases, day-long offers or to interact with your audience through questions. 
➡️ If you need an extra of inspiration check those 8 original ideas for Instagram stories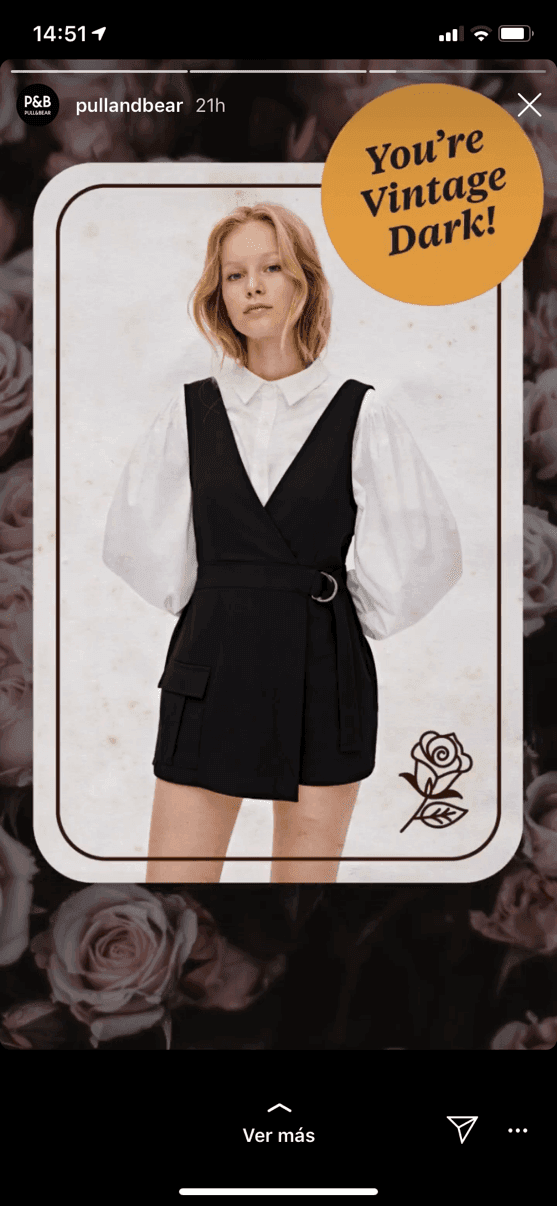 ▶️ Carousel or photo gallery:
A valuable option if you want to present new seasonal products or  a series of offers with different objects.
You can publish a gallery with up to 10 images and  videos with different captions. You can also use filters for each image.
➡️ Get inspire with some ideas from your instagram photos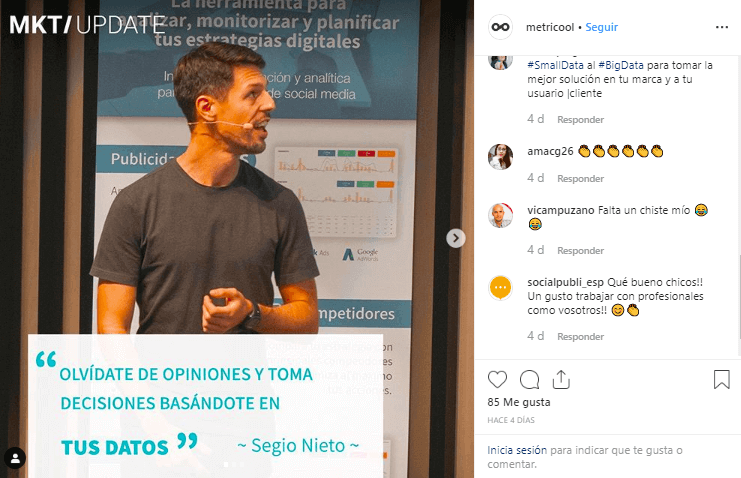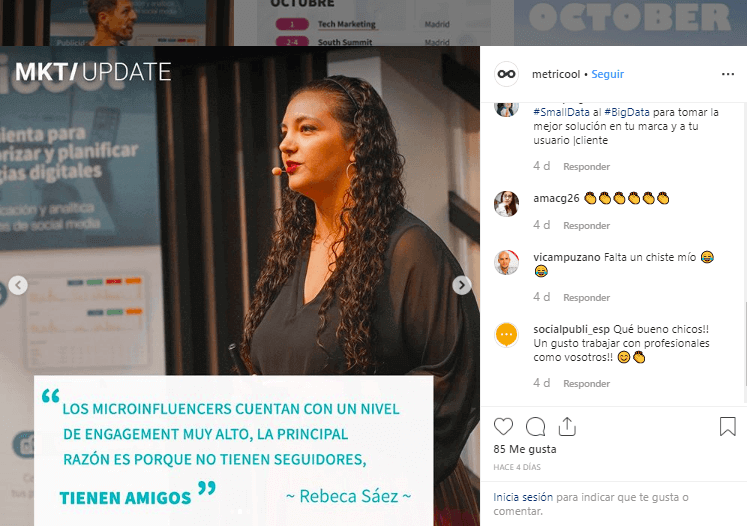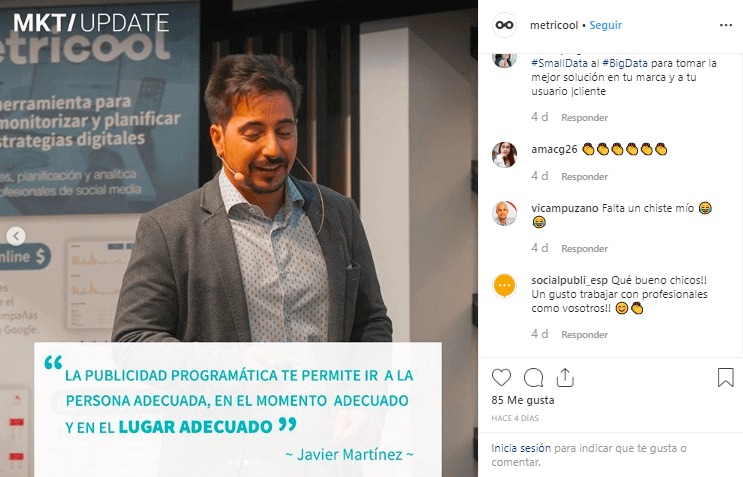 ▶️ Instagram TV
If you are good at creating dynamic content and with longer duration, Instagram TV will be your best option. Your videos must be at least 1 minute long and up to 15 minutes when uploading from a mobile device. 60 minutes if you do it from the web.
In these videos, you can introduce your work team so the audience can get to know you, carry out interviews, present a new product line, etc…
▶️ Live videos
Instagram live videos (crear entrada de directos en IG) are growing in popularity amongst companies to build a closer relationship with their audience.
As it happens with stories, they will last 24 hours on your BIO and people can chat with you while watching the video. It is a wonderful alternative to start a conversation with them, answer their questions, etc.
 More about Live videos on Instagram 
 ▶️ Polls
Create polls to discover the opinion of your followers and know what they like in relation to your brand or product. Even they can participate in business decisions with a lower scope, such as color of the packaging, name of a product, etc.
➡️ Everything about Instagram polls here ⬅️
▶️Repost influencers' publications
If you have hired an influencer to promote your brand or a product and they have posted about your brand on Instagram, Instagram has a feature that allows you to share a publication from someone else on your feed. 
It also helps to let other influencers know that you have a professional relationship with them and that you can give them more visibility. 
▶️ Contest
Running contests is another good technique to boost your Instagram Marketing strategy. However,… be careful, don't focus all your effort on contests, your target is to get more potential customers not that your followers become contestants. 
Learn here how to run a contest on Instagram
▶️ Hashtags
Also using labels on Instagram will help to increase your visibility. You must know how and which ones you should avoid to stay away from Shadowban or fines.  Running contests is another good technique to boost your Instagram Marketing strategy. Learn how to use hashtags on Instagram to have a great strategy!
Most popular hashtags in Instagram
▶️ Instagram Reels
Instagram reels are short videos that last just 30 seconds and with which you will uncover your most creative side: you can add your own effects, music or audios to create content.
f you have a TikTok account, the definition that you are going to read below will be familiar to you.
You can learn more about Instagram reels in our complete guide: 
Everything about Instagram Reels
Discover Instagram algorithm
Instagram algorithm is in charge of prioritizing content so users' preferences and interests will be displayed first.
It is difficult to understand how the algorithm works exactly. However, there are different ways you can beat it and rank first on your followers' feed. 
First of all, it is crucial to understand what it rewards or penalizes. Get familiar to its 'modus operandi'.
Customize your Instagram profile
Apart from getting your profile verified, there are other alternatives for how your audience can immediately identify your brand and products.  
If you want to be different from the rest, you must brighten your profile and customize it. That will  boost your Instagram Marketing.
Find below some valuable tips to create a striking Instagram profile:
If you love to upload stories about your business, did you know that you can organize them in different groups that you can edit later?
For example, you have a bakery and you'd like to organize your cupcakes on one side and your cakes on the other one within your highlights. 
Step 1. Upload a story with the design that you want to show in your highlights. This is the first thing that users will see when they enter your profile.
💡
For example, if your story is about cupcakes, make sure that the product is shown clearly in the cover photo.
Step 2. Edit the size of the image to show it clearly and enter a story name: 'my recipes', 'my cupcakes', etc. Then tap Add (iPhone) or Done (Android).
Step 3. You can add more stories to your highlights whenever you want by tapping Edit Highlight.
If you mention influencers that you have worked with, they will show their gratitude for giving them visibility by coming back to work with you.
Tagging other profiles on your publications increase the number of interactions.
You can give a personal touch to your online store or business in your bio. It is an important part for your Instagram marketing strategy. That's a fact, an attracting bio catches your potential customers´ eyes and sometimes is a determining factor for the success of your business. 
You can be original, more informal, introduce yourself in a more direct way or include a call to action to encourage a purchase.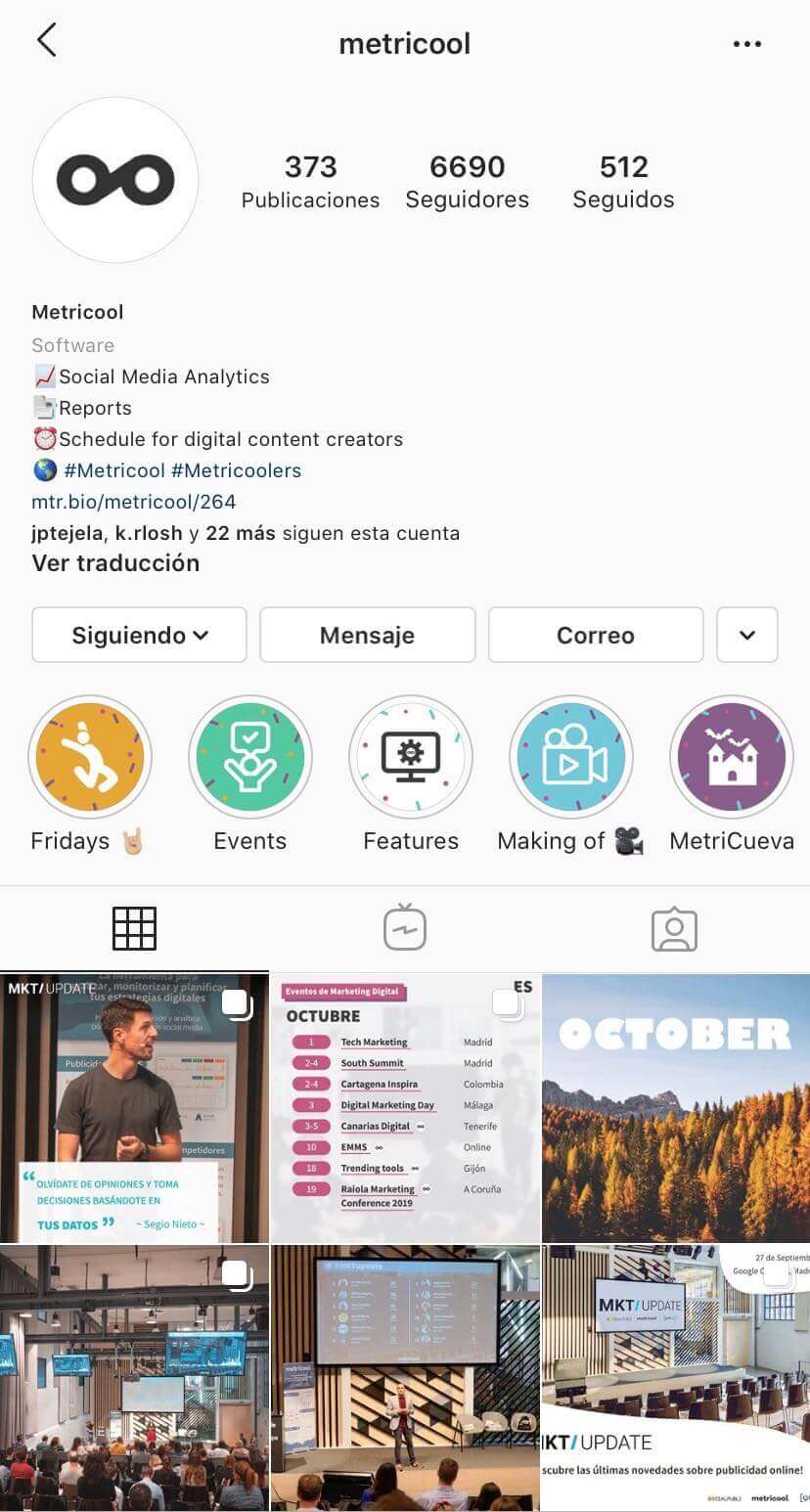 They have to follow the same requirements as a typical story, that is, in vertical format. Also, they are marked as 'sponsored'.
They are visually more attractive than posts in your feed since they are displayed full-screen on devices.
Instagram Ads: Format
There are four different types of format you can use for your Instagram Ads:
Images:

If you use a single image for your Instagram ad, it may be displayed in square, landscape or vertical format.
Videos:

Square or landscape format
Carousel:

Square or vertical format on feed and stories.
Stories:

Stories ads can support all feed photo and video dimensions.
Instagram Ads: type of campaigns
Now that you know where your ads can be placed on Instagram and the formats you can  use. What's the right campaign for you? 
We have reviewed almost everything related to Instagram. We are almost there. Keep calm and carry on!
🛑 It's not the moment to stop.
It's key that you understand the objective of each campaign to maximize results. 
✅ Awareness campaigns: 
This is the type of ad campaign you should choose if your objective is to increase brand awareness.
✅ Consideration campaigns:
If you want to increase the visibility of your brand and encourage users to find more information about your products and services. 
✅ Conversion campaigns:
If your main objective is to sell your product or to encourage your audience to download your app.
Instagram ads are similar to Facebook Ads: You can create them from you Business Manager.
To do so, simply connect your Instagram account to your Fan Page on Facebook,  as explained before:
✅ To start creating your ad, follow the same steps as if you were doing it on Facebook.
✅ In the placement section, tap edit and select Instagram: Feed or Stories. 
✅  Then, choose how you'd like your ad to look: carousel, single image or videos.
Now you can start your Instagram Ad!
Instagram ads: Placement
Your Instagram ads are labelled 'Sponsored' in the top-right.
These are like normal posts but labelled 'Sponsored'. You can use different CTA buttons to drive users to your profile or website. Or,  simply obtain more likes.
Instagram ads: Placement
Your Instagram ads are labelled 'Sponsored' in the top-right.
These are like normal posts but labelled 'Sponsored'. You can use different CTA buttons to drive users to your profile or website. Or,  simply obtain more likes.
Instagram: data analysis
Do you know how your first campaign on Instagram went? or why that publication that you are so proud of didn't get the number of likes you were expecting?
Track your performance with Instagram metrics, put on your 'Big Data' glasses and get on it!
How to measure Instagram? 
There are multiple methods to monitor your strategy and each social media manager has their own ways to measure the results of an Instagram Marketing strategy.
What it's clear is that you will be able to track the results of all your digital publications on Instagram.
Before getting started, you must set up a business account on Instagram to access all the metrics.
If you haven't done it yet, come back to the first step, ready?☺ 
Keep reading.
Instagram posts Insights:
If you want to know the metrics related to your publications, you can follow these quick and easy instructions:
Go to your

profile
Tap Insights

Then, select the specific posts, stories or promotions you'd like to view insights on. 
To see the metrics of a story that have expired, go to your profile, tap the three horizontal lines on the top-right corner and save to archive
You will access to different metrics for specific posts and stories based on:
✅ Activity: In this section you will see relevant information about your profile:
✅ Interactions: Actions taken on your account: Profile visits and website clicks.
✅ Discovery:  It shows the reach (actual number of users that have seen your content) and impressions (how many times your content have been seen).
✅ Content: Lets you check the performance of your posts, stories and promotions. 
✅ Audience: More information about your followers and audience.
Metricool: Get the most out of your Instagram Marketing
If you have any other question left about how to get the most out of your Instagram metrics, Metricool can simplify your 'social media' life and make the analysis process easier for you.
✅ Haven't opened a Metricool account yet?
Read this post to be part of our community in a heartbeat. 🙂
Metricool will help you to complete and understand all the metrics relevant for your Instagram Marketing strategy.
What type of information and analysis you will obtain from a Metricool account?
👥 Community:
Growth: Evolution of your growth based on your followers, following and number of posts published in the period selected.
Gender and age: What's the age range of the users you have reached? who sees your profile, men or women? Very useful information when you have a clothing store for a specific gender.
Followers by country and city: What's the point of reaching accounts all over the world if they are not in your delivery zone or area? Nothing. 
Profile: It gathers relevant information about impressions, reach, profile views, clicks on your site and posts published in the period selected. 

📸 Posts: 
What was the impact of your publications? In this section, in the first chart you can see your engagement on Instagram, the number of interactions, reach and impressions. 
Interactions detail: Evolution of  the number of likes, comments and how many times your posts published in the period selected has  been saved.
Post Summary: a fantastic table that gathers all the relevant metrics by publication. Also, you can organize and sort it depending on the metrics that you consider more relevant for your analysis. In addition, you can download this table in a CSV file to work offline. 
Hashtag Summary: With this information you will learn to use your hashtags correctly. You can discover the reach of each of the hashtags, how many times they were used and how many likes generated. A hashtags bible!
🕛 Stories:
The performance of your stories under the microscope. Metricool provides similar information to the one offered in the post section but oriented to stories.
Reach: number of impressions, reach and number of stories uploaded.

Stories Summary: It details the date that each of the stories were published and the number of replies received. 
🏆 Competitors:
You shouldn't be afraid of having competitors, it will encourage you to keep improving your services. 
You can add up to 100 competitors (5 with a free account) and compare the number of followers, number of posts published, likes, comments and engagement.
➡️ How to improve your engagement on Instagram ⬅️
You won't miss a thing!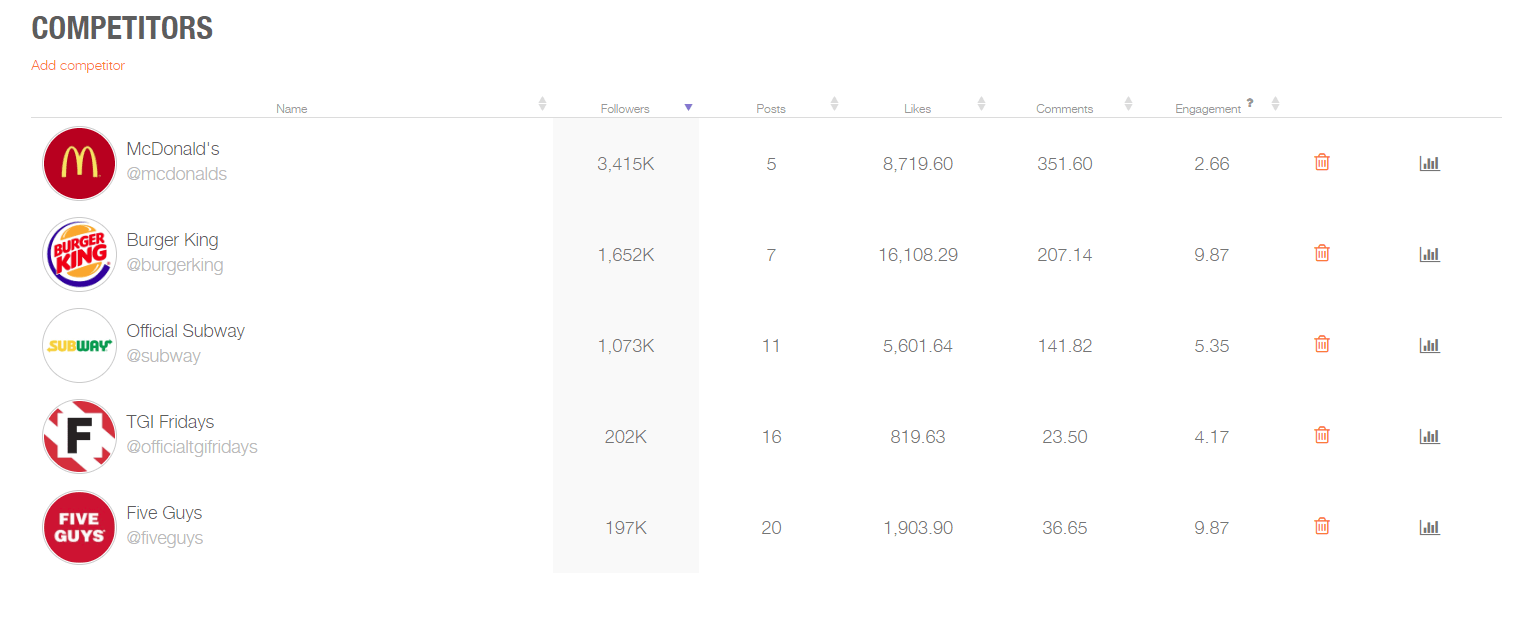 Instagram: Schedule your Instagram posts with Metricool 
If you are tired of doing all the work manually on Instagram and at the same time, tired of trying external tools that don't fulfill your expectations.
Metricool will help you to tackle your work successfully and  won't disappoint you.
Would you like to have all your publications organized and scheduled? Keep reading. 
So, once you are in your Metricool account:
Go to '

Planning'

in the top menu.

Select the time and date of your choice in the calendar 

Add the text and image, video or carousel you want to publish.
Done! your posts have been successfully programmed ☺
However, there is a difference between planning and publishing. Instagram API is reluctant to let others have access 
Metricool offers you the 'the best time on'. With this feature, you will discover what time is best for you to published on the different social media platforms. 
Check when is best for you to publish on IG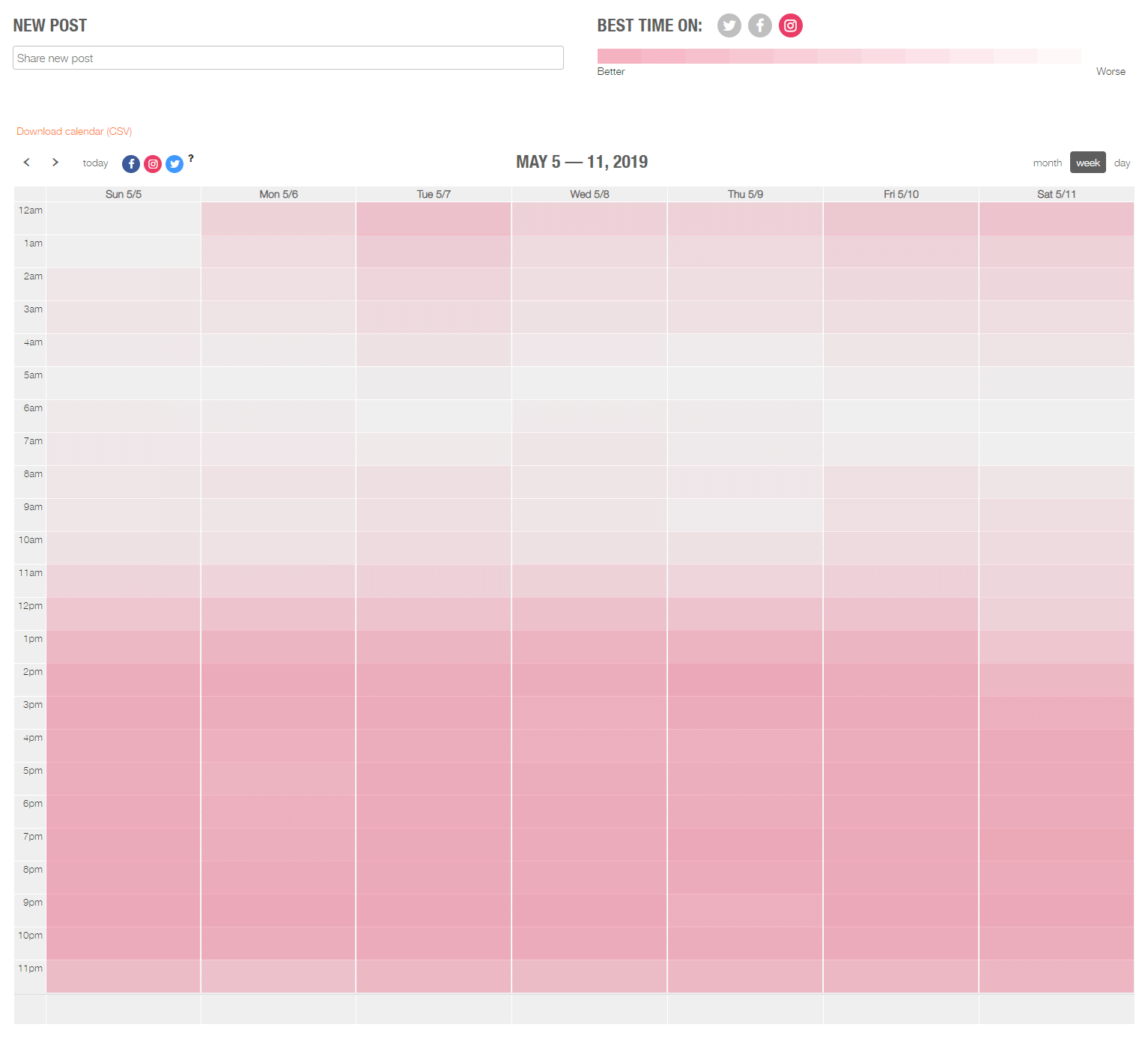 Publish wherever you are.
As long as you have set up Metricool's app…
Activate push notifications. After previously having scheduled your publications in Metricool, when the time comes to publish, you will receive a message with the text and photos to upload.
*The image is saved in your photo gallery.
If you don't have the app…
You will receive a message but the process will be a bit more manual. You will have to download the image or multimedia content, copy it to your clipboard and open Instagram app to publish it.  
Easy, right?
Instagram: report for your customers
One of the most valued factors for customers is the way the information is presented.
When you are preparing a report, many times you end up wasting your time trying to find all the info and in making sure it is properly edited. 
With Metricool, this process become easier and painless, you can download the report in PDF or PPT with all the information you choose.
How to generate a report:
In

Evolution,

go to 

'Generate Report'

.

A new window will pop up where you can choose the time span you want to download,

choose a template and the information you want to show in your

report.
Lastly, you can put the cherry on top by adding your logo.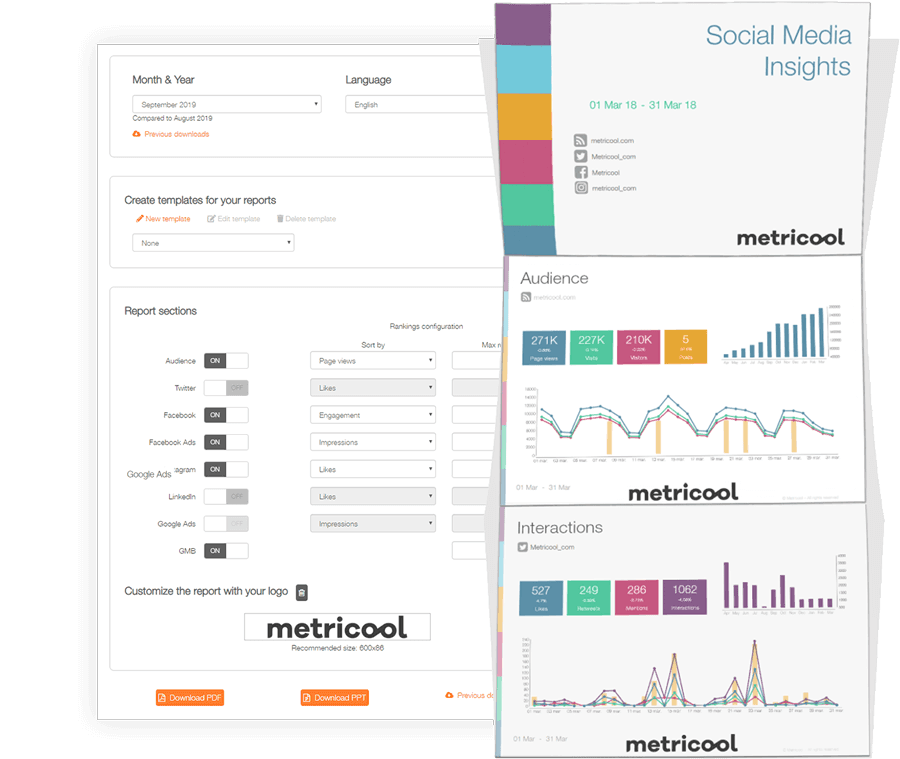 Instagram Metricool: other features
Apart from measuring and analyzing the most relevant Instagram metrics, Metricool offers other very valuable features: 
Hashtag Tracker.

To monitor any specific hashtag on Instagram, you can choose the date and time you want to start the tracking and also for how long.
✅
Essential tool if you are planning to organize an event with a brand and you want to show them the impact and level of participation of that event.
Link in the bio

. As you are probably aware of, Instagram doesn't allow to use links in publications. You can add them but they are not clickable.
Metricool offers you a great alternative to get the most out of your 'Link in the Bio':
Step 1: Choose the posts in your feed that you want to be displayed in your Link in Bio.
Step 2: Edit or configure the links of each publication to take users to the right page. 
Step 3: Metricool will create a link to copy-paste in your bio.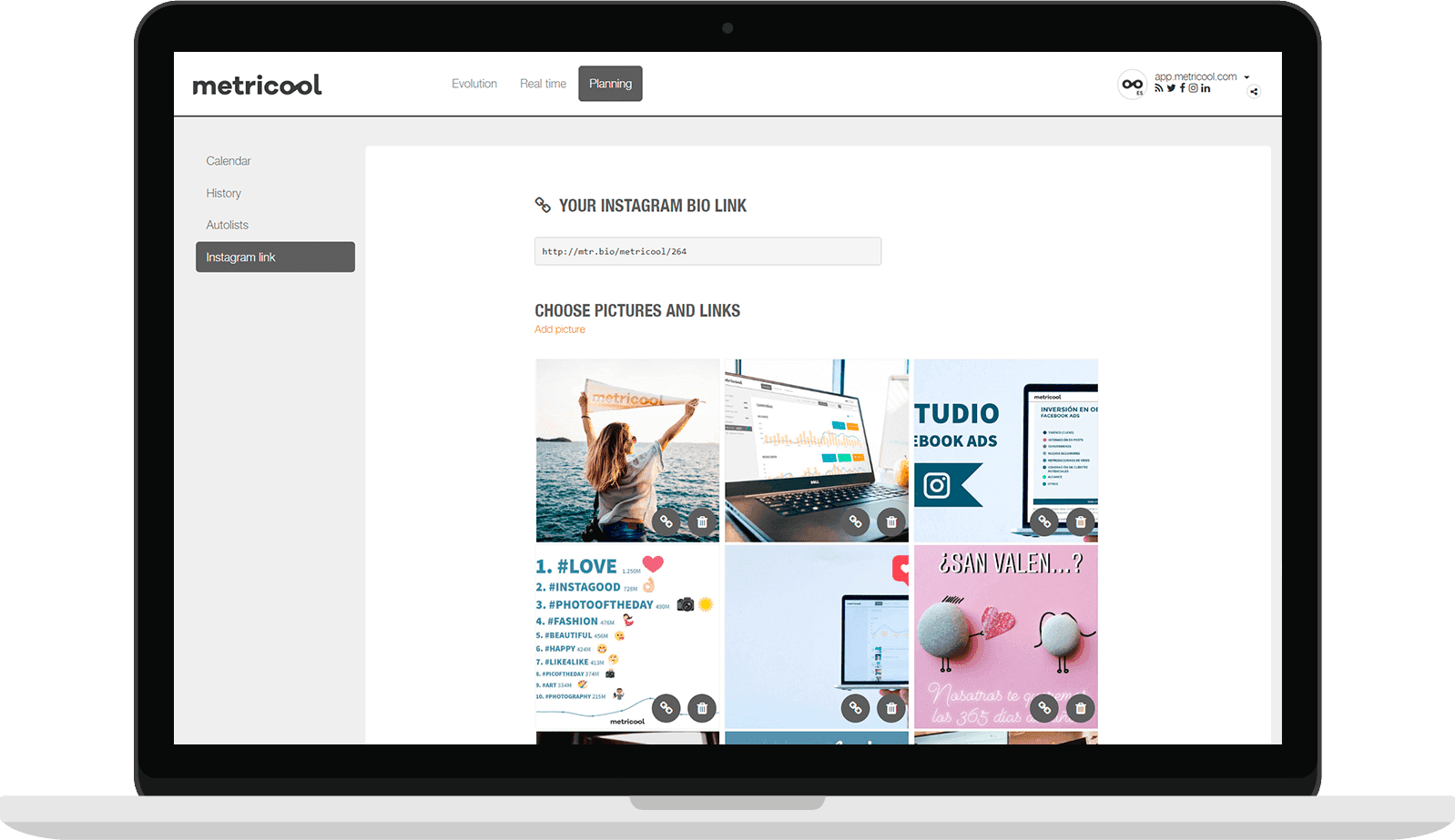 Have you got your battlefield ready to start your marketing strategy at Instagram?
And before finishing some more advice to help you with your marketing plan in this social network.
📌 How to increase followers in Instagram and how to get more followers📌
📌 How to contact Instagram without dying in the attempt 📌
📌 Learn how to turn your Instagram Page into a Branding Channel 📌
📌 How to bring traffic to your website from Instagram 📌
📌 Tips to write engaging Instagram posts 📌
If you have any questions we read you and answer in the comments.
Now you are ready to start your immersion in the Instagram marketing world. If you have any questions, we will read your comments. ☺