Want to measure your competitor's performance on Instagram? This is the Instagram competitor feature with Metricool.
With Metricool, you analyze your competition on Instagram and include the results in your monthly performance report. Want to know how? Read on!
Competitors on Instagram with Metricool
Before we get down to business, you need to connect your Instagram account to Metricool. Don't worry. It won't take you long:
Sign in to your Metricool account or register HERE if you just landed on Metricool. 
Go to the settings section on the drop-down menu at the top right.
Click on Connections, go to Instagram and connect your professional account. 
How to find your competition on Instagram
The first step is probably the most difficult. Identifying who your competition on Instagram is.
Don't worry. There are several ways to search for those accounts that may be "rivals" to your business:
▶️ Search for hashtags related to your field in the app's search engine. This way, you can see which accounts share content similar to yours.
▶️ Always listen to your followers, but this time, even more carefully. They often talk about your competition to compare it to your brand or business for good and bad.
How to add Instagram competitors with Metricool
Now that you have located your competitors, let's go to the part that interests us. How to add an account that is your competitor?
Go to the Instagram section within Analytics and click on Competitors.
Tap on '+ Add' and type in the account username.
Click Add, and done!
As you can see, creating a list of competitors with Metricool is very easy. Now, what data does it bring to your analysis?
With the FREE account, you have up to 5 competitors that you cannot change or delete once they have been added. 

With the PREMIUM account, you can add up to 100 competitors and change them whenever you need.
Competitor metrics
To measure your competitor's metrics, select the time frame you want to analyze at the top.
Go back to Competitors, and within the section, you can find:
Here you have the number of followers, posts, reels, likes, comments, and engagement.
This table is interactive; you can sort it by the metric you are interested in the most.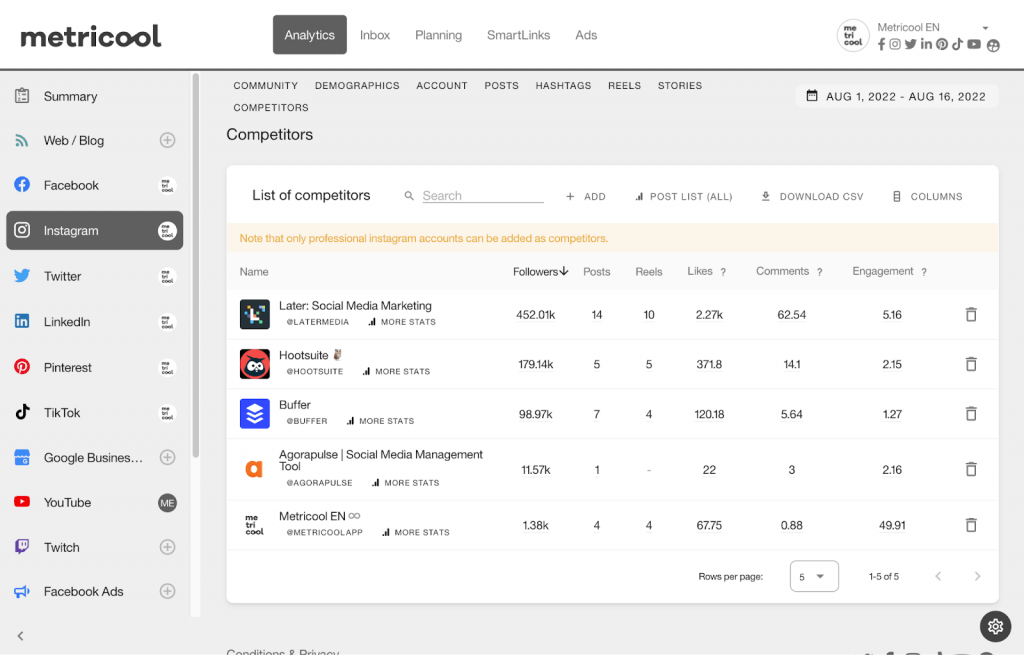 If you want to know how the posts of each competing account have been, click on 'Posts' next to 'Add.'
When you enter, you have the account's name, the date of publication, the type of post, likes, comments, interactions, and a link that takes you directly to the post.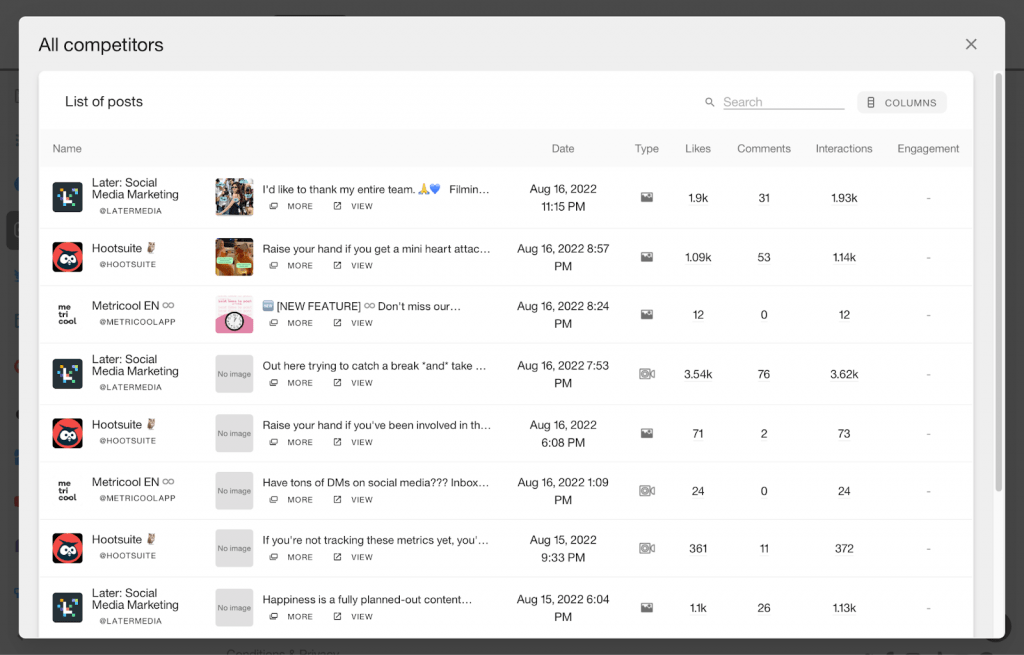 To see the account data click on 'More stats' under each account name.
Here you will have the evolution of the account growth (followers, posts, and reels); posts (organic interactions, likes, comments, and posts); reels (engagement, likes, comments, and the number of reels); and hashtags used.
You already have all the metrics of your Instagram competitors with Metricool. Why choose this tool to analyze your competition?
Advantages of using Metricool
If you still have doubts about whether Metricool is the right tool to "spy" on your competition, here we give you more "clues":
❇️ With Metricool, you can analyze the metrics of your Instagram account, not only those of your competition. In addition, schedule your content manually (posts, reels, and short videos) and semi-automatically (stories and long videos).
❇️ Create customized performance reports of your account in PDF and PPT format and include your competitors' data. It is a perfect option to show your client the comparisons with your competitors.
❇️ Download your competitors' data in CSV format for further analysis. 
You won't miss anything with this competitor analysis report.
If you want to learn how to use the tool in depth, check out this tutorial with all of Metricool's features.