Today, Instagram is more than a social network. It's a marketplace, where companies can communicate with potential customers and promote their brands.  
So if you want to achieve success in a highly competitive niche, you should manage your Instagram account wisely. Every post you create should be interesting, informative, and engaging. Here you can learn how yo write catchy captions!
Set appropriate tone of voice
If you want to make Instagram post captivating, you should clearly understand who your target audience is. It will help you to set an appropriate tone of voice and choose a suitable writing style.
For instance, if you sell luxury goods and target baby boomers, you should express your ideas in a formal language. But if your audience consists of Millenials and Generation Z, you should pick an informal writing style. Speaking to youth, you may use slang phrases, buzzwords, and shortened words.
Let's compare two posts published by popular fashion brands. Dolce&Gabban's post is written in formal language and contains such sophisticated rarely-used words as "inexorably" and "baroque". This type of captions perfectly appeals to the women of high society.
Now let's take a look at Victoria Secret's post. The caption consists of one simple sentence and shortened words. Obviously, this post doesn't win the attention of wealthy adult women. But it perfectly appeals to the brand's target audience – open-minded young girls.
Discuss topical issues                                               
If you want to write a captivating post, you should address the questions, which your followers have. Your task is to research the topic thoroughly and provide your audience with comprehensive answers.
Keep in mind that you should avoid mentioning general facts because it may diminish the value of your post. Instead of it, it's better to add statistics and real-life examples.

When writing a post, show your readers that they are not alone with their problem. Try your best to explain that the issues they face are common, and they just need to walk the extra mile to find the right solution. At the end of the post, you may add actionable advice or offer your product.
Ask fun questions
Social media users are ready to communicate and interact with companies like yours. For this reason, you don't need to try too hard to boost engagement. All you need to do is to ask the right questions and start simple games, quizzes, or surveys.
Take a look at the following post published by Starbucks. Social media users were asked to "vote" what they saw on the photo: moon, croissant, or chicken. As a result of "voting", an ordinary photo of the sky got more than 12,000 comments and more than a quarter of a million likes.
Here is another great example of an interactive post created by CupcakeProject. Author of the video asked followers to guess how many layers are in the cake.
This simple question made users curious and forced them to watch the video a few times to count the layers. In this simple way, CupcakeProject doubled the number of video views and the number of comments on the post.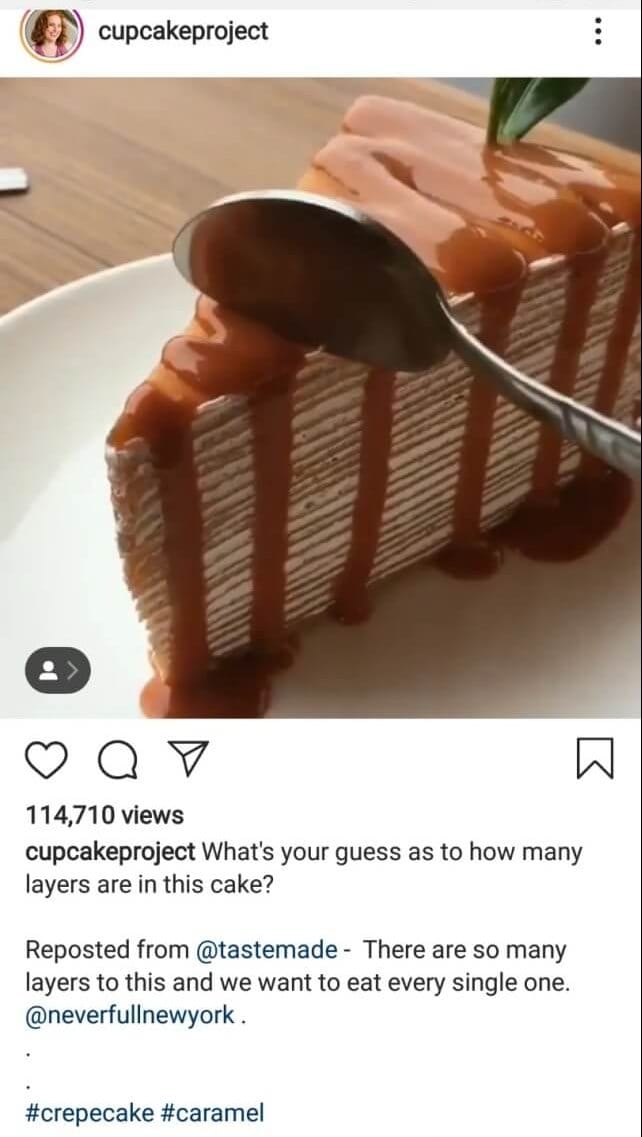 Screenshot source: https://www.instagram.com/p/Bu6STSJD9fR/
So if you want to drive engagement, you should ask your followers fun simple questions, which even 10-year-old children can answer. Keep in mind that users should be able to reply to your questions using words yes/no/maybe, numbers, or emojis.
Add trending hashtags
Social media users love using popular hashtags. And if you want to make your publications catchy, you also should use at least one hashtag per post.
For instance, if you operate in the fitness niche, you may choose such well-known hashtags as #TransformationThursday, #GirlsWhoLift, or #NoPainNoGain. If you work in the beauty industry, you may select such funny tags as #LongLegsForDays, #MessyHairDontCare, and #BadHairDay. If you want to research your niche and choose the most suitable hashtags, you can do it with the help of Metricool hashtag tracker.
Also, if you can't find suitable hashtags to describe your posts or products, you may create your own branded hashtags. In this way, you will document your brand's tone and voice.
Share tips and life hacks
To achieve success in business, you should be generous and share useful tips, life hacks, recipes and professional recommendations with your followers. If you make your content more valuable, your audience will reward you with thousands of likes and comments.
Check iHerb's Instagram account, you will see that the post with a healthy recipe of beet energy balls got in six times more likes than other publications. It proves the fact that most followers skip posts with ordinary product photos and short descriptive captions. They react only on those posts, which contain valuable information.
If you want to take your content marketing strategy to the next level, you should start writing long meaningful posts. If this task is too challenging for you, you may get help from writing services like Trust My Paper or browse Upwork for amazing talent ready to work.
Evoke fear of missing out
If you want to boost sales on Instagram, this tip is right for you. When writing a caption for product photo, you should find the right words to make your followers feel "fear of missing out" (FOMO). You should make people think that if they do not buy your product today, they will regret it in the future.
The following publication is an excellent example of emotional advertising on Instagram. Victoria Secret's post makes girls believe that if they do not purchase a strapless bar right now, they will regret the missed opportunity "on the first warm day". These words is a trigger, which forces women to place an order immediately.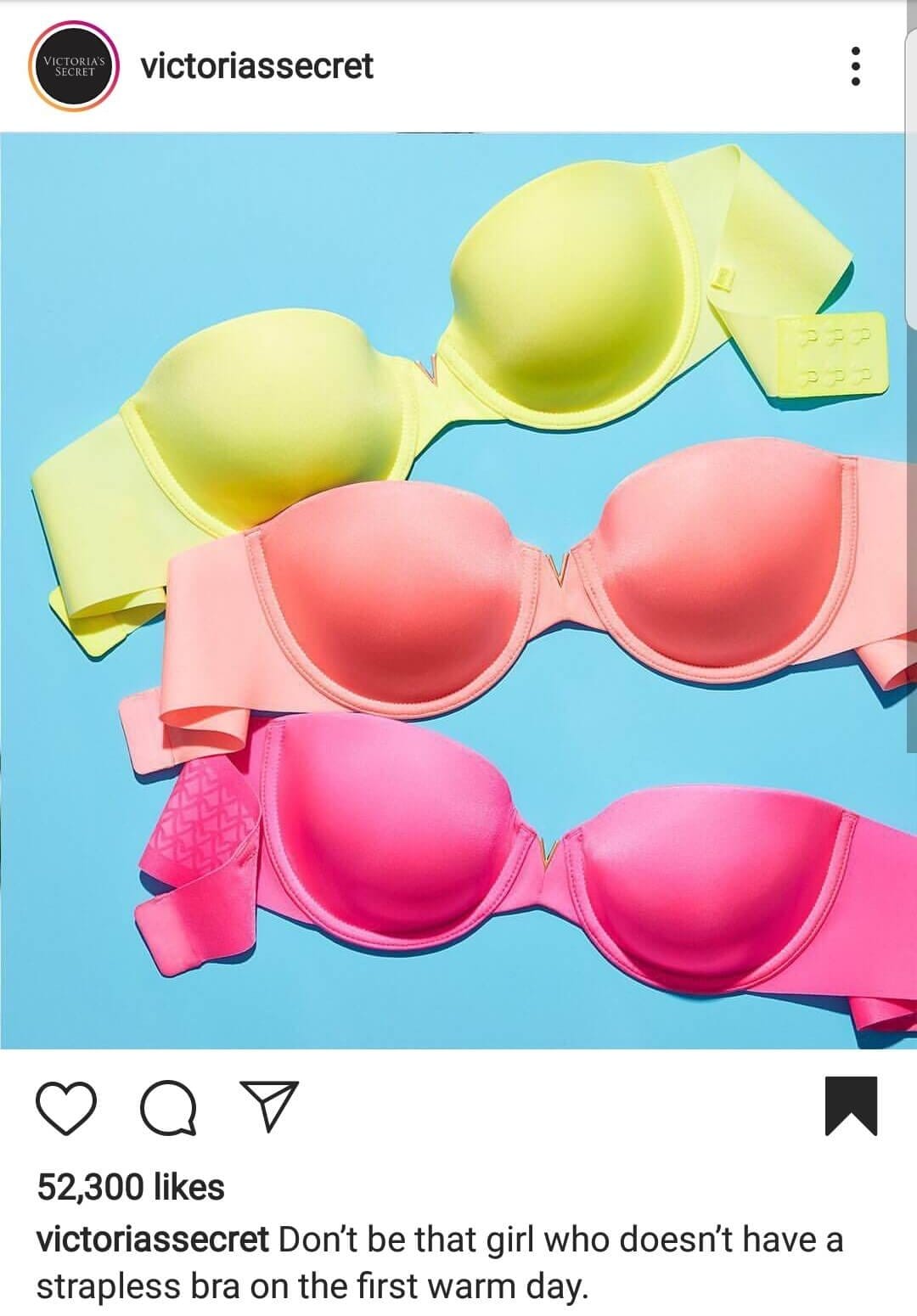 Wrapping it up
If you want to boost your marketing efforts, you should diversify your content strategy. For example, you may alternate long posts with short ones, and life hacks  with funny questions. Try to understand what your followers want and write posts, which will stand out on Instagram.